Gift-giving season is here and we want you to be all stoked up with a variety of soapy, DIY presents.  This gift guide has everything from gifts for the family and projects for the beginner and the advanced soaper. You don't just have to make the gift yourself. If you have a crafty friend or family member, a DIY kit might be the perfect gift.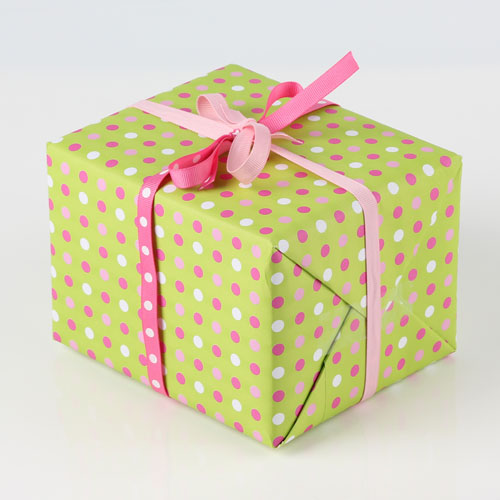 Why yes, this is Soap Queen wrapping paper. Purchase it here.
Gifts for Her
Handmade gifts are a favorite during the holidays, and what better way to appreciate the special people in your life by making something. They'll feel super pampered this Christmas! Check out some of my all-time favorite gifts for those special people in your life. These gifts pair well with floral and fruity fragrance oils.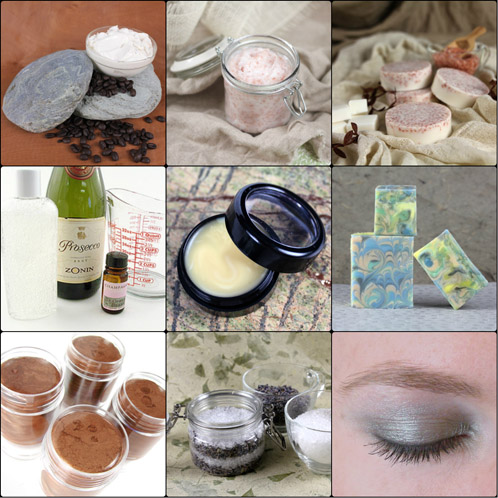 Top Row: 
Top Row: Coffee Butter Foot Creme, Coconut Oil & Pink Salt Scrub,  Pink Salt Shea Spa Bar
Middle Row: Champagne Bubble Bath, Vanilla Latte Lip Balm, French Curl Cold Process Tutorial
Bottom Row: Bronzer Shimmer Stick, Lavender and Epsom Bath Salts, Smokey Eyeshadow
Keep in mind, you can get everything you need to make each of these tutorials by simply clicking the link! There, you'll be directed to the original blog post and you can conveniently add everything you need by clicking the 'Add to Cart' button.
Gifts for Him
Here are some of my favorite gifts for the guys in my life. Husbands, brothers and even the kids can appreciate these fun bath & body gifts. Need some masculine scents to go along with these projects? Check out this link to find the selection of all of Bramble Berry's masculine-type fragrance oils.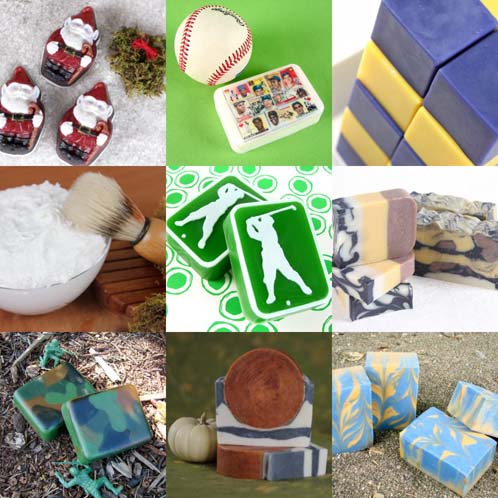 Top Row: Curiously Gnome-like Santa Claus, Vintage Baseball Soap, Crazy for Cubes
Middle Row: Whipped Shaving Soap, Golfer Soap, Man Soap
Bottom Row: Army Soap, Falling for Pear Soap, Blue Man Soap
Gifts for the Kids
Are there are tweens or kids on your gift-giving list this year? Here is a great selection of projects like our Bath Crayons and  Sparkle Power Bath Bombs that are fun to make and play with. Clicking the link will bring up the "Buy It Now" button so you can just buy the kit to either make the goodies or give away the entire kit for crafting fun.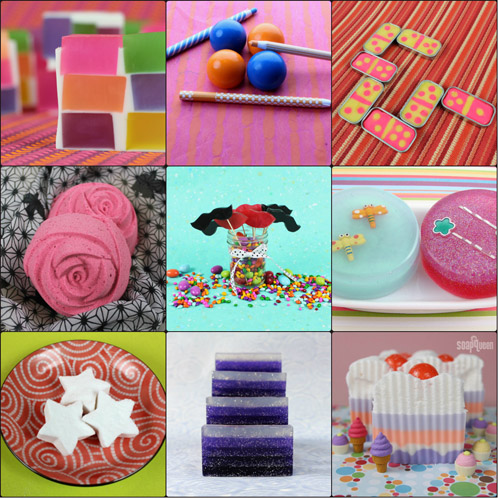 Top Row: Color Block Rainbow Soap Tutorial, Bath Crayons, & Domino Lip Balm
Middle Row: Sparkle Power Bath Bombs, Perfect Party Favors & Tween Soap
Bottom Row:  Hidden Color Bath Bombs, Violet Glitter Gradient, & Birthday Cake Soap
Last Minute Gifts
Despite all the perfect planning, did someone slip off your gift list this year? No worries! Here are a few of my favorite quickie projects that you can get done in just a few hours. Any of these would make the perfect addition to a last-minute stocking stuffer.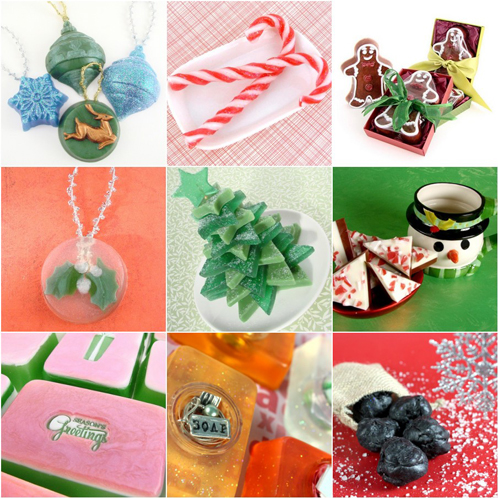 Top Row: Painted Ornament Project, Soapy Candy Canes, Gingerbread Man Soap
Middle Row: Mistletoe Soap Project (Part One, Part Two, Part Three),  Christmas Tree Soap Centerpiece (Part 1 & Part 2), Pepperminty Bark Soap
Bottom Row:  Holiday Soap Stamp, Secret Message Soap, Lump of Coal Soap
Givember
During the last month, in addition to our #Givember coupons, we ceated 24 separate DIY projects, from Soapy Candy Canes to Massage Oil to Sugar Plum Nail Polish and more. To check out all our #Givember tutorials, click here.

Tutorials by skill level
Whether you are a beginning soaper or have been soaping for twenty years, we strive to offer tutorials for all skill levels. We figure you can look at these projects two ways: you can either visit each tutorial's page and purchase the whole kit to give away as a gift, or purchase the kit and make it yourself! We've divided the tutorials into Beginner, Intermediate and Advanced Projects so you can find the perfect gift to suit your (or a friend's!) skill level.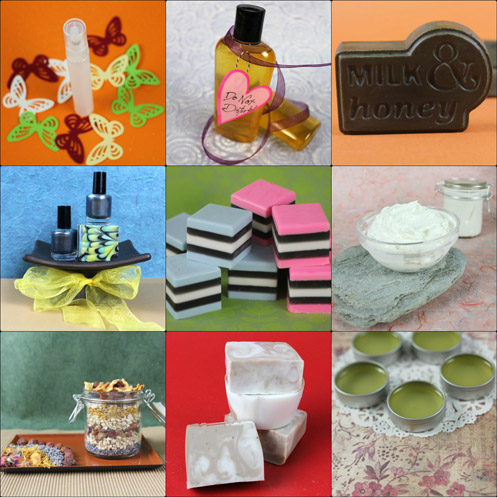 Top Row:  Sweet & Easy Perfume, Infused Massage Oil, & Honey Beeswax Cold Process Soap
Middle Row: Peacock Glitter Nail Polish, Licorice Candy Soap ,  & Belly Butter
Bottom Row: Handmade Potpourri, Chocolate, Cocoa and Shea Butter Melt & Pour,  & Gentle Gel Serum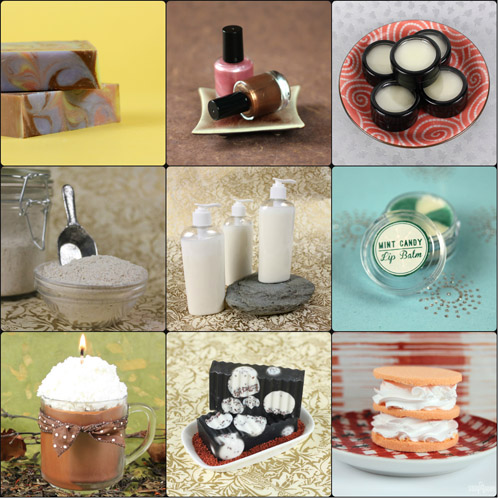 Top Row: Palm Free In-The-Pot Swirl, Scented Nail Polish & Cuticle Salve Recipe
Middle Row: Oatmeal Facial Scrub and Mask, Kissably Soft Lotion Recipe & Mint Candy Lip Balm Tutorial
Bottom Row: Chai Tea Latte Candle Tutorial, Cheery Cranberry Seed Melt & Pour Tutorial & French Macaron Inspired Bath Bombs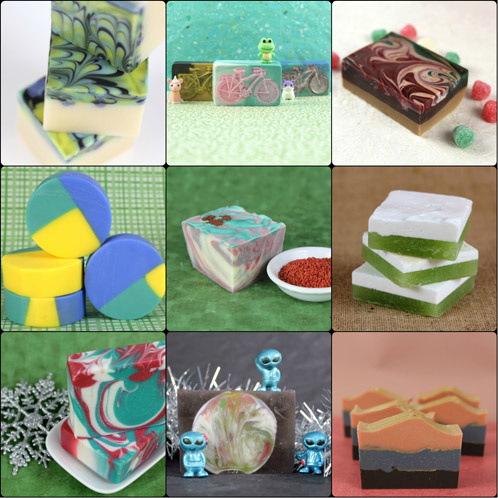 Top Row: Peacock Swirl, Bicycle Melt & Pour Project, Holiday Cookie Bar
Middle Row: Circular Soapy Geometry Soap, Holly Berry Soap, Reimagining Honey Ale Soap
Bottom Row: CPOP Swirls, Intergalactic Planetary Melt and Pour Soap Tutorial, Bramble Beer Soap
Extra Special Gift Ideas
The following two gift ideas are great for the soaper in your life who is thinking about opening up their own bath & body business. The first is our awesome Soap Calc App, which is available for iPhones and iPads through the iTunes store or for Android devices in the Google Play store. We're constantly trying to improve the app and make it more useful for you, so please don't hesitate to let us know of any bugs or added features you'd like to see!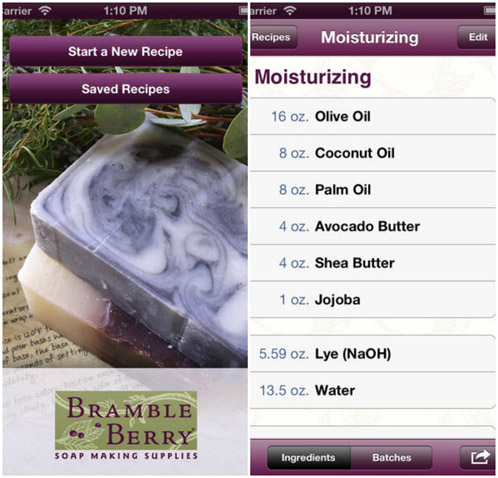 This last gift is one that is perfect for any small bath & body business owner. The GMP – Good Manufacturing Practices Master Class is taught by Lela Barker of  Lucky Break Consulting. With her experience of over a decade of manufacturing products for her Bella Lucce brand, she has developed a comprehensive program which intricately details the path to implementation for cosmetic and person care manufacturers. This virtual class includes live support calls, 31 separate digital handouts and protocols that you can use in your own small business.
If you are still looking for a fun and easy project for holiday gifts this year, consider our Lotion Bar Kit, Faux Funnel Pour or Lip Balm  Kits. What sorts of soapy gifts are you planning on giving this year?