Today we're launching our latest mold (drum roll), the Heavy Duty Column mold! To celebrate it's debut, I've got a fun and fabulous tutorial that is a twist on the Faux Funnel Pour technique. This is a great recipe for an alternative to Olive Oil, for those late night soaping adventures where you realize you're just short of an ingredient and it's too late to hit up the store (anyone else been there? anyone?). Using contrasting colors in unexpected hues and a bright and fresh fragrance oil blend, I'm hoping you like this recipe as much as I do.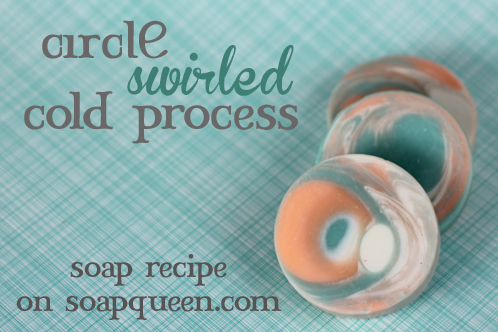 10.5 oz Coconut Oil
10.5 oz Palm Oil
7 oz Rice Bran Oil
7 oz Sesame Oil
5 oz Sodium Hydroxide (Lye)
11.6 oz Distilled Water
0.5 teaspoons Aqua Pearl Mica
1 teaspoon Tangerine Wow! Pigment
1 teaspoon Titanium Dioxide
2 tablespoons Sweet Almond Oil (or any liquid oil)
1.1 oz. Pineapple Cilantro Fragrance Oil
1.3 oz. Basil Essential Oil
Heavy Duty Column Mold with End Cap and Liner
Buy everything you need for this project with the click of a button!

MOLD PREP: Stick the End Cap on the base of the Heavy Duty Column mold. Curl up the Heavy Duty Column Mold Liner and slide into the mold. Run your finger along the seam to ensure it's perfectly lined up (and so the seam won't show up on your soap!).
COLORANT PREP: Disperse the Titanium Dioxide and Tangerine Wow! colors in the Sweet Almond oil at a rate of 1 teaspoon pigment to 1 tablespoon oil. A Mini-Mixer is a great tool for quickly mixing the pigment and oil, but be sure to saturate the powder pigment in the oil a bit before turning on the mixer or you might get a messy POOF! of pigment.
FRAGRANCE PREP: Combine the Pineapple Cilantro Fragrance Oil and Basil Essential Oil.
If you have never made cold process soap before, I strongly suggest getting a couple of  basic recipes under your belt before diving in. This is an advanced recipe and should not be attempted without first doing some basic recipes. Check out Soap Queen TV on Cold Process if you want to get started with cold process. It's a 4 part series that will take you through the basics (and be sure to watch the episode on Lye Safety). And for all of you bookworms out there, Bramble Berry also has some helpful reading on cold process soap making or a Beginner's Kit for $36 here.
ONE: With your gloves and goggles on, small children and pets safely out of the area and working in a well-ventilated room (no breathing in lye fumes – or wear a mask), slowly and carefully add the lye to the water. Stir the mixture until all of the lye is dissolved, and set aside to cool.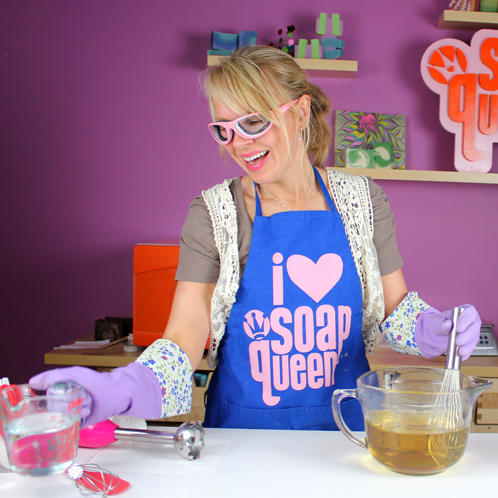 TWO:  Melt and combine Coconut and Palm oils. Add Rice Bran and Sesame oils. When the lye water has cooled to 120 degrees or below, slowly add the lye water to the oils. Pulse the mixture with a stick blender until light trace is reached.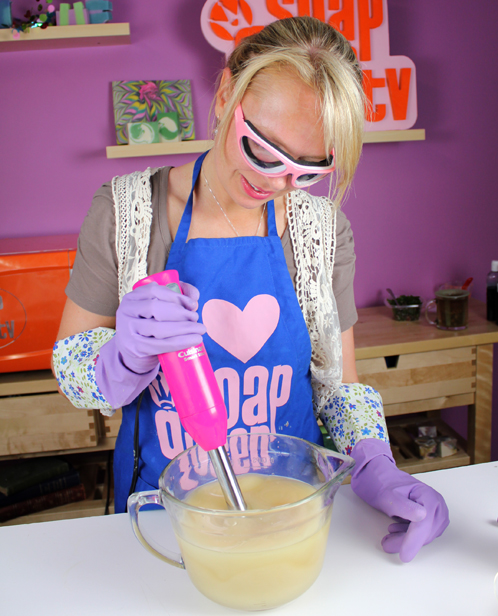 THREE: Split the soap batter into three equal parts, about 2 cups each. Color each of the parts as follows:
1.5 teaspoons of dispersed Titanium Dioxide Pigment
1.5 teaspoons dispersed Tangerine Wow! Pigment
0.5 teaspoons Aqua Pearl Mica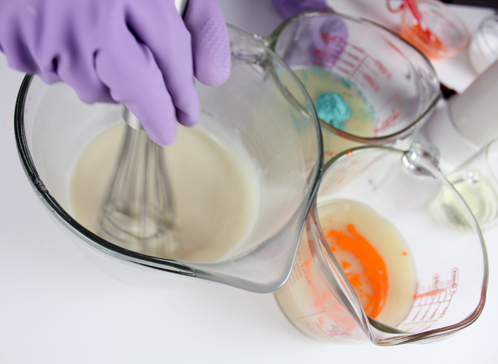 TIP: Mixing the colors with a whisk can help to not accelerate trace, but can't always mix the micas in fully (resulting in spotty color). If you use a stick blender with the mica, be sure that your other two colors have a similar thickness/trace before moving on to the next step.
FOUR: Add .8 ounces of the Pineapple Cilantro and Basil fragrance blend to each of the colored soap batches. Mix in using a whisk.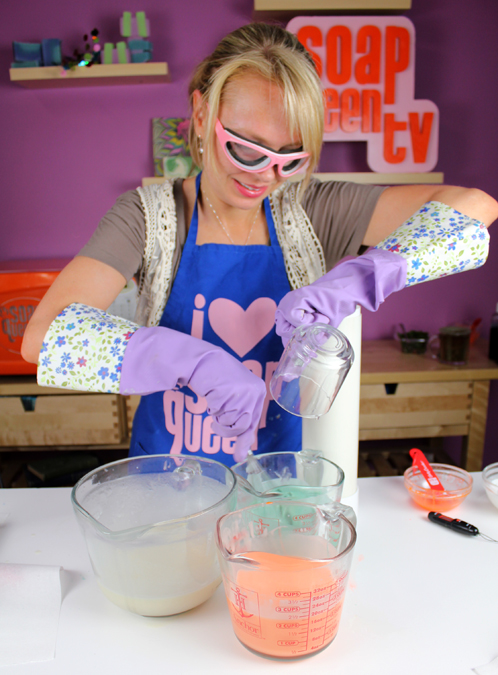 FIVE: This technique is reminiscent of the Faux Funnel Pour, except on a much taller scale. Decide on a color order. Pour the first color into the mold, aiming for the center. If you'd like, count to three each color to ensure an even pour. Repeat with the second and third colors, aiming for the center and counting to three. Repeat the entire cycle until the mold is full.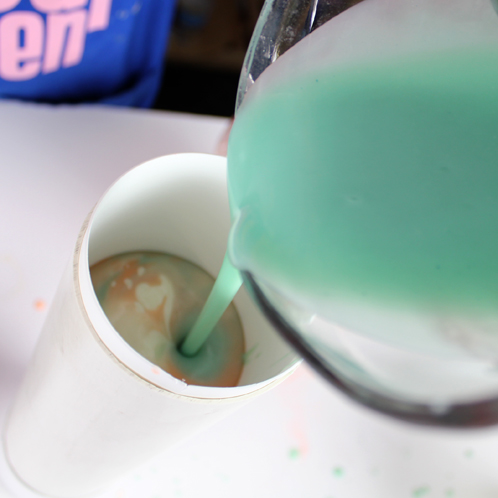 TIP: Keep an eye on the soap waiting to be poured, and stir with a whisk if it appears to be going grainy.
SIX: Allow the soap to sit in the mold for 1-3 days.
SEVEN: Unmold the soap, cut and allow to cure for 4-6 weeks. Enjoy!
Tips for unmolding the Heavy Duty Column Mold:
Twist off the main part of the mold, away from the end cap, instead of just screwing off the end cap. The soap should stay in the liner and end cap.
If you are using a softer recipe, add Sodium Lactate to the lye water.
To avoid tearing the soap, just pull up one of the corners of the liners to see if the soap is ready to come out. Don't unmold yet if the soap tears.
If the soap tears, stick the mold in the freezer for an hour or two and try again. If it keeps tearing, wait a few more days, toss the soap in the freezer and try again.