This is a great alternative to column pour and funnel techniques. This pour creates a unique and fun swirl in your soap with no two bars exactly the same. Plus, bonus points for getting to soap with a buddy since this technique works best with four pouring hands.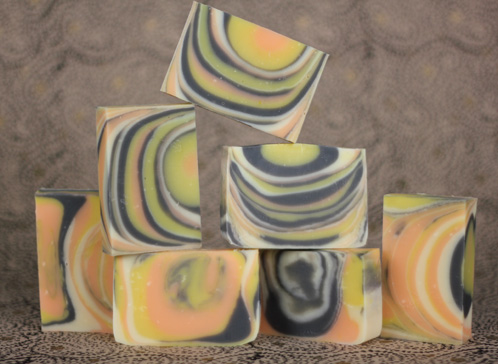 If you have never made cold process soap before, I strongly suggest getting a couple of basic recipes under your belt before diving in, as this is an advanced technique that requires you to move quickly. Check out Soap Queen TV on Cold Process if you want to get started with cold process. It's a 4 part series that will take you through the basics (and be sure to watch the episode on Lye Safety). Bramble Berry also has some helpful reading tools for you bookworms out there.
Recipe
4.62 oz Sweet Almond Oil
13.20 oz Coconut Oil
28.38 oz Olive Oil
13.20 oz Palm Oil
6.60 oz Palm Kernel Flakes
9.462 oz Lye
21.78 oz Water
5 oz Orange Grove Fragrance Oil
1.5 oz Sweet Almond Oil (for mixing colorants)
.25 tsp. Activated Charcoal
.25 tsp. Tangerine Wow! Neon Pigment
.25  tsp. Titanium Dioxide
.25 tsp. Yellow Mica
.5 oz Diluted Canary LabColor
A buddy to help pour

Buy everything you need in the click of a button, (pouring buddy not included).
Mold Prep: Line your 5 pound Wood Log Mold with freezer paper (shiny side up).
Color Prep: Mix each pigment (Activated Charcoal, Tangerine Wow!, and Titanium Dioxide)  in .5 ounces of Sweet Almond oil using your mini mixer to get rid of any clumps. For our yellow color, we used a blend of Yellow Mica and Canary LabColor.
ONE: Suit up! Put on your gloves, goggles and long sleeve shirt! Carefully combine your water and lye and mix well. Always remember to add the lye to the water and not the other way around. Stir until mixture becomes clear and make sure you are in a well ventilated area.
TWO: While the lye water cools, melt and combine the palm Oil, Coconut Oil, Palm Kernel Flakes, Sweet Almond Oil and Olive Oil. Give the oils a quick pulse with the stick blender.
THREE: Slowly add the lye water to your oil mixture. Blend with a stick blender until you reach a light trace.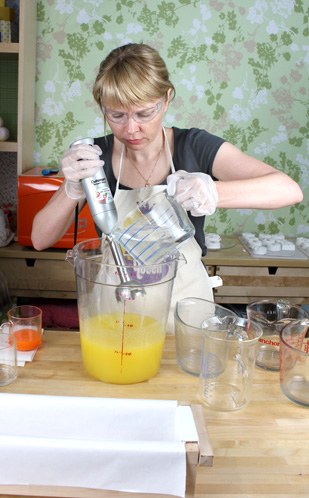 FOUR: Here's where you need to hustle a bit and it's nice to have a pouring buddy on-deck. Separate your soap batter into four equal amounts (you can just eyeball it) making sure to use containers with handles and pour spouts. Add pre-blended colorant to each separated batch.  Mix each  colorant with a stick blender.
TIP: Mix your colorants from lightest to darkest so you can use your stick blender without cleaning it between colors. Saves you time and dishes. Woohoo!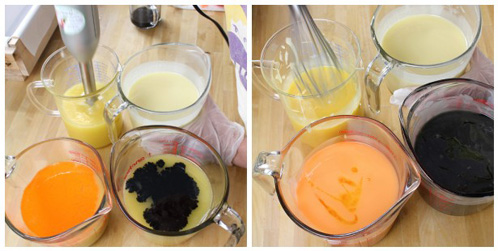 FIVE: Divide the fragrance oil equally into all 4 of the colors and mix will with a whisk. Using a whisk gives us more pouring time. Then quickly decide in what order you'll want to pour your colors.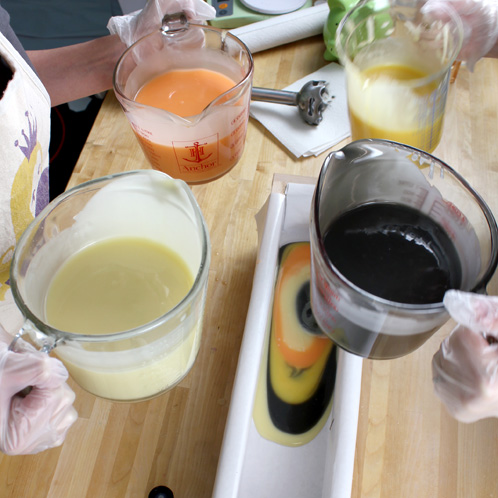 SIX: Time to call in your pouring buddy! Grab colors 1 and 2, and have your buddy grab colors 3 and 4. Starting in the middle of the mold, pour just a little bit of color 1, followed by a little bit of color 2. Have your buddy follow with color 3 and 4. Repeat this cycle over and over. While we were pouring, we would say out loud which number we were on so we wouldn't forget our place (plus it was fun)! If you're doing this by yourself, just be certain the fragrance you're working with is a very slow moving fragrance so you have plenty of time to keep the technique going yourself. But, it really is more fun with a friend.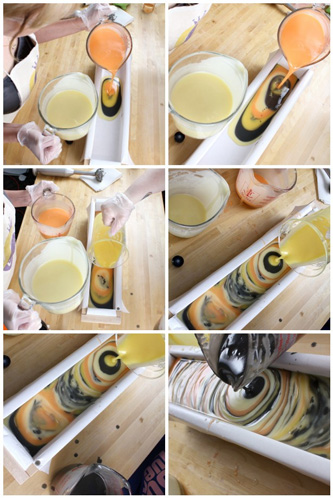 A Few Pouring Tips: 1. The closer to the surface of the soap your container is while pouring, and the slower the flow of soap is from your container, the more likely your color will stay on top and form clear lines. 2. You don't need to worry too much about accuracy here; this is a fun and spontaneous pour technique! 3. For added interest, move your pour target to either side and stay in that spot for a few cycles. 4. As you pour, keep a whisk or two handy in case your soap gets "grainy" in the container.  Keep rotating colors until your mold is full.
SEVEN: Let the soap set for 24 hours. Unmold, cut (you can cut horizontally or vertically and both cuts are beautiful!) and let cure. Sit back and enjoy your hard work! Maybe your pouring buddy has earned a bar or two? No judgments for keeping it all for yourself.