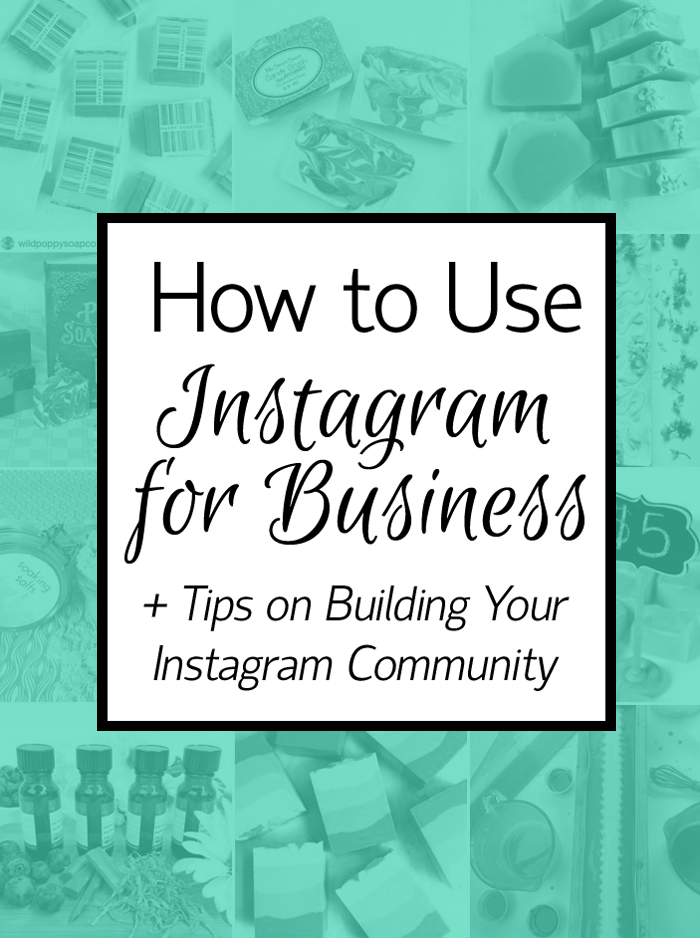 I jumped on the Instagram bandwagon early in 2011 (Instagram was created in 2010), and I have been posting consistently ever since. It's one of my favorite social media outlets. It's easy to use, and who doesn't love perusing beautiful images? In the beginning I used Instagram sparingly, and a large majority of my posts were kid photos and family. I was still getting my footing on how best to utilize the medium. Then, all of a sudden, Instagram started taking off and with more users came more clarity about how to best use Instagram. At present, Instagram is growing faster than social networks in general, and doesn't show signs of stopping soon.
I've quickly discovered how important Instagram is (and will be) for small business owners. With the amount of growth Instagram is experiencing, it's becoming a fantastic (and free!) way to reach a large audience of potential customers. The nature of Instagram allows businesses to promote products in an unobtrusive way. Your followers can easily stay up to date with new products, sales and behind the scene peeks. Essentially, if you use Instagram for business your followers are saying, "I like your products and company! I want to stay updated. I might even buy your stuff!"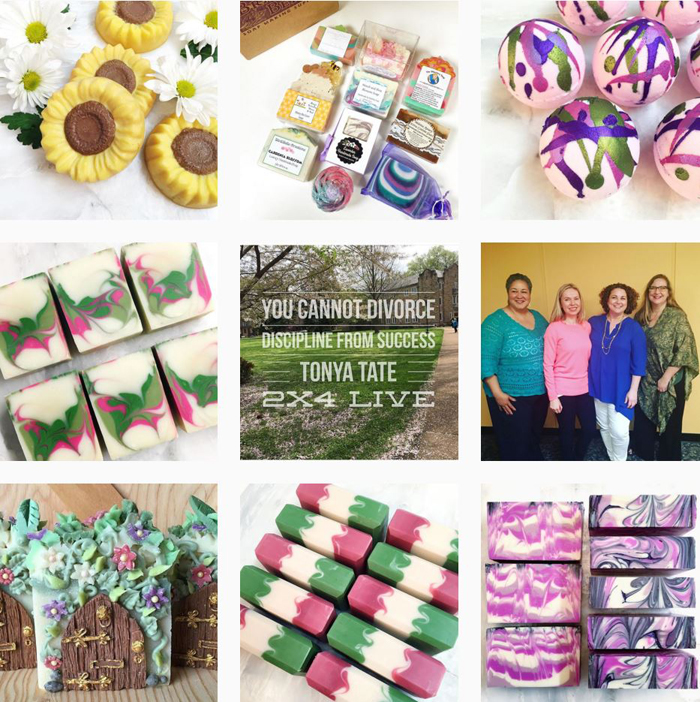 Instagram is valuable because you can insert some of your personality into your account along the way. This is especially effective for small businesses that consist of 1-2 people. After all, one of the great things about handmade products is that they are made by a "real" person. For example, on my account, I primarily show upcoming blog projects. But, I also share photos of my kids and family. That's important to me, and I enjoy connecting with my followers on a more personal level.
If you don't have an Instagram account for your small business, make an account today. I recommend keeping your Instagram name consistent with your company name. Avoid numbers and use hyphens or underscores only if necessary. Once you have your account up and running, check out my business Instagram tips below. If you're looking for more general Instagram advice, check out the Instagram Tips and Tricks post.
1. Engage with other people
This tip is first for a reason. Instagram is a social media outlet, so focus on the social aspect! Interacting with other Instagram users by liking, commenting and following them is the fastest way to make connections and build your following. It helps to interact with other users in your "niche." This means that if you're a bath and beauty company, interact with other soapmakers or users who might be interested in your craft. These people are more likely to appreciate your account and photos. They will also be more likely to follow you.
Make sure your interaction is meaningful and not spammy. In the beginning, I would recommend scheduling about 20-30 minutes everyday to engage with other Instagram users. A great place to start is to search hashtags that are relevant to your niche (ex: #soapshare, #diy, #soaping, etc). Another good option is to reach out to people in your community by searching the hashtag of your town. Instagram is a great way to make real life connections with other small local business.
2. Respond to people who engage with you
On the flip side, it's crucial to respond to people who engage with you. After all, they took the time to reach out. This is especially important if the interaction is business related. For example, let's say a customer comments on a photo asking how much a product is. Every user who sees that photo will also see the question. If the question is not responded to for a long period of time, that may deter the customer who asked the question and future customers. On a slightly less serious note, it's simply good manners to respond to comments and questions.
Respond to people who engage with you first, including people who like your photos or follow you. If somebody takes the time to like your photos, take a few seconds to check out their account. If you see something you enjoy, give it a like. Don't hold back on liking photos. It's free, makes people feel good, and who doesn't like giving a compliment? Liking a photo is just about the easiest and quickest compliment you can give. If somebody follows you and you also enjoy their content, follow them back. Having a reciprocal Instagram relationship with your followers is a good thing. It will make your relationship stronger.
3. Use hashtags on your photos
To find users to engage with and allow users to find your photos, using hashtags on your photos is key. Choose hashtags that are relevant to your photo. For example, in the Painted Berry Bath Bomb photo below, I commented on the photo with my hashtags. These tags included the different variations of bath bomb and bath fizzy that somebody may search for, as well as more general hashtags like #diy and #crafts. I try to always use a few "broad" hashtags to attract new followers. Just how many hashtags you is up to you. The smaller your Instagram following, the more hashtags I generally recommend. When using a lot of hashtags (say five or more), I prefer to leave a comment on my post so the caption is not cluttered with tags.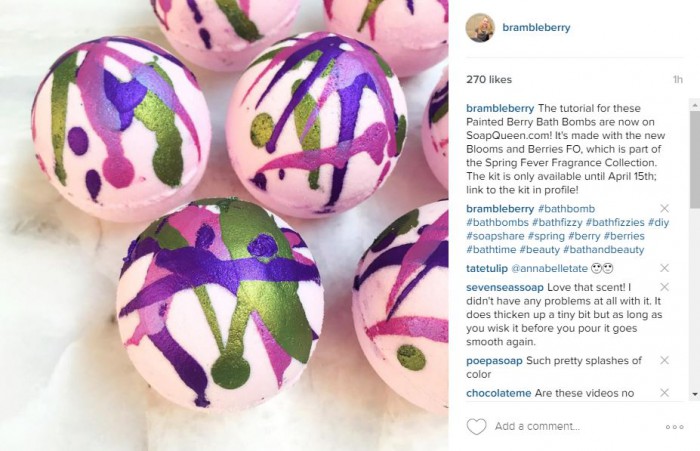 Hashtags make it easier for people to find your photos. I recommend using at least three to five on every photo. 
4. Create your own hashtag
Using popular hashtags is a great way for users to find your account. Another option is to create your own hashtag. Creating a hashtag can serve two purposes. The first is that a customized hashtag can make it easier to find your posts. For example, if you tag all your business photos with "#name of your business," that gives users another way to search and find you. For example, Sweetambs tags all her photos with #sweetambscookies. If you look at the posts, a majority have been posted by her. But many are users who are reposting her content. The hashtag gives another way for users to find the original creator.
The other reason for creating a hashtag is to encourage participation and community. I created #SoapShare to encourage soapers to share their creations and support each other. The other purpose of the hashtag is a contest. Each Friday, my team and I choose our favorite #SoapShare post and I post the image on my Instagram page and showcase it on the Soap Queen blog. Other examples of creating hashtags for participation include contests, giveaways, photo challenges and more.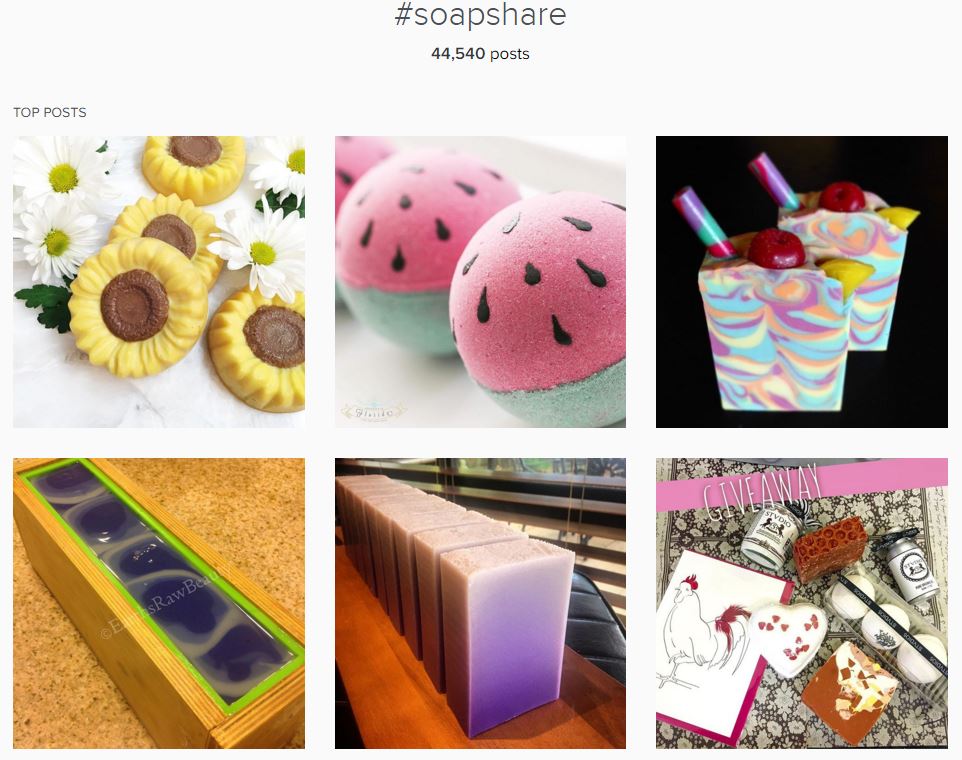 I created #SoapShare to encourage soapers to share photos and interact with each other. It's also a weekly contest!
If you have a specific hashtag in mind (ex: the name of your business) I would recommend searching for it in Instagram to see what kind of activity it already has. If it's already a popular tag for another reason, there's no reason why you can't use it. But, it may not be the best choice depending on the purpose you'd like it to serve. If #SoapShare was already used for a different topic or reason the hashtag would not work very well for the contest function. For example, if SoapShare was the name of a town and the hashtag was already used to share photos of the location, my team and I would have to wade through photos of the town Soapshare in order to find soap photos. Users may also be less likely to use the hashtag if it's already affiliated with a different topic.
Speaking of town #Soapshare…I would like to move there. =) Anybody else?
5. Improve your photos
Instagram is all about photos. There is no way around it. In order to attract followers and interaction, it's crucial to create and post appealing photos. This can take time and effort, but it's worth it. After all, you've spent so much time creating your products and making them look beautiful – do them justice by showing them off in the best way possible.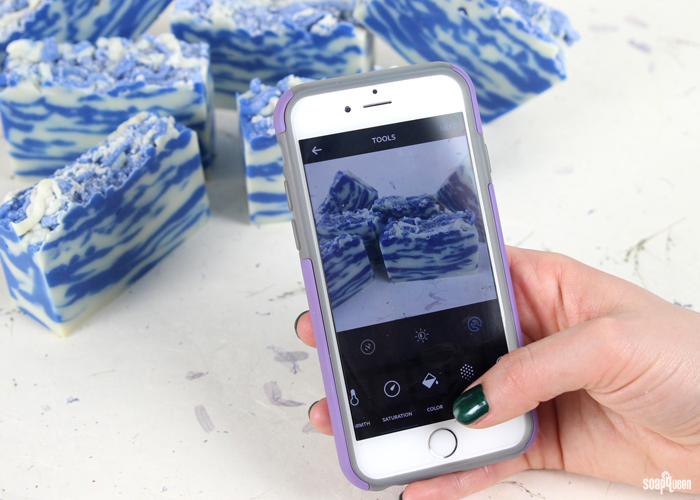 Instagram is all about photos, so make sure yours are appealing to the eye. Editing is key!
Practice makes perfect when it comes to product photography. Everybody has their own aesthetic, and developing your own is part of the fun. If you're looking for photography tips on Instagram, I wrote a whole section about it in this post. But it's so important I felt I should reiterate it here.
6. Don't forget the caption
Yes, Instagram is all about photos. But those photos need context, and the caption is how you give it some. Think about the purpose of the photo. If the photo is meant to announce a sale, include all the sale info in the caption. If the photo is meant to give a sneak peek about a new product, include when it will be available. The caption is also a great place to insert a little personality into your posts. Just remember to keep your caption true to your brand, and to keep your customers in mind.
Unfortunately, Instagram does not allow you to insert links into captions or in the comments. I truly hope they add this ability soon, but I'm not holding my breath. The one place where you can insert a link is in your profile. Use it! Use this place to link to your website or Etsy shop. Then in the caption, remind your audience that they can find a link to your store in your profile. Just a simple, "Link in profile!" does the trick. If you'd like, you can change the link to a specific product or page. Just remember to change it back after you post a new photo.
7. Post consistently
Last but not least, in order to be successful on Instagram you actually have to use it. Not just every month or so…you need to post consistently. Ideally, I recommend posting once a day but I understand that can be difficult. In the beginning, I would strive for at least three times a week. Experiment with posting on different days and times to see what your followers respond to. In my experience, I don't recommend posting before 10 a.m. or after 10 p.m. People are generally asleep or away from their phone, so the post won't get a lot of exposure. The more you post, the easier it will become!
8. Make a goal + track your results
Once you become comfortable with using Instagram, make an Instagram goal and check up with yourself in a month. Maybe this goal is to dedicate 15-20 minutes to interacting with others on Instagram everyday. Or, maybe you want to post at least 3 times a week. The goal itself should be specific to you, but I recommend making a goal that will motivate you to use Instagram more. This will help you get in the habit of using it. I'm confident that the more you use it, the more you'll love it.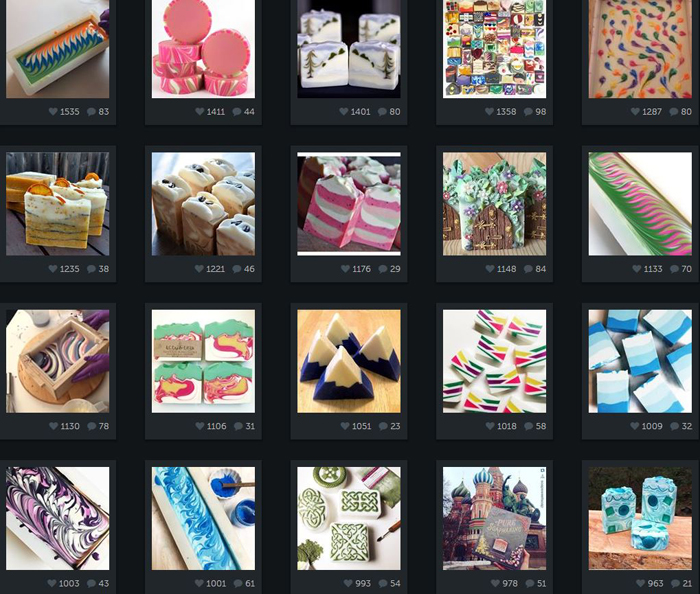 Iconosquare is a great tool for analyzing Instagram results. One thing you can track are your most liked posts. Check mine out above!
Then, keep making goals for yourself. After awhile, your goals may change to be more business oriented. Maybe you want to to reach a certain amount of followers, or create an Instagram ad and generate a certain amount of revenue. Iconosquare is a great tool for tracking and analyzing your posts, which will help you to make realistic business goals. Just keep in mind that even if you can't directly track the revenue Instagram creates, Instagram supports your business by cultivating community and making connections.
9. Spread the word
One easy way to gain followers is to post your Instagram account on your other social media accounts. Let your Facebook, Twitter or newsletter followers know they can also find you on Instagram. This audience has already shown they enjoy your content and brand and will be more likely to follow you on other outlets. Just don't spam them! Nobody likes to see a bunch of "Follow me, follow me!" messages everywhere.
Another strategy to spread the word about your social media presence is to add your social media info to your product labels. Just a simple social media icon along with your username usually does the trick. You should also add your social media links to your Etsy shop or website.
10. Create incentive & reward your followers
Sometimes in order for people to click that "follow" button, you need to create incentive. Think about it: how any times have you signed up for something, in order to get something in return? I know I have! Every now and then, create some incentive for users to follow you on Instagram. This might be a sale/coupon for followers only, a special heads-up for an upcoming sale, or a giveaway. Just make sure it's tempting and fun for your followers, while being manageable for you. This post is full of good information about running contests on Instagram.
———————
 I would love to hear how you utilize Instagram for business. Are you on Instagram? Feel free to leave your username below so I can check out your feed as well!