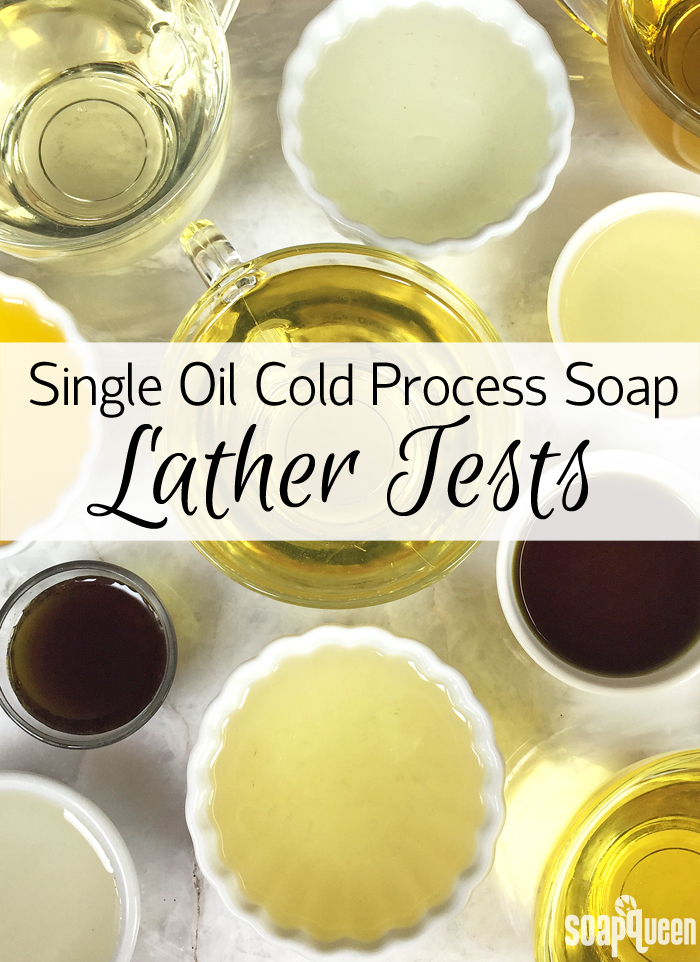 The most fundamental way that cold process soap can be customized is by using various combinations of soapmaking oils and butters. Each oil contributes something different to the final bar. For example, coconut oil is known for giving soap cleansing properties with a large fluffy lather. Olive oil, on the other hand, is not very cleansing, but is gentle on the skin. Using different combinations of oils at different usage rates will greatly affect the finished product. If you'd like to learn more about the properties of each soapmaking oil, check out this blog post.
Cold process soap can be made with only one oil, such as castile soap, which usually refers to soap made with 100% olive oil. Soap made with 100% olive oil is extremely gentle, but the lather is very minimal and it may initially be a softer bar. When soap is only made with one oil it may not be the most balanced bar. By adding coconut oil to the recipe, you give the bar cleansing properties. Each oil contributes something different to create a more balanced bar; this is why most cold process recipes are made with 3-6 different oils and butters. Check out the Formulating Cold Process Recipe post for more information on creating recipes, and the How to Substitute Oil in Cold Process Recipes post to learn how to swap them in existing recipes. 

To take a closer look at how various oils and butters change the final bar, I created twelve bars made with 100% of one oil. Then, I let the soaps cure for a full six weeks. After they were done curing, I tested their lather. I also took note of how hard the bar was, how my skin felt after use and any other interesting characteristic.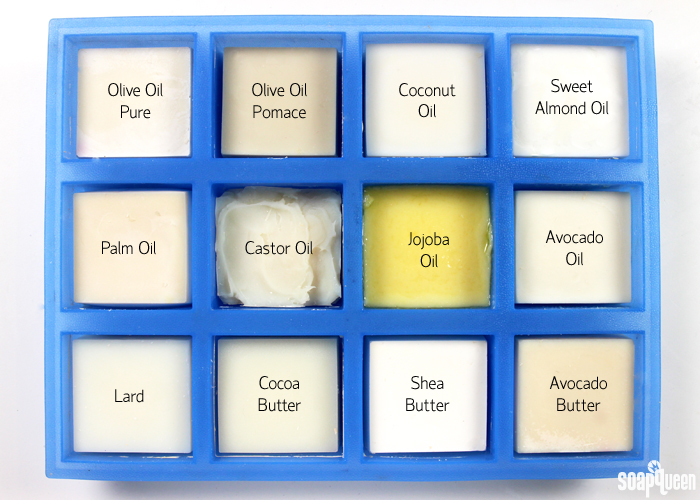 A Look into the Process
To make each bar of 100% oil soap, a lot of oil, lye and water needed to be prepped. Each batch used 5 ounces of the oil or butter with a 0% superfat. Each batch was poured into two cavities of the 12 Bar Square Silicone Mold. No sodium lactate was used in the bars. I tried to soap with my lye and oils as close to 120 º F as possible. Once poured, the bars were not insulated or placed on a heating pad. They were left at room temperature and sprayed with 99% isopropyl alcohol to prevent soda ash.
It's interesting to look at the lye amount in each batch; the amount of lye is surprisingly similar. Each batch called for 1.65 ounces of water and was not water discounted. You can see the recipe for each batch below.
For the majority of the oils, they traced and behaved like you would expect. The soft oils (olive oil pure/pomace, avocado oil and sweet almond oil) took longer to reach a trace than the hard oils (coconut oil, shea butter, avocado butter, cocoa butter). The one "hard" oil/butter that really surprised me was lard. I was expecting it to trace fairly quickly, but it took just as long as sweet almond or avocado. I've heard that trace and lard can be affected by the processing method for the lard.
The two oils that gave me those most trouble were castor oil and jojoba oil. Castor oil is a liquid oil that's extracted from the Castor Bean Plant. It has a thick and rather sticky consistency. The 100% castor oil soap traced quickly, and the batter had an extremely thick, sticky and slimy consistency. After placing the castor oil batter into the mold, it was firm within the hour!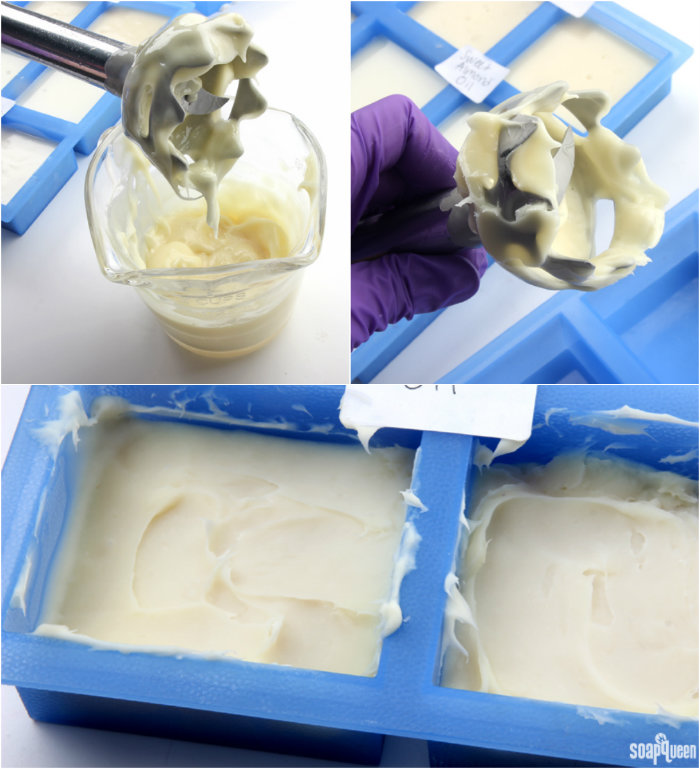 Making soap with 100% castor oil resulted in a very thick and sticky soap batter!
Jojoba oil was another oil that gave me some trouble, which makes sense because jojoba oil is not actually an oil…it's a liquid wax! You can learn more about jojoba oil here. It took a little longer to trace, and after a few hours it separated in the mold. This oil did not seep back into the solid soap below it. Once unmolded after 6 weeks, the bar was extremely soft.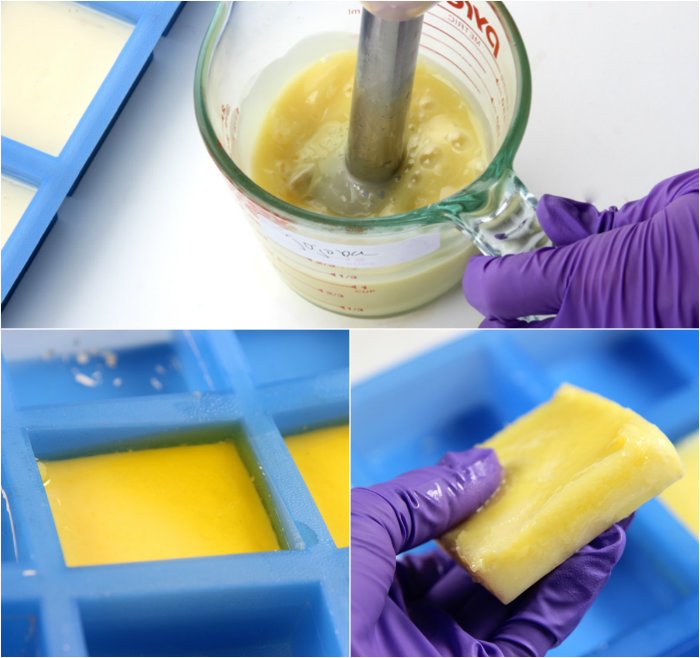 Top: Jojoba oil took quite a bit of stick blending in order to emulsify the oil and lye solution to trace.
Bottom left: After sitting in the mold, the jojoba oil separated. Right: Once removed, the solid part of the bar was extremely soft after 6 weeks. 
Now, onto the lather tests! To test the soaps, I used lukewarm warm tap water. I got my hands and the soap thoroughly wet and then lathered up. I looked at a few characteristics. First, was the lather fluffy, creamy, slimy, lotion-like, etc? How did the soap feel in my hands, was it firm or very soft? Was the lather stable? A stable lather means the bubbles are long lasting and do not disappear quickly or turn extremely dense. The Bramble Berry office team also tested the twelve bars, and added their notes to mine. Check out my results below.

Olive Oil Pure
-Lather: Small, dense lather. The more I lathered the bar in my hands, the more dense and slightly slimy the lather become. In the second photo, you can see the lather becoming a little sticky.
-Lather Stability: Poor
-Hand Feel: Squeaky clean

Olive Oil Pomace
-Lather: Small and dense lather. Interestingly, the lather was less sticky than the lather of pure olive oil. Instead, it was more creamy and lotion-like.
-Lather Stability: Poor
-Hand Feel: Clean/normal 

Coconut Oil
-Lather: Large, fluffy lather.
-Lather Stability: Good. The lather stayed large and fluffy as I continued to use it in my hands.
-Hand Feel: Very squeaky clean and a little dry.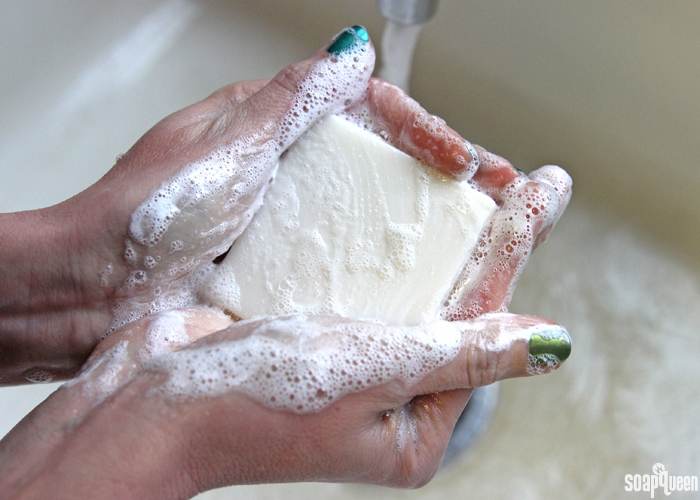 Palm Oil
-Lather: Dense, slightly creamy lather. At first the soap created a few larger fluffier bubbles, but the lather got creamier the more I washed. No stickiness.
-Lather Stability: Poor
-Hand Feel: Squeaky clean

Castor Oil
-Lather: Medium lather. This soap produced some bubbles.
-Lather Stability: Average/poor
-Hand Feel: Squeaky clean
Lard
-Lather: Little to no lather. At first, the bar produced a few very small bubbles. The more I lathered the soap in my hands, the more creamy and lotion-y it became until there were basically no bubbles at all.
-Lather Stability: Poor
-Hand Feel: Normal

Avocado Oil
-Lather: Small, very slimy lather. This may have been one of my least favorite, which is funny because I love avocado oil when used in combination of other oils. The bar hardly lathered at all, but -instead produced a very slimy, snot-like film on the skin.
-Lather Stability: Very poor
-Hand Feel: Slightly greasy, did not rinse clean. 

Sweet Almond Oil
-Lather: Large, fluffy lather.
-Lather Stability: Average. After lathering in my hands for a while, the lather did turn more dense and creamy.
-Hand Feel: Normal/soft

Cocoa Butter
-Lather: Dense, but it did actually create some small bubbles! Surprisingly, I found the lather fluffier than 100% palm oil soap. The more I used the soap, the creamier the bubbles became.
-Lather Stability: Average/poor
-Hand Feel: Normal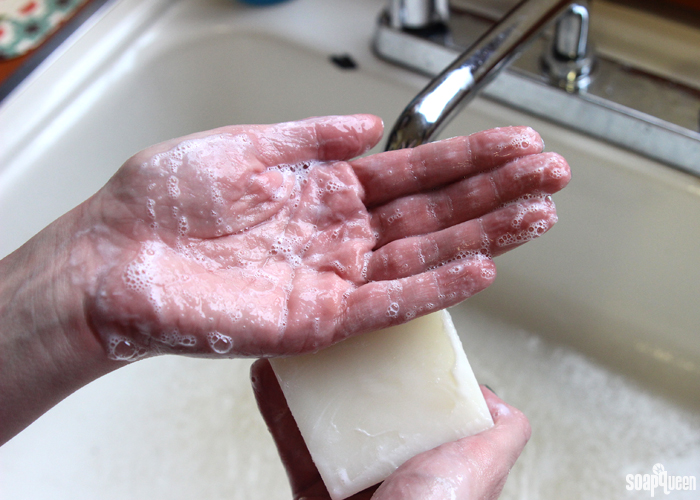 Shea Butter
-Lather: Very little to no lather. While it didn't create hardly any bubbles, the lather was not slimy. Instead it was very creamy and lotion-like.
-Lather Stability: Poor
-Hand Feel: Soft/Normal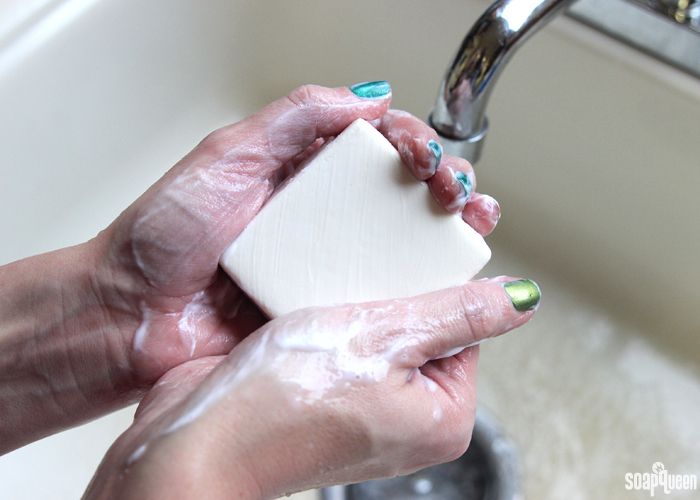 Avocado Butter
-Lather: Very small and slimy lather. I found the lather to be similar to that of avocado oil.
-Lather Stability: Poor
-Hand Feel: Normal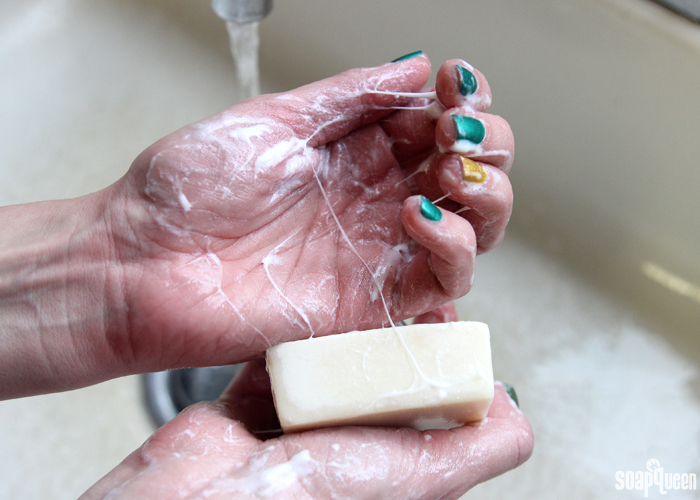 Jojoba Oil
-Lather: No lather at all. This soap did not produce bubbles. Instead it was very soft, and left a greasy film on the skin.
-Lather Stability: None
-Hand Feel: Left hands feeling very greasy.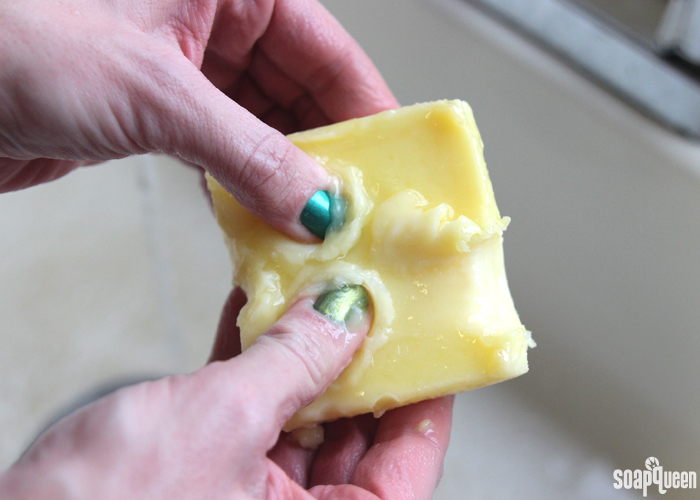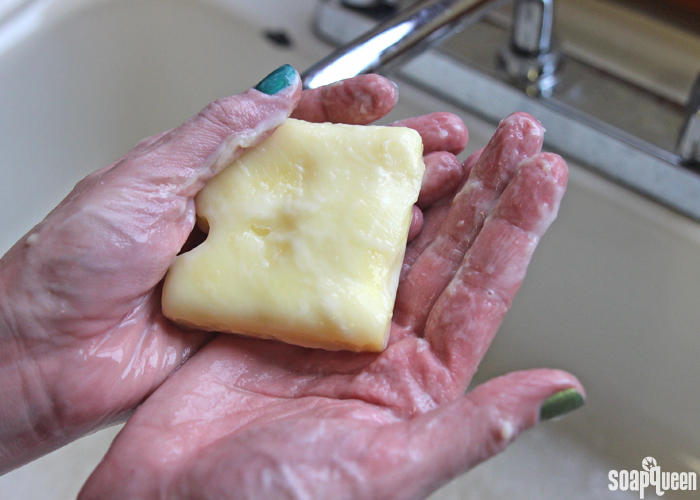 Phew! That was a lot of washing. As you can see, my hands get more and more red and more prune-y with each lather test! =) This experiment did result in some surprises. First, I was surprised that while olive oil and olive oil pomace were very similar, olive oil pomace did product a slightly creamier lather that was not as sticky. I was not surprised that castor oil and coconut oil created the fluffiest bubbles, but I was surprised that cocoa butter soap did actually produce bubbles! I was also surprised that sweet almond oil created such a fluffy lather. Below, you can see the aftermath of lather testing all twelve soaps.
If I had to choose, I would say that my favorite soap was the sweet almond oil soap due to the fluffy lather. My least favorite was the jojoba oil soap which did not lather at all. The office seemed to agree; overall the favorite soaps based on the Bramble Berry office team's tests was the sweet almond oil soap and the least favorites were jojoba oil and fresh olive oil soap. Many believe that 100% olive oil soap, castile soap, is best after setting and aging 12 months and I agree.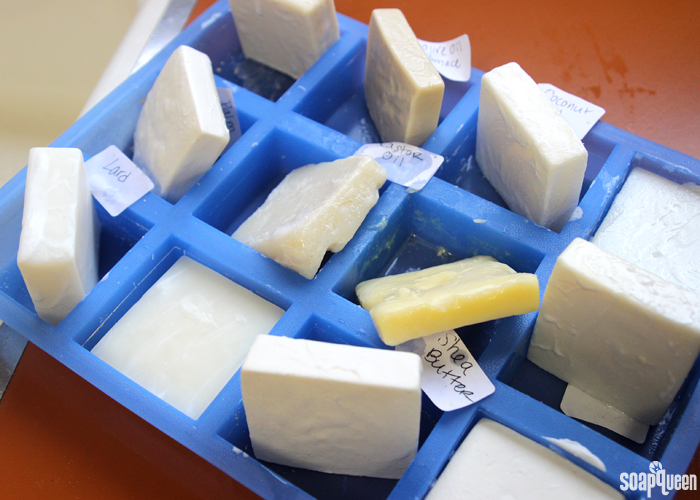 Have you ever made soap with only one oil before. What did you think? Did the results of this test surprise you at all?