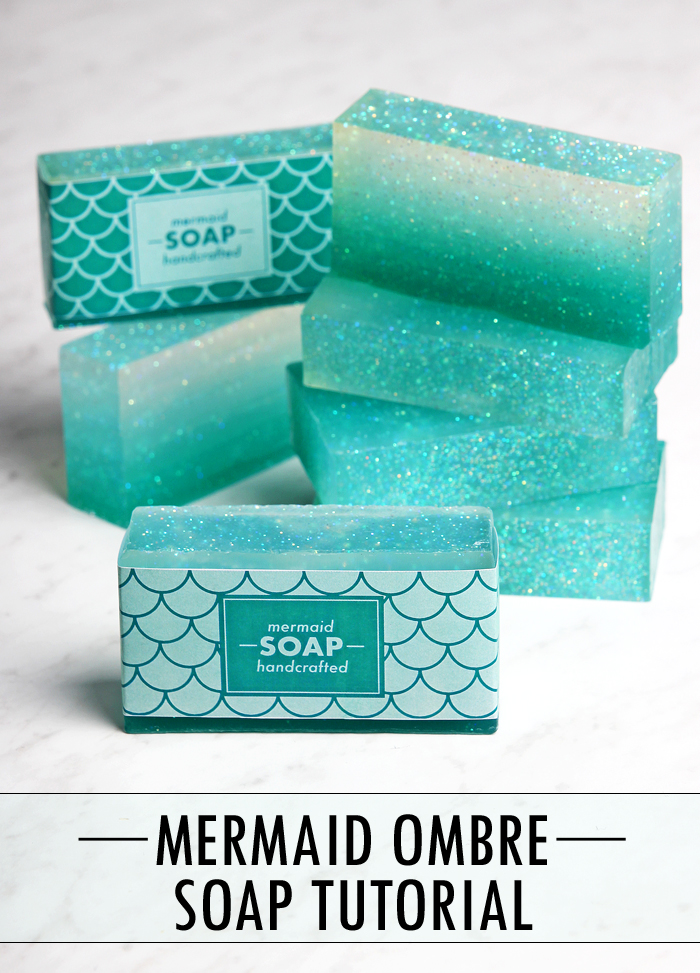 With ombre aqua blue layers and plenty of sparkle, this soap is fit for a mermaid. It's made with ingredients in the Mermaid Ombre Soap Kit, which includes everything you need to make this project. This recipe is for one batch but the kit comes with enough to make two batches. It has printed instructions and labels to give the bars a finishing touch. The kit also ships free to the lower 48 United States!
The ombre layers are created by melting down all the soap, pouring a small amount into the mold, then adding shavings of the Hydrated Chrome Green Color Block to the remaining soap. As you continue to pour each layer and add more color, the color becomes increasingly saturated. By the time you pour the last layer, the soap is a deep aqua blue.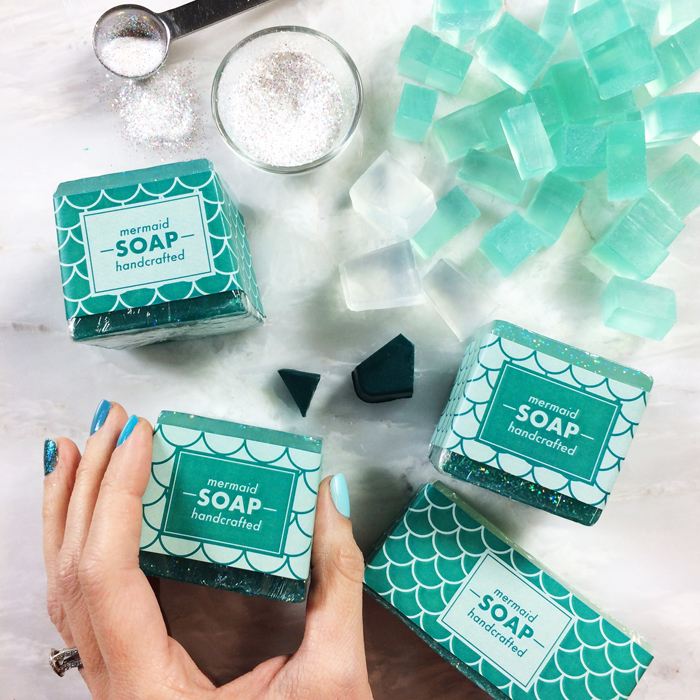 You can create as many layers as you'd like. The more layers, the more gradual the ombre effect will be. If you want the layers to be perfectly even, I recommend placing the mold on a scale and weighing each layer. This project is suitable for beginners, but keep in mind layers take a little patience. It can be handy to have a thermometer for this project to make sure the soap is not too hot when poured. If the melt and pour is too hot, it can melt the layer below. Read more tips for layering melt and pour soap here. 
What You'll Need (Ingredients included in the Mermaid Soap Kit):
4″ Silicone Soap Mold
16 oz. Clear Melt & Pour Soap Base
1 tsp. Iridescent Glitter
10-15 mL Yuzu Cybilla Fragrance Oil
Hydrated Chrome Green Color Block
Spray Bottle filled with 99% Isopropyl Alcohol (Rubbing Alcohol)




Click here to add the Mermaid Soap Kit to your Bramble Berry shopping cart!