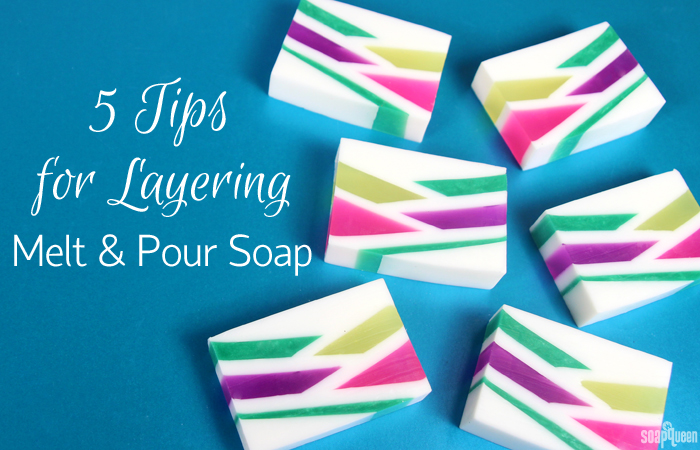 Last week, I shared 5 Tips for Swirling Cold Process Soap. Swirls are possible with melt and pour, but can be a bit tricky because the soap hardens quickly as it cools. Swirls in melt and pour soap end up looking much different than in cold process soap. You can read more about my tips for swirling melt and pour here. Right now, I'm playing with the Stephenson Suspension Melt & Pour base to create swirls in melt and pour so be sure to watch my Snapchat stories (bramble-berry) to follow along over the next few weeks with that project. But for now, let's move to layering.
While melt and pour can't swirl quite like cold process can, melt and pour can create extremely clean and straight layers. Because melt and pour soap cools quickly, you can wait for the soap to completely harden before pouring the next layer. This prevents the top layer from breaking through to the bottom, which is easy to do in cold process soap. Creating layers with melt and pour soap takes a little patience and a little practice. Below are my top five tips for creating layered creations in melt and pour soap.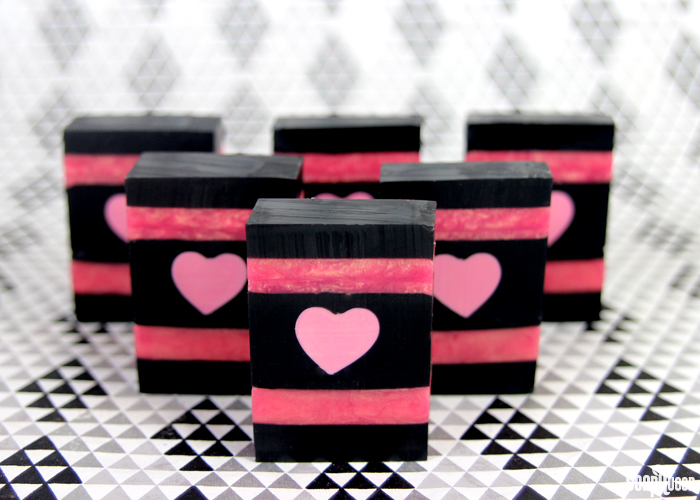 Melt and pour creates clean layers in the Rose Gold & Charcoal Heart Melt and Pour Soap. 
It's All About Temperature!
With melt and pour soap, temperature is key. Melt and pour begins to melt around 120-125 ° F. When pouring layers, it's crucial that the top layer is not too hot or it will melt the soap below. Make sure that the top layer has cooled to 125 ° F or below before pouring. Because temperature is so important, I recommend investing in an infrared thermometer for more layered melt and pour projects.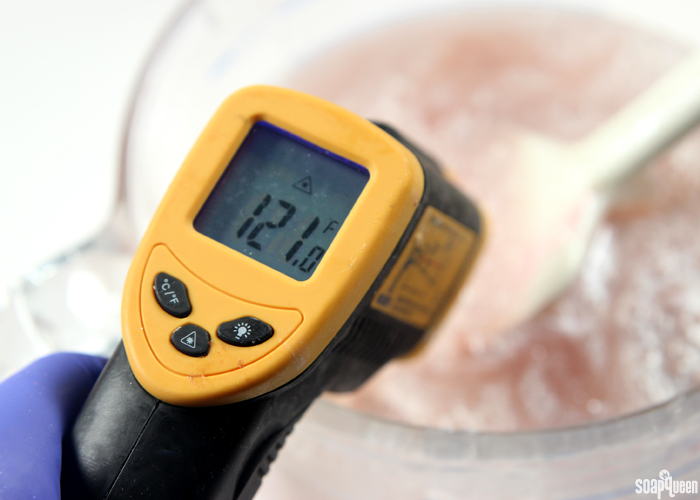 If the top layer is too hot, it will melt and layer below. Always allow it to cool before pouring! 
Patience is a Virtue
It's important that the top layer of soap is not hot enough to melt and bottom layer. It's also important to let the bottom layer cool and harden enough to support soap on top. If it is too soft, the top layer will fall through to the bottom, no matter how much the top layer has cooled. As the bottom layer cools and hardens, it will develop a skin. To test the thickness and strength of the skin, I like to lightly blow on the bottom layer. If you can see any rippling in the soap, it needs more time to cool and harden before pouring the top layer. This tip does get a little complicated, because waiting too long to pour the next layer can cause the layers to separate. I recommend not waiting more than 90 minutes (max) to pour the top layer of soap.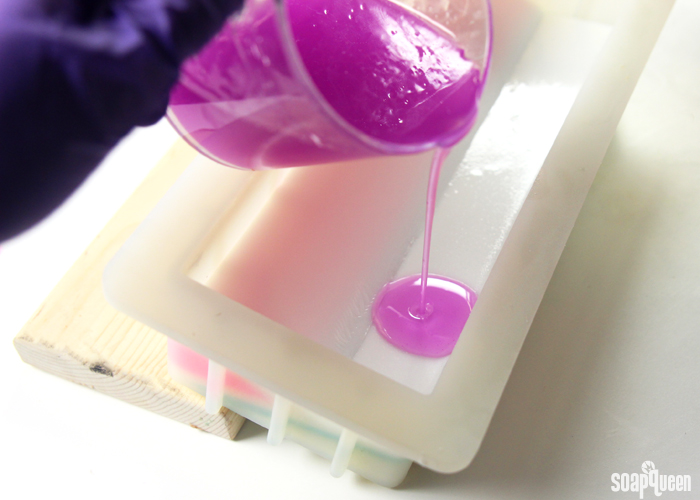 Allow the soap below to become cool and firm enough to support the layer on top, as shown in the Neon Geometric Melt and Pour Tutorial.
Rubbing/Isopropyl Alcohol is Key
A spray bottle of 99% isopropyl alcohol is a must when making melt and pour soap. A light spritz helps get rid of air bubbles after pouring. Spritzing alcohol immediately before pouring your top layer really helps "glue" the two layers together. You can use alcohol with a different percentage (ex: 70% isopropyl alcohol), but I have found 99% isopropyl alcohol to produce the best results.
Be careful to not spray too much! Spraying too much alcohol can have the opposite effect, and may cause the layers to separate once cut. I like to use a bottle that has a fine mist, like these bottles. Just a few spritzes does the trick. Be sure to not wait too long after spraying, or the alcohol will evaporate before you pour the next layer. Click here to learn more about 99% isopropyl alcohol in soapmaking.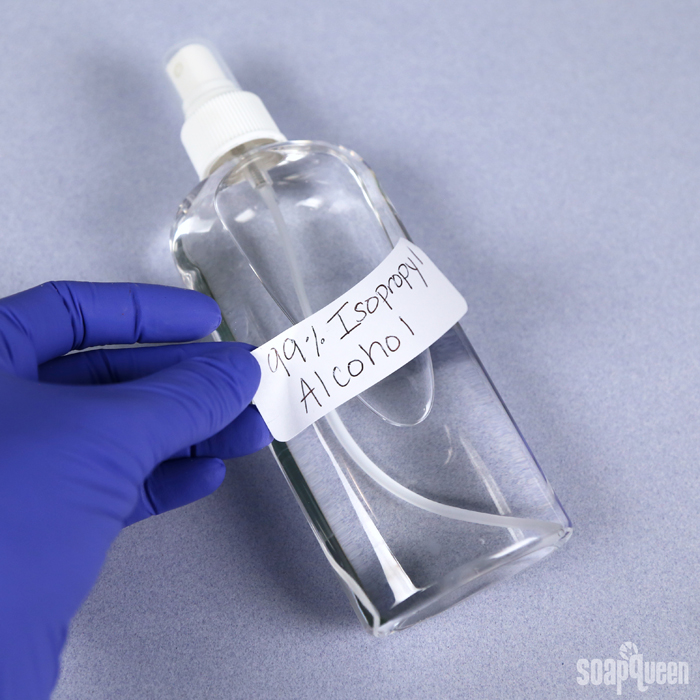 Isopropyl alcohol is key to eliminating bubbles, and to help layers stick together. I like to put it in the 8 oz. Bottles with a Spray Top for a fine mist. 
Allow it to Fully Cool
If you begin cutting the soap before it is fully cool and hard, the layers are more likely to separate. I know it's hard to wait, but I really recommend allowing your loaf to fully cool and harden before cutting. Depending on the size of your project, this could take several hours. But believe me, it's worth the wait!
Grab a Sharp Knife
Interestingly, I have found that a sharp knife really helps the layers stick together when cutting into bars. The more dull the knife is, the more likely the layers are to separate. In addition, I have tried laying the soap on the side and cutting that way (rather than from the top down) helps layers stick together better.
What's your favorite tip for layering melt and pour? Check out the Soap Queen TV video above for more information on layering melt and pour. =) It's an oldie but a goodie! Then checkout the melt and pour archive for lots of layered melt and pour tutorials.