One of the best things about social media is being able to connect with fellow crafters from around the world. I started the hashtag #SoapShare to help connect soapers, and of course to browse through all the beautiful photos. While looking through photos tagged with #SoapShare on Instagram, I stumbled upon Carolyn of Siennalily Soaps. I was blown away by the gorgeous designs created by Carolyn, who lives in Spain. Read my interview with Carolyn below to learn more about this talented soaper! – A.M.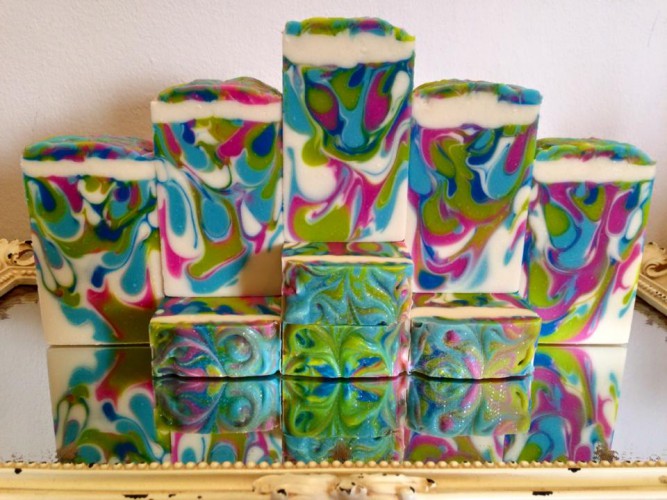 Siennalily Soaps' show stopping Rio Cold Process Soap. The drop swirl looks amazing!

How long have you been soaping for and how did you get started?
I started about 7 months ago. I decided I wanted to try something different and wanted to make something special for my 4 daughters as a little stocking filler that meant something to us all for Christmas. I looked into soap making and got a little anxious when I read about the lye solution, but I didn't let it stop me. Next thing was finding supplies! I live in Spain, and the only thing I could buy here were my oils and sodium hydroxide, no fragrance and no colours. So, I hit the internet to find everything.
While I was waiting and itching to get started, I found YouTube videos about soap making and watched them in every spare minute I had. All the lovely soap makers around the world helped me immensely, especially Anne-Marie (The Soap Queen). I loved watching all of the videos to gain knowledge before I started. I was intrigued by all of the intricate swirling and pouring techniques and thought to myself, "I will never be able to do that in a million years!" It took about 10 days for my supplies to start arriving. My first soap was pink, green and white and fragranced with an apple scent. It is ugly and smells awful but I was overjoyed with that soap. Everyone got the photo sent to them. With my first soap under my belt I gained confidence and on 11th October 2014, Siennalily Soaps was born.