Perfect for a hot bath on a cold night, this Pumpkin Sandalwood Soap features a Hanger Swirl in classic Halloween colors, and a bit of spooky sparkle. We mixed warm and homey Pumpkin Sandalwood Fragrance Oil with swirled Halloween colors to make this beautiful autumn soap.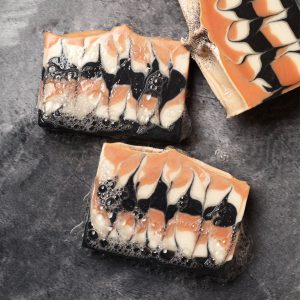 The Hanger Swirl technique creates an interesting and unique design in each bar. The classic version involves layering various colors and moving the Hanger Swirl Tool up and down within the mold. It's a technique that involves a good understanding of trace – don't over stick blend or the colors will not swirl.
Find the recipe and a how to video HERE!