Essential oil adds such a beautiful scent to handmade creations. Whether you love bright citrus or earthy patchouli, there's something for everyone. Find inspiration for your next essential oil project below.
Lavender is one of the most popular essential oils, and for good reason. It adds a relaxing floral scent to a variety of products, like this super easy Linen Spray. It has only three ingredients, including Lavender Fine Essential Oil. The Lavender and Honeyquat Lotion is made with Lavender Absolute 50%, which has a sweet smell reminiscent of honey. Sleep Time Bath Truffles, scented with Lavender 40/42 Essential Oil, are the perfect way to relax. Of course, you can't forget handmade soap – the Lavender Kombucha recipe features a purple and white swirl and a finishing touch of lavender buds.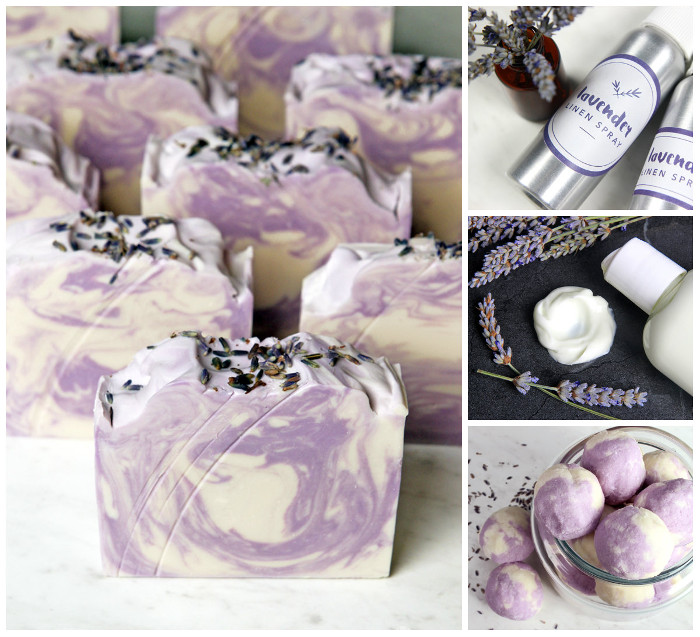 Clockwise, left: Lavender Kombucha Soap, Lavender Linen Spray, Lavender and Honeyquat Lotion, Lavender Sleep Time Bath Truffles
Lavender isn't the only option for your handmade soap. The Turmeric Secret Swirl Soap is made with spicy ginger essential oil, which complements the warm color. To complement the black and white color palette in the Charcoal Beer Soap, we added a mix of cedarwood essential oil and fir needle essential oil. The Kokum Butter Cold Process Soap has a simple design, with ground pumpkin seeds for exfoliation and eucalyptus essential oil for a refreshing scent. If you're a licorice fan, you'll love the combination of anise essential oil and orange 10X essential oil in the Star Anise Melt and Pour Bars.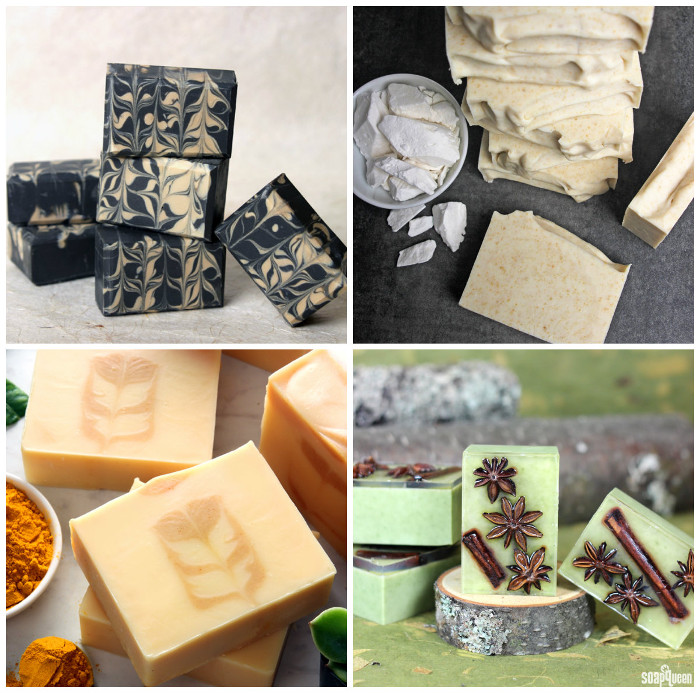 Clockwise, top left: Charcoal and Cedar Beer Soap, Kokum Butter Cold Process Soap, Star Anise Melt and Pour Bars, Turmeric Secret Swirl Soap
The Avocado Cold Process Soap is scented with spearmint essential oil, which gives the bars a sweet and minty scent. Its green hue comes from a mixture of fresh avocado puree, French green clay, and spirulina powder. Poppy seeds complete the simple and natural design.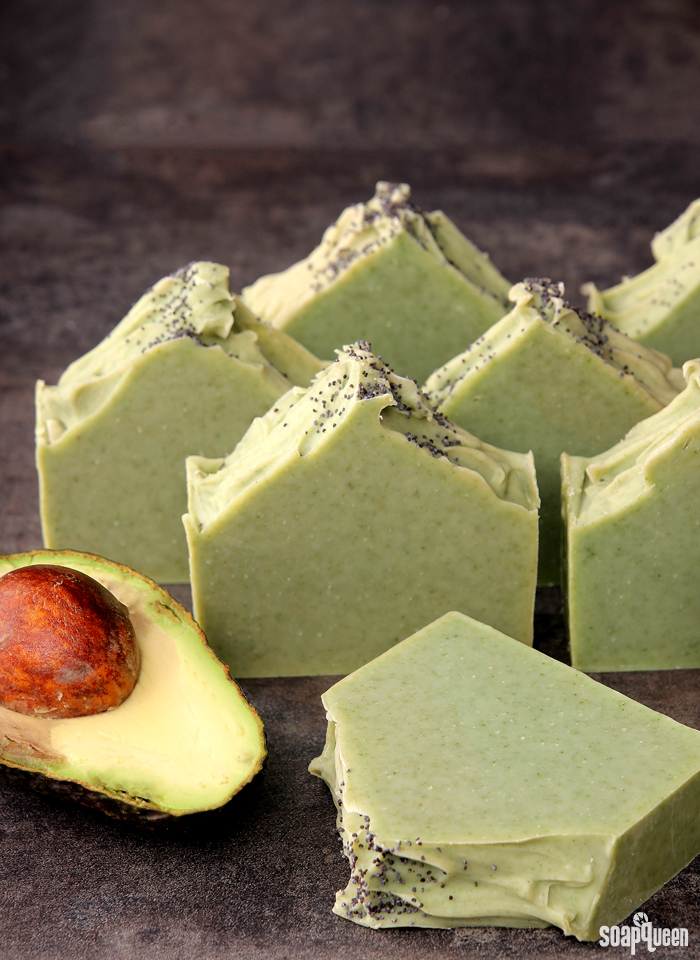 If you want to feel energized, start your morning off with an essential oil scrub. The Cleansing Charcoal Facial Scrub is made with tea tree essential oil. The Turmeric and Ginger Body Scrub has sugar to help cleanse and exfoliate the skin. To put a little pep in your step, try the Invigorating Foot Soak. It's made with peppermint essential oil.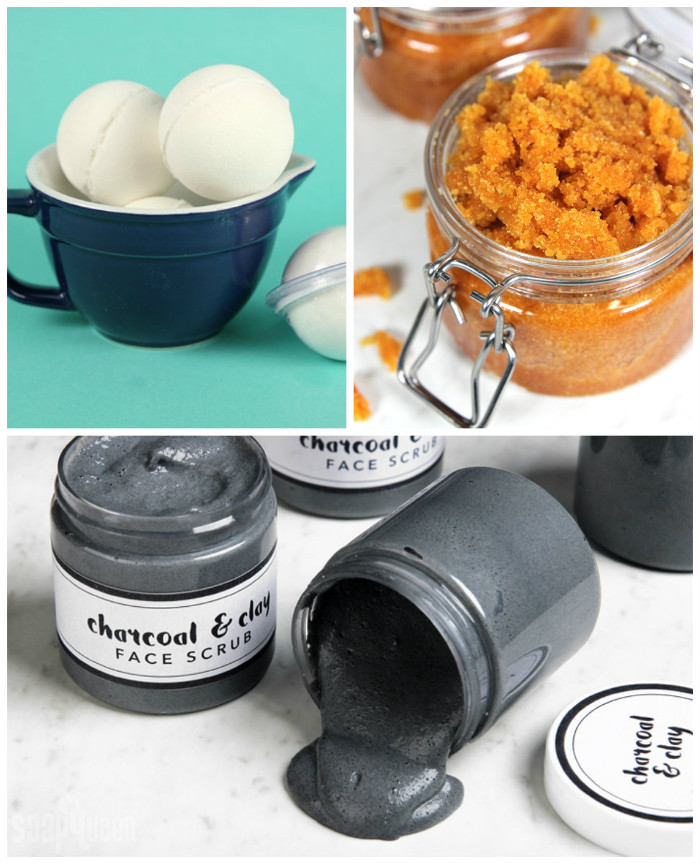 Clockwise, top left: Invigorating Foot Soak, Turmeric and Ginger Body Scrub, Cleansing Charcoal Facial Scrub
After scrubbing the skin, follow up with Frankincense Body Balm. It's made with moisturizing avocado oil and kokum butter, and scented with frankincense essential oil. The Ginger and Moringa Oil Conditioner will leave your hair feeling smooth and silky.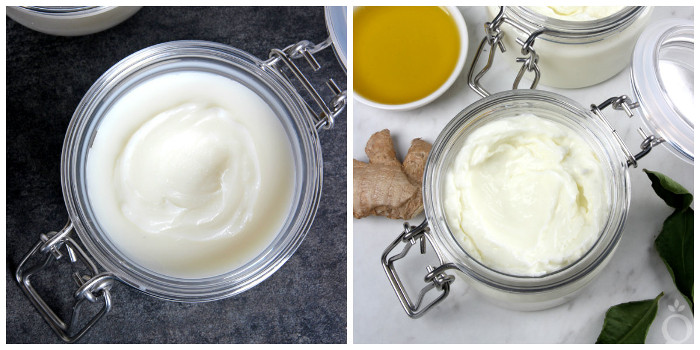 Left to right: Frankincense Essential Oil Body Balm, Ginger and Moringa Oil Conditioner
Looking for more essential oil inspiration? The #BrambleOn tag on Instagram, Facebook, and Twitter is full of beautiful products made with a variety of scents. See a few of our favorites below.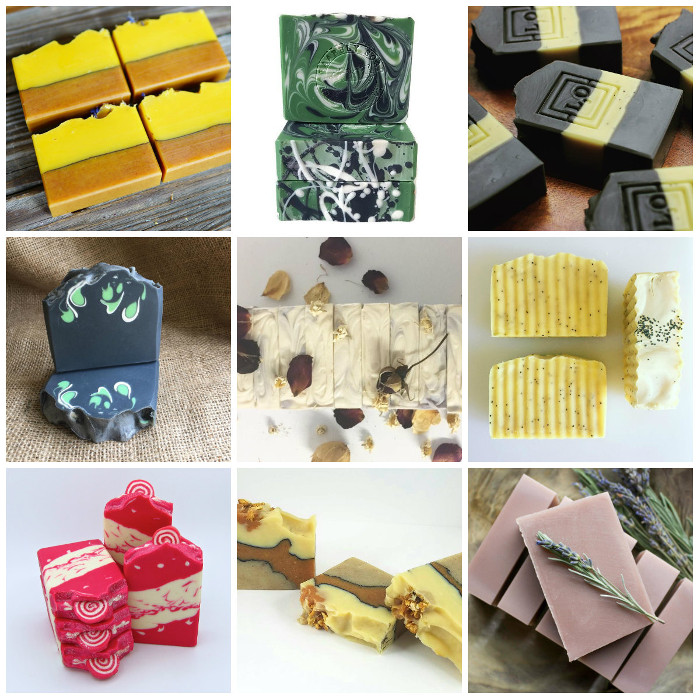 Top row, left to right: muddymint, baabblysoap, l3osoaps
Middle row, left to right: thesoapmine, elegantsoapco, soapsbyhailey
Bottom row, left to right: owlnaturalsoaps, dalliancesoapcompany, nerdyfarmwife