The soaping community is full of creative and savvy business owners who are full of experience and  know-how. A few of these soapers have been featured on the blog, and where asked to give beginning soapers a piece of advice. In 2014, our interviewees had fantastic tips for beginning soapers looking to start a business. If you're looking for even more business tips, check out the business category of the blog!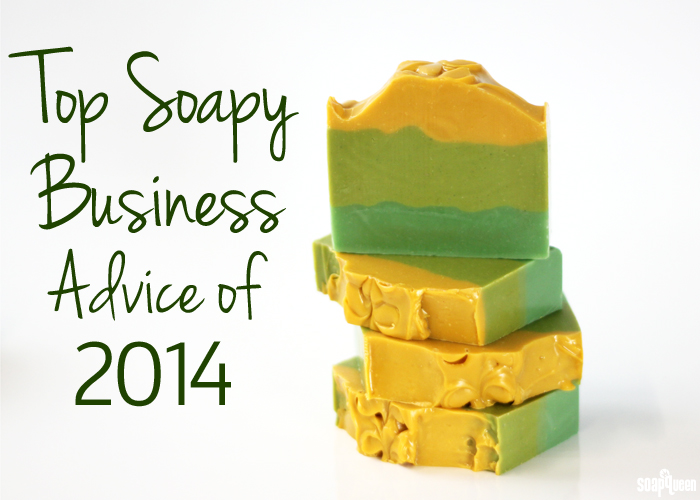 From remembering to have fun, from taking copious soap making notes, each piece of advice was thoughtful and powerful! If you're looking for some business guidance or motivation, check out the counsel from fellow small business owners below. Then, click through to read the entire interview.
"My biggest piece of advice would be to get "legal." And, yes, it does cost money to get "legal." Get all of your appropriate licenses and permits and register your business. Get insurance! Take time to keep good records — yes, I know this is the not-so-fun part about making soap! I am here to tell you that 90% of my time is spent doing paperwork, packaging orders, communicating with customers, and marketing my products. Making soap is the easy part!" – Rachel from The Daily Scrub

"Lots of research. Starting a business is quite a learning experience. You will make mistakes, which is okay as long as you learn from them.  Also, find a mentor that will support you and be a wonderful sounding board. People appreciate creative products and will keep coming back for more." – Erin & Kirsten from Kensico Soap Bar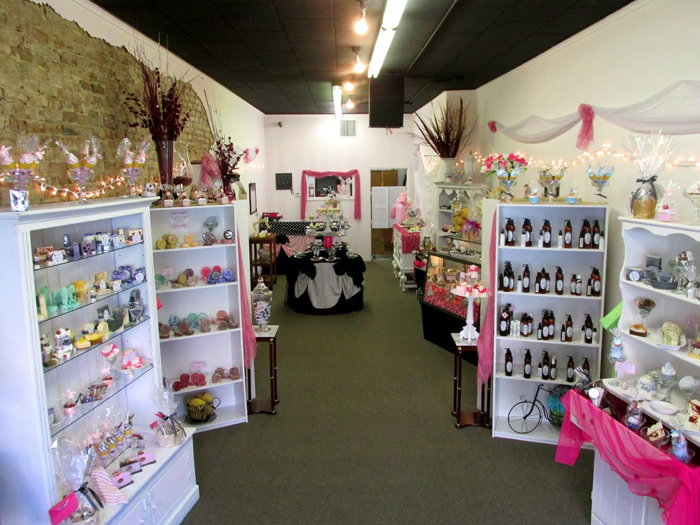 Inside Josie's store, located in Grants Pass, Oregon.
"The most important thing that has helped me since opening: find out the hours that people get off work in your surrounding area. We found out our 1st week being open that we closed at the same time everyone else was closing. Well…that doesn't work well for customers to shop your store when they leave their workplace and see you have closed up also." – Josie from Josie's Beauty Boutique 

"My only advise as I enter this is just to "go for it".  I am having so much fun and am so excited by what I am doing that I am almost giddy!  You must love what you are doing and try to find something unique to offer." – Janelle of Jangle Soapworks
"Start small and celebrate your successes and learn from mistakes and don't consider them failures. Be thankful that you caught the oopsie because it could have been so much worse. Be sure to price your products correctly if you are actually trying to have a business and not a hobby (this has been difficult for me, but it is so vital). Most importantly, love what you do because it shows. Being able to connect with your customer makes all the difference in the world." – Jill of Calise Soapworks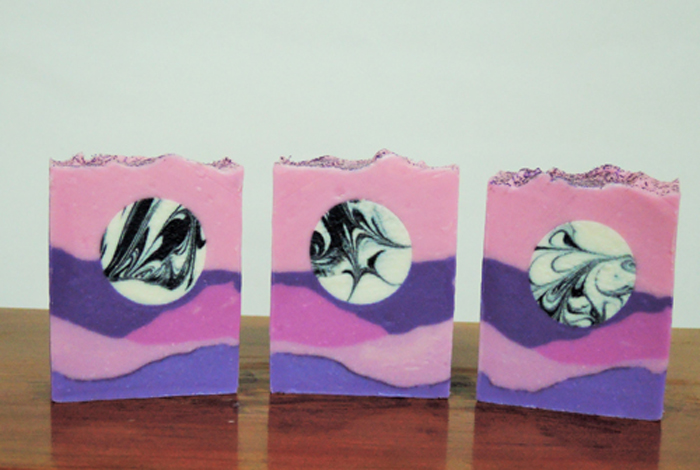 Stunning cold process soap, made by Jodi of Lakehurst Farms.
"Make sure you're having fun! It's quite hard to make money selling soap, you have to put in a tremendous amount of time. So I think the most important thing is to enjoy what you're doing. A lot of my soap and other handmade products end up being gifts." – Jodi of Lakehurst Farms
 "Do what you feel comfortable with and find a niche within the market. Don't do what everyone else does. Do what you feel you want to do and have fun doing it. Experiment all the time. Doing so not only keeps you fresh and creative, but you learn so much while you're doing it even if it wasn't a 100% success." – Kristen of The Silk Soap Company
"The advice that I would give soapers just starting out is to take your time. Learn all you can about the soap making process before you start. I was nervous about using lye for the first time because it is dangerous if not handled properly." – Jessica from BellaBrice Body Care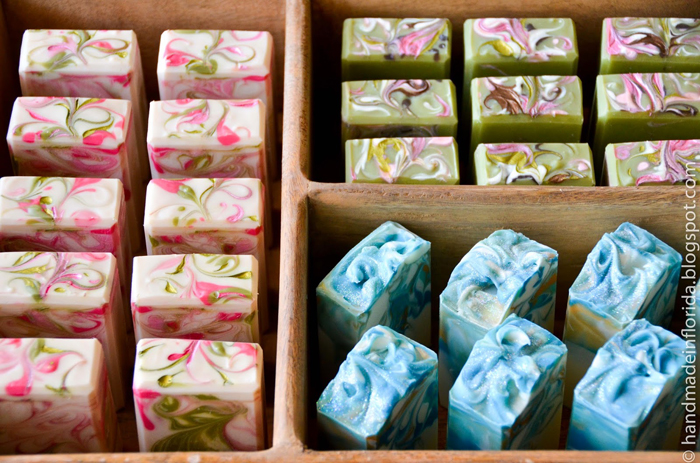 Handmade in Florida's gorgeous soap, ready to sell!
"Believe in your product and in yourself! You can do this! Yes, it's always a bit scary when you're putting yourself out there, but you'll never know unless you try!" – Zahida of Handmade in Florida
"Have fun with it. Don't be afraid to try new things and be creative." – Donovan from Toil and Trouble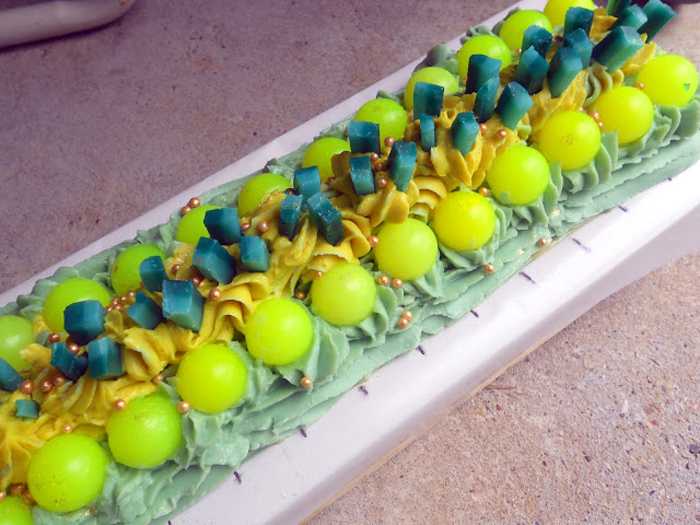 Cold process soap, full of chunky embeds and flair, by Katie of Royalty Soaps.
"There are a few things I wish someone would have told me when I first started. First of all, write down EVERYTHING you purchase for soap from the very beginning. Get into the habit of having this list up to date and detailed. Having this has helped me so much when comparing prices for supplies and charting my growth. Also, use high quality ingredients (like the ones at Bramble Berry) for every product." – Katie of Royalty Soaps

If you're looking for more soapy business advice, check out these informative posts below!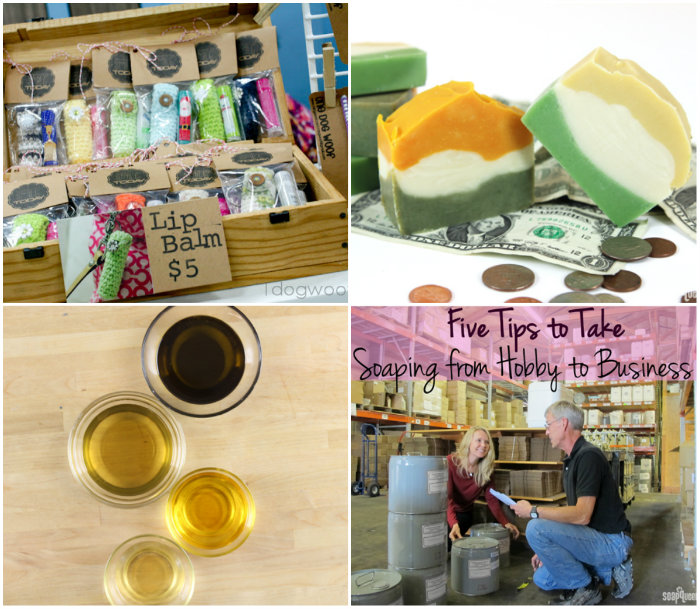 Top row: Fundraiser Kit + Craft Show Tips Galore, Where to Sell Products: Online, Markets & Online 
Bottom row: Pricing Your Products, 5 Tips to Take Soaping from Hobby to Business
If you are a small business owner, what advice do you have for soapers just starting out? Or, if you are new to soaping, what is the best piece of advice you have received?