Amazed by the saponification process during a soap making class, Katie White of Royalty Soaps started her business at only 17 years old. Her gorgeous soapy creations are full of color, texture and personality. Active on YouTube with over 50 videos of cold process tutorials and product reviews, Katie's soaps and fun personality are truly inspiring. Read on to learn more about what motivates Katie, and how she got started soaping.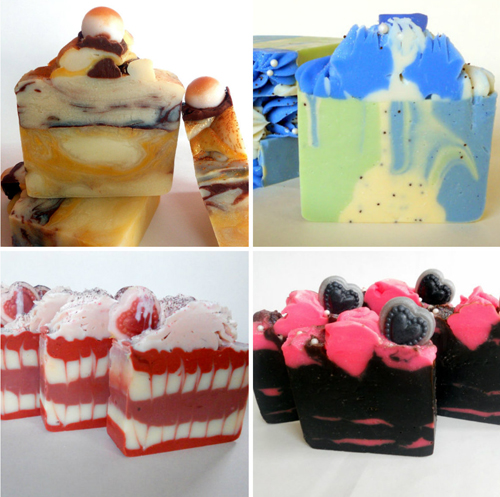 How long have you been soaping for and how did you get started?
I learned how to make cold process soap in the fall of 2010 at the homeschool co-op my family attends when I was 16, but had experimented with melt and pour when I was only 12. My creative and inspirational teacher, Mrs. Mendez, took the time to explain the chemistry and science behind soap making and I was hooked instantly.
I was dazzled by the process of saponification and the different effects special oils and butters have on your skin. I knew within my first semester of taking the class that I wanted to take my hobby to a professional level. On September 15, 2011, almost exactly a year and multiple recipes later, I began Royalty Soaps.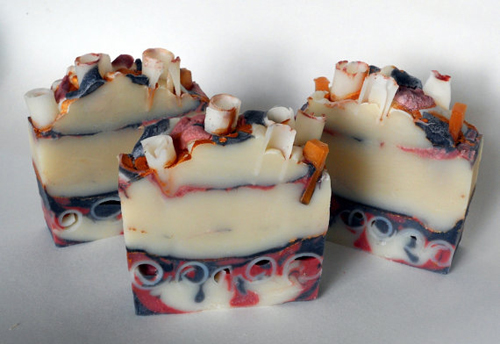 What sort of advice would you give to those soapers just starting their businesses?
There are a few things I wish someone would have told me when I first started. First of all, write down EVERYTHING you purchase for soap from the very beginning. Get into the habit of having this list up to date and detailed. Having this has helped me so much when comparing prices for supplies and charting my growth.
Also, use high quality ingredients (like the ones at Bramble Berry) for every product. I have found that my recipes act better, my fragrances are stronger, and my colors are brighter if I purchased from a reputable supplier. Finally, keep making soap. No matter how tired you are, how discouraging a day you've had, and despite any negative feedback from others you've received.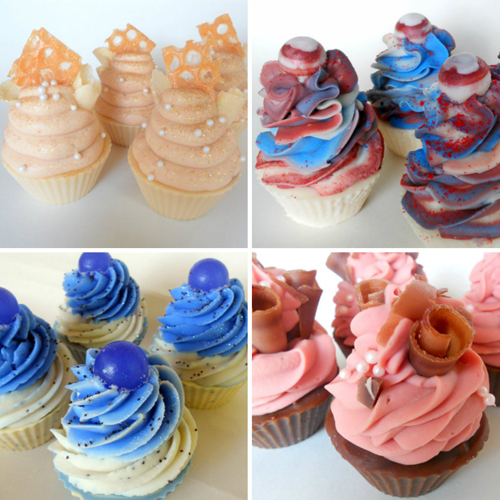 What is your favorite type of product to make?
Most definitely my cold process soap loaves. Every soap is different and the variety and unique attributes of each batch keeps me excited and enthusiastic about what I'm creating.
What inspires you to create?
Gee, everything?! I seriously got inspired by a funny card a friend of mine gave me as a joke. I liked the pattern and off to the soap shed I went! Movies, costumes, nature, people, animals, art, fashion runways, vintage styles, beautiful jewelry and even words have fueled my imagination for soap designs at some point in time. My head is a big loop-da-loop of colors, shiny things, and soap ideas!


How did you come up with the name for your business?
Well, I got a big piece of paper and wrote about 50 words that I just love to death. Then, I scribbled down everything I wanted my business to be about, every adjective I wanted my customers and friends to feel when using any product my hands have created. (luxurious, pampered, etc.) I have always had a soft spot for crowns, scepters, and princesses; anything…well…royal! It just clicked. After brainstorming a few hours, the name Royalty Soaps was born and I couldn't be happier.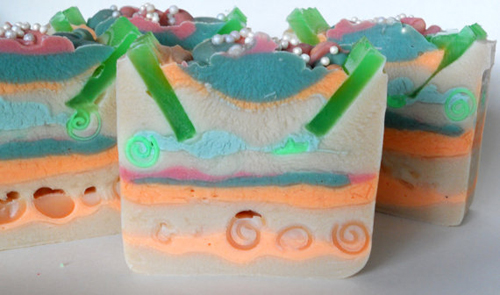 Royalty Soap's Summer Melon Supreme
What is your favorite Bramble Berry product?
Ooo, that's a tough question! Though nearly impossible to pick just one, I would definitely have to say the Small 9 Ball Silicone Mold. I use this almost every time I make a soap log with Bramble Berry's Low Sweat Melt-and-Pour and place them on top of the bars. I just love the perfect circles this mold creates!
Also, I can't live without my mini mixer. It makes blending colorants of all types a breeze. Finally, the Bramble Berry Champagne Fragrance Oil is the absolute best I've ever tried. It's always in my fragrance oil cupboard and mixes wonderfully with both fruity and floral scents, especially Crisp Anjou Pear, Pineapple Cilantro, and even Black Raspberry Vanilla.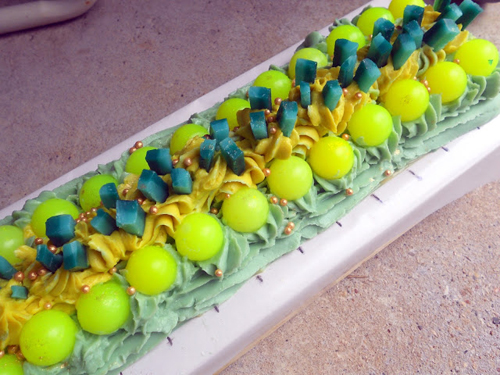 Royalty Soap's Pineapple Cilantro Soap
Tell us something unusual or unique about yourself!
Just between you and me, I'm really not that interesting. However, I do have 7 brothers and sisters (that's more than most people!) and I was homeschooled for all of junior high and high school. I guess you could qualify those two facts as unique and unusual! 😀
Find Royalty Soaps
Etsy Shop
Blog/Website
YouTube
Pinterest
Twitter
Facebook