Growing up, Jayme of Salt & Shea wasn't able to use store-bought soap. Because of her allergies, it would irritate her skin. That experience helps Jayme craft handmade products for those with sensitive skin. She uses natural ingredients and avoids harsh chemicals, which means she gets to enjoy her creations as well. Learn more about how Jayme got started, what inspires her, and her soapmaking tips.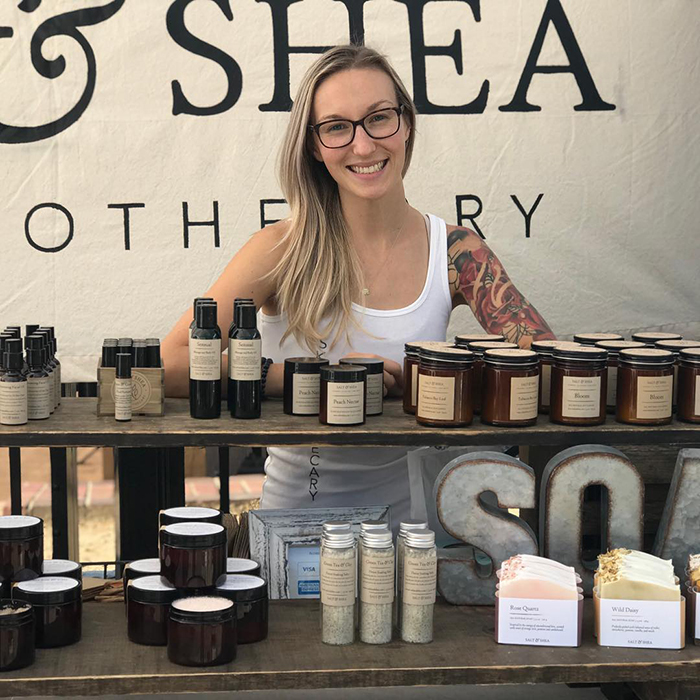 How long have you been making soap and how did you get started? 
I made my first batch of soap a little over four years ago. At the time, the idea to make soap was completely random and stemmed from one of those lounging on the couch with your mom, drinking wine, scrolling Pinterest, contemplating life moments. At the time I was 27 and unfulfilled with my current line of work. I was looking for a change and had no clue what I wanted to do other than "make stuff." I possessed a love for baking and a passion for natural skincare and then… light bulb I had an idea…. "Mom, I am going to become an esthetician, help people with their skin, and make soap!" "Soap? Why soap? You don't even use bar soap. You are allergic," my mom responded. But the idea was planted and I was going for it. I spent the following few days obsessed with the idea. I googled everything soap and skincare related and stumbled upon Anne-Marie's Soap Queen blog. I watched every video possible, read how-to blogs, and ordered a few soapmaking books from Amazon!
A few weeks later for my birthday, my mom gifted me a cold process soapmaking kit from Bramble Berry. I was so excited! I opened the box, started to work through the recipe, and made my first batch of soap. I was instantly hooked! The rest is history….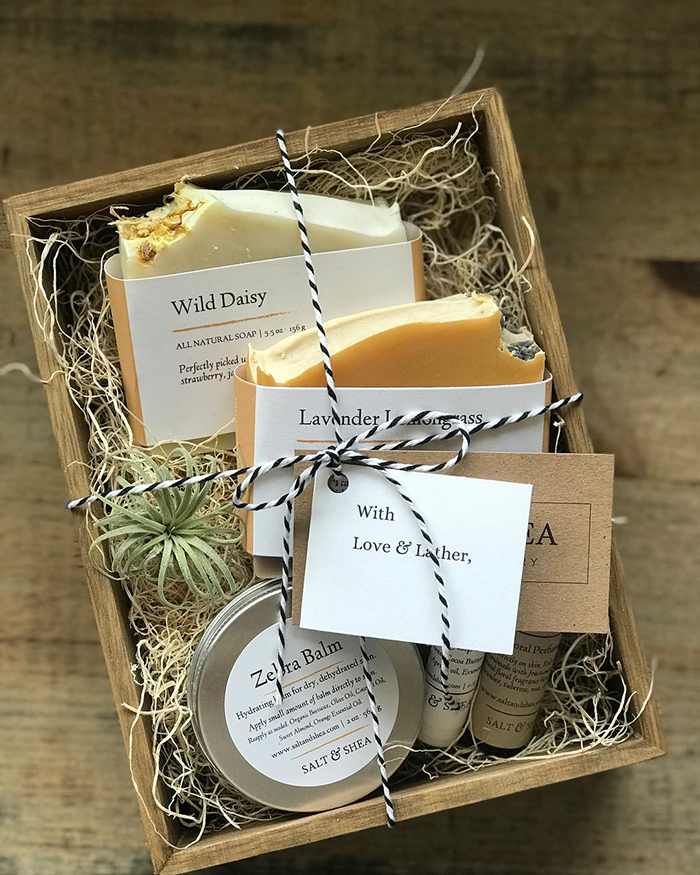 Custom birthday box
What advice would you give makers just starting their businesses? 
Start small but plan big! Know your numbers and account for your time! Soapmaking as a hobby is completely different than running a sustainable business. Before you embark on selling soap or think about creating a handcrafted business, you need to have a solid plan and understanding of things like the real cost of goods (including your labor and overhead), production procedures and timelines, inventory control, waste management, branding and marketing, customer service, and the laws and regulations that pertain to you depending on where you live and conduct business. I recognize as makers we get excited, create, and want to share it with the world. However, taking the time to have a plan in place and a good understanding of the business side will help you stay on track, focused, and eventually profitable.
What is your favorite type of product to make?
S.O.A.P! I enjoy pouring balms, soy wax candles, and packaging gift boxes, but cold process soap is my favorite product to create. Each batch is unique and one of a kind. You can fully customize your recipe and do away with the use of toxic chemicals, parabens, fillers, and commercial skin-stripping additives. The best part is that you can tailor ingredients to satisfy the needs of different skin types, allergies, or client concerns.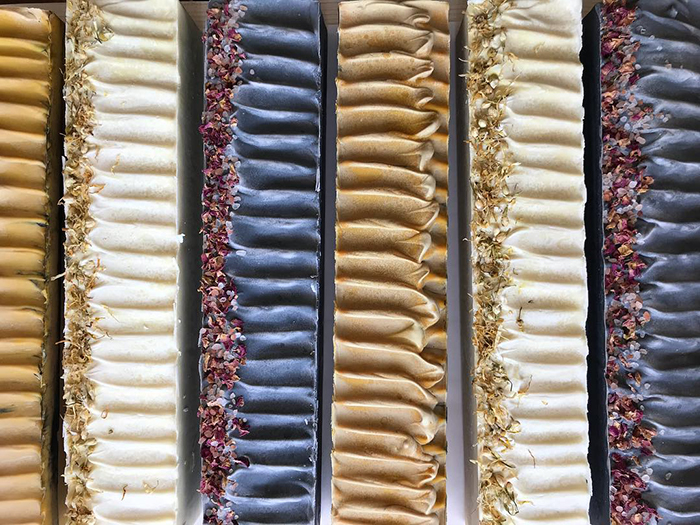 Beautiful soap tops
What is your number one soapmaking tip?
Take the time to educate yourself about the soapmaking process! Do research, watch videos, and become a student of the craft. Understand the importance of lye safety, SAP values, and how to troubleshoot if and when your soapy creation doesn't go as planned.
How did you come up with the name of your business?
Deciding on a business name is exciting, however, it can be a little daunting – especially in a saturated market. I exhausted multiple names, email domains, and label templates, but I was never fully satisfied with the business name I chose. A few months after I had a deadline to finalize a website purchase and branding collateral, but I couldn't pull the trigger. I knew that my current business name was not in alignment with what I wanted to create. I wanted something fun and cheeky, eco-friendly, yet natural and feminine.
After a long day of esthetic class, I stopped by Michaels Craft Store looking for inspiration. Cruising down the middle aisles I stumbled upon alphabet letters. I pulled out tons of letters and started piecing words together in the middle of the store. I was currently soaping with a lot of shea butter and seeing the letters sparked an idea. After a few times of ring-around-the-letters and a lot of word play, Salt & Shea was born. I knew I had to create it!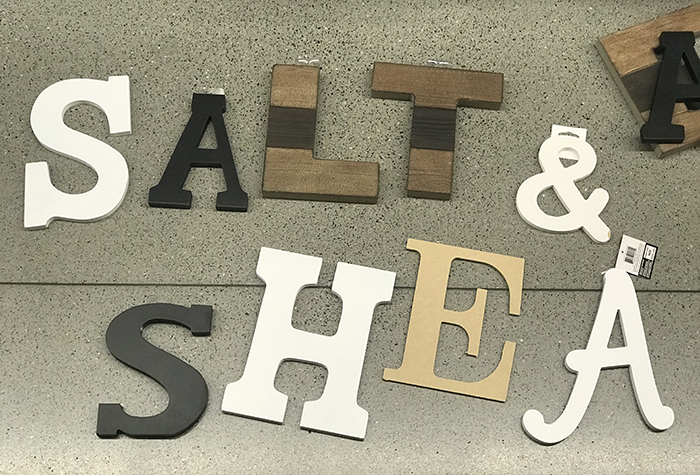 What inspires you to create?
I find inspiration everywhere. My mind operates on a burning desire to make something. Most of the time I have moved onto a new idea before fully processing the last. My friends, family, and current clients always fuel my creative spark and really keep me going. I guess it comes back to the joy of creating something that someone else will find happiness in.
What is your favorite Bramble Berry product and why?
I enjoy almost everything Bramble Berry! My favorite products they offer are their natural colorants. They provide a large selection of plant-based powders, clays, and exfoliating additives. My favorite is the purple Brazilian clay. I have found it to be hard to source, so I love that I can get it from Bramble Berry when I place my normal orders. It provides a natural vibrant color and adds mild exfoliating properties to the soap. I love using it in our Lavender Lemongrass bar. It's one of our top sellers.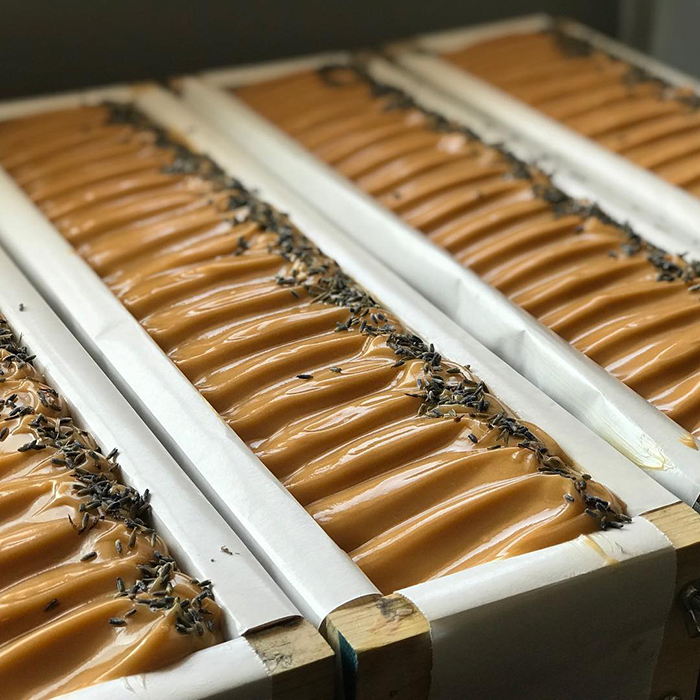 Lavender Lemongrass soap
What is something unusual or unique about you?
I'm allergic to everything! I have Celiac disease and have suffered from extremely sensitive skin due to allergies and environmental elements my whole life. Growing up I was allergic to commercial bar soaps, body wash, bubble bath, and pretty much anything that smelled good. I never had the " luxury" of taking a bath or trying that new lotion or body butter without sending my skin into a complete freak out. I believe my personal experience of navigating life in an "allergic" state puts me in a unique position to understand and show compassion for other people's sensitivities.
What are some of your other interests and hobbies?
When I'm not creating for Salt & Shea, chances are I am fussing with another DIY "crafty" project. Most of the time you can find me in our garage working with wood, staining crates, and sanding old furniture. My love for wood has definitely influenced my brand and packaging, and it's something I am really proud of. I also love walking my two dogs, Tyson and Dallas, baking gluten-free treats, and spending quality time with my boyfriend hiking outdoors.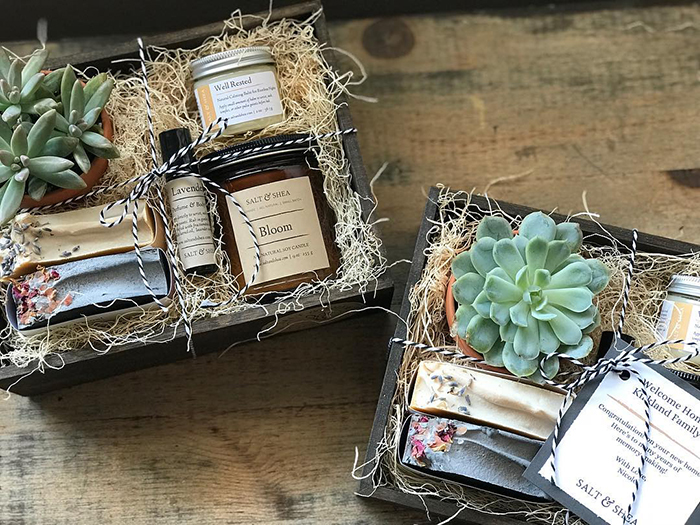 Custom gift boxes
If you could give one product to a stranger, what would you choose and why?
That's simple! It would definitely be our Zebra Balm (hydrating balm for dry skin). This hydrating balm is skin happiness in a tin! It's a proven and true favorite among our clients, and it's my personal favorite product. It's carefully crafted with organic beeswax that we source locally and skin-loving oils to help hydrate and protect dry, dehydrated skin. I enjoy creating and gifting this balm so much because anyone can use it and everyone loves it! Not only does it smell divine, it leaves you feeling happy, healthy, and hydrated!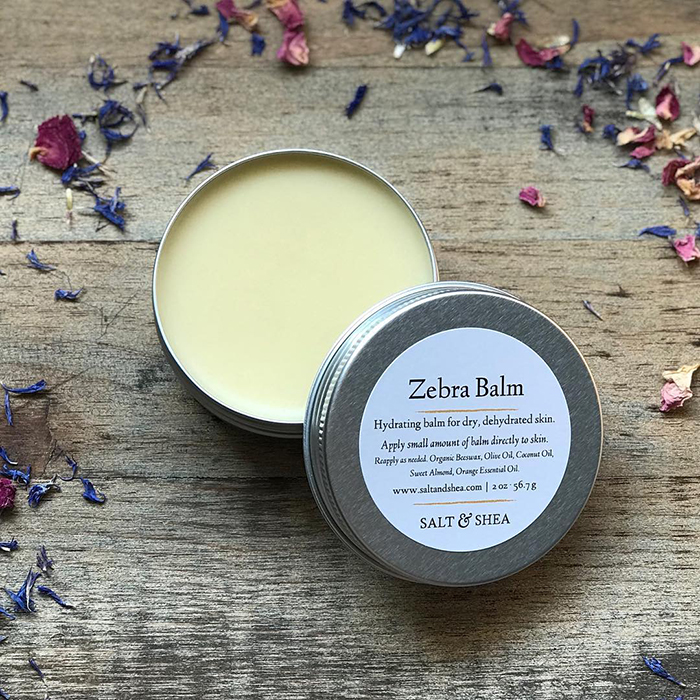 Zebra Balm
Have you ever experienced a soapy fail? What did you learn from it?
My biggest soapy fail involves 20 pounds of soap, a 5-gallon bucket, a stick blender that didn't get to the bottom, and a huge mess. I normally soap 15 pounds at a time, so I figured 5 more wouldn't hurt. I made my lye, portioned my oils, and added them to a 5-gallon bucket. I should've known I was in trouble before I started when the bucket on top of my workspace was almost my height. Ignoring the obvious, I grabbed a step stool, poured my lye, and went to town. Keeping with the theme of ignoring the obvious, I didn't account for my stick blender being too short or producing enough powder to reach the bottom to fully emulsify and trace. In the time it took to grab a few buckets to portion out some of my batter, my essential oil blend started seizing. I quickly tried to whisk the batter enough to save and pour. The whole batch was literally a nightmare!
If I learned anything from this soapy fail, it would be to know the limitations of your current situation. I planned for a bigger bucket, but forgot about the rest of my equipment.
What do you love most about creating bath and body products?
As a maker, I have a deep love and respect for the handcrafted process as a whole. I appreciate the opportunity to create and I am proud of what I make. What I love the most is the joy that fills my heart when my clients and new customers come back and tell me how much they loved Salt & Shea, the difference they see and feel on their skin, or how they felt when they gifted one of our boxes. To me, it's so much more than making soap or creating body care, it's about making someone feel good! It's my favorite part of the whole process!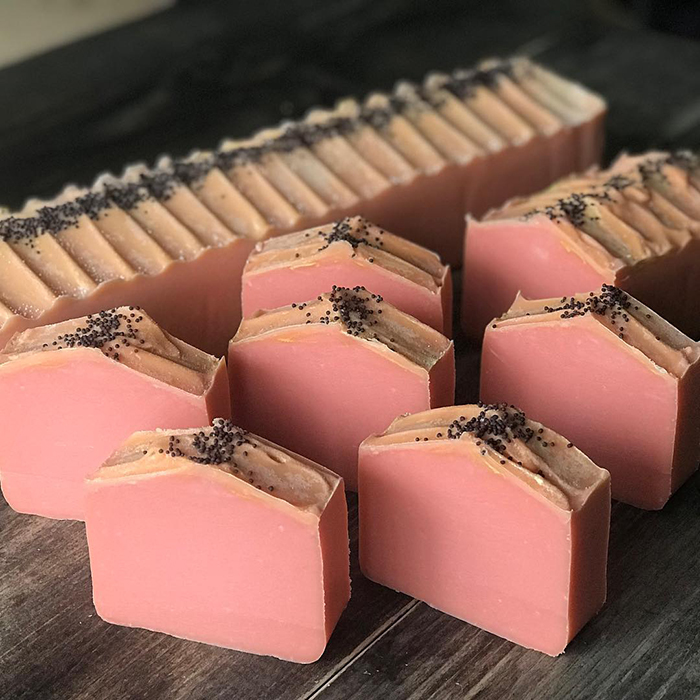 Pineapple Papaya soap