Caitlin of Revive Bath & Body started making soap in high school and continued to sell soap at farmers markets throughout college. After school, she turned her soaping hobby into a full-time job. Revive Bath & Body specializes in natural cold process soaps and other products including body creams, bath soaks and more. In addition to having great products, a portion of the proceeds go to HavenATL; an organization in Atlanta that works to help women exiting trafficking. Earlier this year, Caitlin and her team produced 19,392 bars of soap in 8 weeks to be sold at Hobby Lobby across the country. Read more about Caitlin and her incredible success story below! -A.M.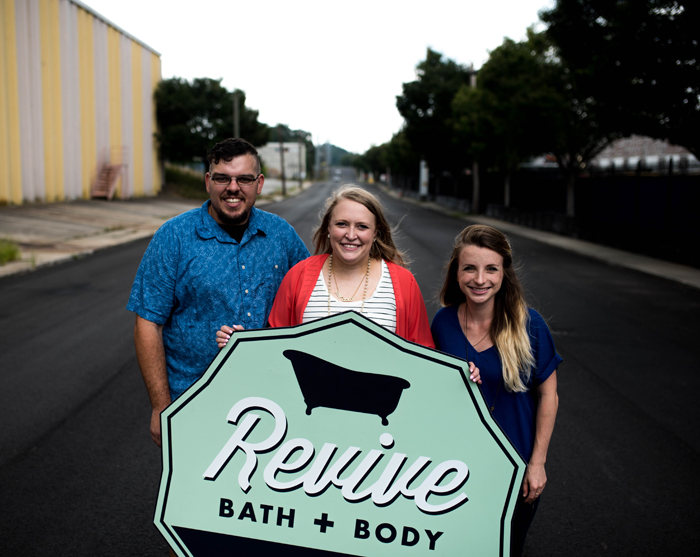 From left to right: Kelsey, Caitlin & Cara of Revive Bath & Body
How long have you been soaping for and how did you get started?
My soap making journey began when I was given a soap making kit in high school. I loved creating something that was useful. After a year or so, my parents encouraged me to sign up and sell my creations at a local farmers market. Needless to say, the soaps were a huge hit in my town! I went to Kennesaw State University where I studied business management and entrepreneurship. I sold soaps at markets all over town, which allowed me to graduate with no student loans! After my graduation in 2014, my parents again encouraged me to keep going with my little hobby and see if I could take what I learned in college and turn this passion into a business. I gave myself one year after graduation to see if I could create something sustainable. In that one year, we exhibited at our first trade show, and I hired my first employee! Revive is still growing, and I love that my hobby has turned into a business.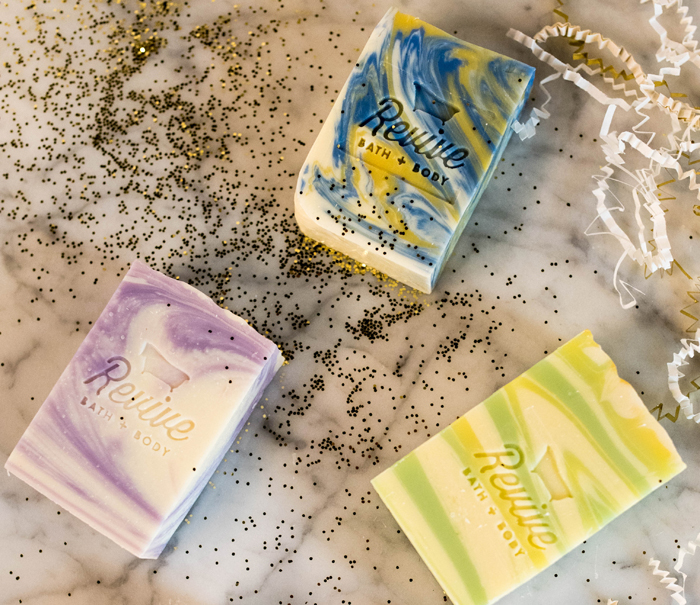 Revive Bath & Body carries a wide variety of cold process soaps; see them all here. 
What sort of advice would you give to those soapers just starting their businesses?
Don't let other people talk you out of going after your dream. When I was younger and soaping was just a part-time job and hobby of mine, there were some really mean things said to me like "You're too young, you don't know what you're doing, this craft won't amount to anything…etc," which is just horrible! Even one of my professors in college told me to "get a real job." I took those comments with a grain of salt and kept going. I even emailed that same professor after this Hobby Lobby order to let him know exactly how much soap I've been selling recently. He was quite surprised! So my advice is to just KEEP GOING.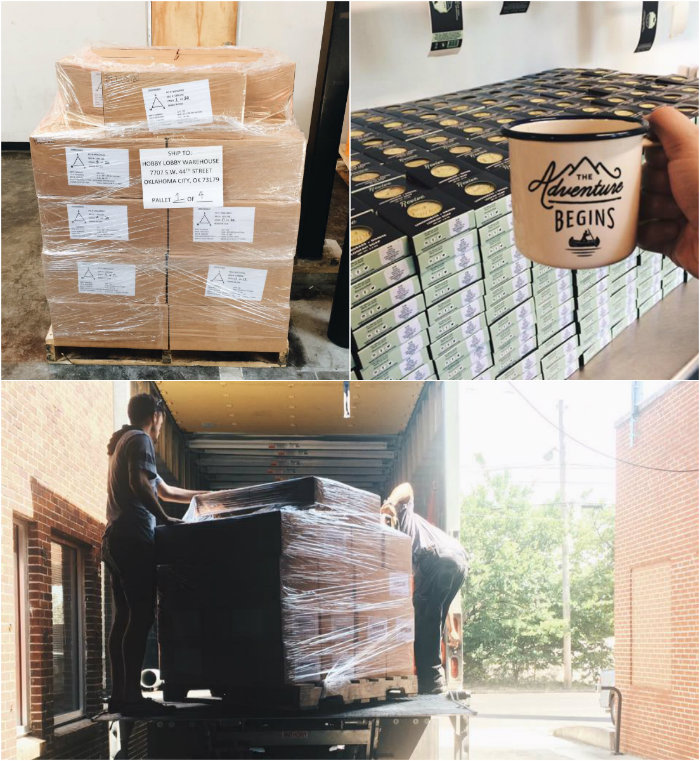 You can find Revive Bath & Body products at Hobby Lobby locations across the U.S. Caitlin and her team only had 8 weeks to create nearly 20,000 bars of soap! 
Your products are now being sold in Hobby Lobby locations across the country. That is so exciting! How did it happen?
The Hobby Lobby buying team found me at the America's Mart trade show in Atlanta, GA during the January 2016 show. We work with a rep group and have our products in a permanent showroom at the mart so we are not in temporaries. A really sweet lady approached me and my products, so I began telling her all about the soaps, a few of the other products, and why they sell great in boutiques. Then I asked her what the name of her store was and she handed me her business card. I freaked out! She said she was totally interested in our products and particularly because they are a give back item. I got the sales manager for my showroom who now manages her account. Because of the rules of the showroom, I do interact with the buyer, but the sales manager does manage her account. It's actually nice having that mediator since I haven't worked with many key retailers before; I was able to ask questions to the sales manager that I had no idea about.
Once the January show was over, I sent samples of the requested items to the Hobby Lobby buying team. Once they got the samples, they let me know how many units they were interested in purchasing, and then we went into price negotiations for such a bulk order. Their initial order ended up being nearly 20,000 bars of soap (entirely handmade!). We negotiated on price, but they didn't try to nickel and dime me for every single thing like I hear a lot of key retailers do. The buying team there is very fair and even though they do have 718 locations, I can tell they truly care about the individual behind the products. They paid me on time which almost never happens with big box companies. I have thoroughly enjoyed working with them and couldn't have asked to work and continue to work with a better key retailer.

Can you tell us a little bit about the process of making such a massive order?
Well, one thing I did learn in business school is about demand and capacity of a business. A business can only produce so many products per day based on their capacity. However, that professor also said when a big box store comes knocking, never say no and figure out how you're going to get it done…and that is exactly what I did. Their order was nearly 20,000 bars of soap. I gave myself a goal to have that order completed in 8 weeks time. Then I had to break it down into how many bars per week and per day that my team and I had to make. Everything didn't go as scheduled, there were bad batches, and there were times I didn't think we were going to finish. But just like I mentioned above, I kept on going and going and we shipped all of their products on time!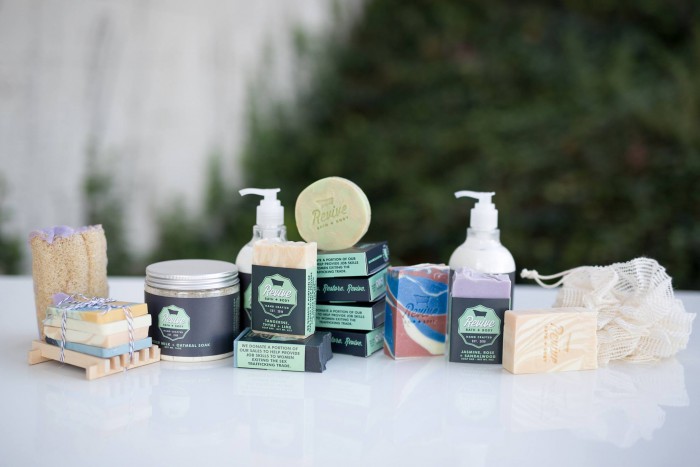 A collection of Revive Bath & Body products, including cold process soap, body cream and bath soaks.
What tips do you have for somebody who wants to sell their soap wholesale?
I think a lot of people in general are afraid to ask for help. There are so many great resources on the web that help people prepare their craft for wholesale. Doing a little Google search, reaching out to local boutiques with questions, attending trade shows, and making sure your pricing is right is all very important. People want to to succeed more than they want you to fail – you just have to get over the fear of other people. Pick up your phone and call all your local boutiques! You can't let fear overcome you. For every 10 no's you receive, someone will say yes.

What is your favorite type of product to make?
Oh man, this is a tough one! I do have a team of people that are basically producing all of our products now while I take care of the business side of things. However, I love jumping in to create our essential oil blends. It's so therapeutic to make something with your hands after spending most of the day doing paperwork and on top of that, mixing and working with the essential oils just puts my mind at ease.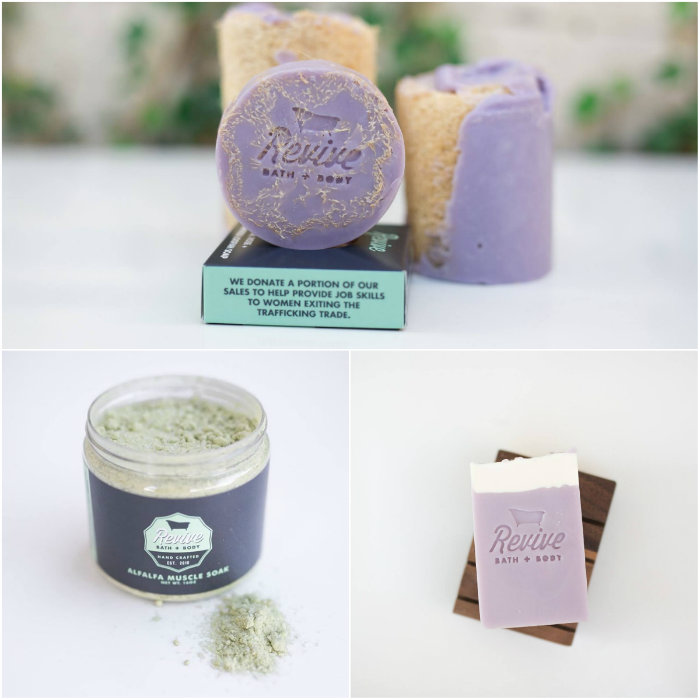 Top, clockwise: Jasmine Rose + Sandalwood Natural Loofah Soap, Lavender Cold Process Soap Bar, Alfalfa Muscle Bath Soak
What inspires you to create?
Honestly, I think my it's my community that keeps me going and creating. I'm an extremely goal-driven person, so when I set a goal for myself, I can't move on until I accomplish that. One of my goals was to get my products into 250 stores…well now we're in nearly 900! I also love looking for trends in the marketplace and thinking "that's a good idea..now how can I do it better." That also gets my creative mind going. We have some really exciting products coming up for later this year and early 2017.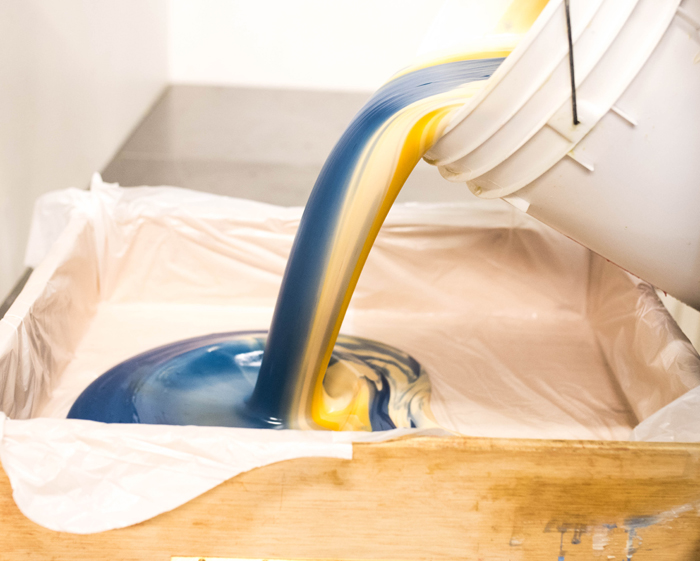 There is something so therapeutic about pouring soap! Here, the Revive Bath & Body team pours Patchouli Litsea + Lavender Cold Process Soap.
How did you come up with the name for your business?
The name Revive was something I came up with in high school in a graphic design class. As I was preparing for my first farmer's market, I knew I needed a 'business name' so Revive came to me – at first I used the name because it stood for 'reviving' people's body care. Now we are partnered with a nonprofit that gives back to women and gives them the opportunities to work hard and provide for themselves. Revive has a much deeper meaning than just reviving people's body care now…it also means when you purchase one of my products you are 'reviving' a girl's life with opportunity.
Tell us something unusual or unique about yourself!
My parents always told me they thought I would be an entrepreneur. When I asked why, they reminded me of the business I started in 5th grade. Instead of giving my friends friendship bracelets, I created an order form and a business where my friends would actually pay me for the bracelets I would make for them. I would upcharge them based on the color of tread and the design of the bracelet. One day my 5th grade teacher found out my friends were buying bracelets from me with their lunch money and she shut my business down. But my parents always said since that moment, they always knew I would own a business.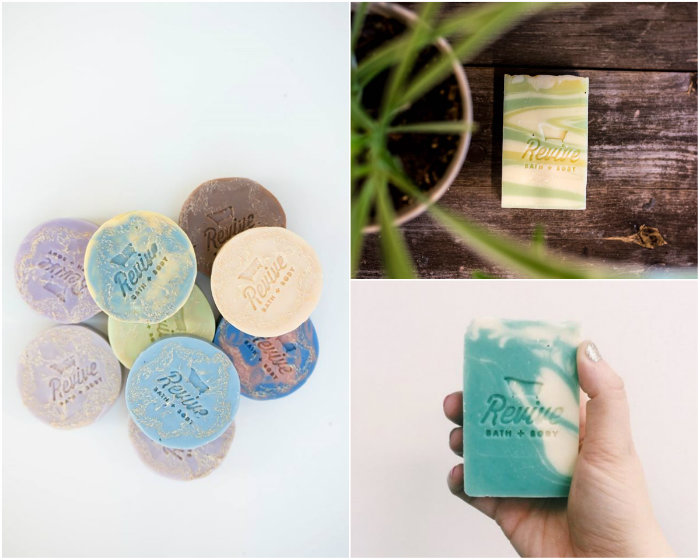 Far left, clockwise: Natural Loofah Soap, Lemongrass + Ginger  Cold Process Soap, Limited Edition Chamomile + Neroli Soap 
What are some of your other hobbies and interests? 
I live in Atlanta, GA where entrepreneurship is bursting at the seams! I love being involved in different events around the city that involve startups. I also have the cutest goldendoodle ever named Piper who basically goes everywhere with me. I also enjoy spending my Saturdays on the couch with a good book.

What is your number one soaping tip? 
Don't package your soaps before they've had ample time to cure. And when that big box store comes knocking, do not skimp on quality. The quality of your products got you to this point so whether you are making 10 bars or 20,000 bars, the quality should be consistent.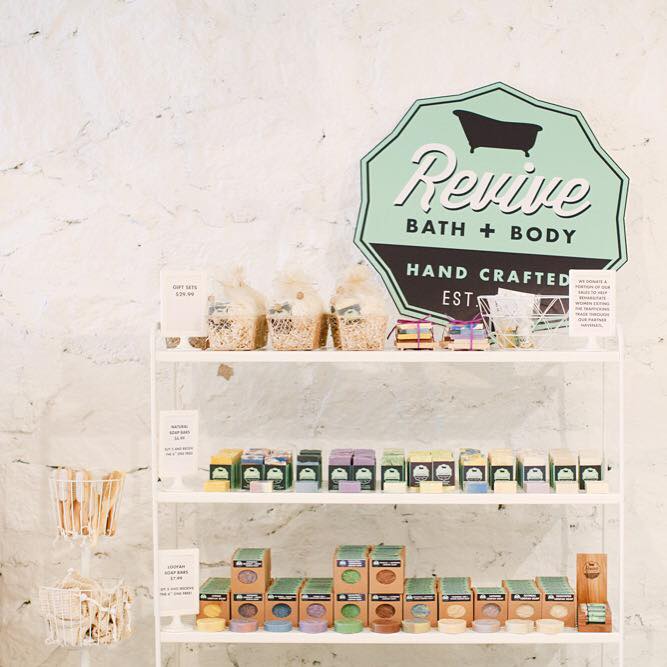 Revive Bath & Body is also found in several retail locations, click here to see their retail locations.
Have you ever experienced a horrible soapy fail? How did you work through it, and what did you learn?
Of course I have! About two years ago, I was rushing and soaped when my lye was too hot. It created a soap volcano alllllll over my floor. I just let the soap do its thing and threw the whole thing away. Sometimes it's just better to start from scratch with a new perspective!
What do you love most about creating bath and body products?
I think my favorite thing is the diversity of the products on the marketplace. You can literally create anything you want…the options are endless!