Nora with Nora's Soap Shoppe is well known in the soapmaking community. Her wispy swirl designs and expert use of color are instantly recognizable when you're scrolling social media. She's also known for her positivity and kindness – she makes sure to let people know when she loves their creations. Learn more about how Nora got started, what inspires her, and her soapmaking tips.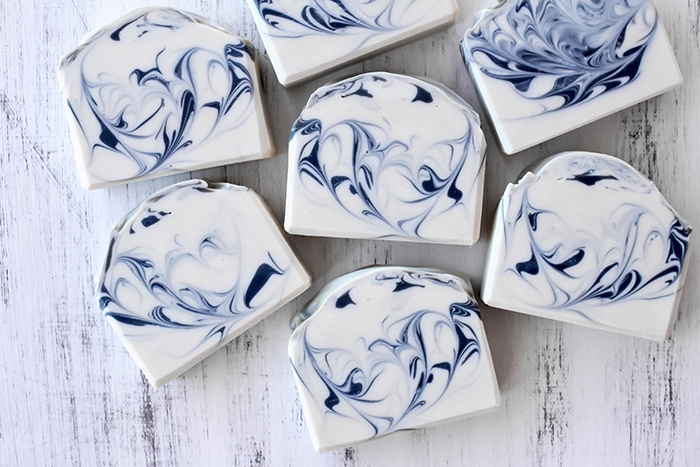 Midnight Waters Soap
How long have you been making soap and how did you get started?
Back in 2010, I started dabbling in melt and pour soaps. It was such a joy to create handmade soaps for my family knowing what ingredients I put in. By 2012, I transitioned to cold process soapmaking. I became so mesmerized by the whole process of cold process soapmaking that I spent many hours and months researching and learning all there is about this technique. I came across the lovely Anne-Marie, the Soap Queen, online. I watched her first four episodes of cold process soapmaking and couldn't resist purchasing Anne-Marie's book, Soap Crafting. Having a resource that gave me the foundations of soaping techniques, safety, equipment, methods, SAP values, etc., was truly valuable to my learning journey as a soapmaker. I am a very visual learner, so having the book and tutorial videos accessible to me was very helpful.
What inspires you to create?
What surprised me the most was the creative side that blossomed in me I really didn't know I had until I started making soap. I think back to when I was around maybe 10 years old, my mom took me to a cake decorating class. My class project was to make a Barbie cake with a beautiful dress like Cinderella. I can still remember the enjoyment I felt decorating that beautiful cake with pink and white frosting. I think of this time with my mom when I decorate the tops of soaps. With that said, this moment in my life to this day inspires me to create.
You just never know what could be the foundation of inspiration for creating. Family, memories, travel, flowers, the weather – I like to always keep things simple and lovely using inspiration around me. I truly believe this is what makes your soaps that much more special and unique to your brand.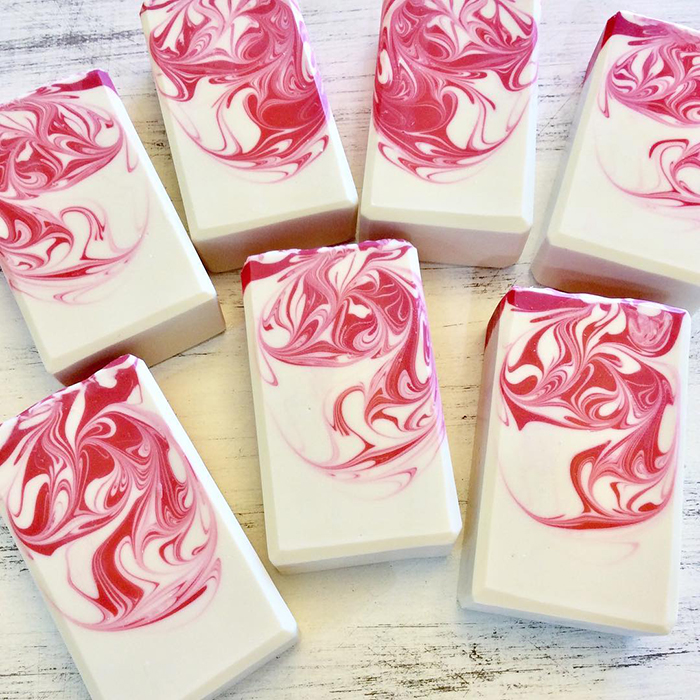 Peppermint Swirl Soap
What advice would you give to makers just starting their businesses?
Research is key and learning all you can about handmade businesses in your area and state. Find out as much information as you can and understand it. This is my least favorite part, as at times it can be very confusing. Never be afraid to ask questions. We have a wonderful soapmaking community and there are many gifted and talented makers out there who are willing to give some helpful insight and guide you in the right direction.
Spend time creating a good quality product and know your costs, create a good marketing plan so in time you can become profitable in your business. Feeling confident and having the knowledge of your product is very important, too!
How did you come up with the name for your business?
Choosing a business name can be tricky and needs a lot of thought put in. It seemed that almost every name that I thought of wasn't available. Basically, I thought to myself that I was always told I had a unique name, Nora, and being handmade soap was my main product, I decided on Nora's Soaps. But the name still needed something else. The thought of owning my own soap shop one day is most makers' dream and goal. So putting that into perspective, I added a little twist of an "e" and there you have it, Nora's Soap Shoppe. Shoppe has a quaint feel, so it felt just right.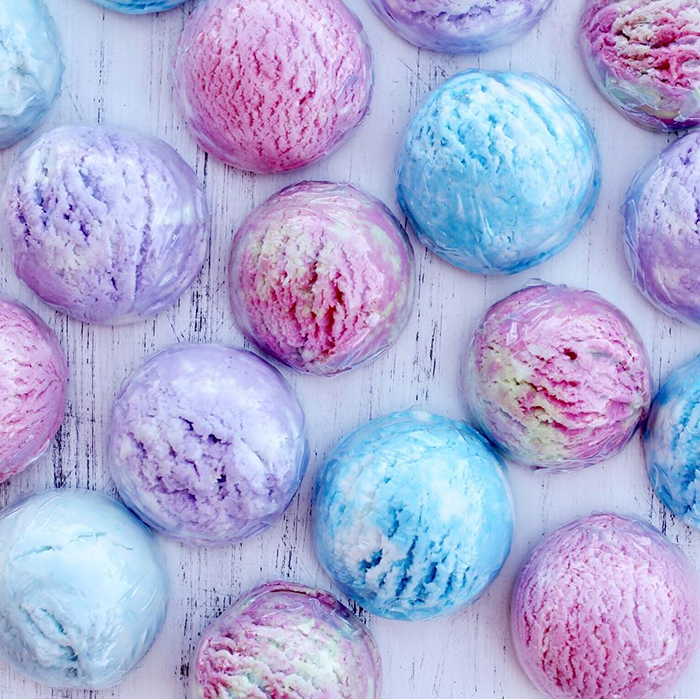 Bubble Bath Scoops
What is your favorite type of product to make?
My absolute favorite product to make is cold process soap. From my very first batch of soap, I knew there was something special about this whole process. There is something just so satisfying about watching the lye and oils mix together into a gorgeous creamy soap batter. I love creating hanger swirls – they have become my most favorite signature technique and they create a gorgeous wispy swirl in each and every soap bar.
What is your favorite Bramble Berry product and why?
My very first soap supply order was from Bramble Berry, and almost every other since. So this is a very difficult question because I love just about every product they have! What is my favorite? I'll have to say their colloidal oatmeal. This was one of the first ingredients I ordered and I continue using today. It blends in so smoothly and I also love its benefits. I also must say that even though we were asked for one favorite, I must add in BB's Lavender 40/42, which is a perfect lavender essential oil and a must-have for my Lovely Lavender Soap.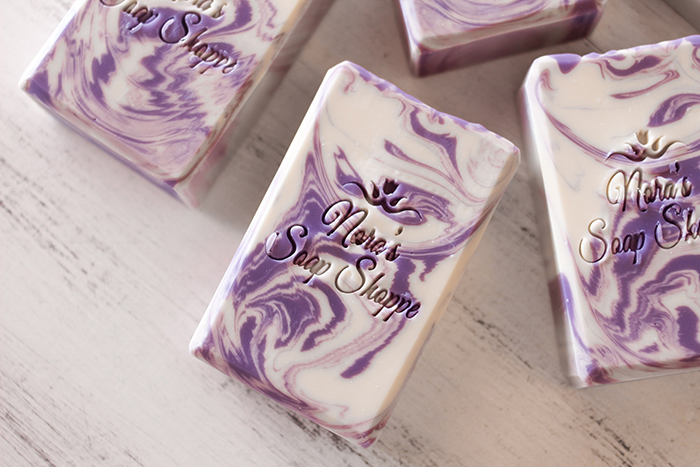 Lovely Lavender Soap
Tell us something unique about yourself.
I love everything nostalgia, taking things back to the artisan way of life. A strong focus on family, whom are the most dear to me. Many fond memories of being in the kitchen baking and cooking with my mother and still using family recipes to this day. Reading the classics such as Little House on the Prairie and Anne of Green Gables. I would even say that this nostalgia that I am drawn to inspired me to make and create soaps.
What are some of your other hobbies and interests?
If I am not spending time with my family or soapmaking, I am an avid scrapbooking queen. In this time of everything digital, I do enjoy to print out real photos and create beautiful meaningful scrapbooks for my family to enjoy. My scrapbooking creations are a conversation piece in my home when we are entertaining family and friends and to be able to share those memories is very special to me.
I also still love to ski with my family. I can't keep up as fast as I used to, but I still love being up on the mountain and the feeling of peace and tranquility you experience is just so satisfying.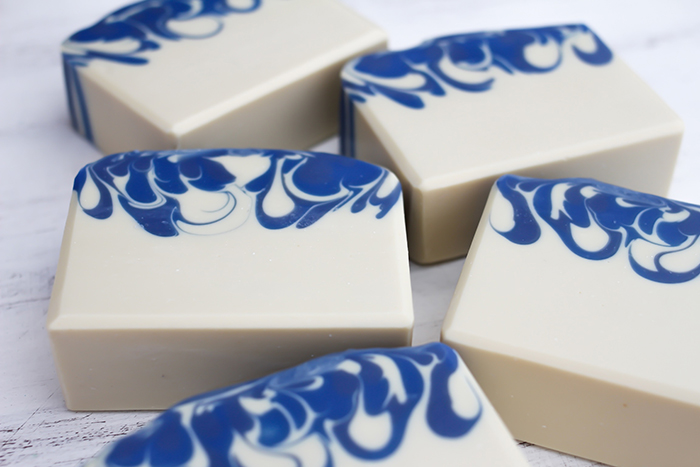 Blueberry Thyme Soap
What is your number one soapmaking tip?
Stay positive! In anything you do there can always be a negative side. One thing I learned in the soapmaking world is just to stay positive and keep moving forward. Don't let the haters and negativity get you down or affect your creativity. Soapmaking is a happy place for most of us, so keep positive, encouraging, and supportive people around you and keep doing what you love.
If you were to give one of your products to a stranger, what would you choose and why?
I would have to choose my Summer Melon Soap. Summer Melon is loved by just about everyone with its juicy, fruity appearance and it smells absolutely scrumptious. I give credit to the Soap Queen and Bramble Berry for the inspiration of this particular soap. I use my own recipe but follow the creativity of the design posted on their tutorial. I don't think this soap creation will ever go out of style because of the gorgeous watermelon soap creations I see season after season. It is a perfect summer soapy treat for all. 🍉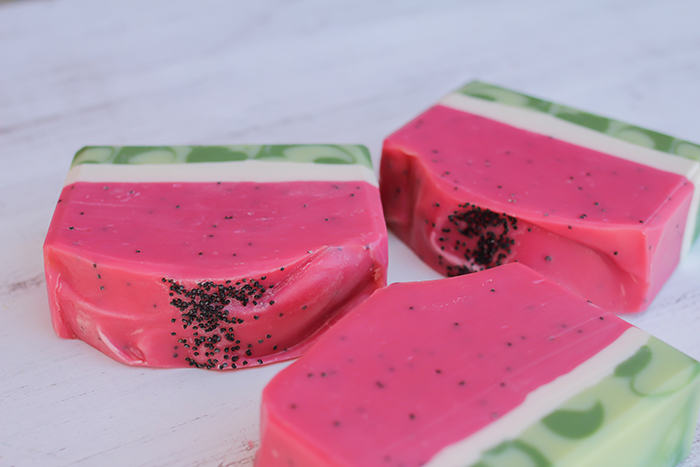 Summer Melon Soap
Have you ever experienced a soapy fail? How did you work through it and what did you learn?
Never be in a hurry. When you are in a hurry, you could miss the most crucial steps in soapmaking. Even your research on particular ingredients matter. I had one soap batch fail that resulted from not reading the reviews and the description of the fragrance oil I used. I got my soap mixture ready then added a gorgeous purple mica for color. Now comes the fragrance oil, so I poured it into the mixture and oh my goodness! The color started changing to a most awful looking dark brownish greenish color. I tried adding other colors hoping it would change some but nothing helped and it started to set up fast, so I poured it into the mold as fast as I could. I really thought it was a ruined batch but actually turned out to be a great bar of soap that my family ended up using, just not too pretty to look at. Always check the reviews on fragrance oils on how they behave and do small test batches in case your soap batch goes wonky. 😉
What do you love most about crafting bath and body products?
It's such a joy to be able to go into my soapmaking happy place and be able to make and create something beautiful. Each maker has such a unique perspective and a beautiful touch to their soaps. I truly believe it's a way to express ourselves and let our creative streak run wild. To have the opportunity to share such passion in our handmade products makes me love soapmaking even more!
Also, I have never been great with calculations and chemistry, and to now be great at it for soapmaking and creating recipes has become something I most love in my handcrafting journey. A continuously learning journey that keeps you coming back for more.
Thank you for taking the time to read my interview with Bramble Berry. I am so honored and feel so overwhelmed with joy that my passion for soapmaking has led me to such a wonderful company that supports us makers. I love supporting Bramble Berry because they have the best quality ingredients for all my soapmaking needs. Thank you, Bramble Berry! -Nora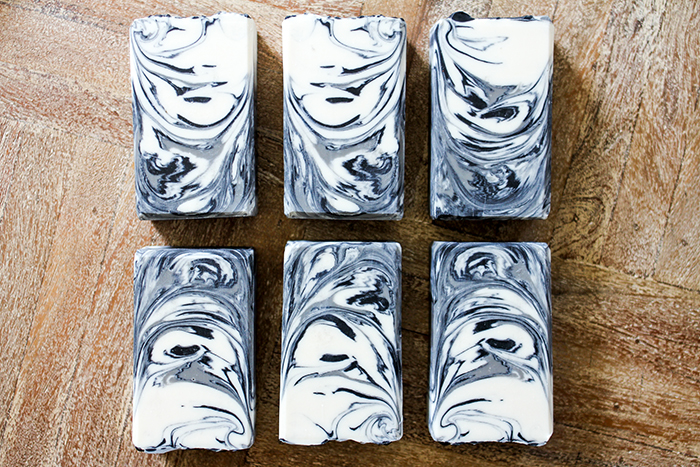 Birchwood Oud Soap