Ariane of La Fille de la Mer creates stunning soap, scrubs, balms and more on the Magdalen Islands in Quebec, Canada. Ariane is well known in the soaping community for her amazing soaping videos on her YouTube channel. In particular, Ariane creates stunning cupcake soaps with her impressive piping skills. She also incorporates many local ingredients in her products, which really makes them stand out. Learn more about how Ariane got started, her tips for making soaping videos, and the inspiration for her creations in the interview below! – A.M.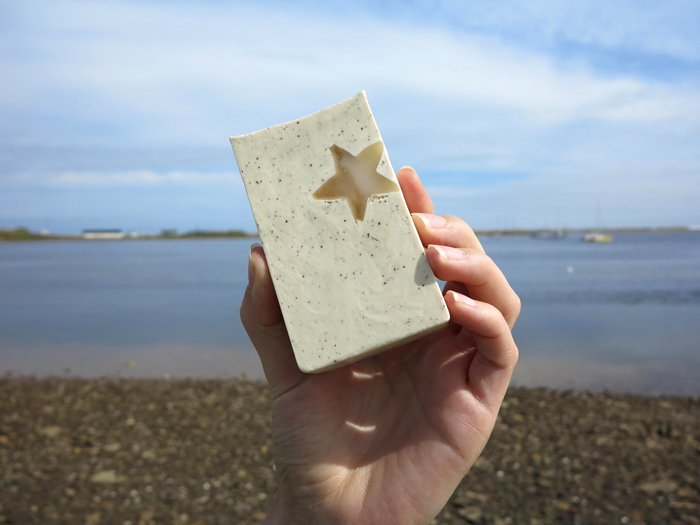 Ariane's Coffee & Vanilla Soap, made with coffee from the Magdalen Islands.
How long have you been soaping for and how did you get started?
Time has gone so fast! I feel like it was yesterday that my mom called me to tell me she was buying a small shop in our beautiful Magdalen Islands. I was in Montreal at the time, studying arts at University of Quebec in Montreal. She wanted me to make crafts and art to sell in the shop, as it was located in a very touristic spot and it would give me a summer job opportunity. I had been fascinated by soapmaking since I was a child, seeing my great aunt make her laundry soap out of Gillett's Caustic Soda and scrap kitchen oils or grease! For a child, turning grease into soap was pretty impressive! I had my great aunt's recipe with me for many years and had almost forgotten about it until that day when the phone rang! I had $200 in my bank account and I just ran and searched for soap supplies and a melt & pour book.
I was busy making soaps in my tiny apartment kitchen and my mom was just like: "What???? You want to sell soap like your grandma used to make??? It's NEVER going to sell!" She had the laundry soap in mind and was worried I had spent my last dollars at the wrong place. My dad was talking in the background, "Just let her make soap! If it doesn't sell, she doesn't have much to lose!" And there, I came home on the ferry that year with 9 bricks of melt & pour, a few necklaces & handmade postcards and guess what flew off the shelves in less than a week? The soaps! It was crazy! We had to order more supplies from Montreal, wait for the ferry to arrive weekly and make more soap to sell right away. It was a success and I just never stopped making soaps since then! Of course, fast enough, I wanted to learn about cold processed soaps and other handmade cosmetics.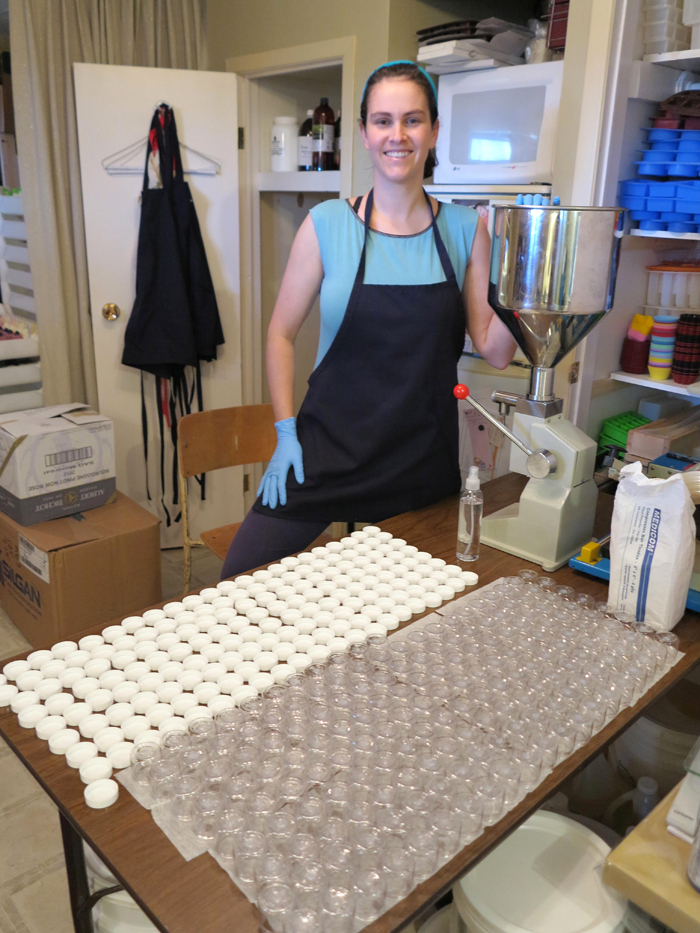 In addition to soap, Ariane also makes balms, bath salts, scrubs, candles and more.
What sort of advice would you give to those soapers just starting their businesses?
Don't listen to your mom! Just kidding! Seriously, my advice would be to learn as much as you can and make soaps on a small scale basis at first to really get to know what soapmaking is all about. Try your soaps and once you have enough confidence, you can have your friends and family test them to get some feedback. Start small, that is what I did and I built my way up. I started to make soap in my apartment, then I used my parents cottage for around 8 years. Now I have a small workshop that takes the entire basement of my house. I do have dreams for a bigger workshop after 15 years at this job! Hopefully it will happen soon!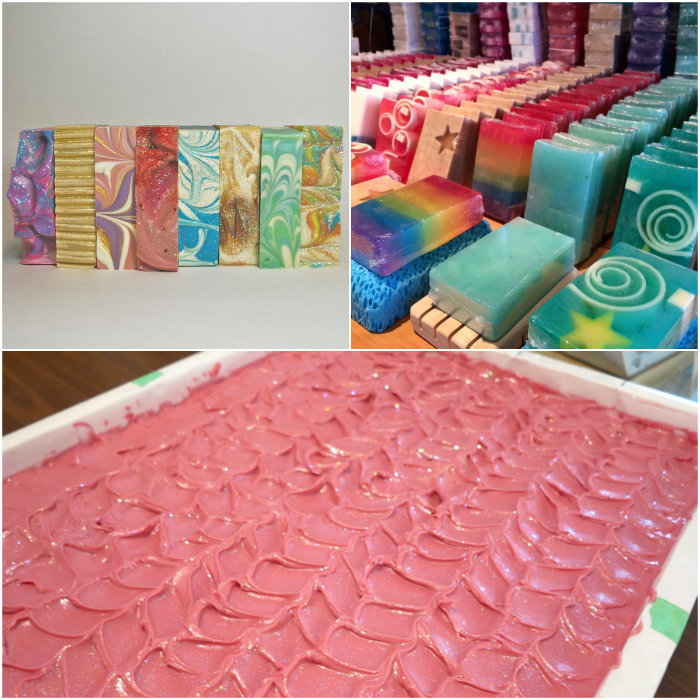 Top left, clockwise: A collection of Ariane's cold process soap, melt and pour soap, and a large batch of pink cold process soap. 
What is your favorite type of product to make?
Formulating and making cold process soap is my all-time favorite. Even after all this time, I just love to see the reaction between oils and lye water! The thrill it gives to swirl the soap or creating designs is so much fun. You never know when you'll get soap-on-a-stick and when you succeed, it's a pretty rewarding feeling of accomplishment!
What inspires you to create?
Nature inspires me to create. On the Magdalen Islands, we have so many additives that I can pick and use in my soaps such as kelp, sand, plants and more! Also, I can buy many additives locally such as honey and beeswax, beer, fresh farmed milk and more. So I work my recipes around the ingredients I have. The sea that surrounds me is very present in my creations.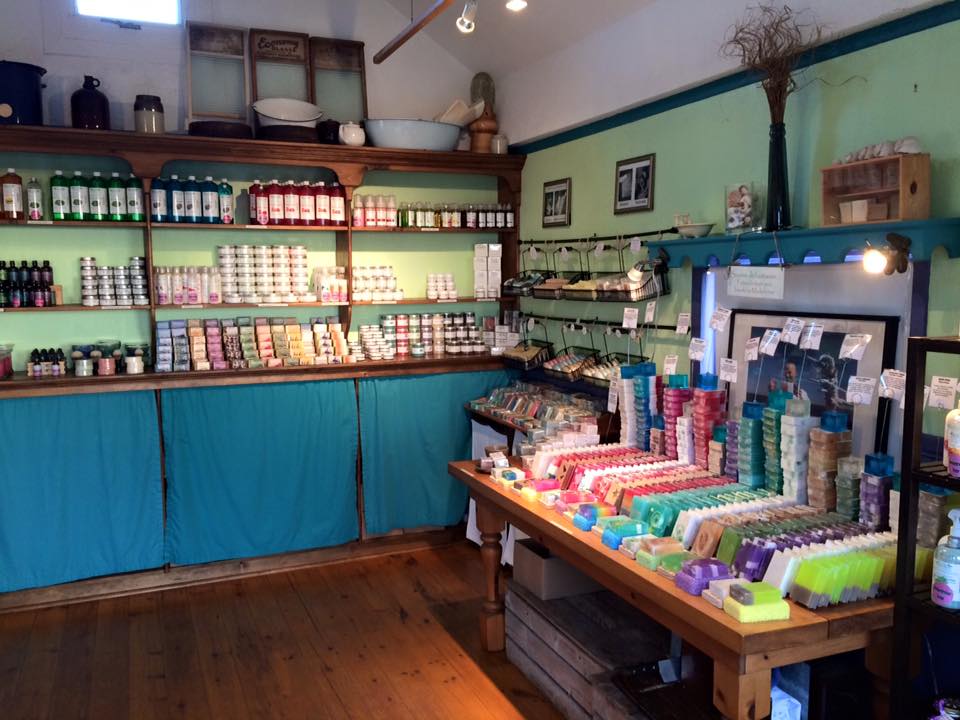 Ariane sells her products online and in her shop during the spring and summer months. 
How did you come up with the name for your business?
The name of my business was my dad's idea. Here, many businesses have the word "Madeleine (Magdalen)" in it. I wanted a name that is island-like but without being "Madeleine" something! La Fille de la Mer, which is the name of my business, means "The Daughter of the Sea." Because yes, I live in that French part of Canada, the province of Quebec. My mom and I loved the idea my dad came up with, since I was born on an island and raise half-time on land and half-time on a boat! But that is a different story!
You have a popular soapmaking YouTube channel. What is your favorite part of making videos?
Well, I work alone most of the time and it can get lonely. Making videos make me feel connected to the rest of the world! Many people write me and share their soapmaking journey with me. It also allows me to network with other people in the industry and to share my inspiration with others.
What advice do you have for somebody who is interested in starting a YouTube channel?
It doesn't have to be complicated. The only piece of equipment I recommend, well, apart from a camera, is a tripod. No one like to watch a shaky video. Personally, it gives me a headache if the image isn't still! Also, keep your videos under 15 minutes, shorter if you can. People are most likely not going to watch until the end if your videos are 30 minutes long. Keep your work area clean and wear the proper safety equipment on film! If you are going to show others how to make soap or even just show your process, keep it professional. You really don't want someone getting hurt for following your footsteps!
You make a lot of large batches of soap on your channel. What advice do you have for masterbatching?
I am not a pro at masterbatching, because every recipe I have is a bit different! I'm just like that and I don't know why I have to make things more complicated than what they could be. I prepare many batches ahead of time and I plan my recipes on a schedule. When production time starts, I just make my lye water, grab the prepared oils & butters, melt them and soap on! If someone chooses a single formula for every soap, it really gets easier to master batch! I would recommend you watch Soaping 101's video on that subject!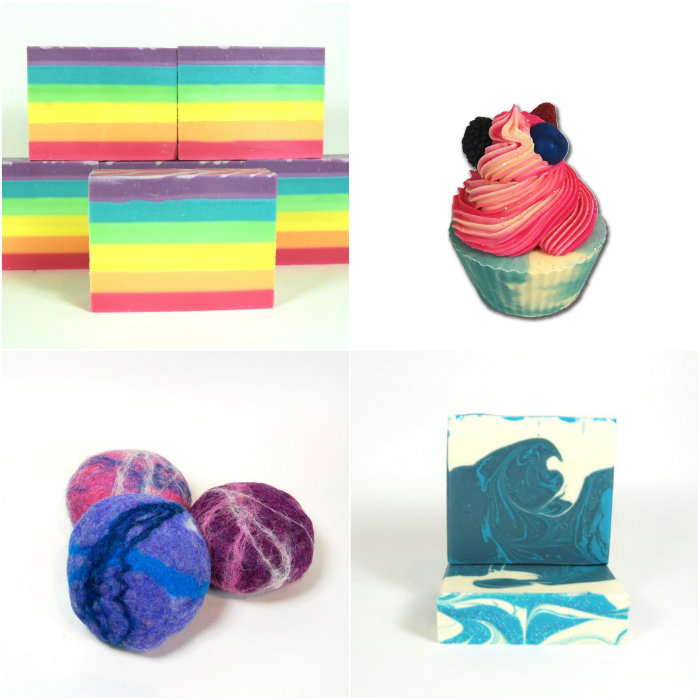 Top left, clockwise: Yuzu Rainbow Soap, Three Little Fruits Soap Cupcake, Blueberry Liquor Splash Soap, Lavender Felted Soap
What is your favorite Bramble Berry product and why?
Ok, I live in Canada, so I can't buy as much stuff from Bramble Berry as I would like to. The exchange rate and custom fees are just killing it for me! But, there are some fragrances I just can't live without. Yuzu, Energy, LoveSpell, Santa's Spruce and Sweet Meyer Lemon, to name a few. Also, the bath bombs colorants are super awesome!
Tell us something unusual or unique about yourself!
That is always something hard to say for ourselves… I speak 3 languages? I have a chicken coop and eat fresh eggs daily? I was raised by a sailor hippy dad and a mom who loved to sail the Caribbeans on our sailboat? I learn to swim before I could walk? I was home schooled part of my childhood? I could drive my own 10 horse power dingy when I was 12 years old? Haha! I don't know what to say…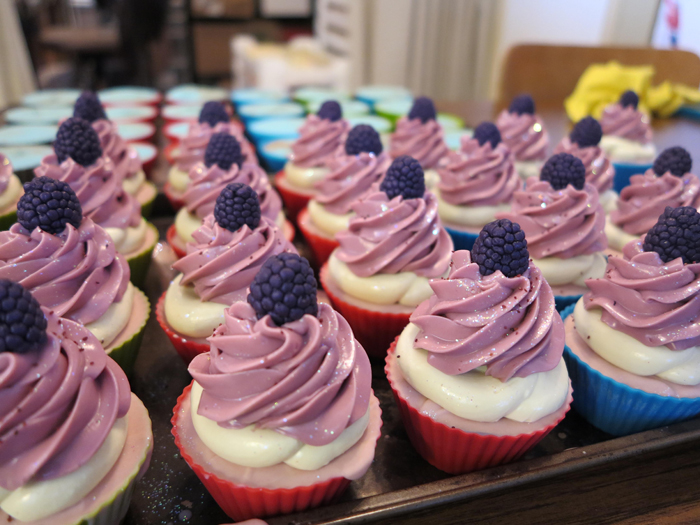 Sweet Raspberry & Vanilla Soap Cupcakes. I love the layers of frosting and cute berries on top!
What are some of your other hobbies and interests?
I have always been a crafty gal! I think it's all related, but I love gardening, eating and cooking healthy food for my 3 kids and their dad. I love being outdoors and traveling when I have an opportunity to do so. If I had the means, I would take my kids to explore the world, like my parents did with me growing up.

What is your number one soaping tip? 
Use quality ingredients. Never create a formula that you wouldn't use yourself. With quality, people will be back for more. Add your special twist to everything you make so your products are recognizable when people see them.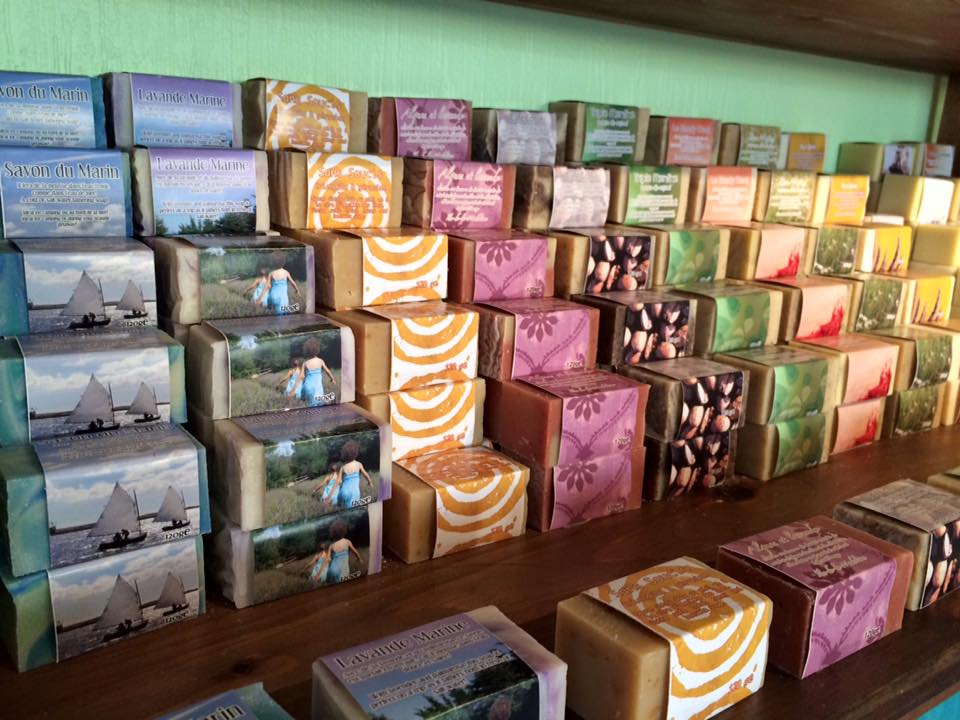 A collection of Ariane's cold process soaps. Aren't her labels fun? 
Have you ever experienced a horrible soapy fail? How did you work through it, and what did you learn?
Oh my! A couple years ago, I decided to go back to school to get a business and accounting degree. I was the mother of 2, studying part time and making soap the rest of the week. One day, I forgot a 25 lbs batch of soap on the stove top and when I came back from class 2 hours later black smoke was literally shooting out the windows and doors! I was frantic! I thought I had set fire to my workshop and house! Luckily the stove was on low heat and the lid had remained closed so no oxygen was in contact with the boiling oils. But my whole house smelled like smoke and my workshop was covered by a smoky and oily residue. We had 5 cleaning experts here for a whole week and had $15,000 in damage. I was lucky the insurance company covered it, but let me tell you, ALWAYS double check that you turn the heat off before you leave. I was convinced that I had turned off the stove that day. I had something else on my mind (class) and got distracted. Now, I have signs everywhere in my workshop,"Did you turn off the heat???" in big red bold letters! I surely learned to be more cautious.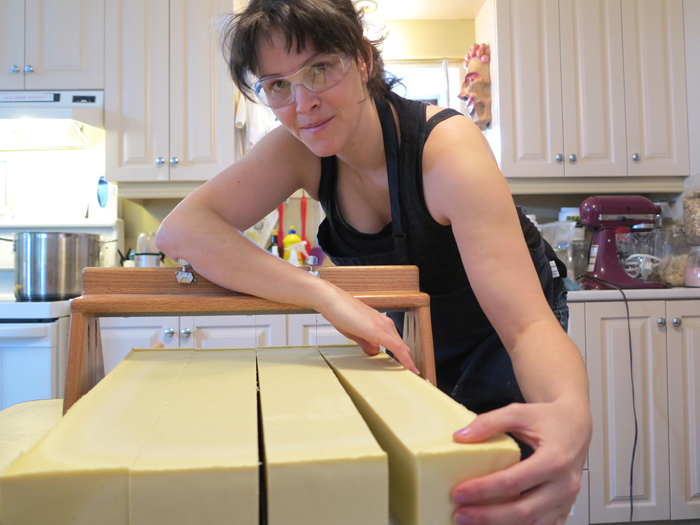 What do you love most about creating bath and body products?
As I mentioned previously, I have an Arts degree. Being creative is something that is part of me. For a while, before I had children, I made soap, had a second job and I painted and took artistic photographs. I don't do that much anymore, but soapmaking is what allows me to express my creativity. The endless color combinations, the design that can be made and the rainbow of fragrances and essential oils that can be used in soap makes me feel great at the end of the day! Creating new designs is what keeps me happy at my job, because today, soapmaking is my only job and I'm very proud about that.
Find La Fille de la Mer
On the Web
Facebook
YouTube
Twitter
Pinterest