Ariane of La Fille de la Mer creates stunning soap, scrubs, balms and more on the Magdalen Islands in Quebec, Canada. Ariane is well known in the soaping community for her amazing soaping videos on her YouTube channel. In particular, Ariane creates stunning cupcake soaps with her impressive piping skills. She also incorporates many local ingredients in her products, which really makes them stand out. Learn more about how Ariane got started, her tips for making soaping videos, and the inspiration for her creations in the interview below! – A.M.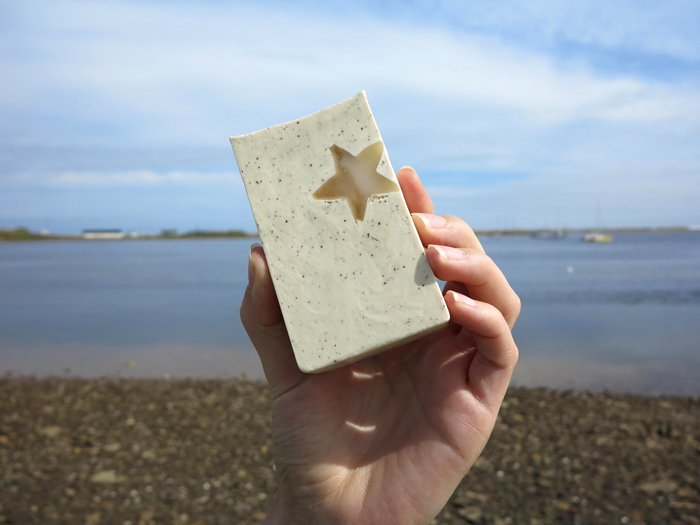 Ariane's Coffee & Vanilla Soap, made with coffee from the Magdalen Islands.
How long have you been soaping for and how did you get started?
Time has gone so fast! I feel like it was yesterday that my mom called me to tell me she was buying a small shop in our beautiful Magdalen Islands. I was in Montreal at the time, studying arts at University of Quebec in Montreal. She wanted me to make crafts and art to sell in the shop, as it was located in a very touristic spot and it would give me a summer job opportunity. I had been fascinated by soapmaking since I was a child, seeing my great aunt make her laundry soap out of Gillett's Caustic Soda and scrap kitchen oils or grease! For a child, turning grease into soap was pretty impressive! I had my great aunt's recipe with me for many years and had almost forgotten about it until that day when the phone rang! I had $200 in my bank account and I just ran and searched for soap supplies and a melt & pour book.
I was busy making soaps in my tiny apartment kitchen and my mom was just like: "What???? You want to sell soap like your grandma used to make??? It's NEVER going to sell!" She had the laundry soap in mind and was worried I had spent my last dollars at the wrong place. My dad was talking in the background, "Just let her make soap! If it doesn't sell, she doesn't have much to lose!" And there, I came home on the ferry that year with 9 bricks of melt & pour, a few necklaces & handmade postcards and guess what flew off the shelves in less than a week? The soaps! It was crazy! We had to order more supplies from Montreal, wait for the ferry to arrive weekly and make more soap to sell right away. It was a success and I just never stopped making soaps since then! Of course, fast enough, I wanted to learn about cold processed soaps and other handmade cosmetics.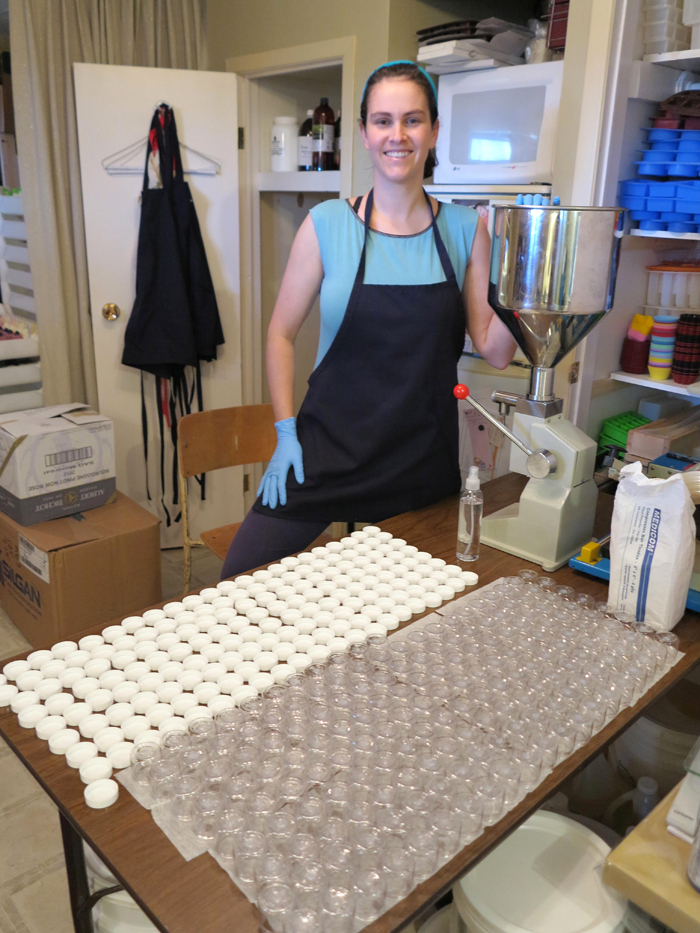 In addition to soap, Ariane also makes balms, bath salts, scrubs, candles and more.
What sort of advice would you give to those soapers just starting their businesses?
Don't listen to your mom! Just kidding! Seriously, my advice would be to learn as much as you can and make soaps on a small scale basis at first to really get to know what soapmaking is all about. Try your soaps and once you have enough confidence, you can have your friends and family test them to get some feedback. Start small, that is what I did and I built my way up. I started to make soap in my apartment, then I used my parents cottage for around 8 years. Now I have a small workshop that takes the entire basement of my house. I do have dreams for a bigger workshop after 15 years at this job! Hopefully it will happen soon!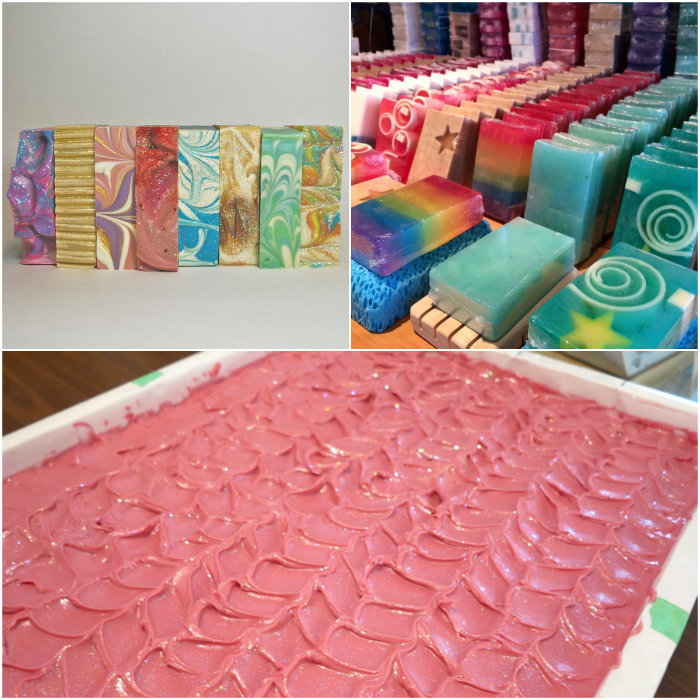 Top left, clockwise: A collection of Ariane's cold process soap, melt and pour soap, and a large batch of pink cold process soap.