Welcome to Talk It Out Tuesday!! Today, we're going to explore some frequently asked questions regarding melt and pour. Most of these questions are specific to the melt and pour bases that Bramble Berry carries, but some are universal. Check out these answers to the most common questions we get about melt and pour soap making. And, feel free to ask your questions below – we will get to them in a future Talk It Out Tuesday.
What's the difference between your bulk 25 pound bases and the Bramble Berry Bases?
Our Bramble Berry bases, often referred to as our "house" or "premium" bases, are our most natural melt and pour bases.  They come in many varieties with natural additives such as real goat milk, shea butter or honey. They have a rich lather, and are high in kosher vegetable glycerin. We sell these in 1, 10, and 50 pound quantities, and offer an additional 25 pound size called "premium bases" in white, clear and goat milk. These bases have a crafting point of around 125 for embeds.
The other soap bases we offer are referred to as our "Bulk" bases.  These bulk bases come in 25 pound blocks only, and are available in white, clear, and goat milk. The main differences between the bulk bases and the house bases are ingredients and cost; the bulk bases contain a synthetic lathering agent (sodium lauryl sulfate or SLS) to create a rich creamy lather, and are at a more economic price point than our house bases. This base has a crafting point of around 135 for embeds.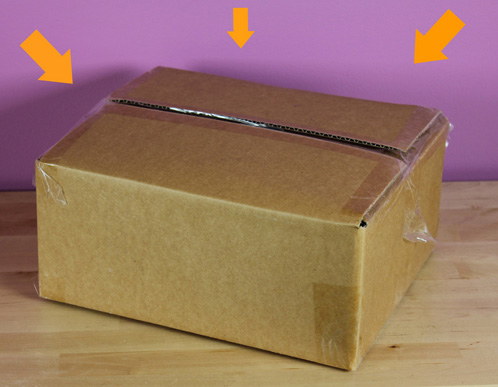 Are the ingredients in your Bramble Berry melt and pour soap bases all natural?
"Natural" is not a term that is regulated by the FDA*. People that sell bases with the same ingredients as our house base may claim they are all natural.
* 4/14/16 UPDATE: While there are still no guidelines or a legal definition that constitutes a "natural" product, the Federal Trade Commission (which enforces truth-in-advertising laws) charged five companies for falsely promoting their products as being "all natural" or "100% natural" when the product contained synthetic ingredients. Read more about the charges here.
The standard ingredients in our house melt and pour bases are Coconut Oil, Palm Oil, Safflower Oil, Glycerin (kosher, of vegetable origin), Purified Water, Sodium Hydroxide (saponifying agent), Sorbitol (moisturizer), Sorbitan oleate (emulsifier), and Soy bean protein (conditioner). While the sorbian oleate is naturally derived, in staying true to the spirit of the word we don't consider this ingredient all natural. However, it's in the soap at less than 1% and our melt and pour bases are far more natural than most (detergent based) soap that you'll buy in a grocery store.
If you're wondering about the lye: lye is an ingredient in the base and while it is not present in the final soap (because of the saponification process), it is necessary to list it in the ingredients.
What is the shelf life of melt and pour soap?
We recommend using our soap bases within one year of purchase. The fresher the soap the better. However, the base will never go "bad"; they will never grow mold or go rancid. Over time they will start to lose moisture…over the years they will lose so much moisture that they may appear crumbly. Although the soap will not look as good, it will still be 100% safe to use. We've seen 5 year old melt and pour soap that looked great! If you do come across an old and crumbly soap base, try adding a little liquid glycerin at 10% – this should bring it back to life.
How should I store melt and pour? How do I wrap it after I make it?
You should always store and wrap your melt and pour in an air-tight container. I like to use plastic storage bins for storing the melt and pour, since they are available in a wide range of sizes and easily available at the store. For wrapping, I recommend plastic food wrap and a little bit of heat from a heat gun. You can check out this Soap Queen TV episode on melt and pour packaging here.
Can I add fixed oils and butters  to melt and pour soap?
Yes, you can add fixed oils or butters to the melt and pour base and many do. However, I don't recommend adding much, if any. The bases are already made with luxurious oils and butters. The more you add to the base, the more the consistency will change. The lather will start to decrease or you could end up with a softer bar of soap. Because of this, I don't usually add more than 1 teaspoon of extra oils per pound of soap base.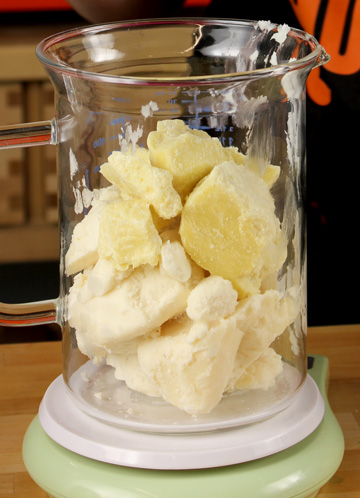 Can I add wax to melt and pour to make it harder?
Beeswax makes cold process harder. It won't work the same for Melt and Pour. Adding beeswax actually makes melt and pour softer. Eeps! I would put a fan over the melt and pour soap to harden it up or try the LCP base. It's a little harder than the regular bases. And here's an experiment that I did with beeswax and melt and pour back when this blog was brand new.You can see it didn't work out very well.
How many cups of melt and pour are in a pound?
You can get just under 2 cups of melt and pour per pound. The exact break down is this: 1 cup white melt and pour = 8.7 ounces weight, 1 cup clear melt and pour = 8.5 ounces weight.

Are your melt and pour bases suspension bases?
While our melt and pour bases aren't technically called suspension bases, that doesn't mean that you can't suspend additives in our bases! The key is pouring at a lower temperature, around 120 degrees F, to increase the viscosity of the soap. This combined with continual stirring as you pour will allow for great suspension in our melt and pour bases.
How do I layer melt and pour?
Layering melt and pour is a function of two things: temperature and timing. How long to wait, or 'timing,' is the key. The rule of thumb is this: the layer over which you are pouring should be firm but fresh. "Fresh" means poured the same hour, ideally within 10 minutes or so. Generally speaking the key is the temperature of the soap you are pouring over an existing layer. If it is too hot, it will melt the layer below. Visually speaking, the soap you are pouring will have a slight gelatinous look to it. It should be noticeably thicker. Finally, it is important to spray the existing layer of soap with rubbing alcohol just before pouring the next layer. Spray liberally; you really can't use too much! Check out this Soap Queen TV episode all about layering melt and pour.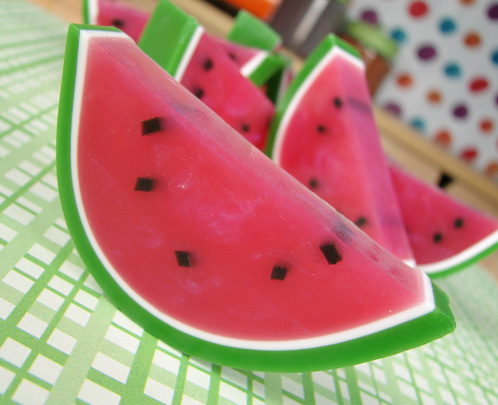 Check out the watermelon tutorial!
Are any of Bramble Berry's products tested on animals?
Bramble Berry's products are not tested on animals. You can find out more about Bramble Berry's dedication to environmentally sound business methods on our Social Responsibility page here.
Fragrance oils are a combination of natural and synthetic ingredients. At one point or another in the last hundred years every single one of those ingredients has been tested on animals for safety. However, Bramble Berry does not currently use animal testing on any of our products. We love our pets just as much as you do.
Are you ready to get your melt and pour soapmaking groove on? Yeah! Here are some resources to get you started:
Find the entire line of Bramble Berry Melt and Pour Soap Bases here.
Find all of the Soap Queen blog recipes using Melt and Pour here.
Find the Soap Queen projects in an easy-to-follow PDF versions here and here or all the SoapyLove Melt and Pour E-Zines here.