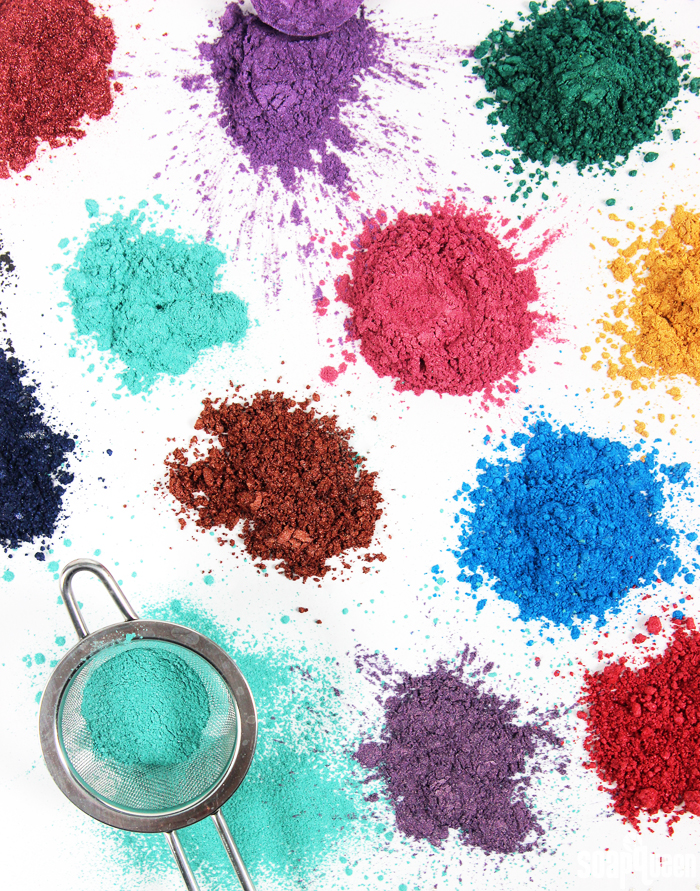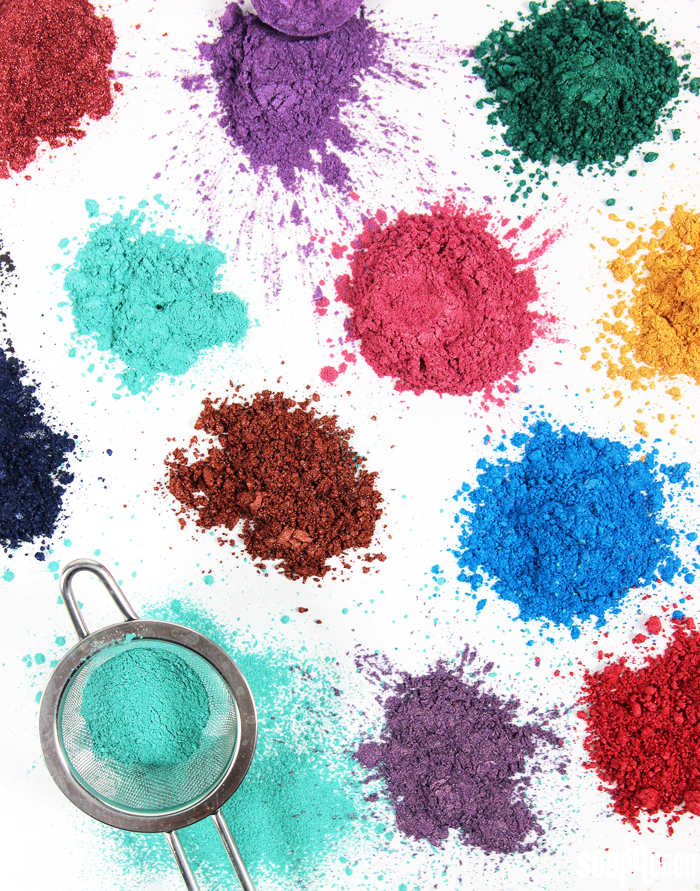 Color is one way to give your bath and beauty projects personality and flair. But with so many colorant options, it can be hard to choose! One of the most popular type of colorant in soap and other bath and beauty products are micas. Micas are a powder colorant which usually contain a slight to intense shimmer. Extremely fine, micas are a great choice because they are easy to mix into a variety of mediums. But, micas can often morph in the high pH environment of cold process soap.
In the soaping world, micas conjure images of rainbow-hued powders with lots of sparkle. In geology, mica refers to a group of metamorphic minerals. Metamorphic rocks and minerals are formed from pre-existing rocks by exposure to extreme heat and pressures. Micas come in many different forms due to the wide array of ways in which they can form within the earth. In fact, there are more than 20 different kinds of mica mineral!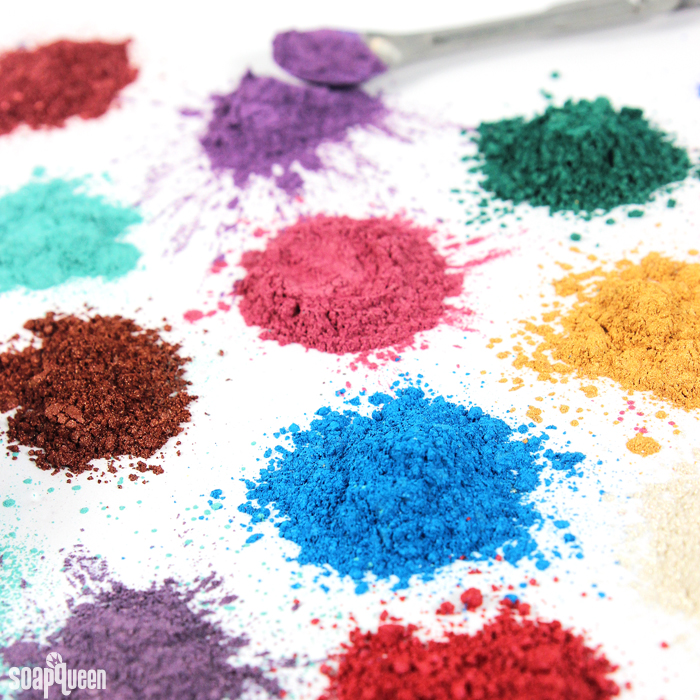 While all slightly different, mica minerals can be described as a shiny, flaky substance that can be peeled off into thin layers. Mica minerals come in a variety of naturally occurring colors. In addition to soap and cosmetics, mica minerals are used in a wide variety of applications including electronic equipment. Once the mica mineral is mined, it's coated with FD&C colorants, pigments or a combination of both to achieve different colors.
Are micas considered natural? It's important to remember that the term "natural" is not regulated* and means something different to everybody (click here to read more about the term "natural"). The majority of Bramble Berry's micas contain only mica and iron oxides, which both readily occur in nature and can be considered natural. If the mica is colored with FD&C colorants, the mica is not considered natural. Below are a list of micas that are colored using FD&C colorants. You can find the ingredients of each Bramble Berry mica in the mica product pages.
* 4/14/16 UPDATE: While there are still no guidelines or a legal definition that constitutes a "natural" product, the Federal Trade Commission (which enforces truth-in-advertising laws) charged five companies for falsely promoting their products as being "all natural" or "100% natural" when the product contained synthetic ingredients. Read more about the charges here.

Bramble Berry Micas Containing FD&C Colorants:
Blue Mica -Cellini Lip Safe Mica
Cellini Red Lip Safe Mica
Coral Mica
Shamrock Green Mica
Yellow Lip Safe Mica
Mica colorants can be used in a wide variety of projects. Unfortunately, most micas morph in cold process soap. For example, Amethyst Purple Mica looks beautiful in melt and pour, but nearly disappears in cold process. Just check out the photo below! Typically, whether or not a mica works in cold process depends on what type of colorant is used to dye the mica. We recommend doing a small test batch to make sure the color is stable in your particular recipe. Morphing is not always a bad thing. Sometimes a mica can morph into a shade that's still beautiful! For example, Coral Mica results in a soft peach color in cold process, while Cellini Blue Mica turns into a lovely lavender tone.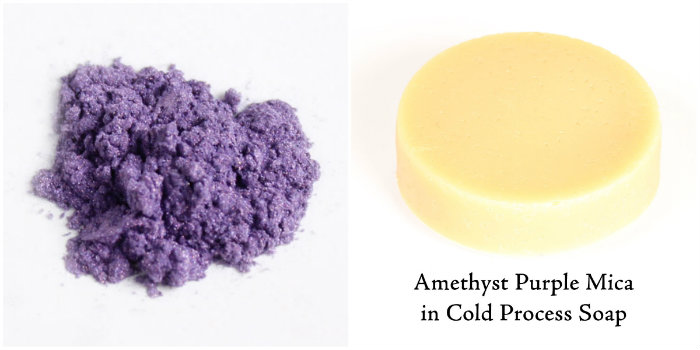 Even if a mica does work in cold process, it often isn't very sparkly. That's because there is no light for reflection (since cold process soap is opaque). To use it in cold process soap, start with 2 teaspoon of colorant per pound of soap, and feel free to add more if you want a brighter color. Because micas are fine and easier to incorporate than oxides, dispersing the colorant in oil is optional.

If a mica morphs in cold process, don't fret! You can still incorporate them into your cold process projects with mica lines and mica painting. In the Lemon Poppy Seed Cold Process, Luster Black Mica is used to create a thin line between layers of white and yellow soap.  The mica line (also known as mica vein) technique can also be seen in the Striped Berry Champagne Cold Process Tutorial.
Mica painting involves mixing the colorant with a liquid oil, which is then applied to the top of the soap and swirled. In the Black, White and Gold All Over Cold Process tutorial, Gold Sparkle Mica creates stunning contrast against black soap. Looking for a brighter color palette? Gold Sparkle Mica painting also looks glamorous against hot pink soap in the Vibrant Mehndi Cold Process tutorial.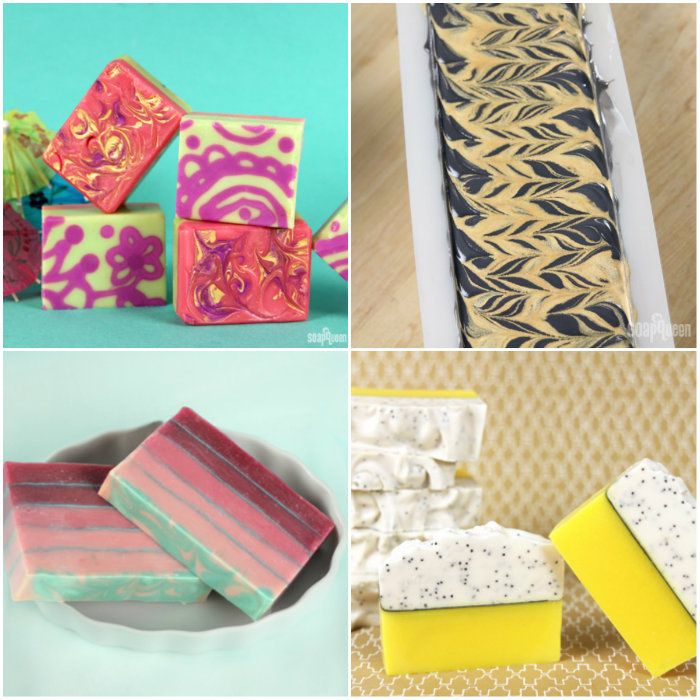 Top row, left to right: Vibrant Mehndi Cold Process, Black, White and Gold All Over Cold Process
Bottom row, left to right: Stripped Berry Champagne Cold Process, Lemon Poppy Seed Cold Process
Micas work great in melt and pour soap, with no possibility of morphing.  If you are using a clear, transparent or translucent base, we recommend about 1/2 a teaspoon per pound to achieve a nice, strong pearl effect. Simply add the powder into your melted melt and pour soap base. If pesky little "mica bubbles" float to the top, spritz them with a bit of 99% isopropyl alcohol and you'll see them burst open. Just stir everything in until the mica is well incorporated. For even easier mixing, disperse the mica into a small amount of rubbing alcohol with a ratio of 1 tsp. mica into 1 Tbs. alcohol and add to the melted soap base. You can also use micas in the form of color blocks! Click here to learn how to add color blocks into melt and pour soap.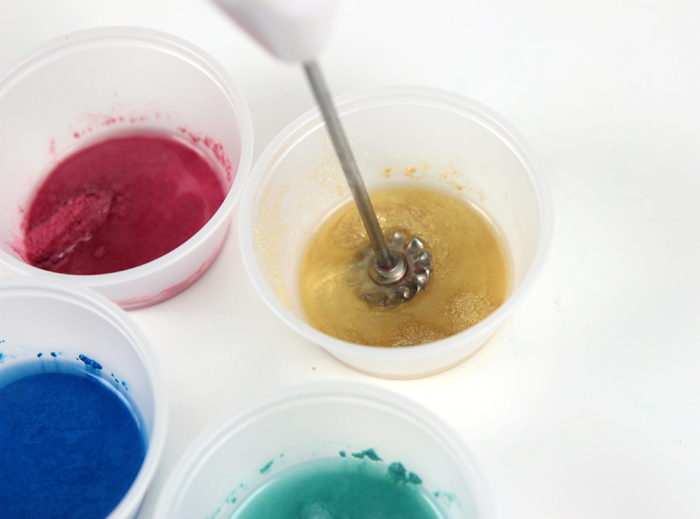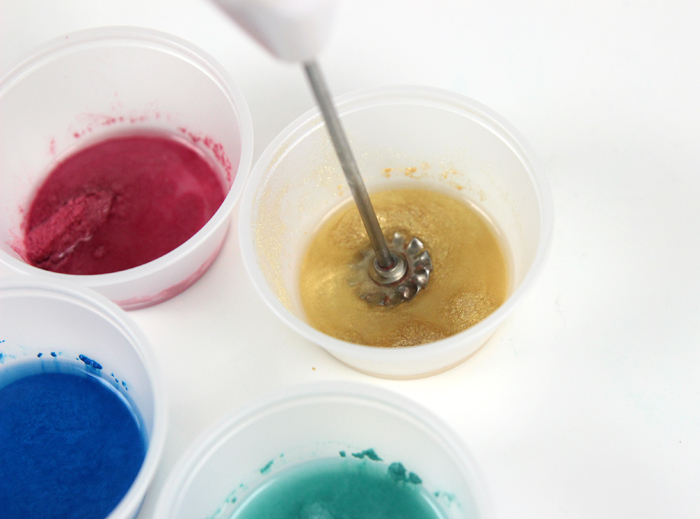 Dispersing micas into alcohol before adding them to melt and pour soap makes them easier to mix in.
With a fine texture and lots of shimmer, micas are the perfect choice for eye shadows and lip products. While all Bramble Berry micas are skin safe, rules regarding eye and lip safe colorants are more stringent. Click here to see a list of lip safe micas and colorants, and click here to see a list of eye safe micas and colorants. When adding micas and colorants to lip products, the frozen spoon trick is a great way to check the color before the entire batch of balm hardens. In the Creamy Marsala Lip Tint tutorial, Merlot Mica gives the balm a wine color inspired by the Pantone color of the year, Marsala. If you're looking to add color to your lids, check out the Mystic Mermaid Eye Shadow + Application Tutorial and the Glamorous Gold Eye Shadow Quad.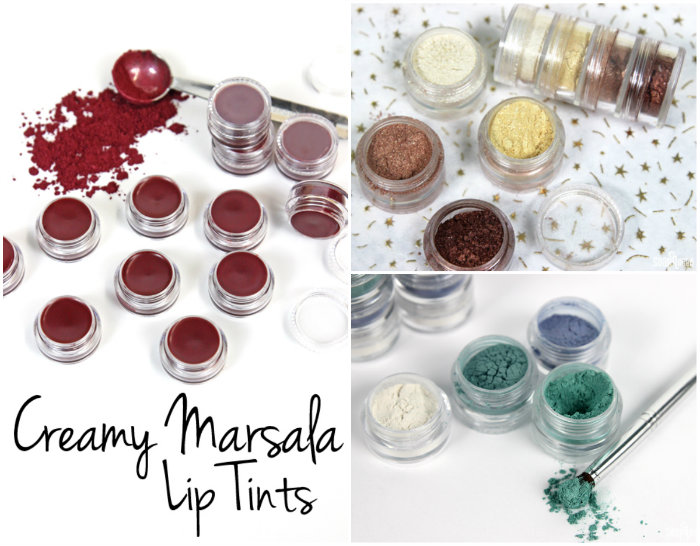 Left to right, clockwise: Creamy Marsala Lip Tints, Glamorous Gold Eye Shadow Quad, Mystic Mermaid Eye Shadow + Application Tutorial
Speaking of micas, we have several new mica colorants that work great in melt and pour soap, lotion, and makeup. The King's Gold Mica is a wonderfully warm, and rich gold color. The new Snowflake Sparkle Mica is a large particle mica that is incredibly sparkly. Looking for a new shade of pink? The Party Pink Mica and Rose Gold Mica are wonderful options. For a darker, richer hue, the new Desert Red Mica looks fantastic in soap and other projects.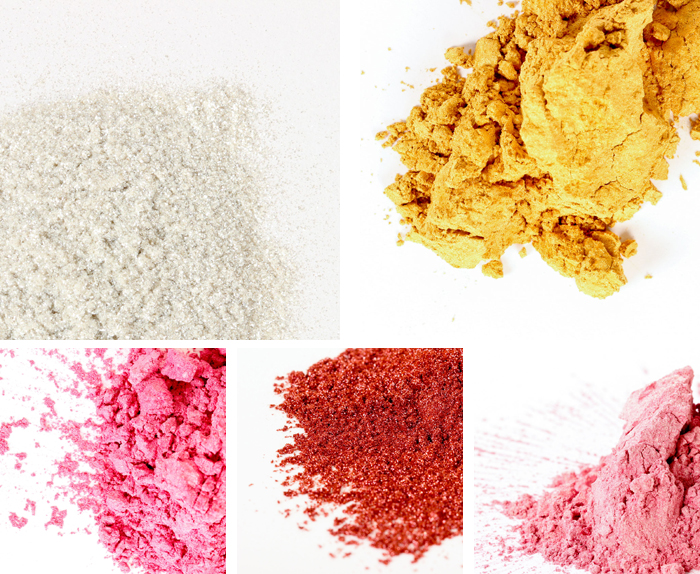 Top row, left to right: Snowflake Sparkle Mica, King's Gold Mica
Bottom row, left to right: Party Pink Mica, Desert Red Mica, Rose Gold Mica
What is your favorite way to use mica colorants in your projects? Do you have a favorite color?