Sarah of Spicy Pinecone creates gorgeous cold process soap that demonstrate a wide range of techniques, colors and design elements. Her passion for bath and beauty is evident in each creation, which are beautifully presented and photographed. Sarah shares her soaping making on her YouTube channel, which has more than 80 fun and informative videos. Read on to learn more about Sarah, including how she came up with the name of her business, and tips for making YouTube videos. -A.M.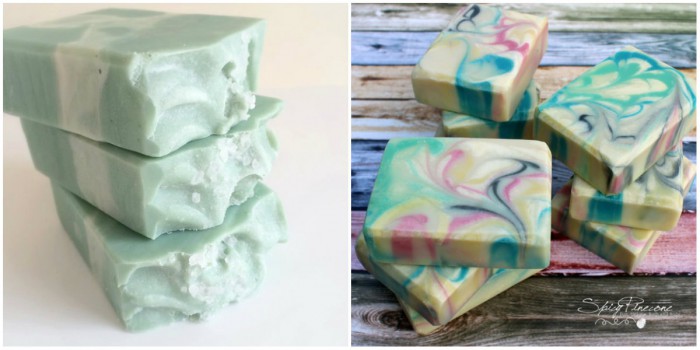 Left to right: Sarah's beautiful Eucalyptus and Spearmint cold process soap, and the stunning Coconut Lime Verbena cold process soap. 

How long have you been soaping for and how did you get started?
I've been soaping for a little over three years now. It started off as a stroll through a craft supply store where I spotted some melt and pour soap base and fragrances. I'm always excited to learn about new hobbies, but I had no clue what kind of door I was opening when I took my purchase home that night. As soon as I got home, I made my very first batch of soap. Popping it out of the mold several hours later, I was hooked. Not just a little hooked, but 100% enamored.
As I often do, I dove in headfirst. I lived on Google for a few days, purchased several books on soaping and a ton of soapy supplies. My very first supply box was from Bramble Berry! I loved the thought of making cold process soap, especially since my kids suffered from skin issues; however, at first, the process (especially the lye) terrified me. When I geared up for my first batch, I looked like I was suiting up for war. My very first soap barely filled the mold halfway (lesson 1 was learned, though: learn to calculate mold volume), but I loved those short, squat little bars.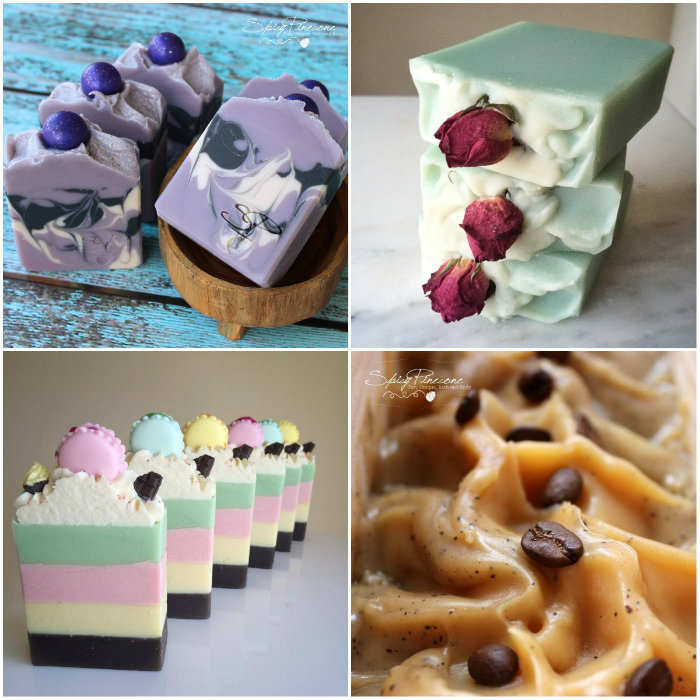 Top left, clockwise: Purple Hooters coconut milk soap, Victorian Rose coconut milk soap, Caffeinated Coffee Soap and Sweet Thang soap.
What sort of advice would you give to those soapers just starting their businesses?
My best advice is to "research first, make after." Read as much as you possibly can. Buy books, join groups, watch videos, make Google your best friend. Always be open to learning, no matter how young (or old) your business is. No one knows everything, but a little bit of knowledge can really expand your ability to create.
That is your favorite type of product to make?
My favorite items to make are definitely cold process soaps and bath bombs. There are endless ways to customize cold process soap batches, and to express yourself creatively through design and ingredient use. You can make the same batch twice and still get slightly different variances, keeping things interesting and fresh. Bath bombs are fulfilling because, to me, there's nothing quite like unmolding a perfect sphere and setting it out to dry. With every bath bomb, there's a little thrill of, "Yup, I made that."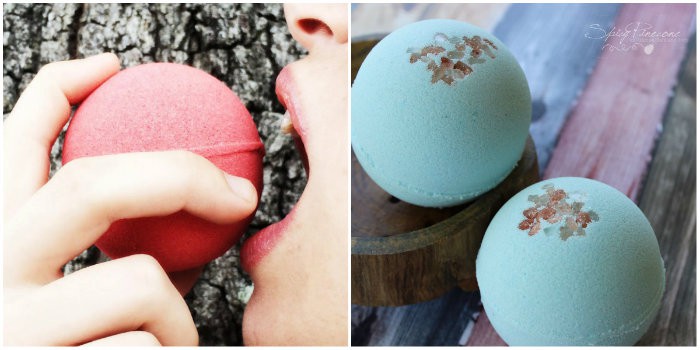 Sarah's bath bombs look amazing! Click here to shop her bath bombs on Etsy.
What inspires you to create?
I find inspiration anywhere and everywhere. Music, my children, nature, even something like a silly comment that makes me laugh. I'm always taking pictures with my phone and jotting down notes with ideas for a later project.
How did you come up with the name for your business?
My husband and I were at the Commissary a few years ago, when my middle son picked up a pinecone that had fallen in the parking lot. He held throughout the entire shopping trip, petting it, and holding it out to others while yelling enthusiastically, "LOOK AT MY SPICY PINECONE!" (He could not pronounce "spiky" for the longest time, so "spicy" it was.) The other shoppers would nod politely and nervously smile, then book it in the other direction. For months, he was obsessed with pinecones. We'd go hunting them in the woods and he'd talk about his "spicy pinecone"… even my daughter and my oldest son picked up on his pinecone devotion. We had baskets of pinecones on the front porch and in all of my planters. I joked with my husband that "Spicy Pinecone" would be a great name for a band, but instead, I picked it for my business because it still makes me smile.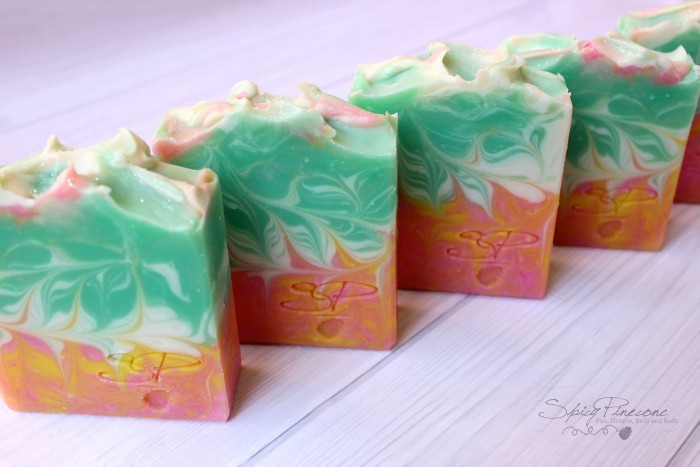 Summer Lovin' cold process soap fragranced with a blend of floral and musk.

You have such cute and creative names for your products. How do you come up with them?
Sometimes the name of the fragrance oil is inspiration, other times it's just random stuff that pops into my head. My husband once asked me to make him a "manly-man" soap… so I told him I would make the most "mantastic" of all soaps in existence… thus, "Mantastic" was born. I like to joke and play, and try to bring that lighthearted, fun feeling into my products. If it makes me smile, I like to try and pass it on.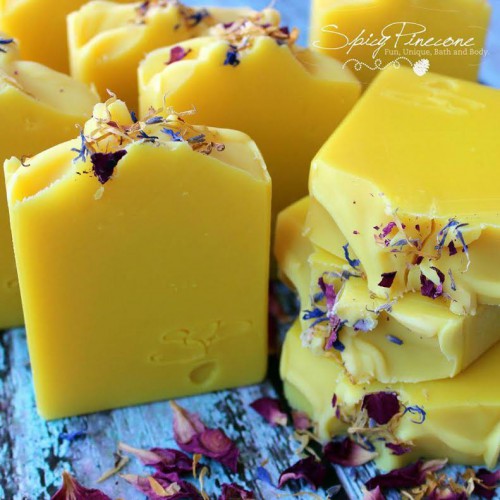 Spicy Pinecone's stunning "Claire's Garden"cold process soap made with heavy cream, calendula and chamomile infused oil. 
What's your favorite thing about making YouTube videos?
The absolutely BEST feeling is when someone messages or comments that my video was able to help them in some way. A lot of the time, it's hard to know if what you're doing is making a difference or not. When someone posts a "thank you," it truly does make the time and effort spent well worth it.
What advice would you give to someone who wanted to upload a video on YouTube?
There are a few things to take into consideration when you're thinking of uploading to YouTube. First, decide what you want your channel to focus on and try to stick to that as much as possible. (People who subscribe to soaping channels expect to see soap-related videos). Next, do not let naysayers get you down. You can't please everyone, and if you try, you'll end up sorely disappointed and frustrated. Do what YOU do and do not try to fit into a mold of what you think others want you to be.
Lastly, have fun! Making a video is a way to express yourself and share your creativity. If you find that you're not having fun, don't force yourself to do it just because you THINK you should.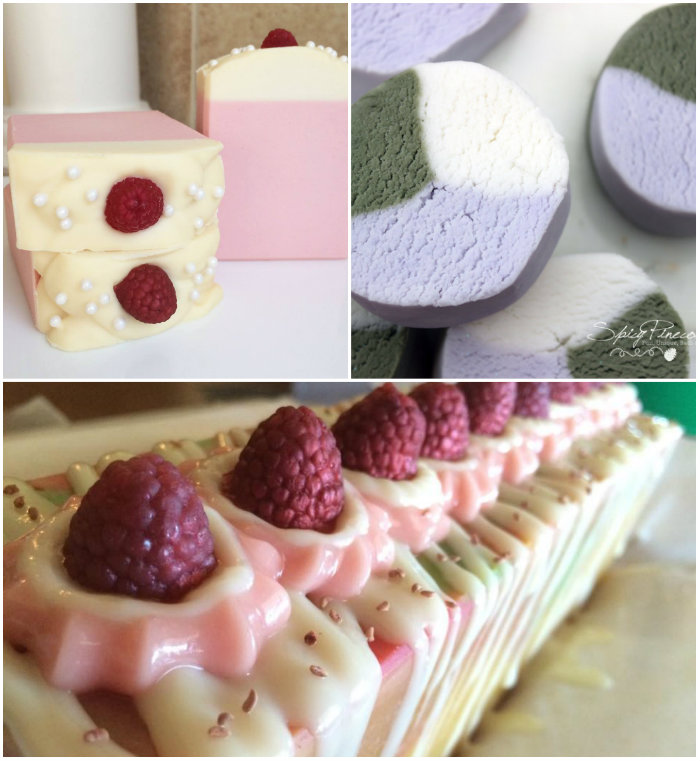 Top left, clockwise: Pink Berry Mimosa soap, Free Spirit Bubble Bath Bars and Raspberry Lemon Cookie Bar soap. 
What is your favorite Bramble Berry product and why?
Only one?! Oh my goodness, that's a tough one. I would have to say the fragrance oils, just because I am an absolute fragrance oil nut. The Buttercream and Snickerdoodle, Baby Powder, Marrakesh, and Energy fragrance oils are at the top of my list. Though I do also have to say that the Small 9-Ball Silicone Mold is invaluable as well.
Tell us something unusual or unique about yourself!
I've always been told that I'm "different" from other people, but I view that as a positive thing. If everyone were the same, the world would be such a ho-hum place. I speak Mandarin Chinese, used to breed geckos, and can (poorly) sing the entire "Batty Rap Song" from "Fern Gully." An odd collection of talents, but life is all about learning new things and it keeps the kids entertained.
What are some of your other hobbies and interests?
Bath and body products are my life, but I also sew, sculpt, paint, crochet, woodwork, blow glass and bake. My husband doesn't even bat an eye anymore when I announce that I've decided to build/create x,y, or z. He's always been very supportive, even when I had to use his work shirt to stomp out a fire. (Sorry, my love.)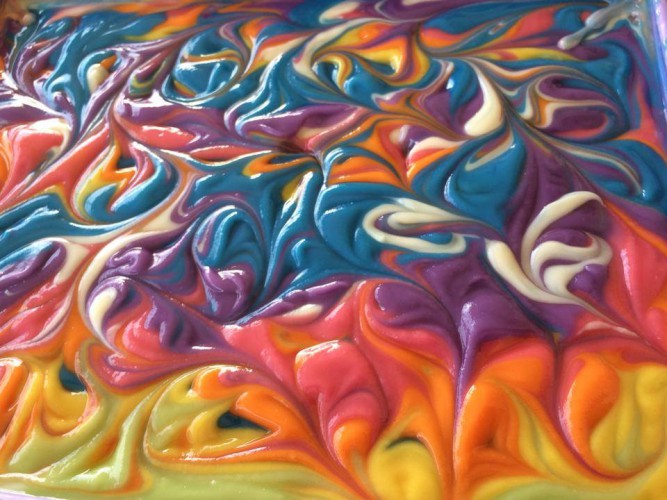 Gorgeous Rainbow Swirly Soap made with cocoa and mango butters. 
What is your number one soaping tip? 
Print all of your recipes/notes and file them where you can find them. I used to trust my computer to keep my files safe until it crashed and I hadn't backed it up. I've since moved to a "paper and accordion file" system that has worked like a charm!
Have you ever experienced a horrible soapy fail? How did you work through it, and what did you learn?
I think my most epic fail was my "meat soap." I didn't test a purple colorant's performance before using it and had to rebatch the soap because of its awful color. The soap went from bad to worse, and essentially, looked like ground hamburger but smelled like plumeria. It was the most disturbing thing I've ever created and even my husband (who is usually very supportive) could not wrap his head around a flower-smelling meat soap.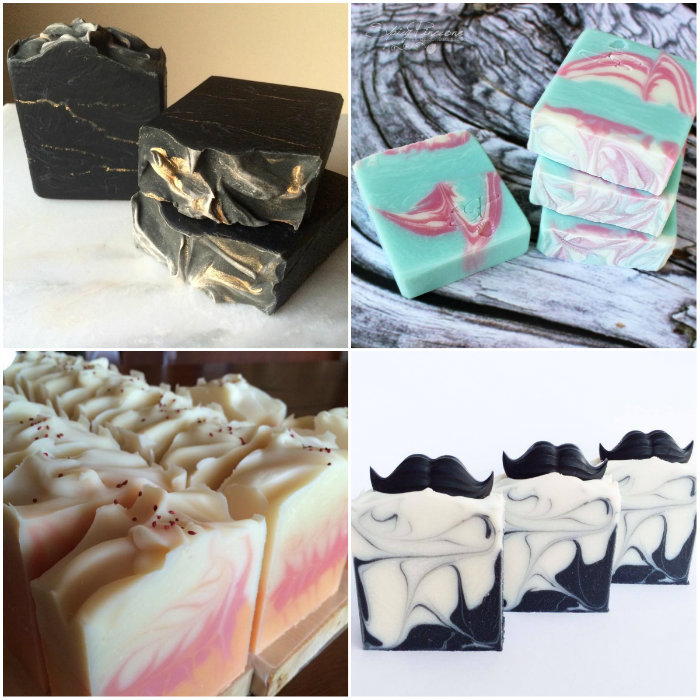 Top left, clockwise: Sarah's Activated Charcoal soap, Mermaid Lagoon soap, Shave and a Haircut soap and Sweet Magnolia and Orange Blossom soap. 
What do you love most about creating bath and body products?
I love when a customer uses a product I've made and tells me how much they enjoyed it or how it helped with a certain issue or concern. It gives me a huge sense of satisfaction and purpose. It's a truly incredible feeling. 🙂
Find Spicy Pinecone:
On the Web
On Facebook 
On Etsy
On YouTube
On Instagram
On Twitter
On Tumblr