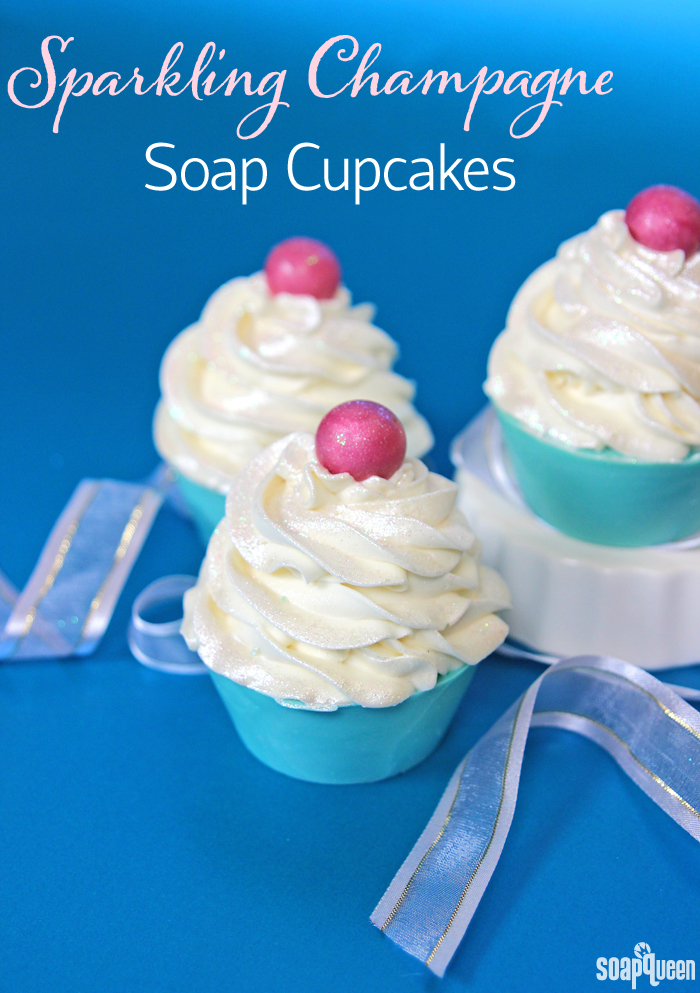 What could be better than a cupcake? A calorie-free, non-fat soap cupcake of course! =) These Sparkling Champagne Cold Process Soap Cupcakes feature a romantic blend of Champagne and White Rose Fragrance Oil. The frosting is covered in Snowflake Sparkle Mica and Fine Iridescent Glitter, and topped with a pink melt and pour embed. Soap cupcakes always bring the "wow" factor and make terrific gifts. Just make sure the recipients know these cupcakes are for washing and not eating! Can't get enough soapy cupcakes? Check out the How to Make Bath Bomb Cupcakes video for more project ideas.
This recipe contains several advanced cold process techniques, including cold process soap frosting. If you have never made cold process soap before, please get a few cold process recipes under your belt and really understand the science and safety of soapmaking before attempting this project. If you have never made cold process soap before, check out the Basics of Cold Process Soapmaking video series on Soap Queen TV.  In particular, be sure to watch the video on lye safety.

What You'll Need:
Soap Cupcakes Base:
Round Cupcake Silicone Mold
2.4 oz. Sweet Almond Oil
4 oz. Coconut Oil
4 oz. Olive Oil
4.8 oz. Palm Oil
.8 oz. Shea Butter
2.3 oz. Sodium Hydroxide Lye
5.3 oz. Distilled Water
1.5 oz. Champagne Fragrance Oil
1 oz. White Rose Fragrance Oil
Hydrated Chrome Green Oxide
Neon Blue Raspberry Colorant
Titanium Dioxide
Soap Frosting:
3.8 oz. Cocoa Butter
7.6 oz. Coconut Oil
3.8 oz Olive Oil
3.8 oz. Shea Butter
2.8 oz. Sodium Hydroxide Lye
6.3 oz. Distilled Water
Snowflake Sparkle Mica
Fine Iridescent Glitter
Disposable Frosting Bag
1M Frosting Tip

Soap Embeds:
Small 9 Ball Silicone Mold
2 oz. LCP Clear MP Base
Party Pink Mica
Snowflake Sparkle Mica
Optional: 99% Isopropyl Alcohol


Click here to add everything you need for this project to your Bramble Berry shopping cart!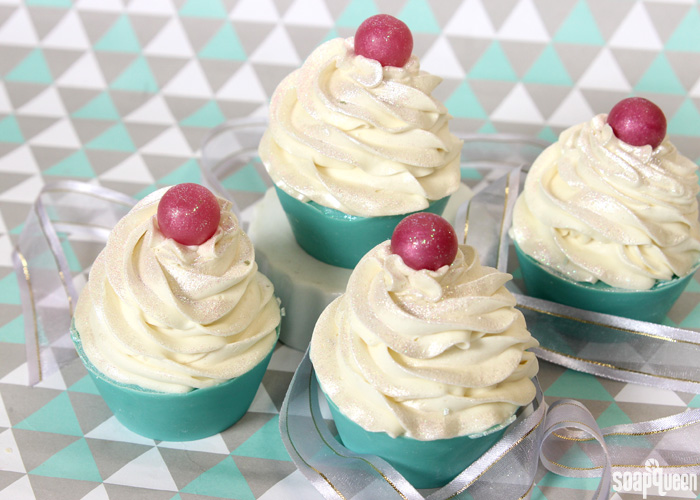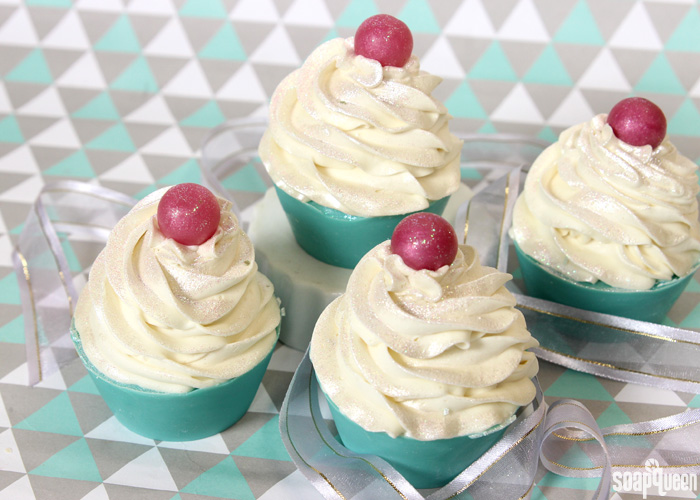 Have you tried making soap cupcakes before? They are one of my all time favorite projects!