Today is the next lesson in the Back to Basics Cold Process Series. Today, we are reviewing how temperature affects cold process soaping. If you missed yesterday's Basic and Simple Cold Process Soap, be sure to check it out! It's the perfect recipe for the beginner soaper. Tomorrow will feature another cold process tutorial including butters and essential oil. If you'd like to receive all the ingredients to make all the projects in this series, the Back to Basics Soapmaking Kit contains everything you need!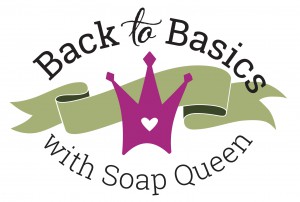 Cold process soap making is a science. It involves mixing oils and lye solution to begin a chemical reaction known as saponification. Like any scientific process and reaction, it's important to be precise and consistent. For soap making, these means carefully measuring and mixing ingredients and controlling for factors such as temperature.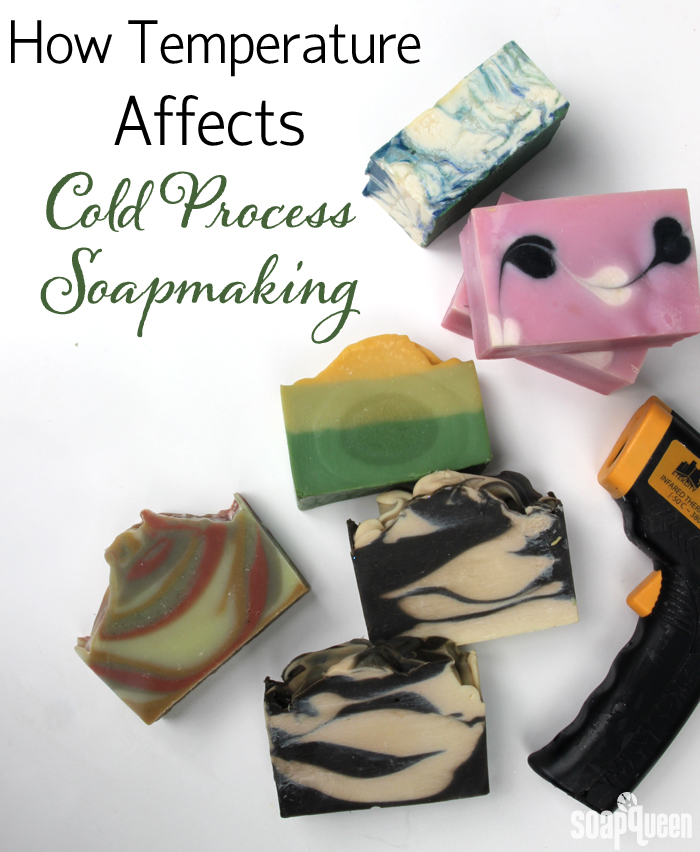 The temperature of cold process ingredients (the oils and lye solution) can greatly affect the final product. The temperature of your soaping area also affects your results. If you were to ask advanced soapers, "What is the perfect soaping temperature?" you would receive a wide range of answers. This is because it depends greatly on the particular recipe and design. For most soapers, the preferred temperature of soaping lye and oils are 120-130 ° F. In addition, many soapers and books believe it is helpful to have the lye and oil within 10 degrees of each other.
The temperature range of 120-130 ° F is popular for several reasons. For any recipe, it's important that your soap making oils are completely melted. Oils and butters all melt at different temperatures, but at 120-130 ° F, the mixture of oils (and possibly butters) will all be thoroughly melted. A good rule of thumb is that your mixture of oils should be clear, with no cloudiness.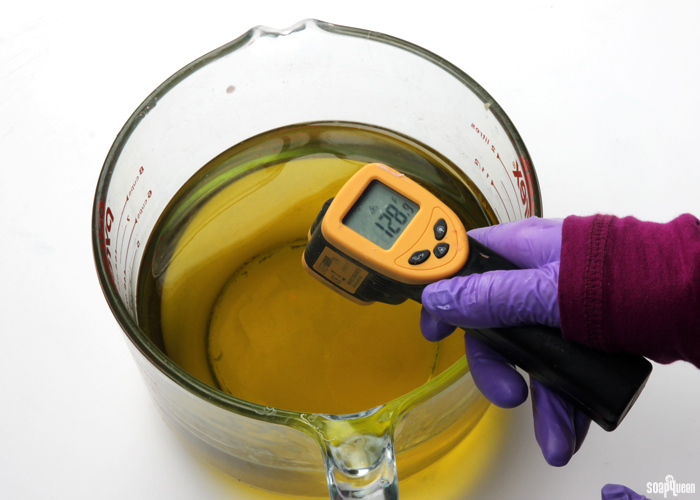 The oils above are the perfect soaping temperature, 120-130 ° F. Notice there is no cloudiness in the oil mixture. 
If the oil mixture is too cool and has cloudiness, fatty acids within the mixture have solidified. Solid oil within the mixture can lead to a "false trace." False trace occurs when soap batter appears to be a thick consistency, but the oils and butters have not saponified. To avoid false trace, ensure any hard oils or butters are thoroughly melted and do not cool during the soaping process. The temperature range of 120-130 ° F is a safe range that should not look cloudy, or lead to false trace.
It's also important that your lye is an appropriate soaping temperature. Just like soaping oils, a great lye temperature for soaping is 120-130 ° F. Adding lye to water causes a exothermic reaction that causes the lye water to reach temperatures up to 200 ° F. Because the lye solution becomes so hot, it needs time to cool for soaping. I like to prepare my lye water about 1-3 hours before soaping to allow my lye to cool to a suitable temperature.
If the lye solution is too cold, it can solidify the oils and butters upon contact. If the lye is extremely hot, it can cause the saponification process to speed up dramatically. This is problematic if the soap design involves lots of layers, swirls or other complex techniques.
All this being said…soaping temperature is very much a personal preference, and will vary slightly depending on the recipe. Milk soap is a great example. To prevent the milk from scorching, lye temperatures need to be kept cool. Learn more about making lye solution with milk instead of water in this blog post. On the flip side, hotter temperatures are great when you want your soap to go through gel phase. Learn more about gel phase here. Below are some reasons why you may want to soap hotter or colder than 120-130 ° F. In general, I only recommend soaping at 160 ° F if you are working with beeswax.
When to Keep Soaping Temperatures Cool (100-110 ° F):
You want to prevent gel phase
You are making soap with alternative liquids (milk, juice, tea, etc) instead of water
You want to prevent glycerin rivers
When working with a fragrance oil that heats up
Your room temperature is hot
When to Keep Soaping Temperatures Hot (131-160 ° F):
You want to promote gel phase
If you're using LabColors (promote gel phase)
You want to prevent soda ash
To help soap saponify quicker
You are working with beeswax
It's important to also consider the temperature of your surroundings when making soap.  Soap created with average or cool soaping temperatures can become quite hot if left in a warm or hot room after pouring into the mold. Hot room temperatures can cause soap to go through gel phase, or even overheat. If your room temperature is quite hot you may want to soap with slightly cooler temperatures than normal and avoid insulation. To learn more about insulating your soap, check out the When to Insulate Handmade Soap blog post. On the flip side, some soap recipes like milk soap can be placed in the fridge or freezer to prevent gel phase or overheating. Check out the Milk Project Roundup for a variety of recipes made with milk.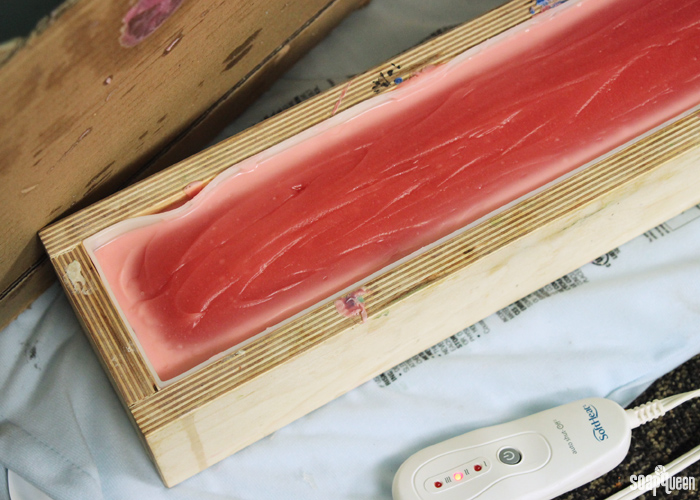 When soap becomes hot, it goes through gel phase. Gel phase helps soap look more colorful and shiny. 
When creating cold process soap, I always have a temperature gun nearby to make sure my temperatures are appropriate. Temperature is key to ensuring the recipe sets up correctly, and the design turns out as planned. Remeber, if your soap overheats or is cold as it saponifies in the mold, as long as it is not lye heavy, the soap is safe to use. Below are the most common cosmetic concerns that are due to soap becoming too hot, or the soap being cold.
When soap is too hot: When soap becomes hot, it enters gel phase. Gel phase is great! It helps colors become more vibrant. But, if the soap gets too hot, it can form alien brains, glycerin rivers or volcano. In the collage below, "alien brain" is shown on the top. Notice the bumpy, wavy temperature? That is alien brain! This was caused by the soap being insulated in a hot room.
On the bottom left is a soap volcano. This soap overheated due to a combination of hot oils, coconut milk and a untested fragrance oil. Click here to read more about this incident. Luckily I was able to save this batch by using the hot process hero method. On the bottom right is an example of glycerin rivers. When cold process soap gets too hot the naturally occurring glycerin within the soap can congeal, becoming more apparent and visible, forming the "rivers." Click here to learn more about glycerin rivers and how to prevent them.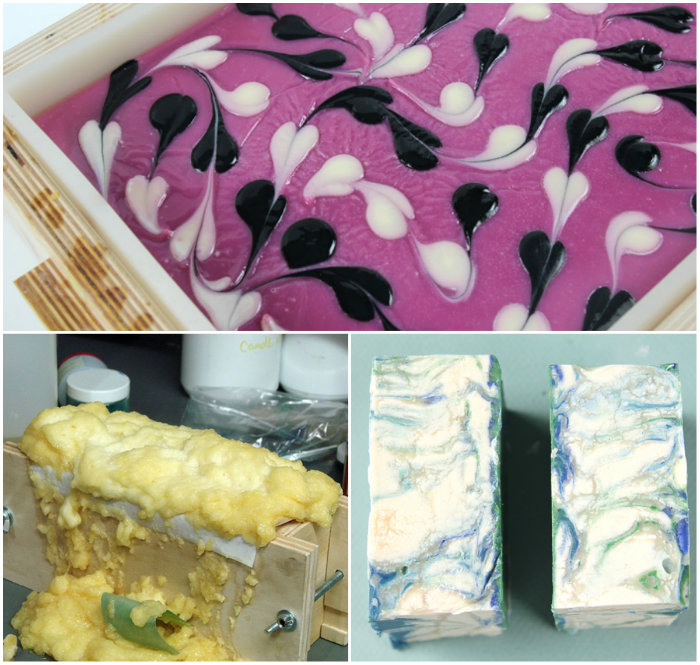 When soap is too cold: When soap is on the cooler side, soda ash can form on the top of the soap. Soda ash occurs on soap due to the natural process of unsaponified lye reacting with carbon dioxide in the air. The result is a thin white layer on the top of the soap. While perfectly safe to use, soda ash can be considered an aesthetic issue. To learn more about soda ash and how to prevent it, click here.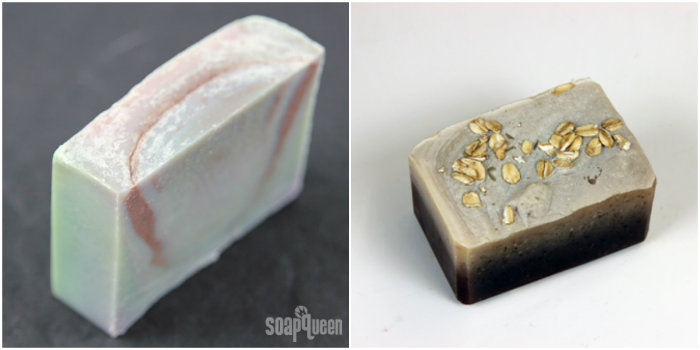 To dive deeper into the topic of temperature in cold process soap making, check out the blog posts below. If you have any tips are tricks for controlling the temperature of your soap, I would love to hear them!
Jazzed About Gel Phase
LabColors and Gel Phase Are Friends
Explaining and Preventing Soda Ash
Soaping in the Summer Heat
When to Insulate Handmade Soap
How to Add Lye to Milk for Cold Process Soap
The River Runs Deep: An explanation of glycerin rivers