Continuing our emphasis on all things Rome  (you won't believe the adorable Vespa soap roaring up and the awesome CP mosaic soap on tap), this blog focuses on simple and easy. After all, what did the earliest soapers use to soap with? Animal fats and olive oil were the two common oils. The name 'soap' comes from the popular myth of Mount Sapo, said to be located in Rome and olive oil is abundance in many Mediterranean countries, including Italy.
The Lazio region surrounding the capital is particularly well known for its exceptional olive oil. It's not just for cooking! Olive oil is a staple ingredient in many soaping recipes. It's also one of the few oils that is popular to use at 100% in soap recipes! Read on to learn more about the difference between pure and pomace olive oils, Castile (100% olive oil) recipes and using olive oil in other bath and beauty products.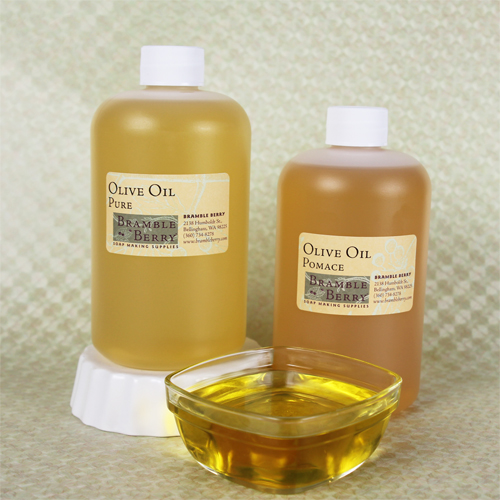 Bramble Berry carries two different types of olive oil: Pure and Pomace. Pure olive oil is from the first pressing of the olives, and in soaping recipes, it allows you lots of time to work with a recipe. Pomace on the other hand, is made by extracting the last bits of oil and fat from the paste left over from pressing the Extra Virgin Olive Oil. It tends to trace much more quickly than pure olive oil, so it's best for simple recipes. Unless noted, all recipes on the Soap Queen blog use Pure Olive Oil.
Since olive oil is pressed from real olives, the color of the oil can vary due to crop variations and where the oil is from. If you buy olive oil several times from the same source and you notice slight differences in color or smell, don't worry!
Olive oil is a common ingredient in cooking and it's widely available on grocery store shelves. Be careful though! When a variety of oils were put to the test (see All Olive Oils are not Created Equal) many of them failed. Rancidity was a common issue, so be sure that your source sells through and rotates their stock regularly.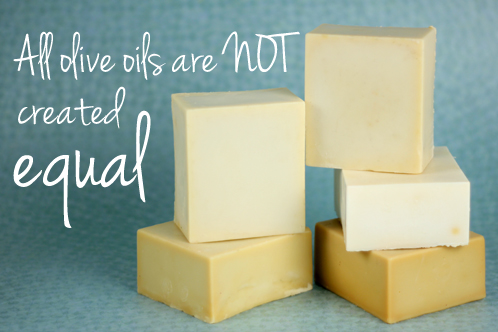 Traditionally, Castile soap is made with 100% Olive Oil. However many Castile soaps have other oils in them, but Olive Oil is always a main ingredient. It's somewhat controversial over how much olive oil needs to be in the soap to be called 'castile' but typically this amount is 80% or higher. Castile soap gets its name from the region in Spain where it was first created, and it's one of the oldest soaps known to mankind. In fact, mentions of Castile soap have appeared in books as early as 1567 (though regular soap beats that by just a few years with its first mention in 1700BC)! Castile soap is known for being gentle and soothing. This Buttermilk Bastille Bar recipe by Amanda of Lovin' Soap is a great recipe for sensitive skin that predominantly uses Olive Oil.
Because it only contains one oil, Castile soap is a great recipe for beginner soapers. Keep in mind, Castile soap is starts off fairly sticky and soft and doesn't have a rich lather. It can take weeks to harden up enough to unmold, and even longer to cut. If you do make Castile bars though, it's worth the wait, up to a year for them to shine. Yes, I have noticed that my castile bars lather better after a full year of curing time! Try your hand at making Castile soap with this quick recipe.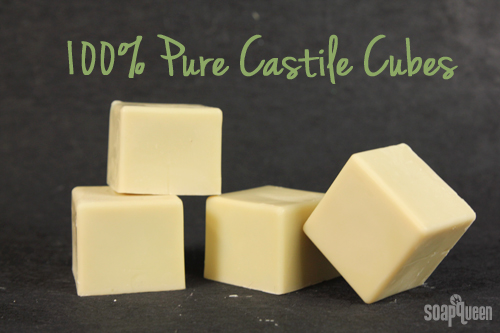 Quick and Easy Castile Soap
38 oz. Pure Olive Oil
4.8 oz. Sodium Hydroxide
12.5 oz. distilled water
Optional: Sodium Lactate to help release
If you've never made Cold Process soap before, stop here! I highly recommend checking out our FREE four part SoapQueen.tv series on Cold Process Soapmaking, especially the episode on lye safety. And if you'd rather do some reading, Bramble Berry carries a wide range of books on the topic, including my newest book, Soap Crafting. You can also checkout the digital downloads for that instant gratification factor.
SAFETY FIRST: Suit up for safe handling practices! That means goggles, gloves and long sleeves. Make sure kids, pets, and other distractions and tripping hazards are out of the house or don't have access to your soaping space. Always soap in a well-ventilated area.
ONE: Slowly and carefully add the lye to the water and gently stir until the lye has fully dissolved and the liquid is clear. Adding Sodium Lactate to high olive oil content recipes helps to harden the soap so unmolding can happen more quickly (probably 30-50% faster). Add about  2 teaspoon of Sodium Lactate and stir. Set aside to cool. NOTE: This soap will stick in your molds for a ** couple weeks ** with or without sodium lactate (I am not joking; castile soap is *that* soft when soaping in silicone). 
TWO:  Portion out the olive oil. Once the lye water has cooled to 130°F or below, add the it to the oil and stick blend until medium trace.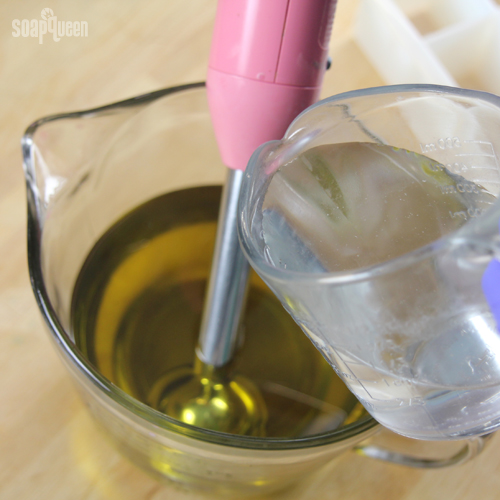 Ooooh, look at that gorgeous green color from the pure olive oil; it's so luxurious!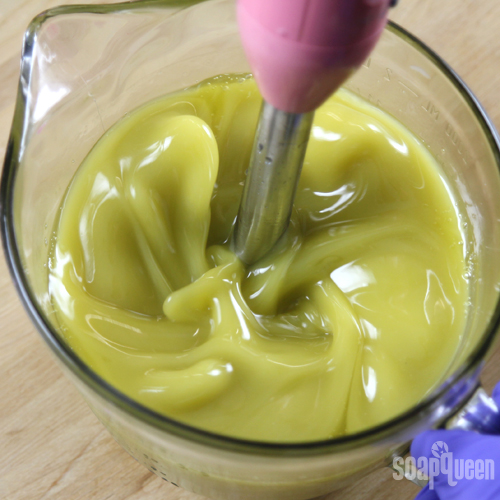 THREE: Add 3 oz. of Neroli and Shea Fragrance Oil. Since you aren't doing any complicated designs or swirls, you can stick blend or whisk the fragrance in.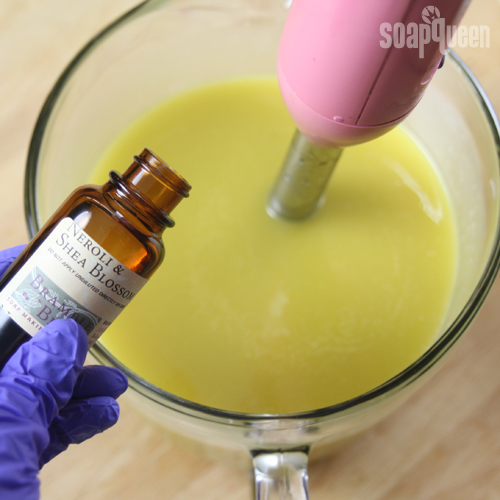 FOUR: Pour into the 9 Cube Silicone Soap Mold. Now play the waiting game! It most likely (most definitely) takes a full two weeks to unmold this soap. Allow it to cure and harden for at least another 4 weeks, and longer if possible. Enjoy – and set aside a bar to test out in a year. You'll be surprised how much the lather has improved after a full year cure time with this unique type of soap.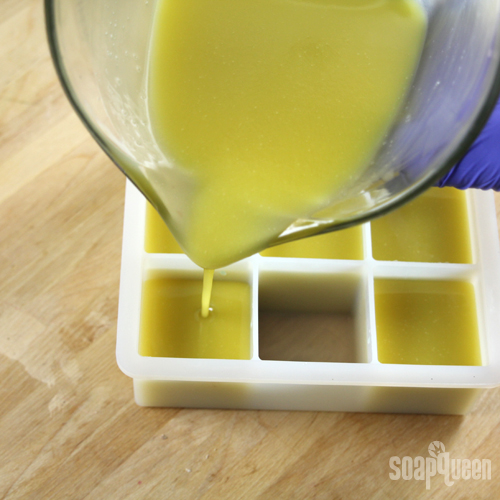 Olive oil is also an excellent additive in scrubs and lotions. It's even used in this Super Simple Boot Polish recipe! For melt and pour project, try the Olive Oil Melt and Pour base. If you're looking for something a little more colorful and advanced, check out this Goat Milk Swirl Tutorial using Olive Oil + Goatmilk and yes, the silicone cube mold from this project. Bonus: it's a video. =)
Stay tuned next for more Roman-themed tutorials. What have you made with Olive Oil recently? Do you have any tricks that you use to help it unmold more quickly for CP soap?