What is bastille? Bastille is a term affectionately coined by soapers for soap that is made with a high percentage of olive oil. Castille is 100% olive oil soap and bastille is soap made with 70% (or more) olive oil but contains other oils or butters.
Castille on its own is not very bubbly but if you add a bit of coconut oil and buttermilk you can boost the bubbles a bit but keep the mildness of the high olive oil content. Buttermilk contains sugar which helps boost the bubbles as well.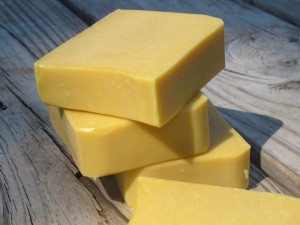 I love this recipe. Its simple with just two oil ingredients (olive and coconut), is colored naturally by using carrot baby food (pureed carrots) and makes a great soap for baby or for those with sensitive skin. This recipe creates a super mild soap that still has a good lather.
Buttermilk Bastille Baby Bar Recipe:
Olive Oil – 27 oz
Coconut Oil – 5 oz
Buttermilk – 8 oz
Carrot Baby Food – 2.5 oz (make sure it says just carrots and water)
Lye – 4.3 oz
There are many different techniques when using milk in making soap.  My favorite is to freeze the milk beforehand in ice cube trays.  Milk contains sugar and heats up quite a bit when you make your lye solution.  If you freeze beforehand it will help keep the temps down.
So fill up an ice cube tray with your buttermilk and have that frozen beforehand.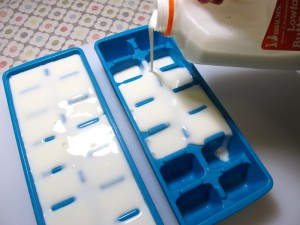 The next step is to make the lye solution.  The milk doesn't have to be frozen solid but should be nice and slushy.  Weigh out 8 oz of slushy milk and add the 2.5 oz of pureed carrots.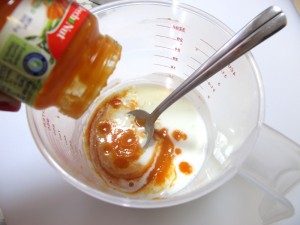 To help keep the temps down when adding the lye, you can set your lye container in an ice bath.  As you add the lye and stir…this will keep it from scorching or burning the milk.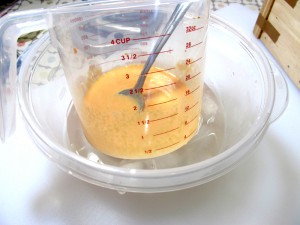 Measure out the olive oil, coconut oil and melt.  Usually I don't heat olive oil…I'll add it to melted solid oils and butters. Add your lye solution to the heated oils and stickblend until you reach trace. Be prepared, this recipe may trace quickly!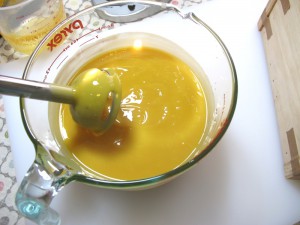 Check out that beautiful orange color!  I don't add fragrance to this soap since it is for babies or people with sensitive skin but if you'd like to add a fragrance or essential oil do that now. Then pour into your mold!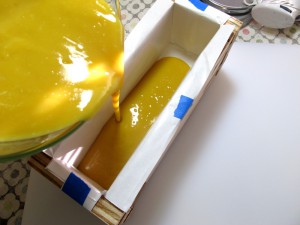 After 24 hours, slice up and cure.  High olive oil soaps do better with a longer cure time.  I like to cure this soap at least six weeks.
Happy soaping!
Amanda, Lovin Soap & DFW Soap Lab