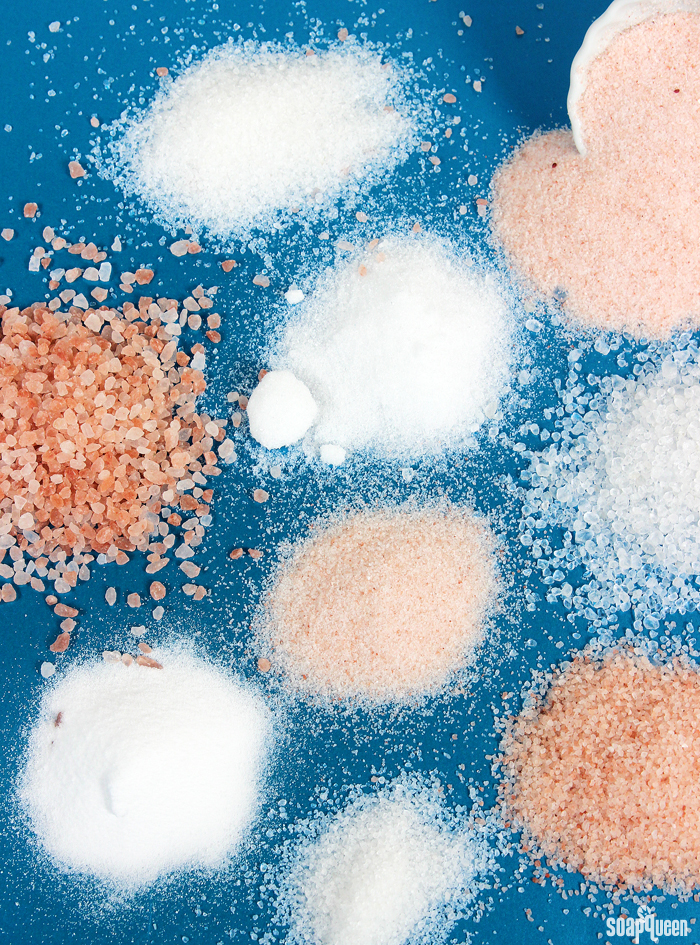 Salts are a versatile ingredient for bath and body products. They can be used to remove dead skin in soap and scrubs, or in the bath tub for a soothing soak. There are a wide variety of salts, including dendritic salt, dead sea salt, pink sea salt and epsom salt. Each salt has slightly different properties. Wondering which salt is right for your project? Read on to learn more about salts and how to use them.
One of the most common types of salt is Epsom salt. Interestingly, Epsom salt is not actually a salt as all! Epsom salt is made of hydrated magnesium sulfate. Magnesium and sulfate are known for their hydrating properties, making Epsom salt a popular choice for bath salts. Epsom salt soaks are commonly used to sooth sore muscles and soothe irritated skin. Epsom salt crystals come in various sizes. Bramble Berry's Epsom salt is extra fine textured, making it a good options for body scrubs and soaks.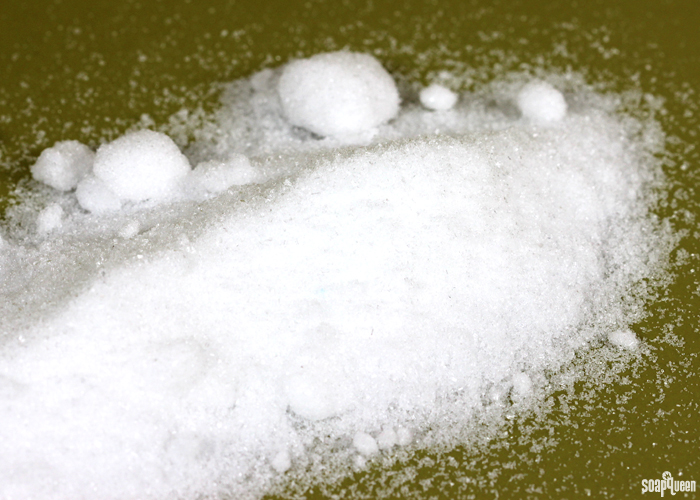 If you're looking for a way to use Epsom salt in the tub, the Winter Salt Soak combines Epsom with baking soda and citric acid to create a fizzy effect. It also features a blend of essential oils that is great for sore muscles. If you're looking for a refreshing soak option, the Minty Layered Bath Salts leave skin feeling peppermint-y and fresh. Epsom salt is also used in the Margarita Epsom Salt Scrub to create a hydrating and tropical body scrub. If you prefer a dry scrub, the Sea Clay Dry Salt Scrub combines Epsom salt, sea clay and baking soda for an oil absorbing effect.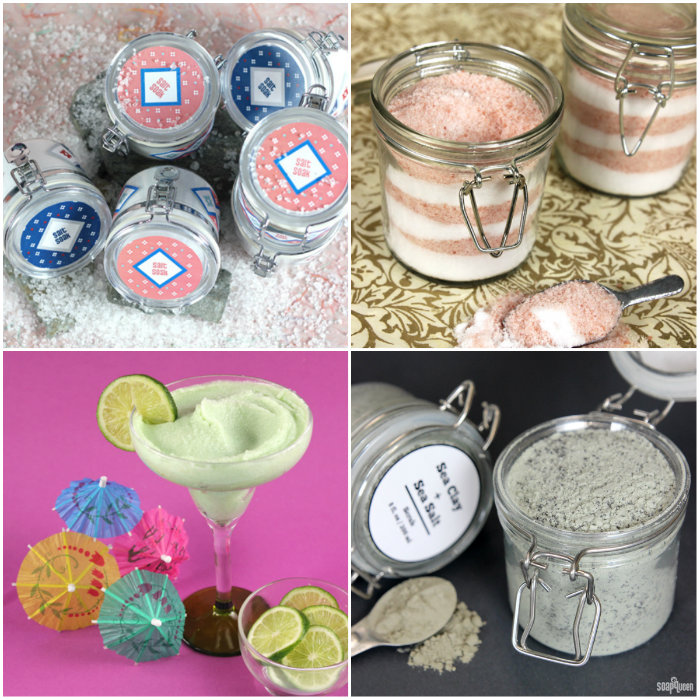 Top left to right: Winter Salt Soak, Minty Layered Bath Salts
Bottom left to right: Margarita Epsom Salt Scrub, Sea Clay Dry Salt Scrub
Another salt option that is fantastic for bath salts and soaks are Dead Sea salts. Bramble Berry's Dead Sea salt comes from Israel via the Dead Sea, and is available in both a fine grain and medium grain option. Similar to Epsom salt, Dead Sea salts also contain a large amount of magnesium, as well as potassium, bromides and chloride. The magnesium content makes it a great addition to bath salt recipes. Many people travel to the Dead Sea to soak in its water, which is thought to have health benefits. If you're looking for more information on the health benefits of Dead Sea salts, check out the Dead Sea Salts are Best for Psoriasis blog post.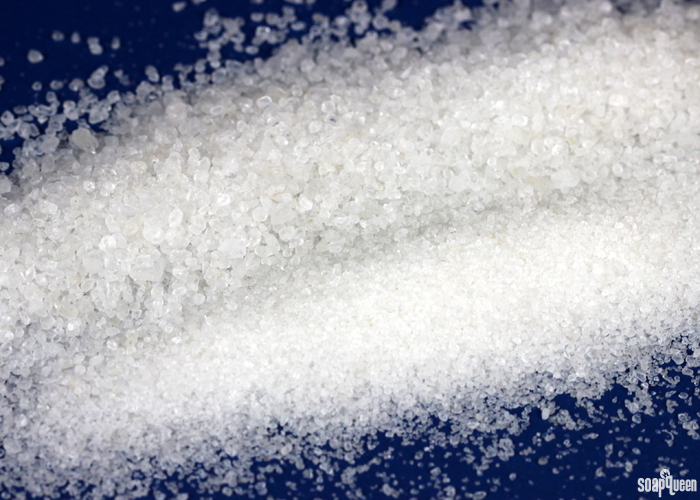 For body scrubs, we recommend the the fine grained Dead Sea salt, as the medium grained Dead Sea salt could be a little scratchy on the skin. Fine grained Dead Sea salts, coconut oil and shea butter are used in the Shimmering Sea Salt Scrub to create a mermaid-inspired body scrub. The medium Dead Sea salts are perfect for bath salts and foot scrubs. The Sea Salt Foot Scrub for Mom uses medium grained Dead Sea salt to remove tough dead skin on the feet.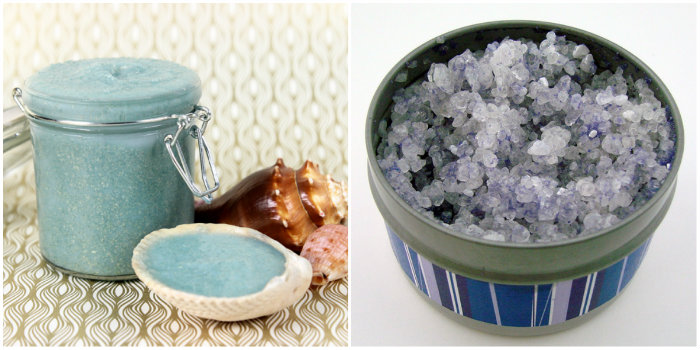 For left to right: Shimmering Sea Salt Scrub, Sea Salt Foot Scrub for Mom
Pink Himalayan sea salt is a rock salt mined from ancient salt beds within the Himalayan Mountains. Protected from pollution and impurites since their formation 200 million years ago, Pink Himalayan salt is believed to be the purest form of salt available. The color of pink sea salts range from white to a deep shade of pink. Bramble Berry carries four sizes of pink sea salt: extra small, small, medium and coarse. The various size options make pink sea salts a great option for various projects, including soap, scrubs and soaks. It's also an incredibly popular salt choice because of its beautiful natural color.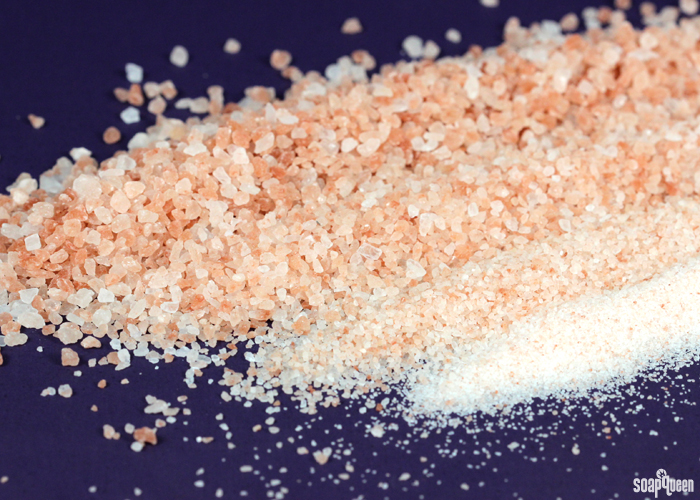 If you'd like to create salt bars, pink sea salt is a great option. Salt gives soap a rich and creamy lather. Making cold process soap is considered a more advanced technique, as the salt causes the soap batter to thicken very quickly. Cold process soap containing salt can also "weep" if you live in more humid climates, as the salt absorbs moisture in the air. If you'd like to learn more about salt in cold process soap, check out the Pretty in Pink Salty Cold Process tutorial. Another option is to place the salt on top of the bars for slight exfoliation and color, as shown in the Sea Clay Swirl Cold Process tutorial.
Pink sea salts can also be used in melt and pour. Click here to see how it's done in the Pink Salt and Shea Bath Bar. While the medium and coarse grained pink sea salts are great for soap and decorative flair, they can be a little scratchy for sensitive skin. In the Pink Salt Foot Scrub, fine grained pink sea salt is used for a more gentle option.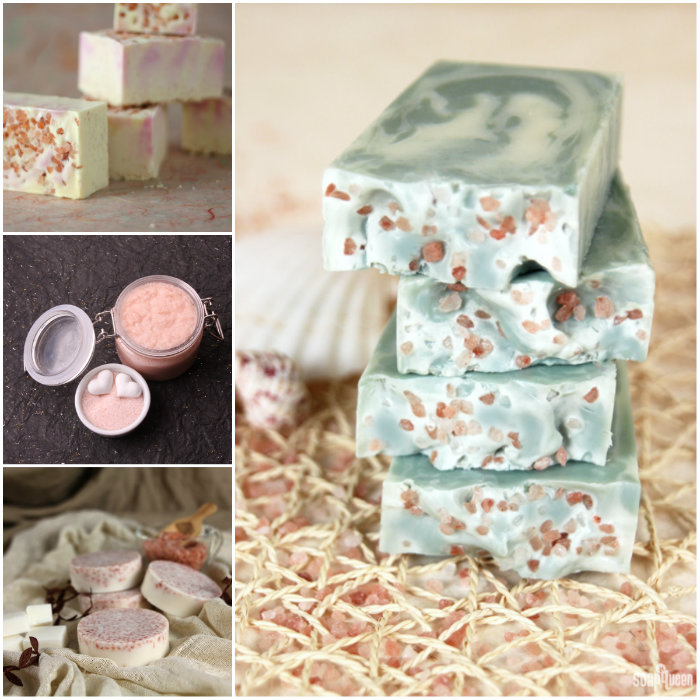 Top left to right, clockwise: Pretty in Pink: Salty Cold Process, Sea Clay Swirl Cold Process, Pink Salt and Shea Bath Bar, Pink Salt Foot Scrub
But wait, there is another salty option! Dendritic salt is purified sodium chloride that is manufactured to have a greater surface area than other salts. Its unique starlike crystal structure makes it more absorptive, which means fragrances, essential oils and colors stick better. Dendritic salt prevents clumping as well, making it a popular ingredient in bath soaks and scrubs. It has an extremely fine, and slightly powder-y texture.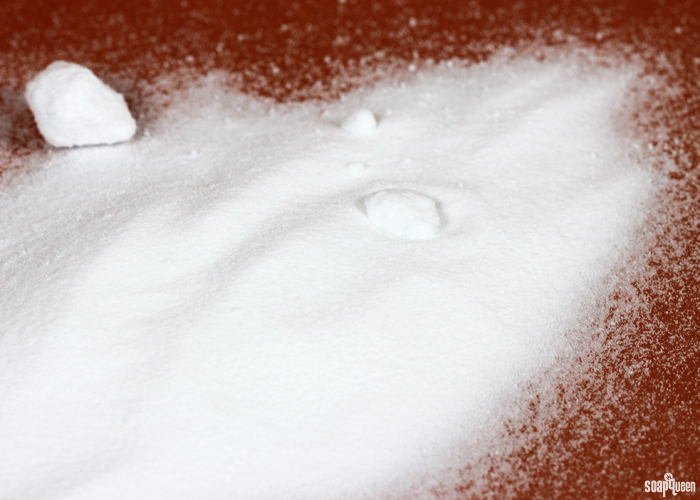 We like a ratio of 1 part dendritic salt to 10 parts Sea Salt. But of course you can use 100% dendritic salt in your recipes if you prefer. In the Baked Dendritic Salt tutorial, dendritic salts are baked in the oven to help lock in the fragrance and color. Baking the salt also helps create a more dry, and smooth texture.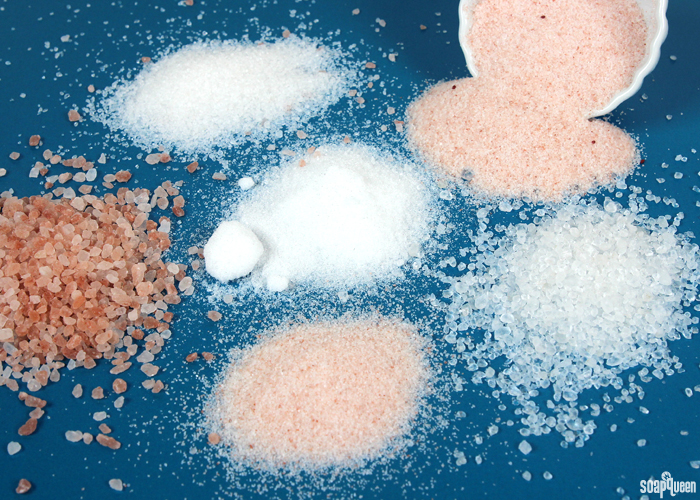 Do you have a favorite salt for your bath and beauty products? Personally, I love the Pink Sea Salts because of the color it adds =)