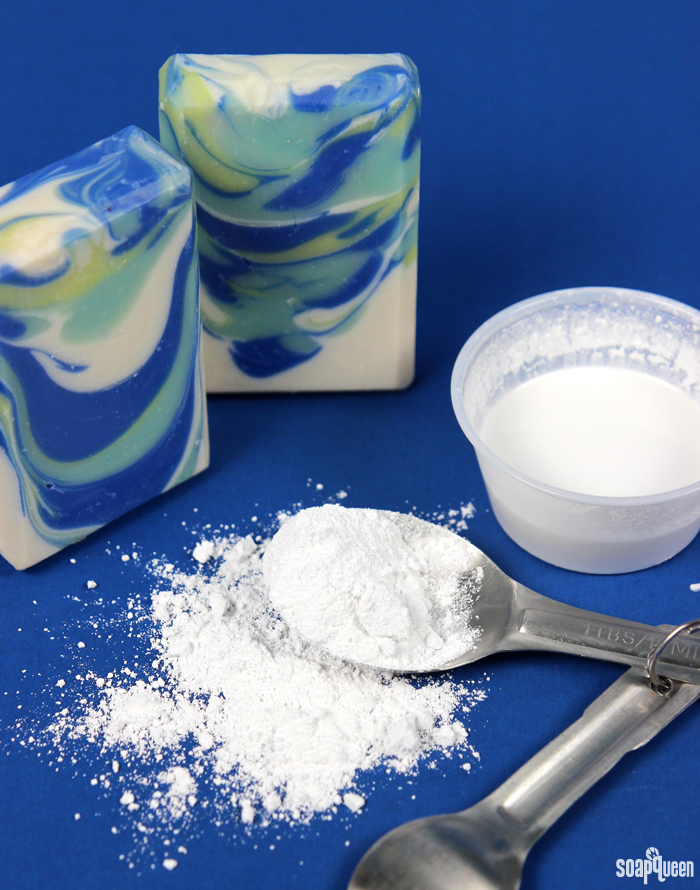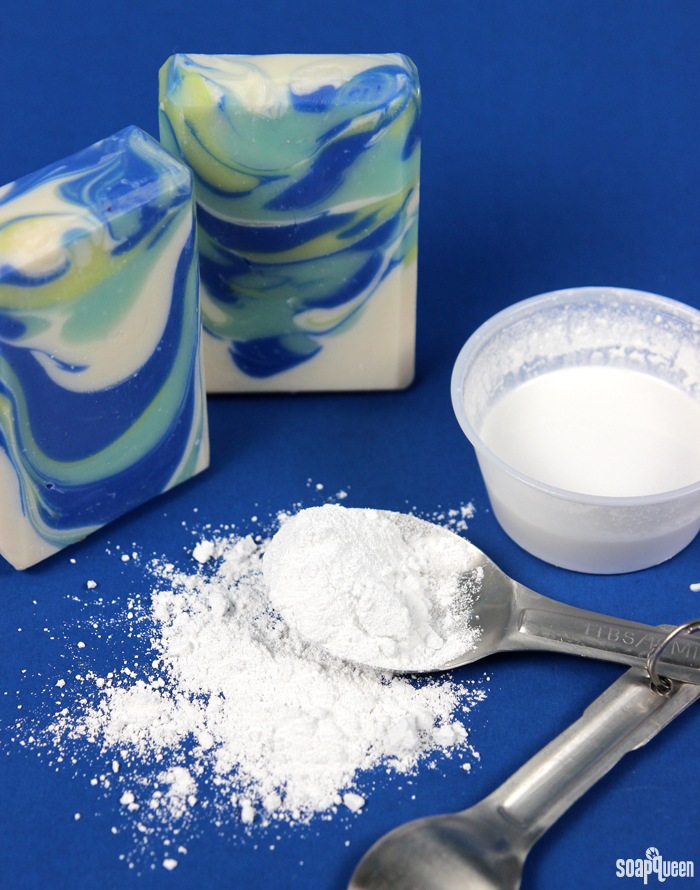 Pigments and oxides are one of the most popular colorant options for cold process soap. They are non-bleeding and don't morph in the high pH environment of freshly poured soap. Oxides come in a wide variety of hues, and are easy to mix to create unique colors. One of the most popular colorants is titanium dioxide, which gives soap a white color. It's commonly used to transform soap from cream to white, or to lighten other colors.
A natural white opaque pigment, titanium dioxide is used in a wide variety of applications including paints, cosmetic products and food. The mineral is processed to remove impurities, resulting in a pure white color. The titanium dioxide found at Bramble Berry is both oil and water soluble, making it a great option for cold process soap. Titanium dioxide is commonly used in commercial sunscreen products because of its ability to absorb UV light.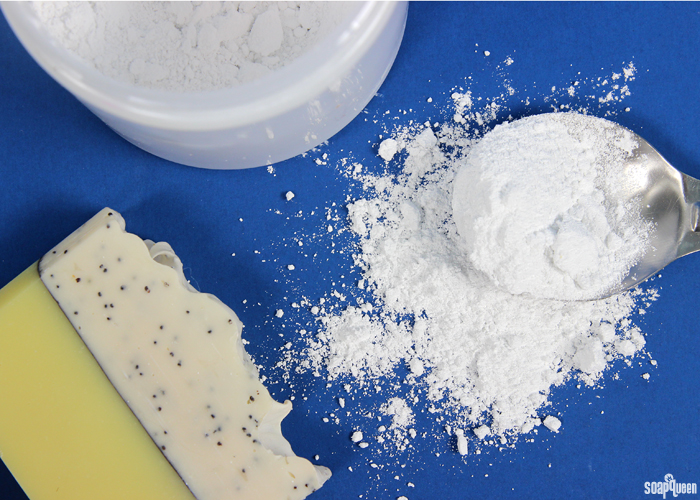 Titanium dioxide is considered a safe pigment with no adverse effects in cosmetic applications and is approved by the FDA. Despite this, titanium dioxide is a source of some controversy. The main source of its controversy comes from a study by Lee, Trochimowicz & Reinheardt (1985). In this study, rats were exposed to large amounts of titanium dioxide dust for six hours a day, five days a week for two years. These rats showed slight increases in lung tumors and other respiratory problems including pneumonia and tracheitis. The results of this study have lead some to assess titanium dioxide as a possible carcinogen. The abstract of the study does conclude that the results of this study may not be relevant for humans:
"The lung tumors were different from common human lung cancers in terms of tumor type, anatomic location, tumorigenesis, and were devoid of tumor metastasis. Therefore, the biological relevance of these lung tumors and other pulmonary lesions for man is negligible."
The potential adverse effects of titanium dioxide are available on the MSDS sheet, and states that skin exposure to titanium dioxide is virtually harmless. It also states that is it not believed to be absorbed through intact skin. The MSDS does note that it may be harmful if inhaled and could cause respiratory tract irritation.
There is one type of titanium dioxide that should be avoided in small-batch cosmetics. Like many other mineral pigments, titanium dioxide is available in varying sizes and grades. Measurements of mineral pigment particles include coarse, fine and ultrafine. Ultrafine pigment particles are also referred to as nano particles. Nano particles are measured as less than .01 microns, or 100 nanometres. In a study by Kumazawa et. al (2002), evidence supports that danger to skin cells is dependent on the size of the particle of titanium dioxide. Nano particle titanium dioxide may be able to penetrate the cell through skin contact (though even that is up for some discussion). The health risks of nano particles remain mostly unknown, and are contingent on completion of studies by the FDA and other agencies. Titanium dioxide sold at Bramble Berry is not nano particle. The safety of our products, and our customers, is top priority.
To use titanium dioxide in cold process soap, we recommend dispersing it in a lightweight liquid oil at a rate of 1 tsp. colorant to 1 Tbsp. oil. Because titanium dioxide is a fairly large pigment, use a mini mixer to help work out any clumps. Some soapers choose to micronize their titanium dioxide by using a coffee grinder to break up any large clumps of color. This is an optional step, but it does help prevent streaks of white showing in the final soap. Because Bramble Berry titanium dioxide is both water and oil soluble, you can also disperse it in distilled water. Just keep in mind that titanium dioxide is prone to glycerin rivers, and dispersing it in water can increase the likelihood of them.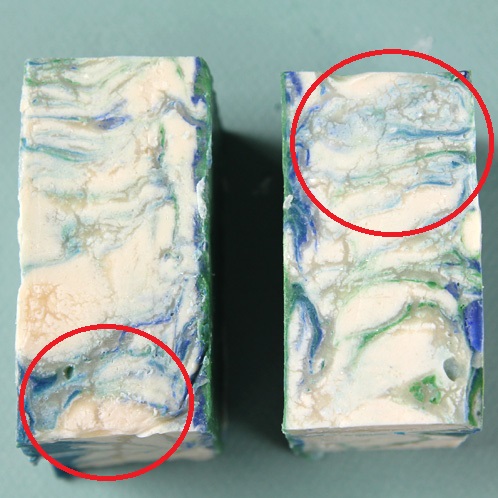 Glycerin rivers are caused by glycerin within the soap congealing, which results in clusters or "rivers" of glycerin. Above, you can see an example of glycerin rivers in soap colored with titanium dioxide. Glycerin begins to congeal when the soap overheats. To prevent glycerin rivers, consider lowering your soaping temperatures by 10 degrees. Reducing the amount of water in your recipe can also prevent glycerin rivers, which is why dispersing titanium dioxide in water can promote the glycerin to congeal. Click here to read more about glycerin rivers and how to prevent them.
Titanium dioxide is used in a wide variety of cold process projects. In the Black, White and Gold All Over Cold Process Soap, titanium dioxide gives the bottom layer a bright white color which really pops against the black. A similar design is found in the Lemon and Poppy Seed Cold Process, which features cheerful layers of yellow and white soap. Titanium dioxide is also useful for lightening various colors to create tints. A great example of this is in the Smoky Bay Cold Process Soap, which uses titanium dioxide to create various hues of gray.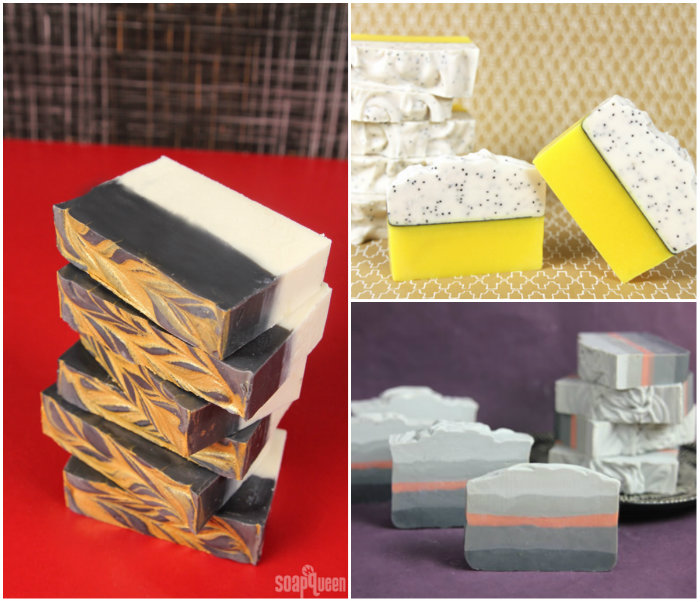 Left to right, clockwise: Black, White and Gold All Over Cold Process Soap, Lemon and Poppy Seed Cold Process, Smoky Bay Cold Process Soap
For melt and pour soap, the Titanium Dioxide Color Block mixes into soap easily and smoothly. You can also use the White Liquid Color, which is titanium dioxide evenly dispersed in glycerin. Titanium dioxide is both lip and eye safe, which means you can use it in your lip balm and eye shadow recipes. In the Honey Kisses Lipstick and Soft and Creamy Blush Stick tutorials, a small amount of titanium dioxide gives the products a more opaque quality.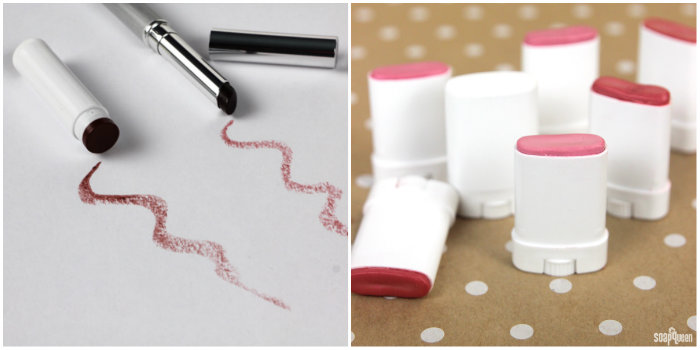 Left to right: Honey Kisses Lipstick, Soft and Creamy Blush Stick
What is your favorite way to use titanium dioxide? I always have it on hand for my cold process recipes!