Soapmaking is as much a science as it is an art. Countless variables can affect the look and feel of your soap. Temperature is a huge factor in soapmaking, and today we're tackling a phenomenon that occurs when soap gets too hot.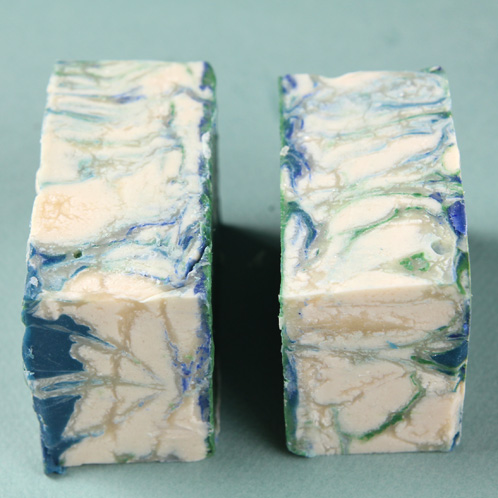 An extreme example of soap "cracking," also known as glycerin rivers.
Known as soap "cracking" or glycerin rivers, the phenomenon above occurs in cold process soap. The little rivers aren't harmful. Gycerin is a naturally occurring by-product of the soapmaking process.
Glycerin is a humectant, meaning it attracts and retains moisture. It's also a natural solvent, which gives it great cleaning power. In short, glycerin is one of the things that makes handmade soap so amazing. However, when cold process soap gets too hot the glycerin can congeal, becoming more apparent and visible, forming the "rivers". When glycerin rivers are thick or clustered in one section of soap, that area of soap may be softer than the rest of the soap. Glycerin rivers are more likely to be seen when oxide colorants are used, particularly Titanium Dioxide. Oxides are dense, opaque colors and are more likely to show rivers than more translucent micas or transparent liquid colorants. Here is an example of glycerin rivers in soap colored with titanium dioxide: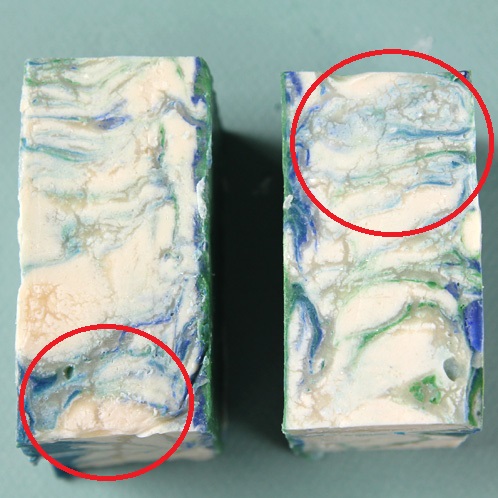 There are glycerin rivers all throughout this soap, but the red circles indicate where it's particularly clustered. The good news is glycerin rivers are purely cosmetic and not harmful to your soap. They may not be what you're going for, but in all likelihood you'll be the only one to notice!
We use Titanium Dioxide and other oxides all the time in the Soap Queen Lab, and there is no need to stray away from them. Glycerin rivers are somewhat uncommon, but there are a few ways to lessen the chance that glycerin rivers will appear in your soap. They include:
Mixing your colorants well, particularly if you use an oxide and especially if you use Titanium Dioxide. We recommend dispersing 1 teaspoon of colorant in 1 tablespoon of light liquid oil and then stirring with a mini mixer. We also have a SQTV Short on prepping colorants for cold process soapmaking for more in depth information:
Low temperatures are your friend! If you are getting glycerin rivers, lower your temperatures. If lowering the temperatures of both your lye water and oils by 10 degrees doesn't do the trick, you can use room temperature lye water and oils heated to around 100 degrees F to lessen the chance of rivers. Then, consider popping the soap in the freezer or running a fan over it to keep it cool and prevent gel phase.
Reducing the amount of water in your recipe can also help prevent glycerin rivers, this is called water discounting your soap.
Be conscious of the fragrance or essential oil you choose too. Some oils will heat the soap no matter what you do, so be careful to choose a fragrance oil that behaves well in cold process.
Even with all these tips, there may be a few batches where you'll see glycerin rivers. However, that doesn't have to be a bad thing! Sometimes the rivers can add charm and character to your soaps.
If you have any additional tips and tricks for preventing glycerin rivers, I'd love to hear them. Post them below.