Welcome to the first in a series of posts we're calling Talk It Out Tuesday!! This is going to be in basic Q and A format, and we'd love to know what you think! And, of course, what questions you would like answered.
This Talk It Out Tuesday, we're going to explore some frequently asked questions regarding colorants. They can add character to both melt and pour and cold process soaps, and even to your lotions and lotion bars. But have you ever run into a coloring situation and not known how to proceed? Check out these answers to the most common questions we get about colorants!
What type of colorants does Bramble Berry carry?
Bramble Berry carries a wide variety of colorants, including Oxides, Micas, and LabColors. Check out this video on Soap Queen TV. It's all about the different colorants that we carry. And you can see them in action! All of these colorants can be used in soaps, lotions, scrub and other bath and body products but while they all work, some are better for certain types of products than others. We also sell LabBomb Colorants that are specifically designed for bath bombs and Candle Colorants that are specifically designed for candles and are not skin safe.
Does Bramble Berry carry natural colorants?
Pigments and Oxides are considered "nature identical" meaning they are the exact same chemical structure as the platelet minerals found in the earth. But they are created in a lab to ensure purity. Oxides and pigments are the same product that mineral make up lines use to achieve lovely natural hues. Manufacturing nature identical products keeps the bad stuff, like lead and arsenic for example, out of the colorants.  Industry wide, pigments and oxides are labeled as natural in all types of mineral makeup and soaps for this reason because they are nature identical and many don't contain any synthetic dyes.  The word 'natural' is not a regulated or defined term in the soap and cosmetic industry.*
* 4/14/16 UPDATE: While there are still no guidelines or a legal definition that constitutes a "natural" product, the Federal Trade Commission (which enforces truth-in-advertising laws) charged five companies for falsely promoting their products as being "all natural" or "100% natural" when the product contained synthetic ingredients. Read more about the charges here. 
Some micas are natural and some are not. It depends on where their source of color comes from. Our micas that aren't considered natural would be the ones that contain FD&C dyes. The Cellini Red Mica, which you will see on the INCI (International Nomenclature of Cosmetic Ingredients) the description page, contains D&C Red 7 which makes this colorant not natural.  Copper Sparkle Mica, on the other hand, only contains mica and iron oxides, which both readily occur in nature so it is considered 'natural'.  As another example, the INCI for Red Blue Mica is "Carmine, Titanium Dioxide and Mica".  Carmine comes from the crushed shells of beetles so this mica is also considered natural (although it wouldn't be vegan).  If the INCI is not listed for a mica, it is implied that the only ingredient would be 'mica' and same for oxides, if no INCI is listed, the ingredient would be 'oxide'.
Since oxides like titanium dioxide are industry wide accepted as natural, our opaque melt and pour bases are also considered natural.  Our liquid colorants are just our oxides diluted in a vegetable based glycerin so, using the same definition of natural, they would fall under that category.
If you want colorants that are derived straight from the earth and not synthetically created, I would suggest using colorants from our Herbs and Botanicals section, where we have 100% natural powders and clays that can be used as natural colorants: Alkanet, Spirulina, Annatto, Kaolin, Orange peel, Rose Clay, Sea Clay, Yellow Silt Clay, Green Zeolite Clay and Activated Charcoal
Activated Charcoal
Also be sure to check out our Natural Colorant E-Book for more helpful tips and tricks on naturally coloring your soap!
Naturally colored cold process soap.
Tips for using Oxides
Oxides and Cold Process: 
We like to premix oxides into fixed oils for cp soapmaking. Add 1 tsp. of oxide or pigment to 1 tbsp. of a carrier oil (like Sweet Almond or Olive) and mix well using a mini mixer. Make sure all the clumps are evenly stirred into the solution before using.
Some customers choose to add the pigment and oils to a small baggie and squish the baggie with their fingers to get an even mix. Then you add the colored oil to the soap batter at trace. Be sure that you factor this oil in to the recipe and the lye calculator.
Oxides and Melt and Pour:
Add pigment directly to MP and stir, stir, stir. This may cause speckling in your soap.
Add pigment to a small baggie and mix thoroughly with glycerin. This way, you can make sure to squish any speckles out. Then, pour the mixture into the melted soap base, reseal your baggie, and save the rest for next time! Or mix the pigment and glycerin in bowl with a mini mixer.
Make a giant color chip! Mix a small bit of pigment, glycerin or oil (1/2 tsp to 1 Tbsp works fine) in a small plastic cup. Make sure it's mixed well, until all the pigment is totally dispersed in the oil. Then add clear melt and pour to the cup and stir up well. Let sit for a few hours and voila, large color chip! The larger the container you're filling up, the more pigment you should add initially to be sure your color chip has the most color possible. To use the color cube, simply chop off pieces and melt into your soap.
Mix the pigment with rubbing alcohol and make a 'slurry'. Pour this mixture into your soap leaving any clumps in the container.
Tips for using Micas
Micas in Cold Process:
Some micas can work in cold process soap and some may not because they have tendencies to morph or fade. Typically, it depends on what type of colorant is used to dye the mica. We recommend doing a small test batch to make sure the color is stable in your particular recipe. Even if a mica does work in CP it often isn't very sparkly, as there is no light for reflection (since cold process soap is opaque). To use it in cold process soap, start with 2 teaspoon of colorant per pound of soap and feel free to add more if you want a brighter color. Simply add the mica directly to the soap and stir. Make sure you add it at very thin trace so that you have enough time to stir the colorant in.
Micas in Melt and Pour:
Most micas are super easy to use in melt and pour soap. Simply add the powder into your melted melt and pour soap base. If pesky little "mica bubbles" float to the top, spritz them with a bit of rubbing alcohol and you'll see them burst open. Just stir everything in until the mica is well incorporated, then add your fragrance oil and pour the soap into the mold.
If you are using a clear, transparent or translucent melt and pour base, we recommend about 1/2 a teaspoon of mica per pound of soap to achieve a nice, strong pearl effect. You can use micas in opaque melt and pour base at 1.5% to 2% of the total weight to achieve a soft color (pastel) but micas work best in clear soap. Light is needed for the true reflective qualities of the micas to work properly.
Tips for Using LabColors
They are great for melt and pour, lotions and cold process. If you are making cold process pick LabColors that are specifically for Cold Process. Next, check out the Quick Start Guide then read through our three fabulous blog posts on how to successfully use the LabColors: Diluting LabColors, LabColor Usage Rates, LabColors and Gel Phase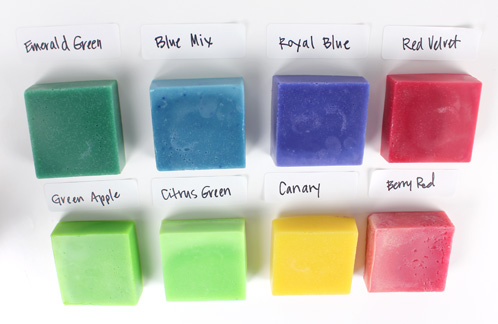 LabColors in Cold Process
What is a bleeding Colorant?
Bleeding colorants are usually dyes or FD&C colors that tend to migrate into other layers of your soap over time. Sometimes it can look super cool if you're trying to blend your colors (a la tie dyed soap), but unless it's part of an intentional design, it can look a little sloppy. Bramble Berry carries a number of non-bleeding colorants.
Non-Bleeding Micas: Antique Blue, Copper Sparkle, Light Gold, Merlot, Opalescent Green, Opalescent Turquoise, Patina Sheen, Red Blue, Rose Pearl, Sparkle Violet, Vintage Grey, Luster Black , Aqua Pearl, Blue Green Mica, Cappuccino, Mauvey Gem, Super Pearly White Mica, 1982 Blue Mica 
Non-Bleeding Liquids: Black, Blue , Brown, Non-Bleeding Red, Liquid Red (brick red), Non-Bleeding Violet, Pink , White, Yellow, Green, Sweet Treat Colorant Set
Non-Bleeding Oxides: Yellow, Burgundy, Green Chrome, Brick Oxide, Ultramarine Blue, Hydrated Chrome Green, Ultramarine Violet , Black Oxide, Brown Oxide, Titanium Dioxide
Non-Bleeding Pigments: Electric Bubble Gum, Fired up Fuchsia, Fizzy Lemonade, Tangerine Wow!, Ultraviolet Blue
How do you know if a color bleeds?
First, look at the ingredients. If they contain dyes, assume the color bleeds. But if not, you can do a bleed test on the colorant. For a bleed test, color a bit of clear melt and pour soap with the colorant you want to test and embed  it in a larger amount of uncolored clear soap, and wait. Wait, wait, wait. I like to give the soap a lot of opportunity to bleed, so we feel as comfortable as possible when we add a colorant to our line and call it non-bleeding! After 2-3 days of letting the color test sit (and checking on it obsessively), assess the clear soap around the colored embedded pieces to see if there is any color migrating. The embedded pieces should be colorfast with no fading, and no color "clouds" surrounding them.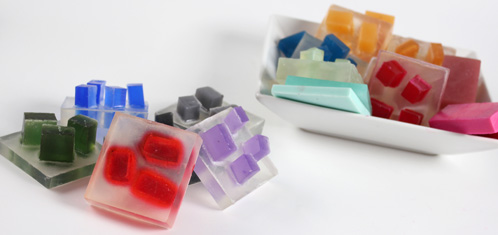 The front soap with red embeds is definitely a bleeding Colorant. See the cloud of red that migrated into the clear soap? That's a great example of a bleeding colorant.
Keep in mind that not all bleeding is bad! You can use bleeding colorants, like LabColors and some micas, to your benefit by incorporating them into the design of the soap. Below are some examples of tutorials I've done in the past using bleeding colors to my advantage.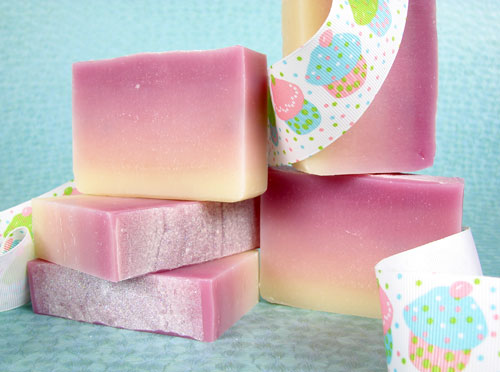 Let it Bleed, LabColors in cold process soap.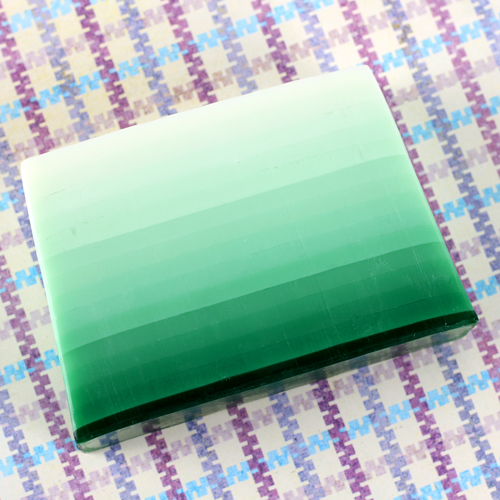 Green Machine Tutorial, LabColors in melt and pour soap.
Hope you aren't feeling overloaded with information! There was so much to include – and I probably could have included even more. Let me know what you think of our new series and if you have any suggestions or questions leave them in the comments below.