With so many buzzwords used in beauty product marketing, sometimes it can be hard to discern what you think you're buying versus what you're actually getting. "Natural" and "Organic" are often thrown around to tout the purity of many beauty products — soaps especially — but the two terms mean very different things. One is a legally regulated term, and the other is much more vague. Read on to learn more about the important differences between these two labels.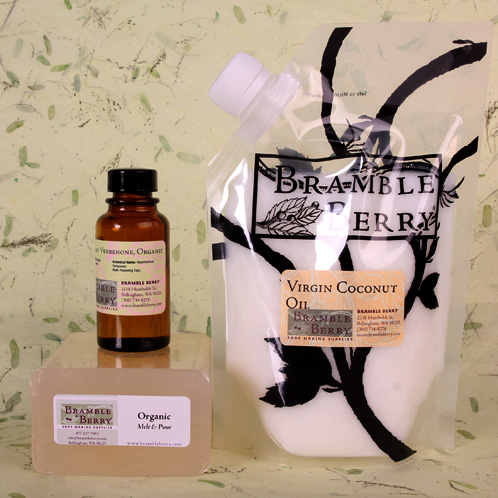 Bramble Berry carries several certified organic products. From left to right: Organic Rosemary Essential Oil, Organic Melt and Pour Base and Virgin Coconut Oil.
Nat·u·ral:
existing in or caused by nature; not made or caused by humankind.
Or·gan·ic:
of, relating to, or derived from living matter.
Based on these dictionary definitions, there seems to be no difference between the terms. Do a little research though, and you'll find that 'organic' is a strictly regulated term by the U.S. Department of Agriculture. According to the USDA website, "organic operations must demonstrate that they are protecting natural resources, conserving biodiversity, and using only approved substances."
In order to be recognized as 'organic' product, the facility or farming operation must meet strict standards set and approved by the National Organic Program. The NOP regulates the creation, production, handling, labeling and enforcement of all USDA organic-certified products. In short, products labeled 'organic' did not earn the title lightly! Anything labeled organic went through a strict regulatory process, and you can feel confident that what you're buying does not contain any synthetic additives or pesticides.
While many people may be used to seeing the 'organic' label on fruit, vegetables and meats on grocery store shelves, the term can also apply to products used in the beauty industry. For example, although Bramble Berry is not a certified organic warehouse, we do carry several certified organic products. They include:
Organic Oils Melt and Pour Base
Organic Lavender Essential Oil
Organic Rosemary Essential Oil
Virgin Coconut Oil
(the kit includes the Organic Melt and Pour base. The other ingredients in this kit are not organic)
If you're still a bit confused, this summary from a USDA Organic FAQ pamphlet may clear things up for you: "Overall, if you make a product and want to claim that it or its ingredients are organic, your final product probably needs to be certified. If you are not certified, you must not make any organic claim on the principal display panel or use the USDA organic seal anywhere on the package."
Navigating the term 'Natural'
On the other hand, many soapers use the term 'natural' to denote that their soaps or products were made without synthetic dyes, oils or fragrances. The word 'natural' is an umbrella term that can be applied to almost anything that comes from nature. Unlike 'organic,' there is no legal hurdle when using the term 'natural'. You can use 'natural' on your label when using many of our products from Bramble Berry.
Bramble Berry carries several items that can be described as 'natural'. For example, the clays in the Brazilian Clay sampler are natural because they do not contain any artificial dyes or ingredients —  the clays are those lovely colors without the added help of dyes! The same can be said of our Natural Castile Liquid Soap Base, which does not contain any artificial detergents or colors. While these products are natural, they are not organic because they did not go through the rigorous process to earn the certification through the USDA. In fact, there is no 'Natural Police' that guard the term or have come up with standards for what 'natural' is or isn't.*
* 4/14/16 UPDATE: While there are still no guidelines or a legal definition that constitutes a "natural" product, the Federal Trade Commission (which enforces truth-in-advertising laws) charged five companies for falsely promoting their products as being "all natural" or "100% natural" when the product contained synthetic ingredients. Read more about the charges here. 
From an official standpoint, the USDA only has regulations for meat, poultry and eggs labeled as natural. To earn that label, those products "must be minimally processed and contain no artificial ingredients." However, beyond that, "there are no standards or regulations for the labeling of natural food products if they do not contain meat or eggs."
If you're interested in learning more about using natural colorants or natural ingredients in your own products, check out these tutorials:
So, what does all this mean? The bottom line is that 'natural' is a common term in bath and beauty product marketing, and in most cases the ingredients and the products themselves really are natural, or only from nature. However, since the same stringent regulations do not exists for 'natural' products as they do for 'organic' products, it's up to you to be an educated soaper and be aware of what you're buying – and putting on your own labels.