Advanced Swirling Part 5: Linear Swirling
Guest post by Kat from Otion (Bramble Berry's retail store)
This is the grand finale of my advanced swirling tutorials.  Today is linear swirling! Make sure that you check out parts 1 (Understanding Color Theory Terminology) , 2 (Getting Brave with Color),  3 (Soap Design and Color Matching) and part 4(In-the-Pot swirling) if you haven't already. Learn the secret to a fabulous linear swirl!
Before you get started, check out my must have materials for swirling!
Step 1: At a light trace, separate half of the batch into two smaller containers; one for each color, add scent by hand before pouring.
Step 2: Linear swirling is about building layers. Create a pattern using the two colors first so there is something on the bottom of the bars.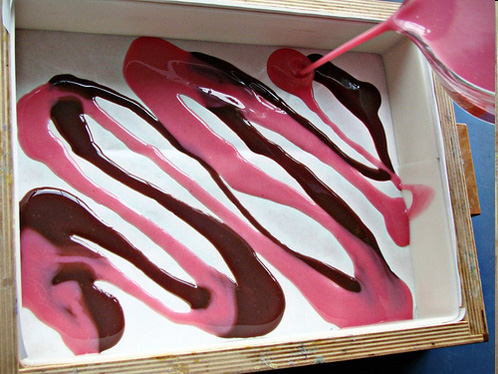 Step 3: Pour about ½ to ¾ of the white on top for the mid section which your lines will form into.
Step 4: Pour lines lengthwise from up high with both colors to penetrate the neutral.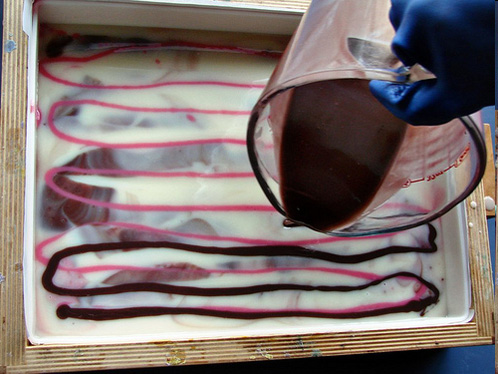 Step 5: Aim your pour so the colors sit side by side and not on top of each other. When the surface is solid color, pour more lines of neutral for contrast. As the mold fills up, pour closer to the surface for more visible lines.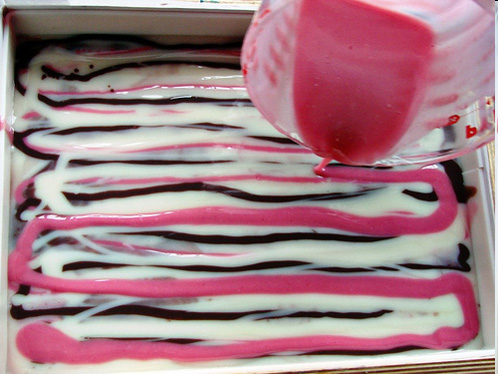 Step 6: When you have filled the mold, use a thin rubber spatula to pull colors in the opposite direction. Make sure the spatula is touching the bottom of the mold during the whole swirl process.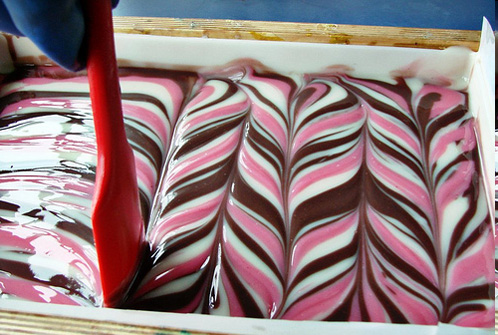 Step 7: For a more detailed swirl, use a reed or skewer to pull the colors in a figure-eight or circular pattern. Keep in mind, the more you manipulate the swirl, the more the colors will combine and reduce contrast.
Step 8: Tap mold on the counter to pop bubbles, insert dividers, insulate and de-mold after at least 48 hours. Slide off the dividers; do not pull or it will tear the soap.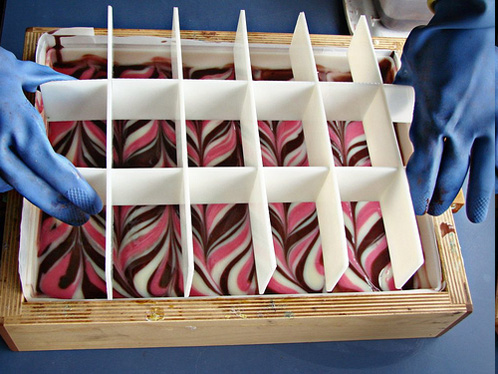 Notice how the Cellini Red mica morphs to a lovely orange color in cold process. I love it!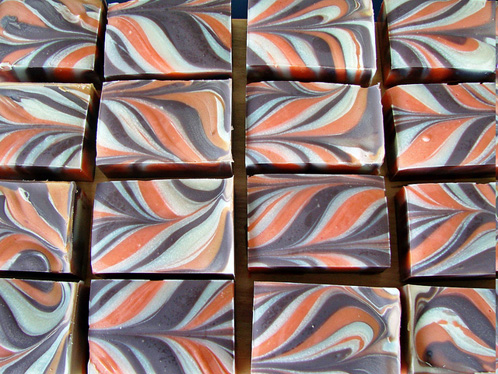 These are my two favorite methods of swirling soap. I love how simple ITP swirling is and how gratifying it feels to pull the colors through in a linear swirl. I've heard from so many people that they can't swirl or that they gave up trying. Well believe me, you can do it! The best advice I can give is to keep the consistency of your soap very thin and workable, use fragrances that don't accelerate, know your pigments and how they behave in cold process, have fun and practice, practice, practice.