One of the many great aspects of soaping is the freedom to customize nearly every part of the recipe. From the colors to the design to the fragrance, there are endless variations! If you give 100 soapers the exact same 13 ingredients, you'll end up with 100 completely different batches. It's amazing how much artistry goes into soapmaking. Even after you've designed your recipe, chosen your colors and poured your soap into the mold, you've got another choice to make: to gel or not to gel?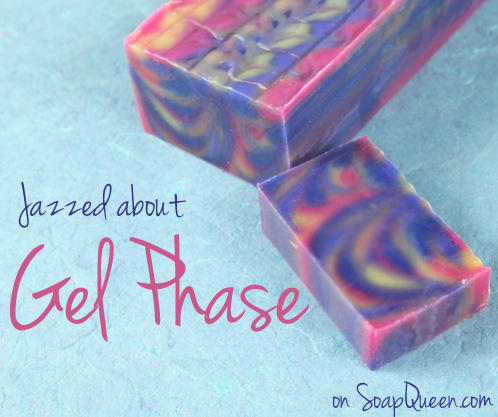 'Gelling' and 'gel phasing' in cold process soap refers to a part of the saponification (soapmaking) process where the soap gets warm and gelatinous – up to 180 degrees. Gelling is extremely common in soapmaking, and chances are you've already encountered it. Gelled soap is more hard in the first weeks after pouring because it evaporates its water a bit faster than non-gelled soap. Gelled soap also has a more translucent, shiny look than non-gelled soap. None of these things affect the final outcome of the soap after a full cure, just how the soap looks. There is no final difference between gelled and non-gelled soap once the soap is fully cured — it's purely an aesthetic quality of the soap.
Opinions about gel phase are as numerous as the colors of the rainbow, and some soapers actively choose to gel their soaps while others do not. Wondering what's best for your soap? Read on!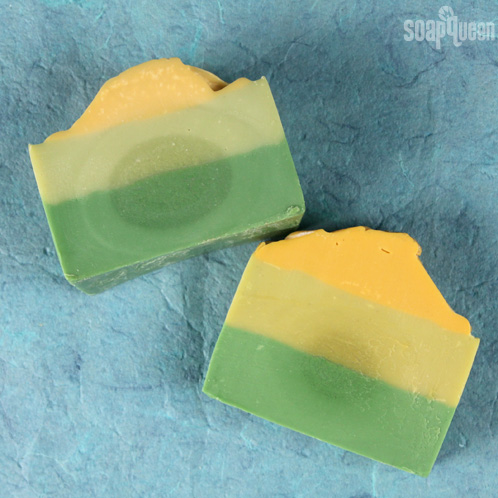 The dark spots in the middle of the Moisturizing Avocado Bars indicate that partial gel phase occurred. Although these bars are fine to use, it just goes to show there is no half in/half out when it comes to gel phase. The bars may have looked better if they had gelled all the way or not at all.

Before we get into the 'when' of gel phase, let's talk about the 'how.' The tips below are helpful if you have a strong preference on whether or not you want to achieve gel phase. If you don't have a preference, your soap will be just fine if you let it sit, uncovered, after pouring.
If you want to gel your soap, after the soap is poured, place it on a heating pad on a low to medium heat for no more than 20 – 30 minutes. During that time, keep a close eye on the soap, checking it every 10 minutes or so. This is because if soap gets too hot all kinds of crazy things can happen, from volcanoing to heat tunneling to alien brains. Turn off the heating pad after 20 – 30 minutes but keep your soap on it. Keep it covered for at least 24 hours.
If you don't want to gel your soap, soap colder (with your temperatures between 90 – 100 degrees F) and then place the soap in the freezer immediately after making it. You can also keep it uncovered and run a small fan over it.
When you might prefer gel phase
When coloring with Lab Colors: If you color soap with Lab Colors or any FD&C based colorant, you might prefer gel phase because it results in a more vibrant color. Take a look at the photo below:

The Soft Orange and Peach colored soaps in the middle gelled completely, while the soaps on the outer edge of the mold only gelled partially. Notice the difference in the colors — the portion of the soap that gelled is much brighter. For more on Lab Colors and gel phase, check out this blog post.
For more vibrant colors in general: Gel phase can brighten soaps made with other colors too, not just lab colors. The Psychedelic Spring soap was colored with micas, oxides and pigments, and much to our delighted surprise, gelled all the way through. Notice how the soap looks more translucent and 'gel'-like: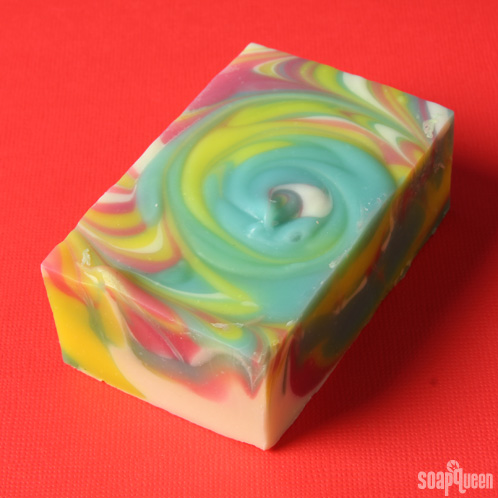 When you might want to avoid gel phase
If you're making goats milk soap: gel phase and milk soap are not friends. Milk soaps are best soaped cold (very cold), or else you risk scorching the milk proteins and sugars. That results in a brownish soap that doesn't smell great! It can also result in a huge soapy mess, especially because milk soaps are already prone to getting too hot. For this reason, we do not recommend trying to achieve gel phase in goats milk soap — or any milk soap for that matter! Gelled milk soap is absolutely fine to use and there is nothing wrong with it but, it might not have the color you want.
Soap with fruit additives: Soap with fruit purees and additives, such as this Strawberries & Cream Soap, are generally best non gelled. It follows the same logic at milk soap: the sugars in fruit make the soap more prone to overheating to begin with, so adding extra heat to force the soap to gel isn't the best idea! That being said, if you're an experienced soapmaker you might want to try gelling fruit soaps, but in general we advise against it.
More examples of gel phase
Below is a soap we made for a fragrance test. It was freshly poured, but notice how you can already see the gel look forming in the center! This is also a good example of fragrances causing gel phase. Despite your best efforts, some fragrance will heat soap and cause gel phase.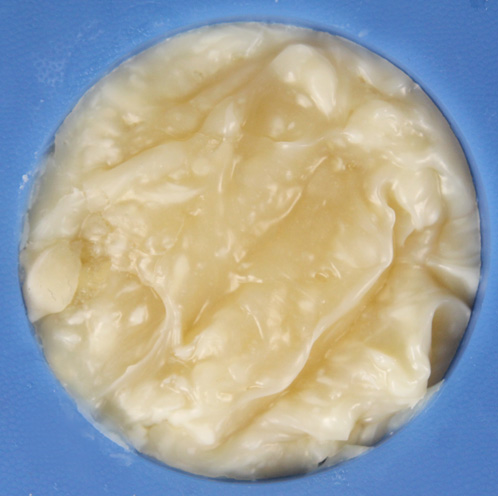 This is the same soap 24 hours later. Notice the translucent color in the middle. It isn't as opaque as non-gelled soaps.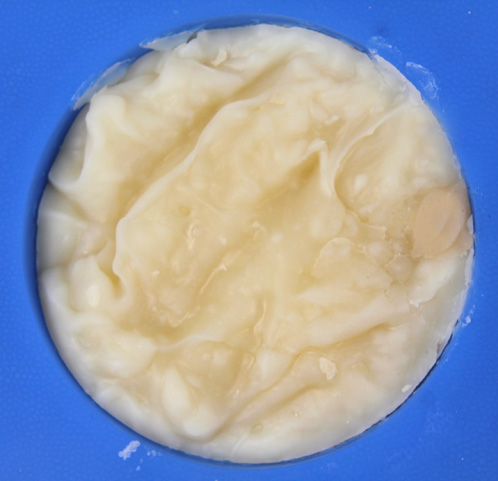 So there you have it! Hopefully now you have a better understanding of gel phase, from what causes it, to what it looks like, to when you might want to achieve it. Do you have a preference when it comes to gelling your soap?