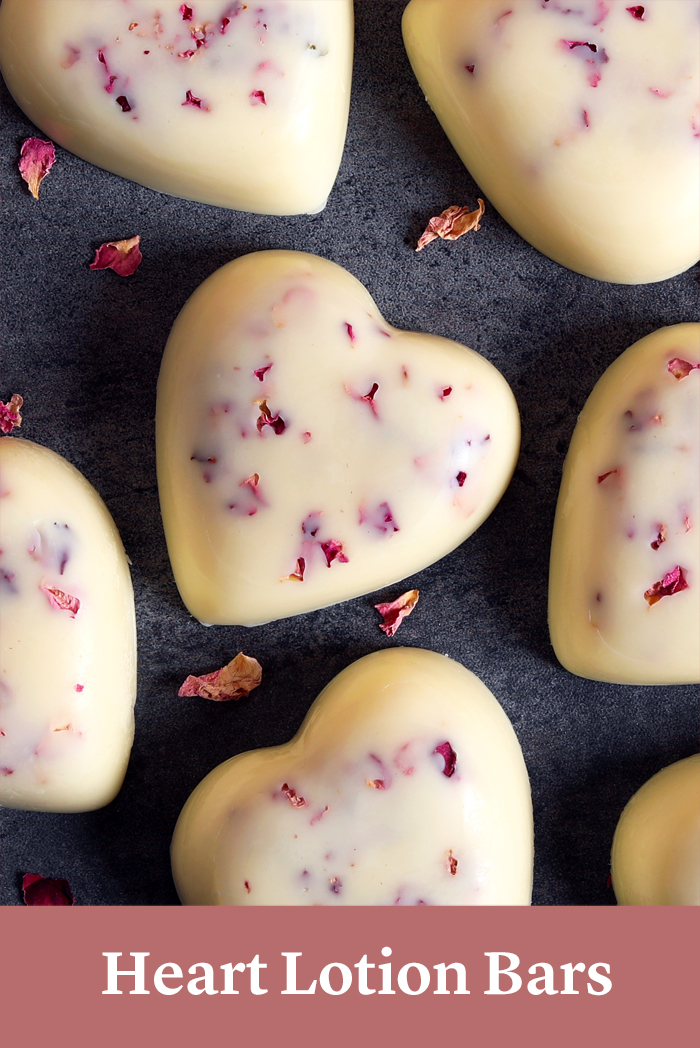 If you're looking for a last-minute Valentine's Day gift, try these Heart Lotion Bars. They're made with sweet almond oil, cocoa butter, and Vanilla Select Fragrance Oil. The bars are solid at room temperature, but melt on contact with the skin. They're great for extra dry patches like elbows, knees, and hands.
The bars couldn't be easier to make – simply melt together the beeswax and sweet almond oil, then add the cocoa butter wafers and stir. The natural scent of cocoa butter smells amazing with the Vanilla Select Fragrance Oil.
Heart Lotion Bars
Author: Bramble Berry
Recipe type: Lotion Bars
Serves: 6 lotion bars
Ingredients
6 Cavity Heart Silicone Mold
Pink Rose Petals
6.4 oz. Sweet Almond Oil
4.8 oz. White Beeswax
4.8 oz. Cocoa Butter Wafers
4 mL Vanilla Select Fragrance Oil
Dropper
Instructions
In a heat-safe container, add 4.8 ounces of white beeswax and 6.4 ounces of sweet almond oil. Melt in the microwave using 60 second bursts.
Add 4.8 ounces of cocoa butter wafers to the hot wax and oil mixture. Stir until the cocoa butter melts. If there are small pieces that won't melt, place the container back in the microwave and heat using 10 second bursts.
Add 4 mL of Vanilla Select Fragrance Oil and stir in thoroughly.
Place a small pinch of rose petals into each mold cavity. Use a spoon to cover the petals with a bit of the oil mixture (this helps the petals stay in place). Allow to cool and harden for about 1 minute.
Carefully pour the remaining oil mixture into each cavity. Place the mold in the freezer so it cools quickly. That helps prevent crystallization.
Remove from the freezer after 30-60 minutes and enjoy!