Make your own solid sugar scrubs jam packed with skin-loving ingredients. No more mixing the liquid oils and the sugar before you shower – which can be a bit of a mess! Just grab one of these adorable solid sugar scrub cubes for an easy, mess free, luxurious shower.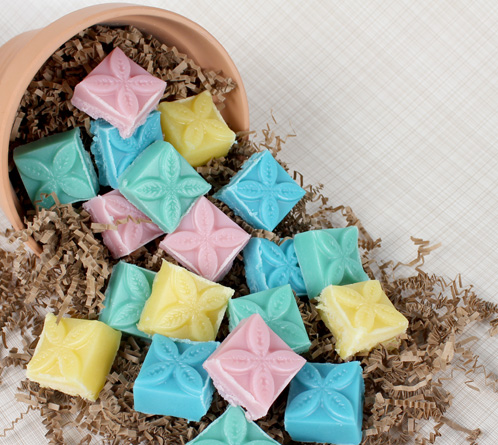 Ingredients
2 oz Shea Butter
.2 oz Vitamin E Oil
1.8 oz Sweet Almond Oil
.8 oz BTMS-50 Conditioning Emulsifier
5 oz White Sugar
1/4 teaspoon Cellini Blue Mica
9 ml Tropical Vacation Fragrance Oil (about .3 oz)

ONE: In a microwave safe bowl add the Deoderized Cocoa Butter, Vitamin E Oil and Sweet Almond Oil. Melt the butters and oils in the microwave for about 2 minutes total stirring every 30 seconds until the mixture is liquid. Remember, make sure the container is filled at least a third of the way up, if not half way. Hot, empty, heated space = cracked glass.

TWO: Stir in the Shea Butter, BTMS-50 and Fragrance Oil of choice (Tropical Vacation screams 'SPRING'). Pop it back in the microwave until the mixture has completely liquefied (my temperature was around 170 degrees).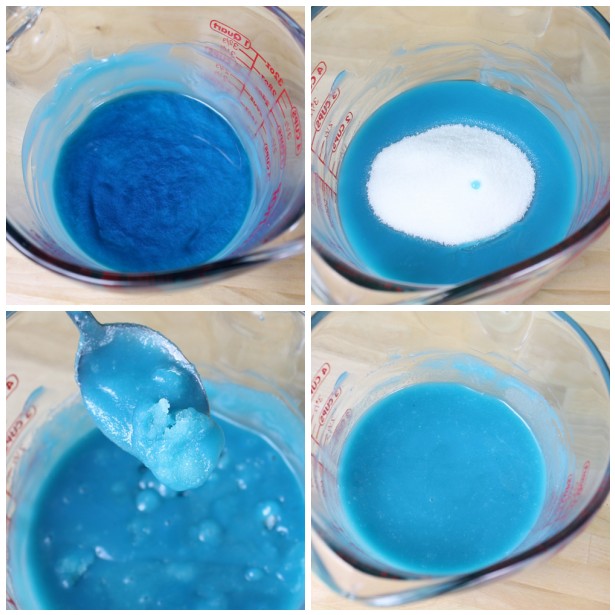 THREE: Add ¼ teaspoon of Cellini Blue Mica (or any oil-soluble mica of choice) then mix, mix, mix.
FOUR: Stir in 5 ounces of white sugar. Then evenly pour into 3 of the 4 cavities of the Abstract Leaves Mold.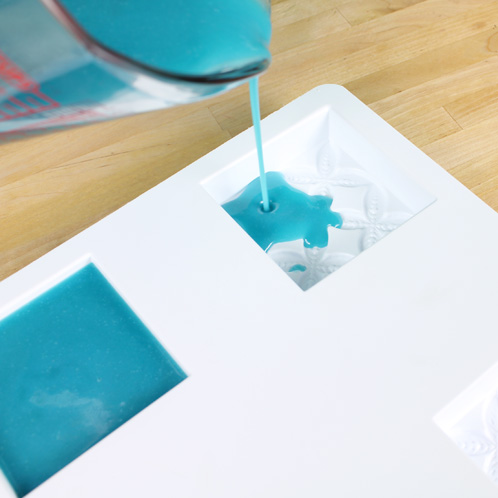 FIVE: Carefully put the mold in the fridge so the oils will cool at the same temperature. This will obviously speed up the cooling process but most importantly,  it will also help you get the solid scrub out of the mold.
Do you like the other Spring colors? I used Cellini Blue Mica in the main Recipe. The pink is Red Blue Mica, the yellow is Lip Safe Yellow Mica and the green is Shamrock Green Mica.
SIX: After a couple hours in the fridge unmold and cut into four pieces. You'll end up with a spring flower in each one!
Alternate recipes (follow the instructions above).
Recipe Two: This recipe is a little softer but really nice in the shower. The combination is 50% Shea Butter so it melts with skin contact. They're a little messier to handle making them difficult to package. If you don't plan on selling the solid sugar scrubs and it's just for personal use, I would go with this recipe.
Ingredients: 4 oz Shea Butter, .2 oz Vitamin E Oil, 1.8 Sweet Almond Oil, 2 oz Deodorized Cocoa Butter, .8 BTMS-50, 4 oz White Sugar, 9 ml Fragrance Oil.
Recipe Three: This recipe is sans the BTMS-50 for a natural sugar scrub alternative. To make it 100% natural use an essential oil instead of the fragrance oil and leave out the colorant. The sugar tends to sink to the bottom  of the mold as it cools leaving some extra oils on top but it still hardens up nicely. It's a great natural alternative and extremely luxurious in the shower. I had such a great time testing all three recipes!
Ingredients: 4 oz Shea Butter, .2 oz Vitamin E Oil, 1.8 Sweet Almond Oil, 2 oz Deodorized Cocoa Butter, 4 oz White Sugar, 9 ml Essential oil.