I'm a huge fan of fruits and veggies of all types! From green smoothies to kale salads, I rarely meet produce that I don't like. And of course, for me using soap to clean my veggies goes together like…peas and carrots (pun intended!). You've probably already noticed that many of your soap making oils are also common oils used in food preparation, and many can be found in your kitchen. Common fixed oils like Coconut, Palm, and of course Olive Oil are food-grade and often used in cooking. Sodium Hydroxide is even used in food preparation. True story! Pretzels, bagels, and lutefisk all have preparation methods involving lye.  Sodium Lactate is also a food additive (FDA listing here). That being said, fixed oils from Bramble Berry aren't meant for use in your food, because our warehouse isn't certified for food storage and handling practices. But for a wash-off product like this fruit and veggie wash, the vegetable oils will do just fine!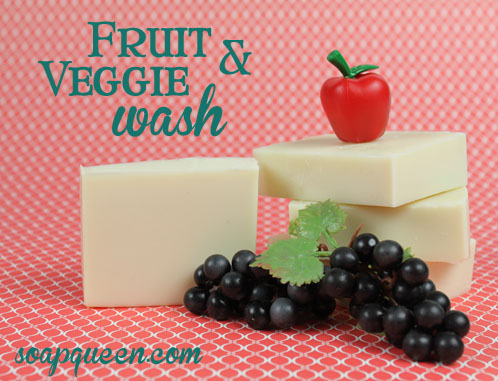 RECIPE:
13.2 oz Coconut Oil
6.6 oz Olive Oil
2.2 oz Palm Oil
3.37 oz Sodium Hydroxide (lye)
7.26 oz Distilled Water
1.5 teaspoons Sodium Lactate

 Click here to add everything you need for this recipe to your Bramble Berry shopping cart!
SAFETY FIRST: Suit up for safe handling practices! Long sleeves, gloves, and eye protection are necessary when making cold process soap. Be sure that kids, pets, and other tripping/distraction hazards are out of the house or don't have access to your soaping space. Always soap in a well-ventilated area.
If you've never made Cold Process soap before, this is a great recipe for getting your feet wet! However, I still highly recommend checking out our FREE four part SoapQueen.tv series on Cold Process Soapmaking, especially the episode on lye safety. And if you'd rather do some reading, Bramble Berry carries a wide range of books on the topic, as well as digital downloads for that instant gratification factor.
MOLD PREP: Line the Wood Mold with freezer paper shiny side up. In this tutorial, I used an early-release exclusive-to-Bramble Berry silicone liner for the 2 pound molds.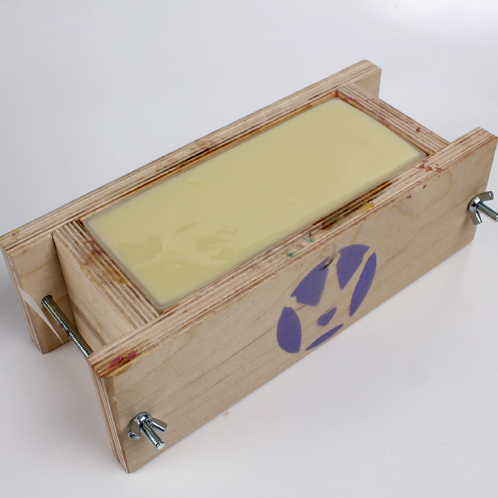 ONE:  Carefully add the lye to the water. Stir until clear and set aside to cool.
TWO: Melt and combine the Coconut and Palm oils. Stir in the Olive oil.
THREE: Once both the lye and the water have cooled to 125 degrees F or below, add the Sodium Lactate to the lye water and stir well. (psst…I'm loving Bramble Berry's Easy Pour Containers for lye water! They really are lye water safe!)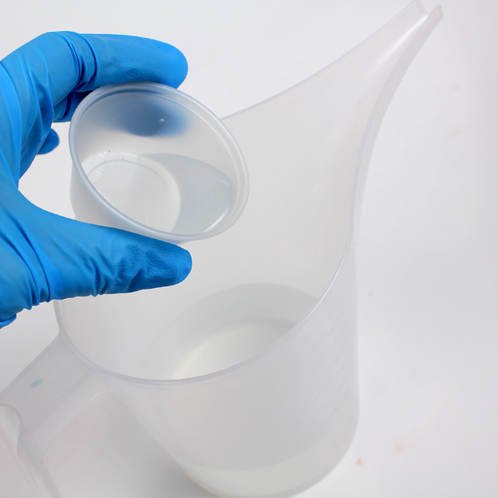 FOUR: Slowly and carefully add the lye water to the oils, pouring down the shaft of a stick blender or a spatula to prevent air bubbles.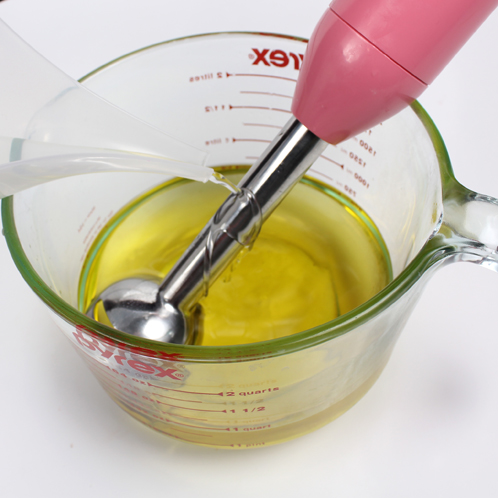 FIVE: Stick blend the soap batter until a medium trace is achieved. What's trace you ask? Awesome photo of trace and explanation here. Definitely review that document in full before undertaking this project. =)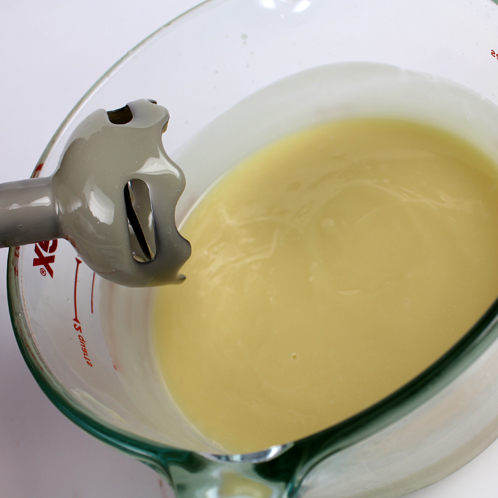 SIX: Pour the soap into your lined 2# wood mold. Tamp the mold on the counter top to remove any air bubbles. Be sure to spray with 91% Ispropryl alcohol and let go through full gel phase.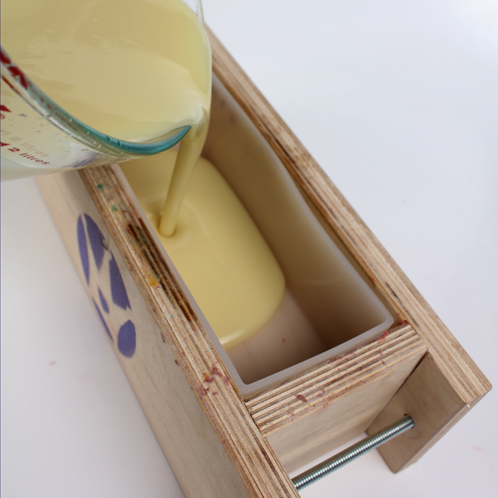 SEVEN: Allow the soap to sit in the mold for about 24 hours. Unmold, cut, and allow to cure for 4-6 weeks. To wash veggies, just lather your veggies up and rinse cleanly away.