We've reached the end of our Soap Crafting-inspired tutorial extravaganza week. In case you missed it, we started out with an awesome beer soap, got fruity with a strawberries and cream recipe and yesterday we introduced a beeswax soap using a fun spoon-plop technique. And below, find our final recipe — Sudsy Shampoo Bars! These shampoo bars are a biodegradable, packaging-free alternative to traditional liquid shampoos, and contain a mixture of several hair nourishing oils. Keep in mind — the nature of soap is to clean, and these bars have a pH of around 7 (slightly less than regular cold process soap). These bars will leave your hair feeling nice and refreshed and in my experience, I needed to load on the conditioner to really make my hair soft and lovely.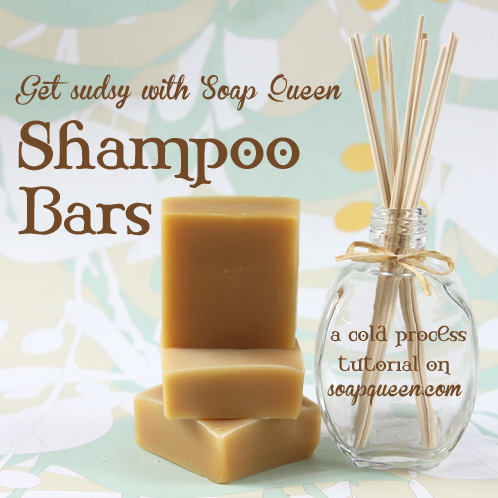 In this recipe, we've added citric acid to lower the pH and make these bars extra gentle. Note that these shampoo bars also take longer to cure versus traditional cold process soaps because of the high content of liquid oils. Some people also like to use hair rinse after using shampoo bars to seal the hair shaft. A simple recipe we like contains 1/2 cup fresh mint leaves (or 1 tablespoon dried), 1/2 apple cider vinegar and 1 cup boiling water. Simply combine the mint leaves and vinegar in a bowl and then pour the hot water over it. After it cools, massage the mixture into your scalp.
What You'll Need:
8.5 oz. Coconut Oil
8.5 oz. Olive Oil
5.1 oz. Hemp seed Oil
3.4 oz. Palm Oil
3.4 oz. Castor Oil
3.4 oz. Sweet Almond Oil
1.7 oz. Jojoba Oil
4.6 oz. Sodium Hydroxide
11.22 oz. distilled water
.5 oz. Citric Acid
.3 oz. DL-Panthenol
1.05 oz. 10x Orange Essential Oil
 .7 oz. Tea Tree Essential Oil
.35 oz. Patchouli Essential Oil

Click here to add everything you need for this project to your Bramble Berry shopping cart!
If you've never made Cold Process soap before, stop here! I highly recommend checking out our FREE four part SoapQueen.tv series on Cold Process Soapmaking, especially the episode on lye safety. And if you'd rather do some reading, Bramble Berry carries a wide range of books on the topic, as well as digital downloads for that instant gratification factor.
ESSENTIAL OIL PREP: Combine the 10x Orange Essential Oil, Tea Tree Essential Oil and Patchouli Essential Oil in glass container and set aside.
ADDITIVE PREP: Combine four tablespoons of distilled water with .3 oz. of DL-Panthenol and .5 oz. of Citric Acid and set aside.
SAFETY FIRST: Suit up for safe handling practices! Long sleeves, gloves, and eye protection are necessary when making cold process soap. Be sure that kids, pets, and other tripping/distraction hazards are out of the house or don't have access to your soaping space. Always soap in a well-ventilated area.
ONE: Slowly and carefully add the lye to the water and gently stir until the lye has fully dissolved and the liquid is clear. Set aside to cool.
TWO: Melt and combine the Coconut and Palm Oils (remember to fully melt then mix your entire container of Palm Oil before portioning). Add the Olive, Hemp Seed, Castor, Sweet Almond and Jojoba Oils and stir until combined. Once the lye water and the oils have cooled to 130 degrees or below (and are ideally within 10 degrees of each other), add the lye water to the oils and stick blend until thin trace.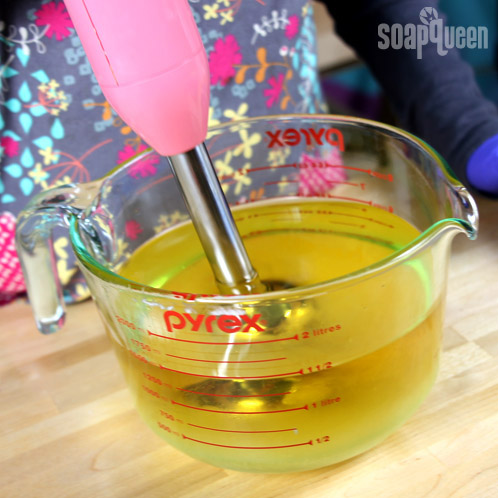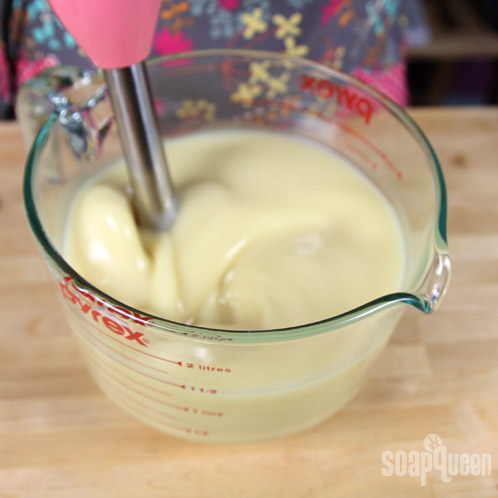 THREE: Whisk in the DL-Panthenol and Citric Acid mixture. Adding this mixture will accelerate trace, so be prepared to work quickly.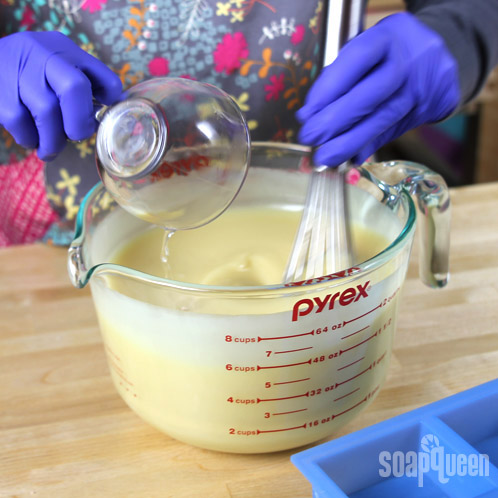 FOUR: Add the essential oil blend and stick blend into the batter.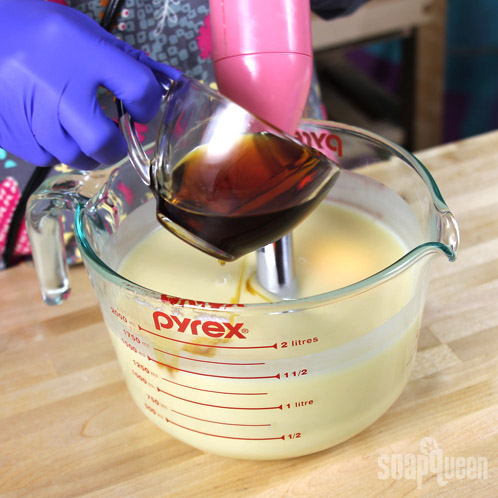 FIVE: At this point the batter should be at a thick trace. Pour into the mold and spray the top of the soap with 91% Isopropyl Alcohol.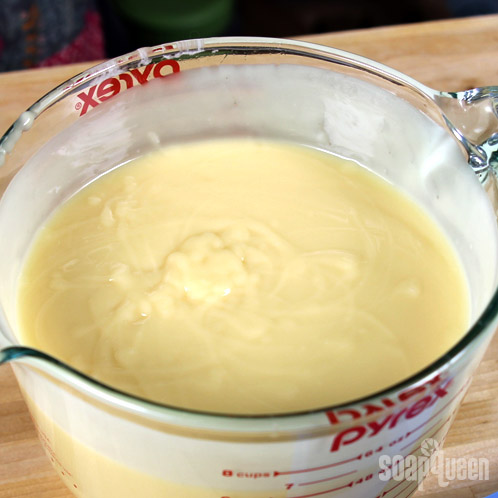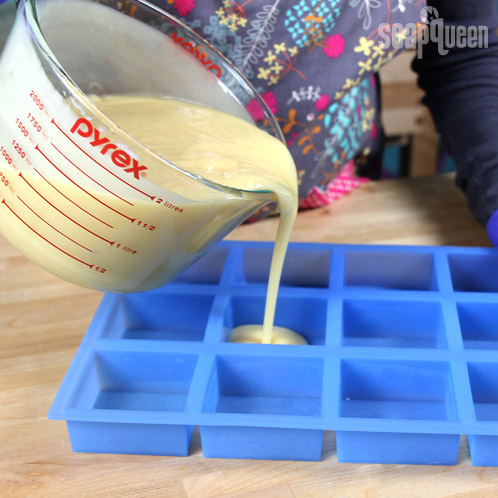 SIX: Cover and insulate the soap for 24 hours, and let it sit in the mold for 8-12 days. Allow the bars to cure for 8 – 10 weeks. Enjoy!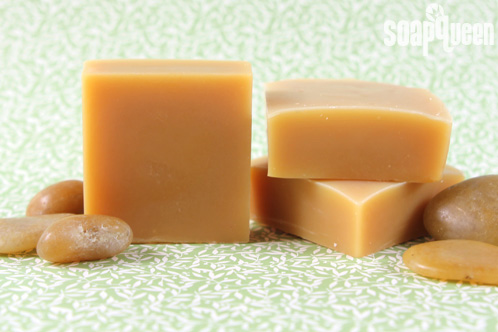 Shampoo Bars generally don't do well in hard water and if you have hard water, you'll definitely want to use a vingar rinse. According to a giant in the industry that I follow, cosmetic chemist (and author of Beginning Cosmetic Chemistry) Perry Romanowski, the reason for this  "is that it has a tendency to react with metal ions in the water to create insoluble compounds.  These are the things that cause the ring around your tub.  On your hair, they would leave it feeling dull and dry."