Yields:
About 3 lbs. of soap
There is something about the color yellow that just screams, "happy!" If you are looking for a project full of cheer, this Lemon Poppy Seed Cold Process Tutorial is the soap for you. Scented with the bright Lemon Verbena Yankee Type and the bubbly Champagne Fragrance Oil, it smells as sunny as it looks.
Poppy seeds give this bar of soap gentle exfoliation, and the contrasting mica vein really makes the layers pop. Tip: when cutting into cold process soap that features a mica vein, don't cut the soap from the top down. Lay the soap on its side and cut in the direction of the line. This will prevent the mica from dragging through the layers.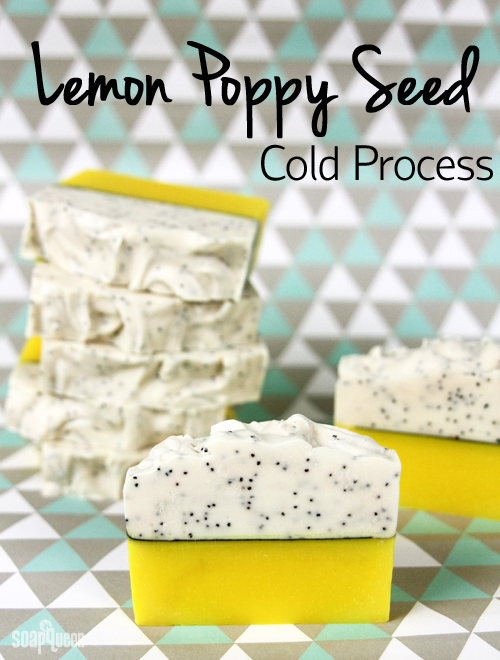 What You'll Need:
9.9 oz. Coconut Oil
9.9 oz. Olive Oil
9.9 oz. Palm Oil
3.3 oz. Rice Bran Oil
4.6 oz. Sodium Hydroxide
10.8 oz. distilled water
1 tbs. Poppy Seeds

.5 oz. Lemon Verbena Yankee Type Fragrance Oil
1 oz. Champagne Fragrance Oil
Optional: Sodium Lactate

Click here to add everything you need for this project to your Bramble Berry shopping cart!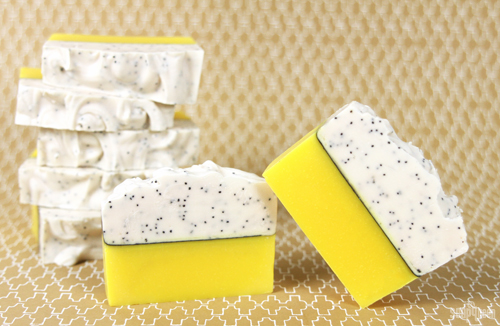 If you've never made Cold Process soap before, stop here!
I highly recommend checking out our FREE four part 
SoapQueen.tv series
 on
Cold Process Soapmaking
, especially the episode on 
lye safety
. And if you'd rather do some reading, Bramble Berry carries a wide range of 
books
 on the topic, including my newest book, 
Soap Crafting
. You can also checkout the 
digital downloads
 for that instant gratification factor.
SAFETY FIRST: Suit up for safe handling practices! That means goggles, gloves and long sleeves. Make sure kids, pets, and other distractions and tripping hazards are out of the house or don't have access to your soaping space. Always soap in a well-ventilated area.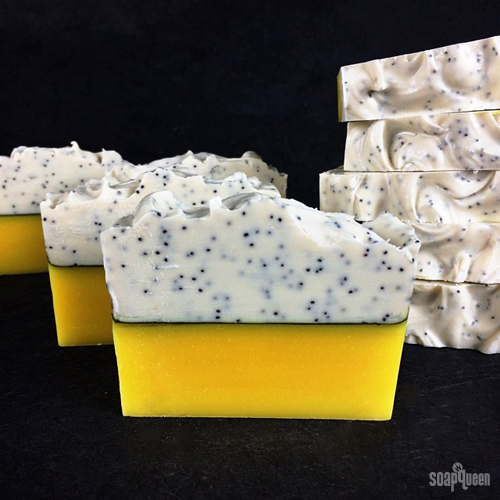 COLOR PREP: To ensure that the Titanium Dioxide blends smoothly into the soap batter, we recommend micronizing it before dispersing it in oil. Please note this is an optional tip but it does help with the titanium dioxide clumping in the soap =) To micronize colorant, simply use a coffee grinder to blend the colorant to break up any clumps of color and prevent streaks of white from showing in the final soap. We like to use a coffee grinder that has a removable, stainless steel mixing area for easy cleaning. Then, disperse 2 teaspoons of the colorant into 2 tablespoons of Sunflower or Sweet Almond Oil (or any other liquid oil). Finally, disperse 1 teaspoon Fizzy Lemonade Colorant into 1 tablespoon of light liquid oil. Use a mini mixer to get the clumps of color worked out smoothly.
FRAGRANCE BLEND: In a glass container, combine 1 oz. of Champagne Fragrance Oil and .5 oz. of Lemon Verbena Yankee Type Fragrance Oil. Set aside.
ONE: Slowly and carefully add the lye to the water and gently stir until the lye has fully dissolved and the liquid is clear. Set aside to cool.
TWO: Combine the Coconut, Olive Oil, Rice Bran and Palm oils (remember to fully melt then mix your entire container of Palm Oil before portioning). Once the lye water and the oils have cooled to 130 degrees or below (and are ideally within 10 degrees of each other), add the lye water to the oils and stick blend until thin trace. If you'd like a harder bar of soap that releases faster from the mold, you can add Sodium Lactate to the cooled lye water. Use 1 teaspoon of Sodium Lactate per pound of oils in the recipe. For this recipe, you'd add about 2 tsp. Sodium Lactate.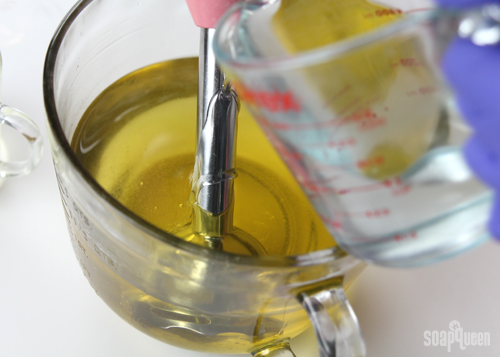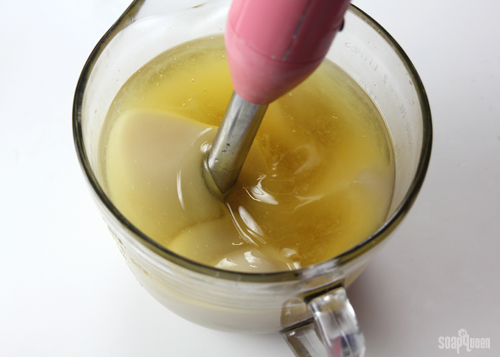 THREE: Once you've reached a light trace, pour about 3 cups of batter into a second container.

FOUR: Add 3 tsp. dispersed Fizzy Lemonade Colorant to the newly poured 3-cup container. Mix in the colorant with a wire whisk.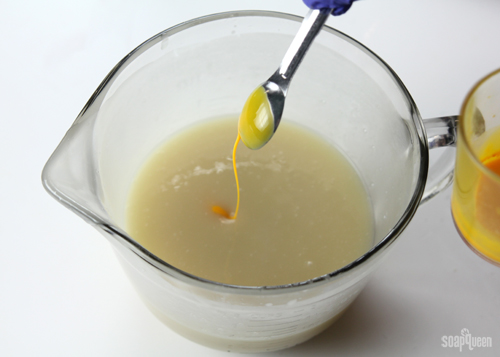 FIVE: Add half of the fragrance oil blend, and use a whisk to fully incorporate.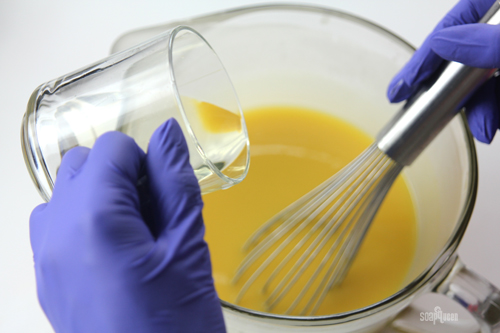 SIX: Carefully pour yellow soap into the mold. Tap down firmly to release any bubbles and evenly disperse soap.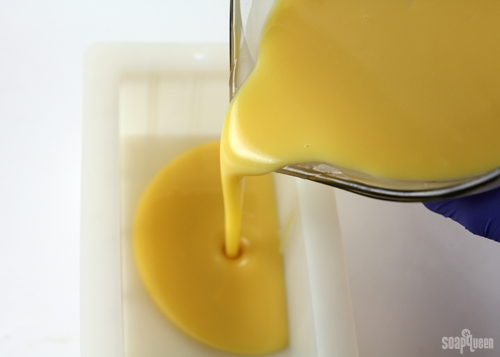 SEVEN: To create the mica vein, use a powder duster to sprinkle a thin layer of Luster Black Mica over the freshly poured yellow soap. To help the mica vein to disperse evenly, lose your eyes and blow gently on the color. Watch out, this part can get a bit messy!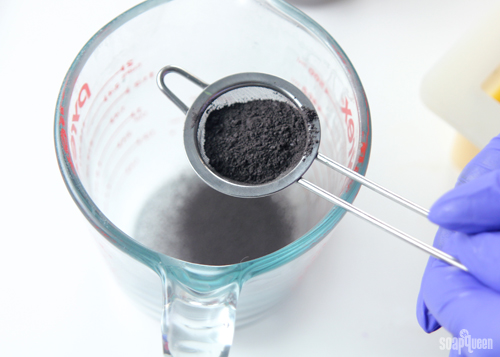 SEVEN: In the second container, add 2 tbs. dispersed Titanium Dioxide and the remaining fragrance blend. Use a whisk to fully incorporate.

EIGHT: Add 1 tablespoon of poppy seeds, and use a whisk to fully mix in.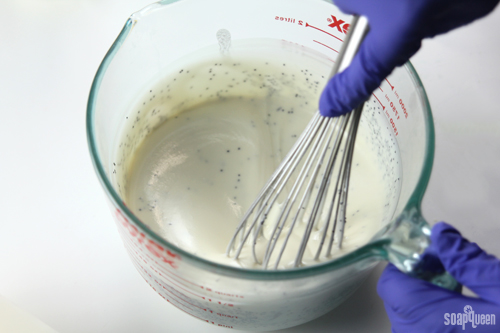 NINE: Gently and slowly, pour the white soap into the mold. In order to avoid the white soap from breaking through into the yellow layer, you may choose to pour the soap over a spatula into the mold. We found the yellow layer was firm enough at this point that this was not necessary.

TEN: Using a spatula, gently swirl the top of the soap to create a wave pattern. Allow the soap to sit in the mold for 3-4 days before unmolding. Allow the soap to cure for 4-6 weeks and enjoy.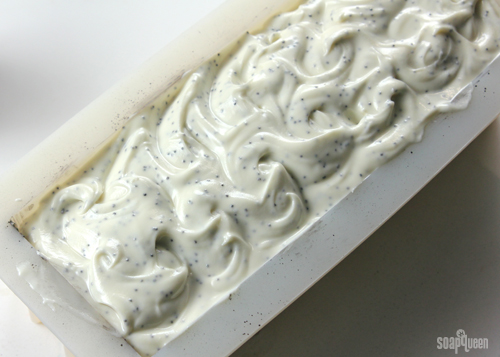 To see this tutorial in action, check out the video below!