Labcolors are a unique and innovative soap, lotion and toiletry colorant system offered by Bramble Berry. The Basic 12 can be used to mix 'n' match over 100 different colorant combinations, making Labcolors an economical colorant choice. The colorants are FD&C or D&C Dyes, highly concentrated, in a paste or thick liquid form. To use them, they do need to be diluted. If you don't dilute them, you can end up with unsightly speckles or colors that don't quite turn out as planned.
Here is a full primer, complete with photos, on how to properly dilute Labcolors. Have questions after reading through it? Post them and we'll get you all set up. Labcolors are fun and easy to use. Enjoy!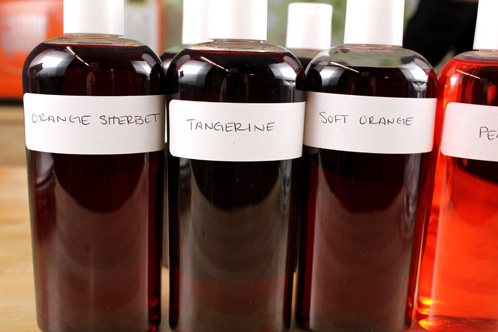 What You'll Need
Small bottle of LabColor
4 oz of warm, distilled water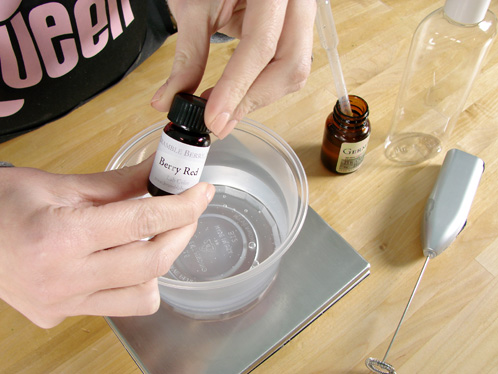 ONE: Warm up 4 ounces of distilled water in a microwave safe container in the microwave for 30 seconds. We're going for lukewarm, not scalding hot, so 30 seconds should do the trick.
NOTE: Since this blog post was published we have reformulated our LabColors to be better than ever. You can still dilute the small size into 8 ounces of distilled water, but for the best results in you cold process soap we recommend diluting the Small LabColor size into 4 ounces of water. For more information on our new sizes and dilution rates, you can check out this chart:
Small dilutes into 4 to 8 ounces of water
Large dilutes into 8 to 16 ounces of water

Jumbo dilutes into 50 to 100 ounces of water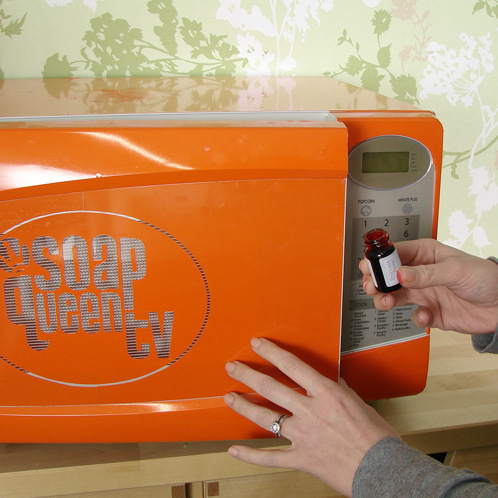 TWO: Take the cap off of the Labcolor and pop it in the microwave for 10-15 seconds. Do not over heat. If the glass gets too hot, it will break resulting in a very colorful microwave and an extra 20 minutes of clean up time added to the process. If your LabColors are in a plastic bottle, we recommend using a hot water bath to prevent the plastic from melting.
THREE: Carefully take the Labcolor out of the microwave. The glass may be hot so use a paper towel to hold the container. Put the cap back on and give it a good shake. Then pour the Labcolor into the 4 ounces of water.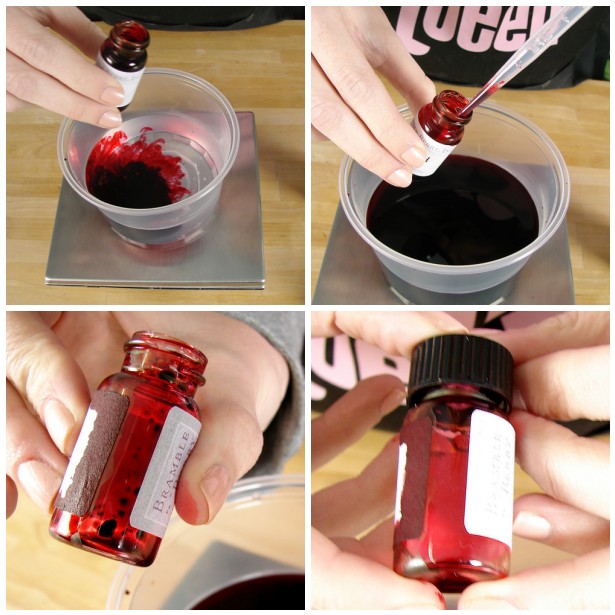 See the clumps in the bottom left picture? "Rinsing" the bottle out again with water will make sure all of colorant is mixed in.
FOUR: Use your dropper to suck up some of the warm water and drop it back into the empty glass container. Shake the bottle again to make sure that we get all of the dye out of the bottle. Pour it back into the 4 ounces of water.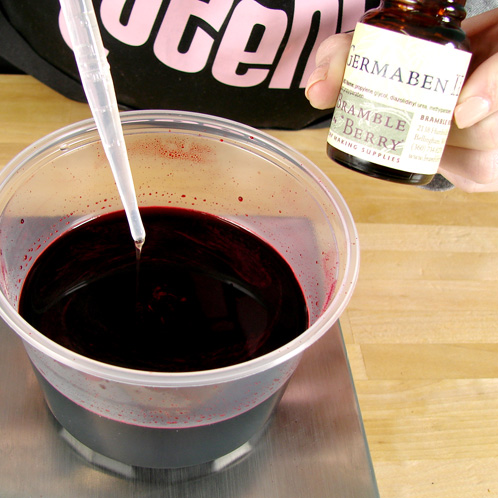 FIVE: Use your dropper to add the preservative (either Optiphen ND or Germaben) to the colorful 4 ounce mixture at 1%, which will be about 1 ml.
IMPORTANT: If using Germaben, be sure that your mixture is below 140 degrees Fahrenheit before adding the preservative to ensure effectiveness. If you are using Optiphen ND, you will want to keep your temperatures below 176 degrees Fahrenheit.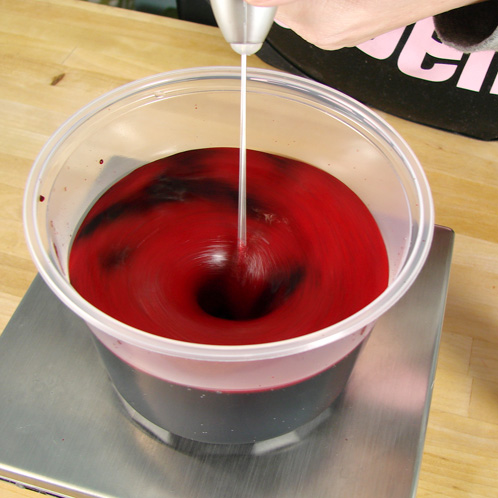 SIX: Use the mini mixer to completely blend the Labcolor, warm water and preservative.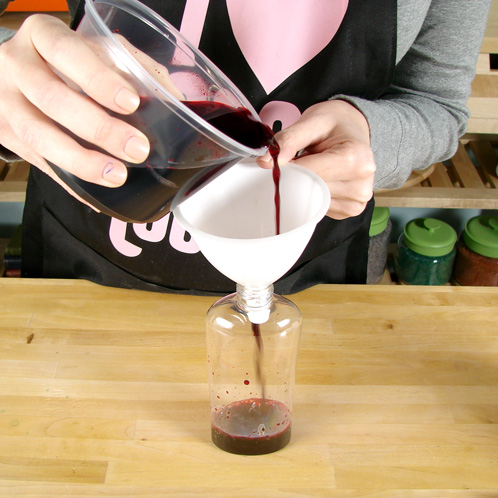 SEVEN: Using a mini funnel or a super steady hand, pour the dye into a container for storage. Leave the lid off until cool to avoid condensation.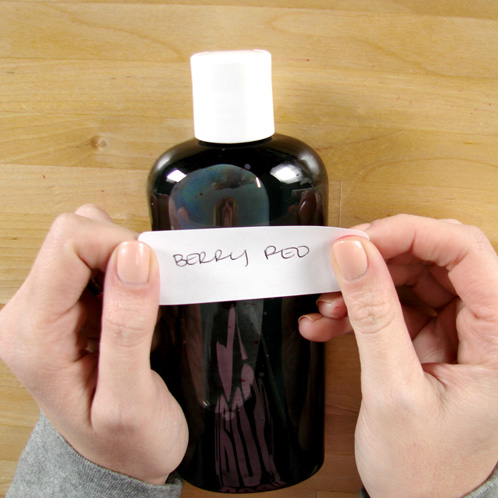 EIGHT: Make sure to label the colorant. These are strong colorants making it hard to tell some of them apart once they're diluted and bottled. I didn't put a use-by date but 1 year from the time you mix is a safe use-by date. Check out the Labcolor Quick Guide for more great information on the fabulous and adored Bramble Berry soap colorants.
 Have a question about this blog post? Come join us at Bramble Berry's Facebook page and we can help you out with any of your soapy questions!