While there are many wonderful things about soaping, perhaps one of the best things is that it can be enjoyed by anyone. No matter what level of craftiness you are or where you live in the world, most any adult can take up soapmaking. On our Facebook page, we regularly see soapy creations from all corners of the world, from Mexico to Iceland to Taiwan. Creating small, handcrafted products make us part of a global community.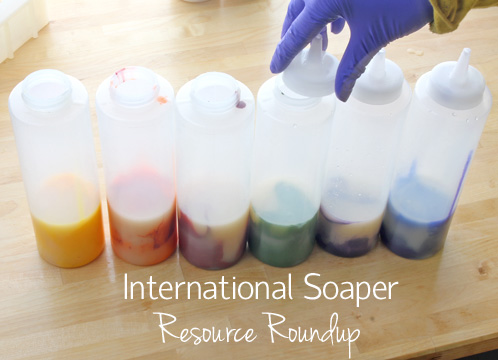 Soapers abroad encounter all kinds of challenges trying to obtain soapy products. International customers deal with a whole new set of rules, from international shipping restrictions to import and export regulations. If you're an international soaper, read on to learn more about our international distributors, how to place an international order and other special circumstances and considerations.
Bramble Friends Around the World
We understand that international shipping rates aren't always the most affordable. Luckily, we're in contact with three other soapy companies that might be a better option for our international friends.
If you live in Australia, New Zealand or Southeast Asia: Aussie Soap Supplies is Bramble Berry's only official distributor. Aussie carries most Bramble Berry colorants, fragrances, molds and more. Aussie also has its own learning library full of recipes and tutorials, as well as an active Facebook page.
If you live in Europe and the UK: You Wish Soap Supplies is located in the Netherlands, and it's a great option for European soapers. You Wish carries Bramble Berry colorants, fragrances, exfoliants, soap bases and more. You can find You Wish on Facebook and Twitter.
Keep in mind that although these outlets supply Bramble Berry products, our most complete selection of products come from our flagship warehouse in Bellingham, Wash. If you do decide to order internationally from Bramble Berry, keep in mind that all shipping rates are determined by the weight and size of your package, which can be quoted by our online shopping cart. To get a quote, simply place your items in your shopping cart and enter your shipping information.
Special Considerations
The International Shipping Policies page is a great resource for international customers. Read through it thoroughly and familiarize yourself with any special considerations within your country. Some things to note:
We are unable to ship anything to Italy or Greece, and we can't send Russian customers any order valued over $75 USD.
We are unable to ship any botanical products from Bramble Berry to New Zealand, Korea or Japan.
Some colorants from Bramble Berry are unable to ship to Mexico.
The world is a very big place, and we are unable to know the intricacies and details of every country's rules and regulations. To be totally sure you'll receive the items in your international order, please speak to your local customs agents. You can also try Googling the shipping restrictions in your country. For European customers, the Importing Cosmetics into the EU website is a great place to start.
International customers can place orders through the shopping cart just like domestic customers, but for any special circumstances or questions, use the purple support tab located on the left side of the Bramble Berry homepage. You can also submit a 'ticket' through the help desk, which is the same as sending us an email.
We are so proud to support such a broad, diverse community of soapers from all over the world!