There's no doubt that the holidays are stressful, and we're doing all we can to bring a little Zen to your Bramble Berry experience. Over the past few weeks, we've been hard at work rolling out a brand new system to help and we're finally ready to reveal it: say hello to the Bramble Help Desk! This new tool, accessible from the Bramble Berry homepage, offers you a way to live chat a fabulous customer care team member, as well as search through an ever-expanding list of frequently asked questions. With this new system, you'll have yet another avenue to ask questions, find answers and resolve issues or concerns quickly and easily.
Using the Live Chat feature
One of the most exciting features of our new Help Desk is the ability to chat with a customer service team member. To live chat, begin by clicking the 'Support' tab on the left side of the Bramble Berry homepage.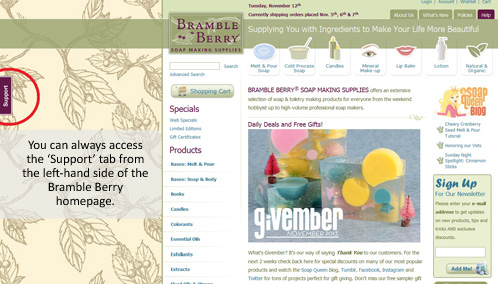 Clicking the Support tab will give you two options. If it is between the hours of 10 a.m. – 3 p.m PST, Monday – Friday, you can choose 'Find someone to chat with.'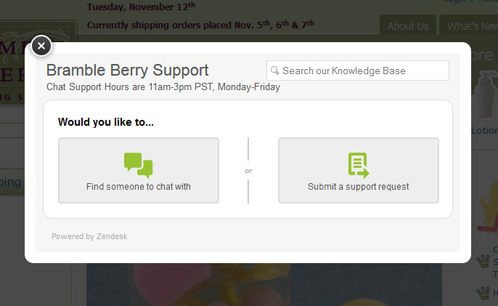 A second window will appear asking you to submit your question. You'll be asked for your name and email address along with your question. Try to be as detailed as possible!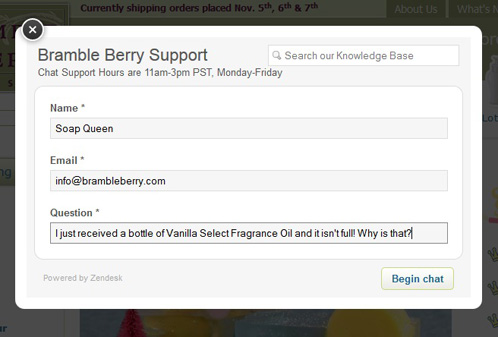 Click 'Begin Chat' and a chat window will appear. You are now chatting with a real person in the Bramble Berry offices who is there to help!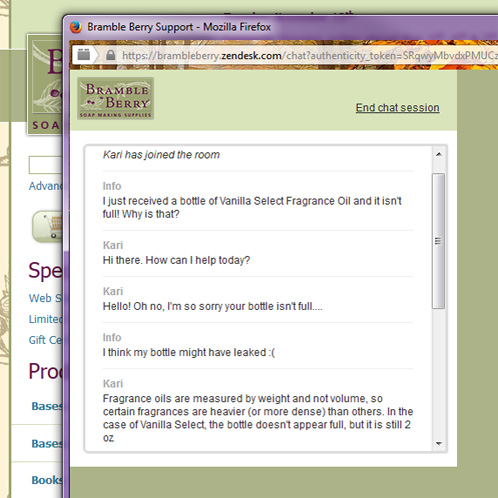 Kari answered my question about a possible fragrance oil leak (turns out it was a pesky weight vs.volume issue!), and we ended the chat. If you ever need to refer back to a chat, a copy of the entire session will be sent to the email address you provided in the previous step.
Submitting a support request
But let's say you want to ask a question and it's after business hours and live chat isn't available, or you just don't want to use it. That's a possibility too! Head back to the Bramble Berry homepage and click the 'Support' tab. Instead of choosing the 'Find someone to chat with option,' choose the 'Submit a support request.'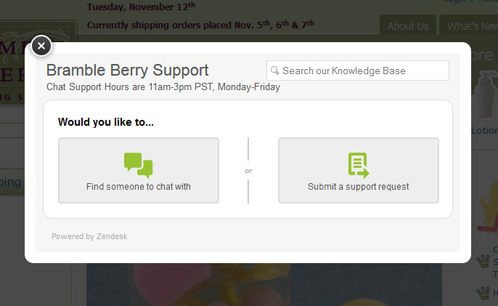 A second window will appear where you can enter your question, name and email address.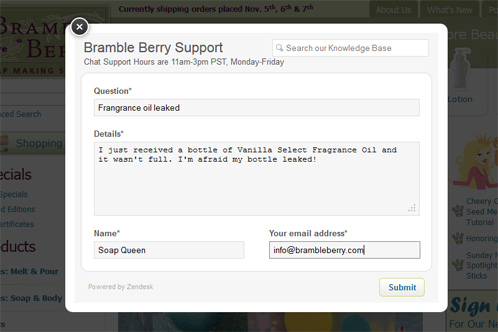 After you click 'Submit,' you'll receive instant feedback that your question has been submitted. You'll also receive an email from the Help Desk with a copy of your question and request number.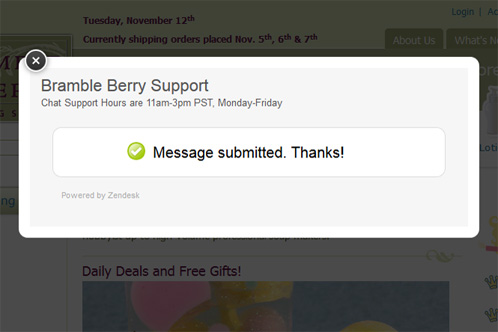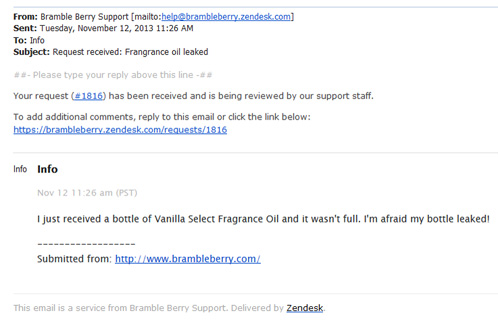 All questions submitted this way are typically answered within 24 – 48 hours, except on weekends when they're reviewed first thing Monday morning.
Using the Support Database
There is a third way to help you find answers to your questions. If you don't want to live chat or wait for an email response, you can use the field in the top right to search through our huge database of resources. In this case, I'll see what searching 'fragrance' gets me.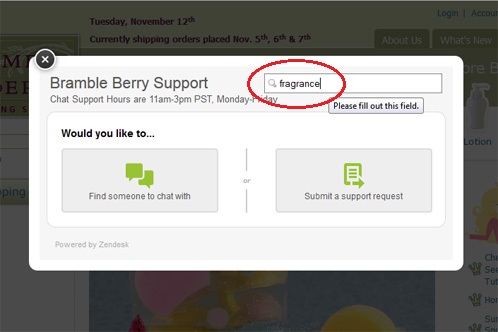 Five help topics appear immediately! If you see the answer to your question right away, click the title to read more about it. If you don't see a relevant response, have no fear! Notice in the bottom right corner that there are 20 more results to look through. I'll click 'See all 20 results.'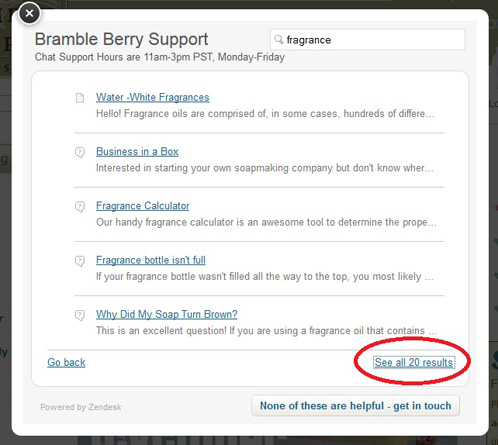 You now have instant access to 20 more support topics!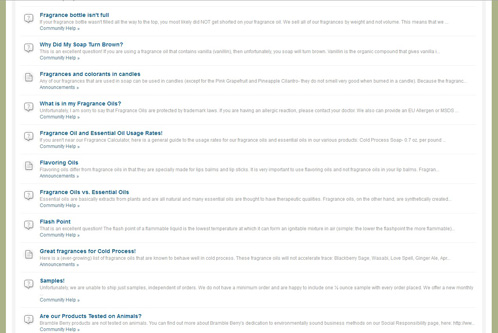 If you still can't find the answer you're looking for, you can use the 'Get in Touch' button in the bottom right-hand corner to start a live chat session if it is between 10 a.m. – 3 p.m. PST, Monday – Friday. If not, your email will be submitted via email to the Help Desk.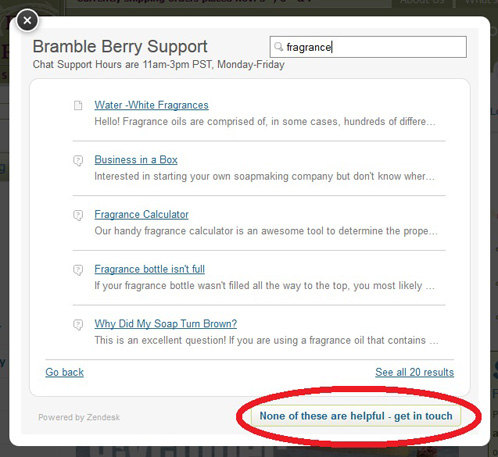 Using the Help Desk Dashboard
The Help Desk Dashboard allows you to access all your past chats, read through the support forums or ask more questions. You can access the dashboard directly here. Choose 'Login/Sign up' to get started.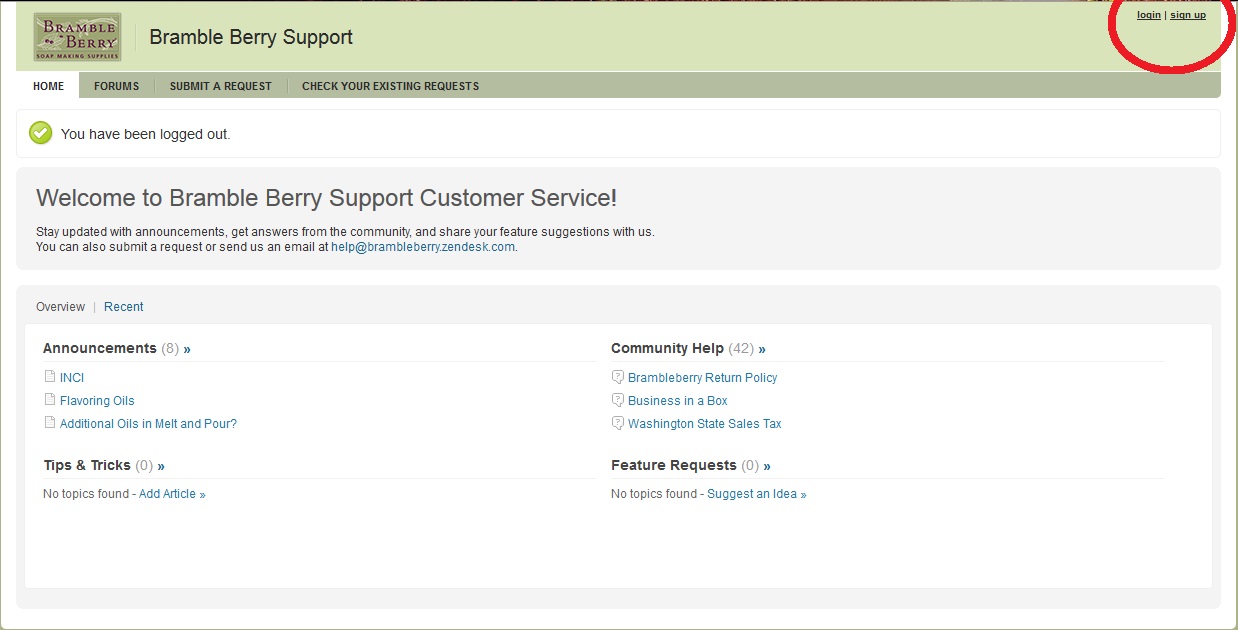 If you've never used the Help Desk before, you can choose the first 'sign up' option. If you have submitted a question or used the Live Chat, you can choose the 'Get a Password' option.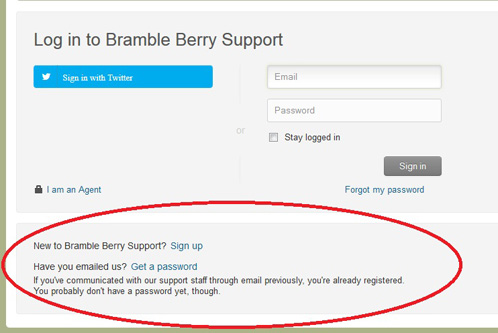 Since I've already interacted with the Help Desk to ask a question about fragrance oils, I'll choose 'Get a Password.' It's important to use the same email address you entered when you asked the question.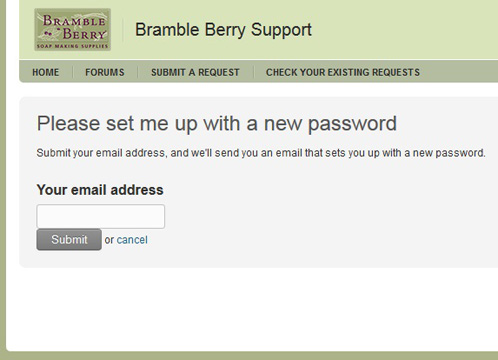 Check your inbox for an email from [email protected]. When you receive the email, click the link to set yourself up with a new password.

The link will redirect you here, where you can create your own password. Create a password that is at least 5 characters long and then hit 'Verify my email address.'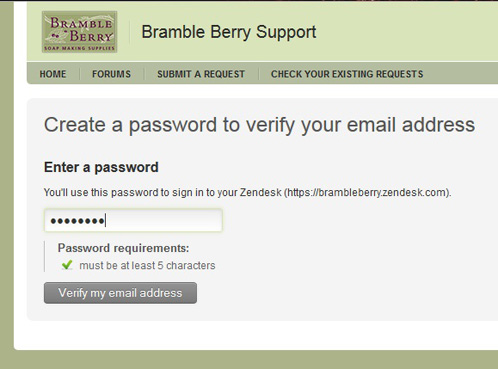 Your account will be verified the second you click the button, and you'll be redirected to the Help Desk Dashboard. From here you can browse through the forums, ask another question, look up questions you've asked in the past or check the status of your unanswered questions!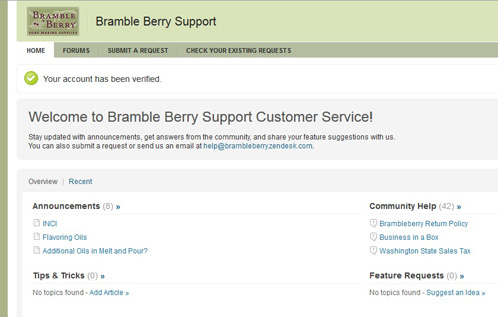 One reason we specifically chose this Help Desk is because it is easy and intuitive to use. Create an account, play around and ask a question. We hope this tool will help you resolve any questions and concerns quickly and easily. Based on this quick guide, what makes you most excited about our new Bramble Help Desk? I know for me, it's the Live Help. That's something I use whenever I'm shopping online and have questions.