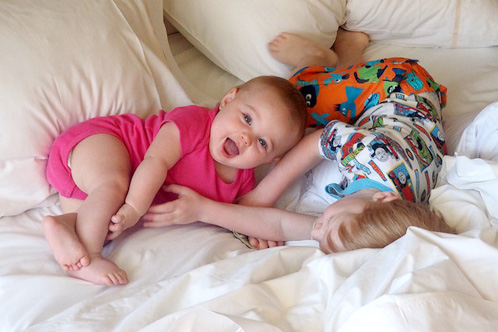 "Life is more fun if you play games." ― Roald Dahl
Happy Easter Weekend =) We did an Easter Egg hunt with Jamisen. He was beyond euphoric about the whole concept of sugar. Trying to explain to him why Easter happens was a little tricky. The internet was no help either. I stumbled over an explanation to him but had vastly underestimated the need for an actual explanation. Jamisen didn't ask one single question about why he was made to get dressed up, carry a pink basket and go find plastic eggs filled with candy. Ah, so sweet: childhood innocence.
The whole "candy candy candy" thing worked so well that we told Jamisen that the Easter Bunny had left some more eggs out along the road. This convinced him to go on a very long family walk. It worked like a charm. I think that the Easter Bunny might be leaving little happy sugar eggs along the road for many more months. I am not above light bribery to get more fun family outdoor activities happening.
Lily gamely played along with her rabbit outfit though did not get any candy because I failed to get any candy for gumless babies. I will make it up to her by mainlining sugar into her morning meal. (Joke. That's a joke. Just in case anyone thinks I feed her anything besides delicious green smoothies in the morning).
We also managed to get some of our garden planted today. We planted kale, chard, spinach, and broccoli separated by rows of marigolds for their anti-slug properties. We're hoping to plant blueberries, potatoes, corn, cucumbers, zucchini, garlic, tomatoes and peppers later in the season. The weekend feels like it went way too fast but it was happy and full.
I hope you had a laughter-filled weekend with your family and friends. =) Also, if your Easter Egg hunting was creative or cool, I would love to hear how you made it extra great. I need to plan for next year because I'm pretty sure just plastic eggs + candy won't make it past Jamisen when he's the wise old age of 4.