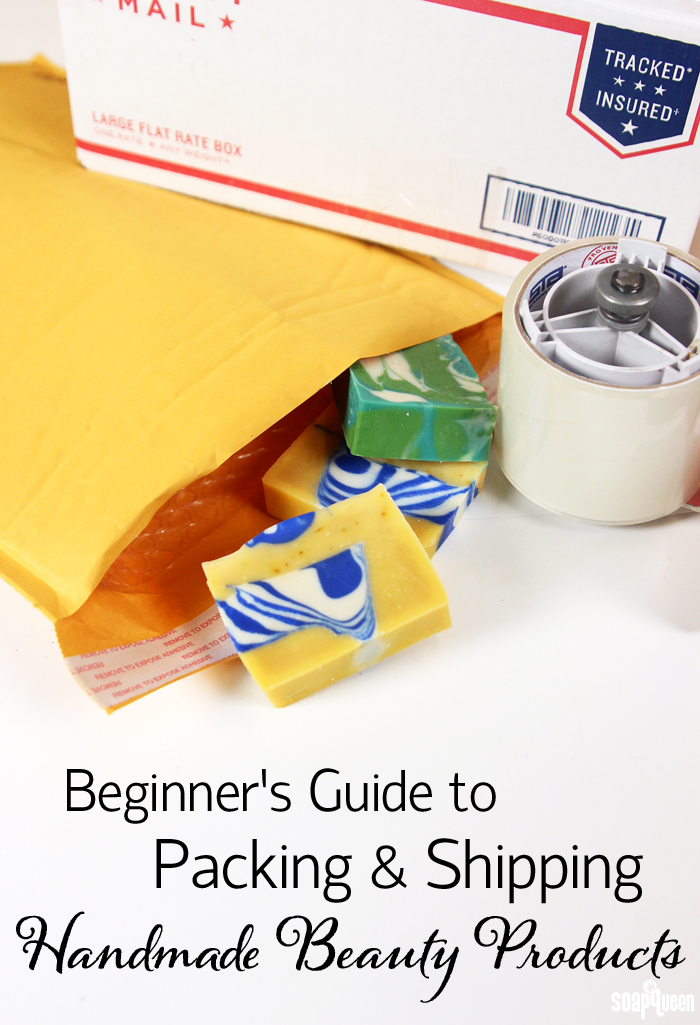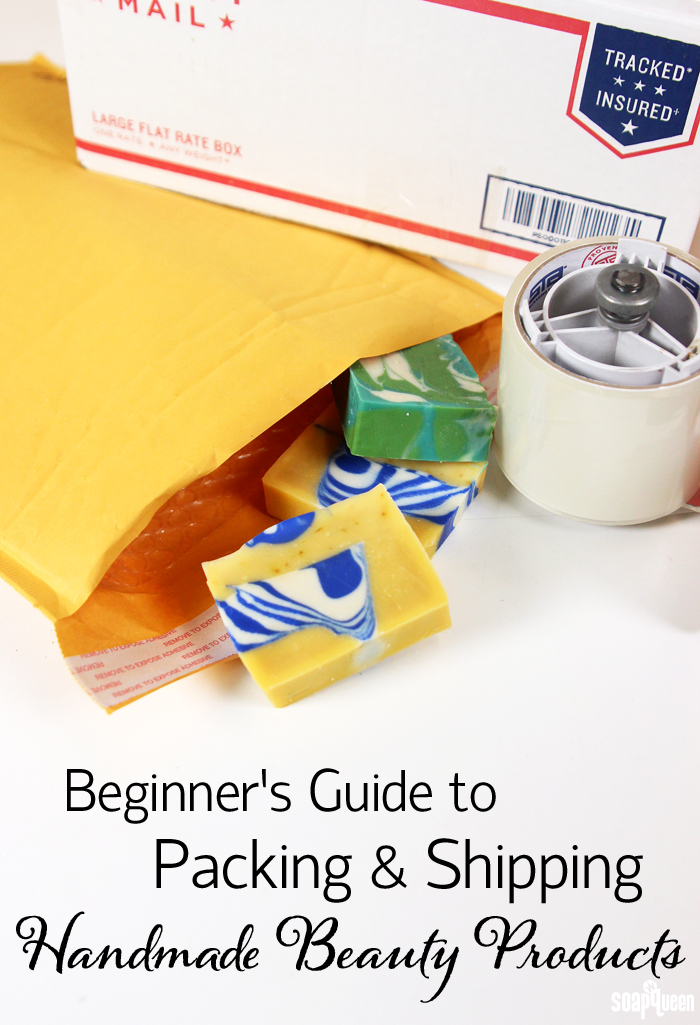 With the holidays right around the corner, crafting for the holidays is in full swing. The holidays are a busy time for crafters because soap and beauty products make fantastic gifts! If your gift recipients or customers don't live nearby, your products will need to be shipped. This can be a little nerve wracking, as homemade bath and body products are often delicate and heat sensitive. Knowing how to properly pack your items may save them from being damaged in transit. Below are basic tips on securely packaging and shipping your creations to ensure they arrive in perfect condition.
The first step to preparing your products for shipment is to evaluate what you are shipping. Are your products delicate, like bath bombs? Are they heat sensitive, like balms or lotions? Or maybe they are an awkward shape like soapy cupcakes. All of these factors will affect how your items are packed and shipped.
Then, it's time to consider the packaging materials and what shipping service you'd like to use. Products can be shipped in a wide variety of containers. In fact, there are so many different options…it can be a little overwhelming! First, evaluate the package. How much product are you shipping? How much does it weigh? What shape are the items? For example, if you're shipping one single bar of soap, your package strategy is going to be very different than if you are shipping a candle or bath bomb. How large and heavy your package is may help you decide on what type of shipping carrier to use, as they all provide different services depending on the size and distance of your package.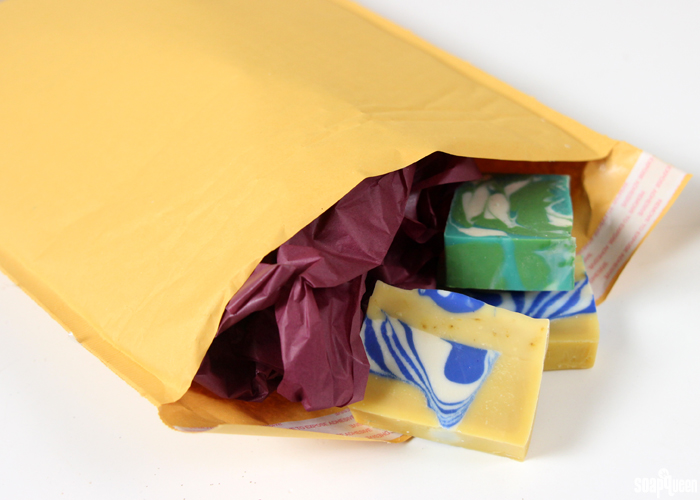 How large and heavy your items are will greatly affect how they are shipped. For smaller, sturdier items like cold process soap, an envelope can work well.
Choosing Your Shipping Service
What is the perfect shipping service? This is an impossible question to answer as there are so many variables to consider. Everything from package size, to location, all the way down to the driver that makes the delivery will determine which shipping service would be the best. Unfortunately, it is impossible for you to know if the UPS driver has been awarded Driver of the Year 5 years in a row, or will just throw the package over the fence for the dog to chew on (UPS has 450,000 employees after all). Because things don't always go as planned, it's important to ship early and package your items securely just in case.
One of the most popular shipping options for small businesses and smaller packages (under 5 pounds) is the United States Postal Service. In particular, USPS makes it easy with wide array of Priority Mail Boxes for free. Sizes range from envelopes to large boxes, and feature flat rate pricing (there are size restrictions which make this a limited option). FedEx and UPS are also popular choices, especially if you are shipping very large packages. Both UPS and FedEx also offer free shipping materials for those who use their service. Other things to keep in mind when selecting a shipping method are insurance, confirmation and tracking options.
To help find the right shipping option and carrier for you, check out the links below! If you sell on Etsy, they have some great tips for shipping success here.
Choosing Your Package Materials
Selecting a shipping service and materials goes hand in hand, as many carriers provide free materials along with their service. But, it may be helpful to go over the two big options: boxes and envelopes.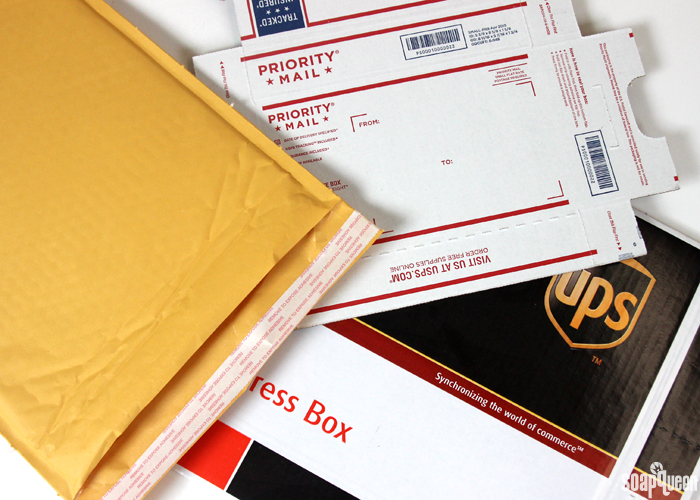 There are a wide variety of shipping services and package material options including envelopes and boxes.
Envelopes: Shipping your items in an envelope is a great option for small, durable packages. Envelopes usually feature a small amount of bubble wrap inside to provide padding, but don't have a lot of space for added padding materials. Envelopes tend to work best for bars of soap because they are flat and sturdy. Envelopes are also suitable for small and durable items like lip balm and cosmetics. It's possible to place larger items such as jars and bottles, just make sure the packaging is sturdy (glass is not recommended).
Boxes: If your items are larger or unable to lay flat, a box is a better option than an envelope. They are also better suited for delicate items such as bath bombs, because they can be filled with plenty of padding materials (bubble wrap, packaging peanuts, etc) to keep the items from moving within the box. Choose a box that is slightly larger than the item to make room for packing material. Keep the items safe by placing them in the center of a sturdy box and taping the box securely. Keep in mind that your box will not remain upright throughout the shipping process, so make sure it is taped well.
Additional packing materials such as bubble wrap prevent your products from bouncing around within the box. These materials are also referred to as "loose fill," as they fill up empty space within a box. Loose fill options vary in terms of effectiveness and price, so it's important to consider the best option for you. Click here to read UPS's "Loose Fill" tips. Typically 1″ minimum between the box and the products is needed to ensure products arrive at their destination in tact. You'll want to bubble wrap + loose fill; not just one or the other. Items shift a lot in transit so bubble wrap can be your last line of defense.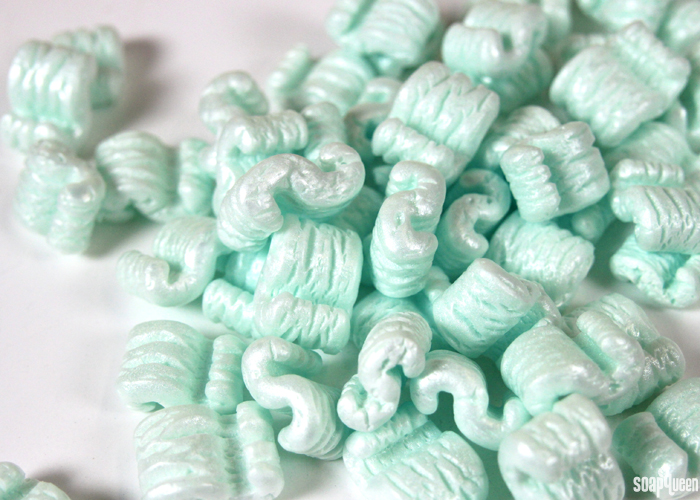 Packing peanuts are a popular loose fill material that helps absorbs shock and prevent the items from moving within the box.
Bubble wrap is one of the most economical options, and works great if you're shipping items in a box with little extra space. Packing peanuts are another cost effective option and work well for a wide variety of box shapes and sizes. In particular, packing peanuts are great for filling extra space within a box to absorb shock. The downside to packing peanuts is they can get a little messy and sometime, are not recyclable. Below is a breakdown of some of the most popular options.
Bubble Wrap
Pros: Cost effective, easy to use, easy to cleanup, easy to wrap around products, works especially well for square/uniform shaped items, good for lightweight items
Cons: Not very effective for filling extra space within a box
Packing Peanuts

Pros: Cost effective, great for filling empty space within a box, absorbs shock within a box, good for lightweight items
Cons: Messy, may not be effective for extremely heavy packages. If using recyclable or biodegradable packing peanuts, peanuts will melt if any leaks happen during package transit.
Foam Packaging
Pros: Form fitting to individual items, good for a variety of different shapes, high level of protection, good for heavier items
Cons: Can be expensive and foam machines have high set-up costs.
Once you have your box and loose fill material, it's time to put it all together! First, fill the bottom of the box with a little bit of fill material, at least 1″ thick. Place the item in the center, and cover with more fill material until it's well cushioned in the box. For most items, you will want to wrap them in a protective material such as bubble wrap or paper. This is particularly true for extremely delicate items or odd shaped products (like cupcake soap!).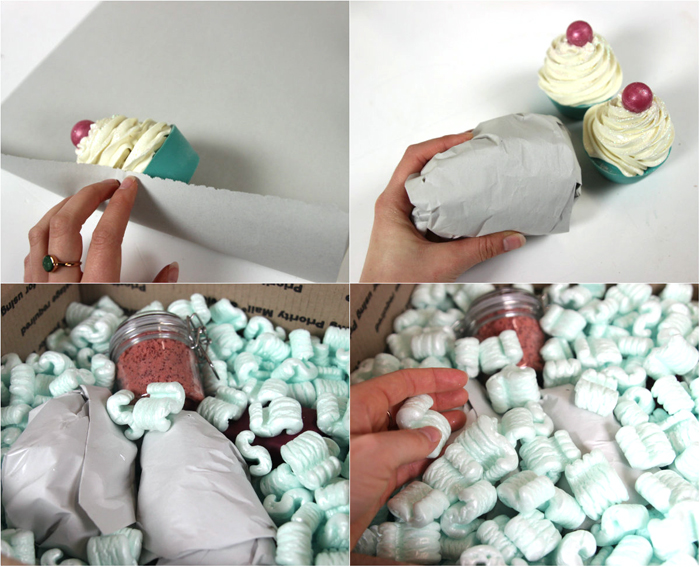 Wrapping your products in protective material such as bubble wrap or paper help protect them during transit.
Before securing your box with tape, give it a good shake to make sure the items inside are secure and do not move within the box. Use a sturdy plastic or reinforced paper tape to seal the center of the box. In general, duct tape is not recommended for shipping boxes as duct tape tends to peel away from porous materials like cardboard. Some prefer to be extra cautious and seal all the seams with tape. Using the tape to seal all the edges is known as the "H-tape" method, as the tape will create an "H" shape on the box's surface.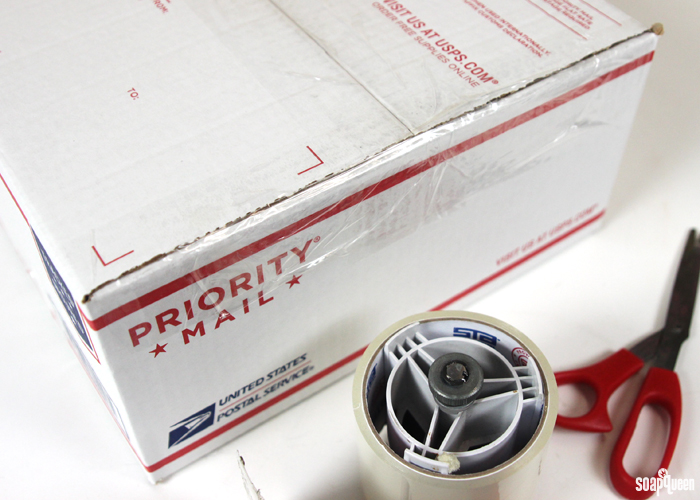 Taping all the seams of the box with packaging tape ensure the box is securely shut.
Considering Hot and Cold Temperatures
If you're sending your items during the holiday season, chances are you don't need to worry about heat damaging your items. But if you're shipping in a hot climate you may want to take extra precautions to ensure your recipients receive their items in mint condition. These steps include packing heat sensitive items with ice packs, shipping with an expedited option and performing a "ship test." Check out the Soaping in the Summer Heat blog post for more tips on shipping items in hot temperatures.
Luckily, cold temperatures do not negatively affect homemade bath and beauty like extreme heat. Many products can freeze and thaw without major side effects. How your products react to extremely cold temperatures will depend on your unique recipe. Cured cold process soap can freeze and thaw without major problems (you may find it sweats a little). When melt and pour soap freezes and thaws, the soap may produce glycerin dew. Read more about glycerin dew (and how to prevent it) here.
Emulsified products (products made by emulsifying oil and water together, like lotion) are heat sensitive. When lotions freeze and thaw, the emulsification may break and the lotion can separate. This also applies to other emulsified products, such as heavier creams and scrubs. Oil + wax balms are also heat sensitive (this includes lip balms and lipsticks) and need more TLC for shipping during the summer than during the colder months. If your product is sensitive to humidity (such as bath bombs) you may want to include moisture absorbing silica packets in your box as well. If you're unsure how your product will react to extremely cold temperatures, you may want to place your product in the freezer for 2-3 days and allow it to thaw at room temperature. This will give you a good idea of what will happen when your product comes in contact with cold temperatures during shipping.
Inform Your Recipients
The last piece to make sure your items safely arrive to their destination, is to inform the recipients. Packages can get left at alternative entrances such as back or side doors. This may cause the package to sit in the hot sun or rain for several days. Your recipient may prefer to have their package sent to an office space, or to a friends house where it can be received immediately. In addition, if you are selling your items that are heat or cold sensitive, you may consider encouraging your customers to choose expedited, 2-day, or overnight shipping. Customers may also be able to sign up for FedEx and UPS services that will text or email them the status of their orders and their locations.
Shipping homemade beauty products can be a little stressful. After all, you put so much hard work into making it, and want your recipients to receive them in tip-top shape. But with a little planning ahead and plenty of protective material, shipping is simple. It's also a learning process; the more you package and ship items, the better you'll get at it! This post only scratches the surface, and I encourage you to chat with other soapers to learn what packing and shipping techniques work best for them. In particular, the Teach Soap Forum is an amazing resource for reaching out to other soapers and small business owners.
If you have any tips or tricks for safely packaging your items, I would love to hear them.