There is something about the color yellow that just screams, "happy!" If you are looking for a project full of cheer, this Lemon Poppy Seed Cold Process Tutorial is the soap for you. Scented with the bright Lemon Verbena Yankee Type and the bubbly Champagne Fragrance Oil, it smells as sunny as it looks.
Poppy seeds give this bar of soap gentle exfoliation, and the contrasting mica vein really makes the layers pop. Tip: when cutting into cold process soap that features a mica vein, don't cut the soap from the top down. Lay the soap on its side and cut in the direction of the line. This will prevent the mica from dragging through the layers.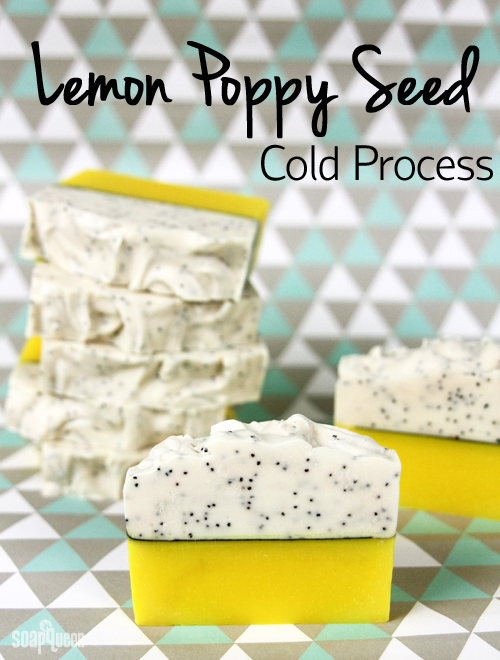 What You'll Need:
9.9 oz. Coconut Oil
9.9 oz. Olive Oil
9.9 oz. Palm Oil
3.3 oz. Rice Bran Oil
4.6 oz. Sodium Hydroxide
10.8 oz. distilled water
1 tbs. Poppy Seeds

.5 oz. Lemon Verbena Yankee Type Fragrance Oil
1 oz. Champagne Fragrance Oil
Optional: Sodium Lactate

Click here to add everything you need for this project to your Bramble Berry shopping cart!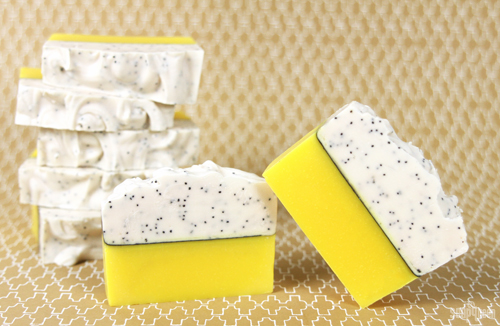 [Read more…]