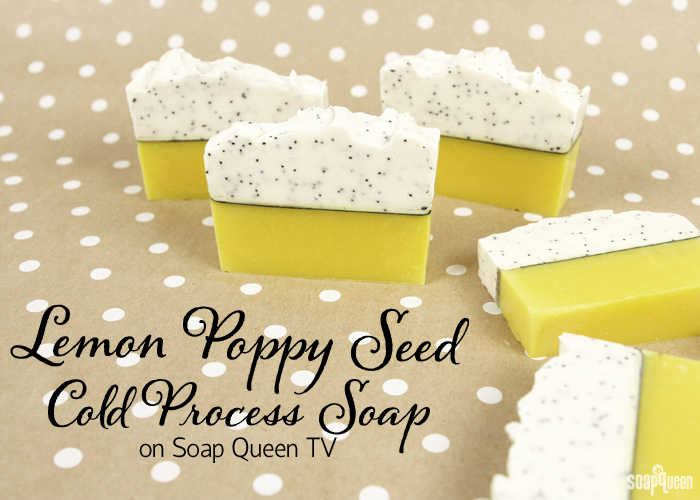 Bright and cheery, it's no wonder the Lemon Poppy Seed Cold Process was the top tutorial from 2014! With so much great feedback, you can now watch this project from start to finish in the Lemon Poppy Seed Cold Process video on Soap Queen TV. This soap is an advanced project, with a super straight mica vein and textured top. The fragrance combination of Lemon Verbena Yankee Type and Champagne smells bubbly and slightly sweet.
What You'll Need:
9.9 oz. Coconut Oil
9.9 oz. Olive Oil
9.9 oz. Palm Oil
3.3 oz. Rice Bran Oil
4.6 oz. Sodium Hydroxide
10.8 oz. distilled water
Titanium Dioxide
Fizzy Lemonade Colorant
Luster Black Mica
1 tbs. Poppy Seeds
.5 oz. Lemon Verbena Yankee Type Fragrance Oil
1 oz. Champagne Fragrance Oil
10″ Silicone Loaf Mold
Optional: Sodium Lactate

Click here to add everything you need for this project to your Bramble Berry shopping cart!