The weather here in Bellingham, WA has been gorgeous. The sunny days and warm temperatures have us thinking of sandy beaches. If it's still cold where you live, you can bring the beach to you with our Sweet Sea Dreams promotion. As part of the promotion, several colorants are 15% off with the code: SWEETSEA. To see all the sale items, click here. 
A combination of Cellini Blue Mica and Gold Sparkle Mica create a sea-inspired blue that makes the Mermaid Shell Melt and Pour Soaps stand out. To get a realistic clam shell look, several thin layers of soap are poured into the mold and a fork is used to create texture. The soap is finished with a fresh smell from Crisp Cotton Fragrance Oil.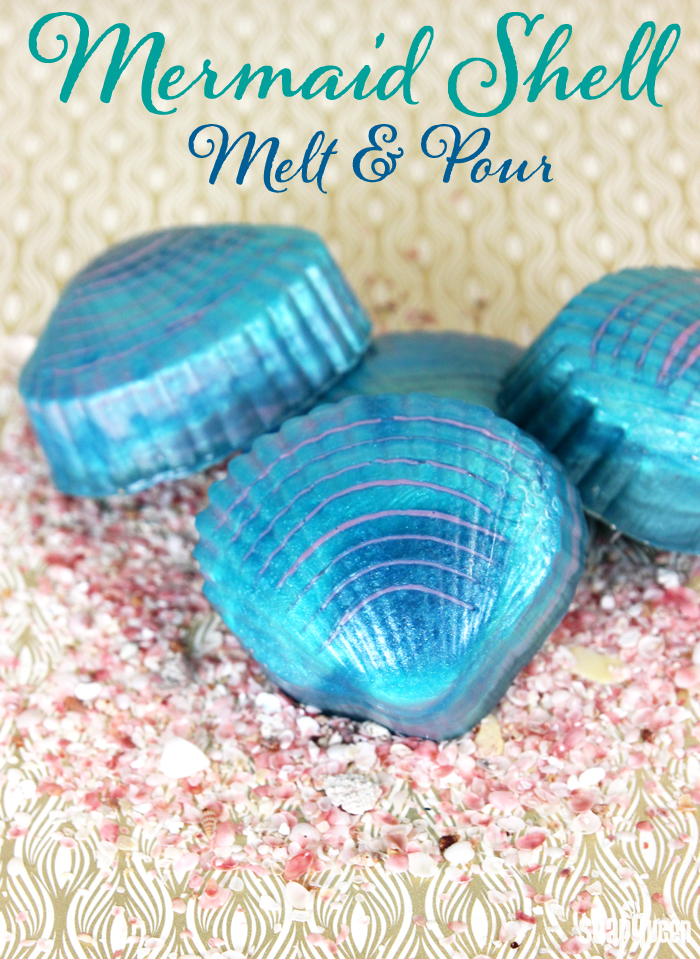 Gold is also used in the Shimmering Sea Salt Scrub. Blue Mix LabColor and Emerald LabColor make an aqua color, and Gold (light) Mica adds a bit of shimmer. To exfoliate your skin, the scrub has dead sea salt. The scrub also moisturizes with a combination of shea butter and coconut oil.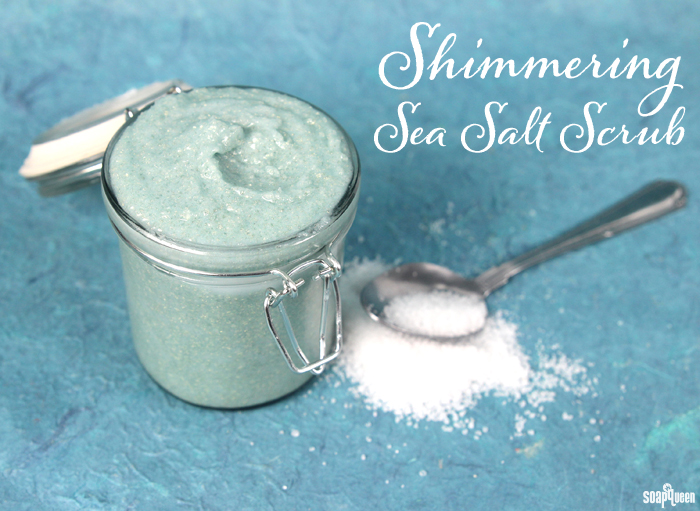 Dead sea salt can also be combined with leftover soap scraps for an exfoliating and lathering scrub. There are many uses for leftover soap scraps, including embedding them into a soap, as seen in the Cherry Blossom Glitter Cold Process Tutorial. You can also grate them up and rebatch your soap. Get more ideas in the How to Use Leftover Soap Scraps post.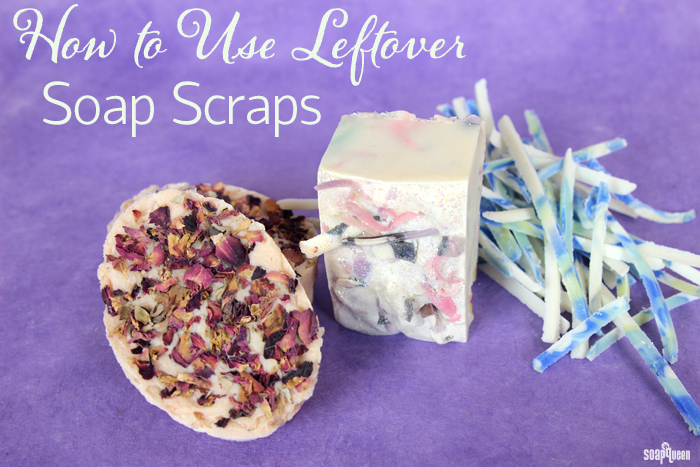 If you want to add exfoliation to your rebatch, baking soda is a great option. Baking soda is also known for its soothing properties. It can be added to a variety of recipes, including bath soaks. It also helps create the fizz in bath fizzies. Read more in the Sunday Night Spotlight: Baking Soda.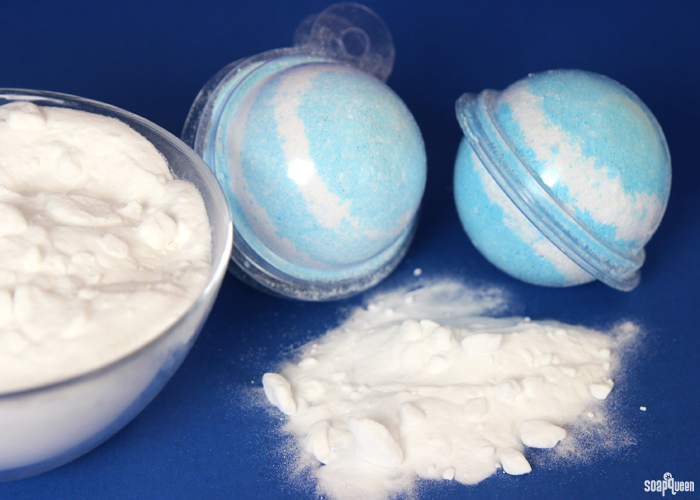 Another way to add scrubbiness to your bath and beauty products is poppy seeds. They add exfoliation and a pop of color to the Lemon Poppy Seed Cold Process on Soap Queen TV. The soap features a bright yellow bottom layer, a mica vein and a white top layer with poppy seeds. The soap gets its fresh and bubbly scent from Lemon Verbena Yankee Type and Champagne fragrance oils.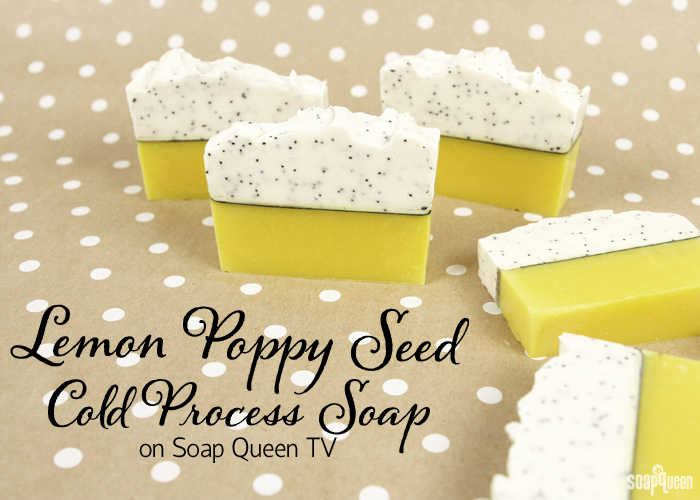 The Lemon Poppy Seed soap reminds me of a lemon meringue pie. This week's Facebook Photo of the Week by by Majorie with Richland Soap and Honey Co. is a definitely a sweet treat. There are so many amazing details in the soap.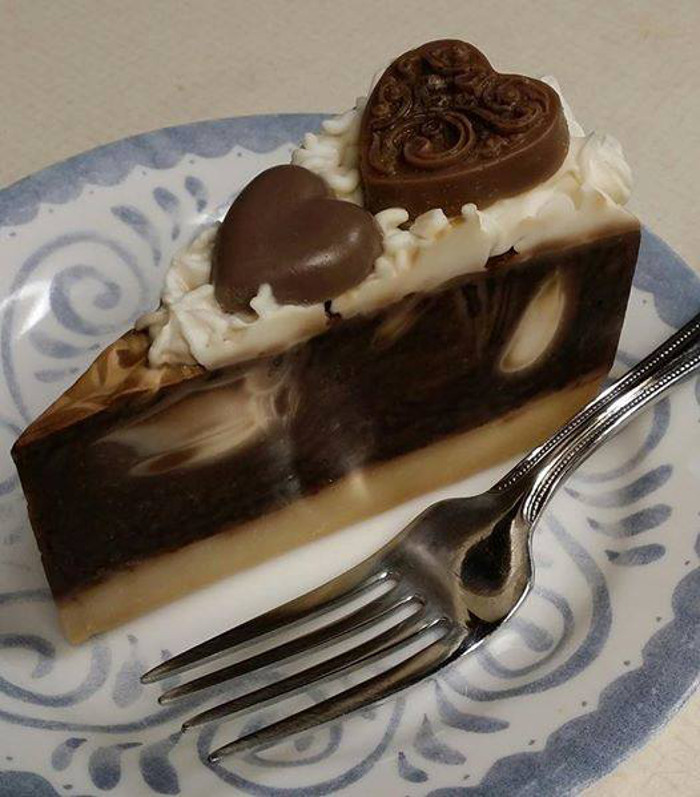 The cake base is topped off with frosting and soapy chocolate pieces. Majorie scented the soap cake with delicious mix of Espresso Fragrance Oil and Dark Rich Chocolate Fragrance Oil. She used the natural discoloration of the fragrance oils to give her soap a warm brown color. Read more about discoloration in the Why Did My Soap Turn Brown post. The Vertical Sandalwood Vanilla Soap with a Twist uses discoloration in the design as well. The Last Call: Advanced Oatmeal Stout Cold Process gets its brown hue from Oatmeal Stout Fragrance Oil and the beer used to make it.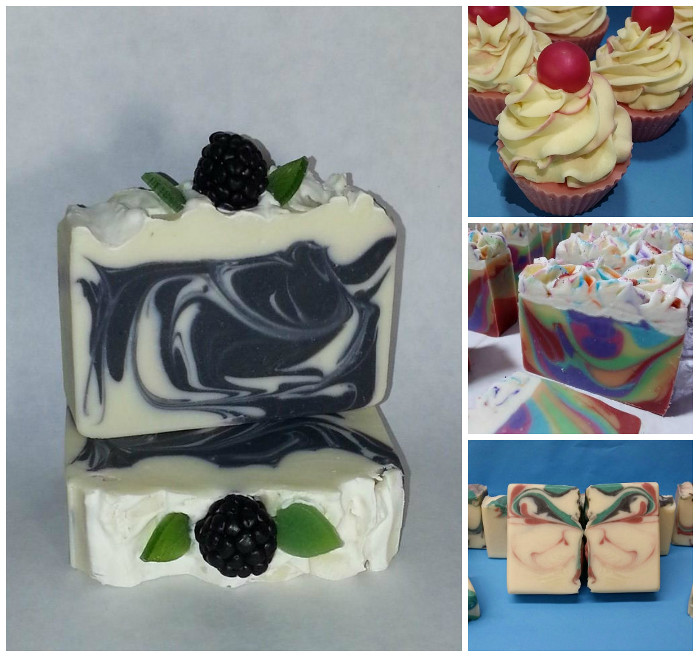 Above (clockwise, left) are Majorie's Berrylicious Soap, Strawberry and Lemon Cupcakes, rainbow soap and Black Raspberry Vanilla Soap. If you love rainbow soap, check out the Over the Rainbow Cold Process Tutorial. Rainbow colors look great in melt and pour too, as seen in the Rainbow Hearts Melt and Pour on Soap Queen TV.
Find Richland Soap and Honey Co.
On Facebook
On the web
Black and white soap looks amazing as well, as seen in the Instagram Photo of the Week by Mimi and Boo. The lace pattern on the Vanilla and Tobacco soap is stunning. Check out more gorgeous soap pictures on their Instagram page.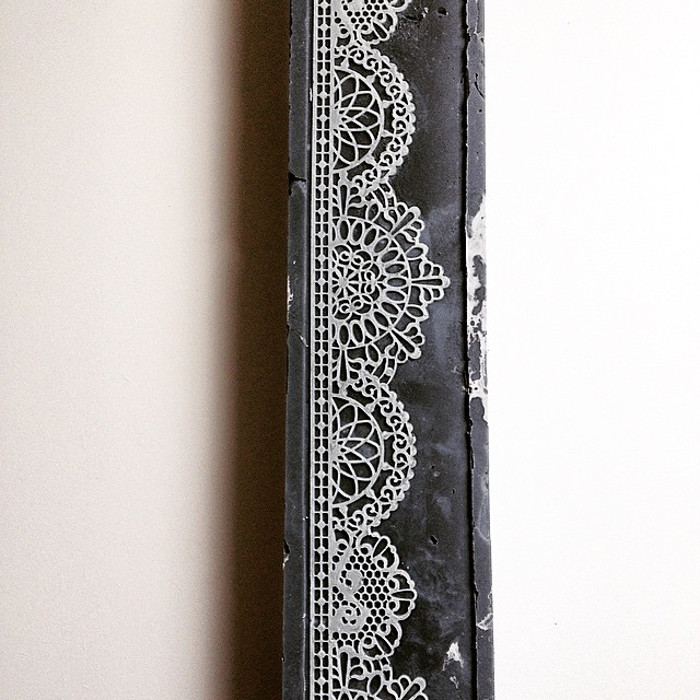 Post pictures of your crafty creations on the Facebook page each week for a chance to be featured on the Soap Queen blog and receive a sweet soapy package from Bramble Berry. Photos are chosen based on consensus from the Bramble Berry staff, so the best way to increase your chances of winning is to show us lots of photos!
To participate in the Instagram contest, hashtag your pictures with #soapshare. Each Friday, I will pick a photo on Instagram to win a copy of the Soap Crafting book, and share on the Bramble Berry Instagram account.