Welcome to Wednesday, everyone! As a midweek soapy pick-me-up, we're addressing a question we've heard all too often in the Bramble Berry offices: "Why did my soap turn brown?!" If you've had a few batches of soap under your belt, you've likely encountered some kind of discoloration. We're here to clear up some confusion! While your fragrances may look relatively clear or white out of the bottle, the truth is they may contain vanilla, which — while great for baking — is not so great for behaving predictably in soap.
If you are making melt and pour soap, you can use the Vanilla Color Stabilizer (VCS) to prevent discoloration. It counteracts the vanilla in the fragrance oil, keeping your colors bright and vibrant. If you are making cold process soap, you can try using the VCS but keep in mind that it won't last forever in cold process soap. Eventually, the soap will discolor. However, this doesn't have to be a bad thing either, as natural discoloration can result in some beautiful colors. Read on to find out more about discoloration and how you can use it to your advantage.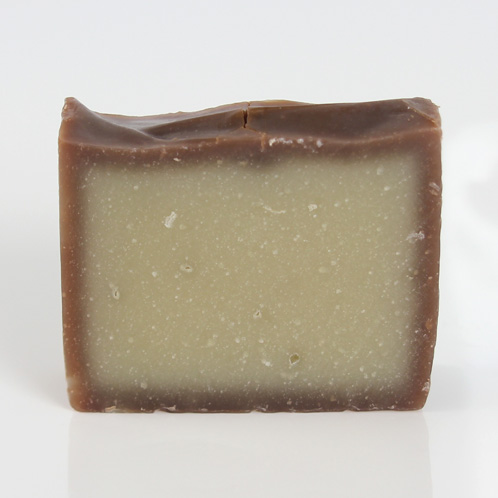 Even if your soap appears correctly colored at first, after a few days it will reveal its true colors! This is the discoloration that appeared a few days after soaping, and eventually the entire bar will turn that same creamy chocolate brown.
Vanilla is a flavor derived from orchids. Vanilla pods start out very green and then darken to brown as the pod ages and ripens. The darkening of the vanilla bean is caused by various reactions in some of the components — mainly the vanillin. Vanillin is the organic compound that gives vanilla its flavor. Vanillin discoloration is a 100% natural process that can be slowed by adding chemicals to stabilize the fragrance. Even then, the reaction and discoloration will still happen. This color can range anywhere from a slight yellow all the way to a dark brown (the same color as a dried vanilla pod and real vanilla extract). Below are examples of various percentages of vanilla in a basic cold process recipes. There were no colorants added to these soaps; it was simply the vanilla causing the discoloration!
0 – 5% Vanilla Content
Oatmeal, Milk and Honey Fragrance Oil, 2.5% vanilla content
5.1 – 10% Vanilla Content
Cream Cheese Frosting Fragrance Oil, 8.7% vanilla content
10.1 – 15% Vanilla Content
Dragon's Blood Cybilla, 11.4% vanilla content
15.1 – 20% Vanilla Content
Butter Cream and Snickerdoodle Fragrance Oil, 18.5% vanilla content
You can actually use the discoloration of the vanilla to your advantage and create some pretty awesome designs. In fact, if you have the Soap Crafting book, check out the Black and White soap recipe (on page 60) to learn more about how you can use discoloration to your advantage. If you don't have the book yet, you can get some discoloring inspiration from the following blog posts: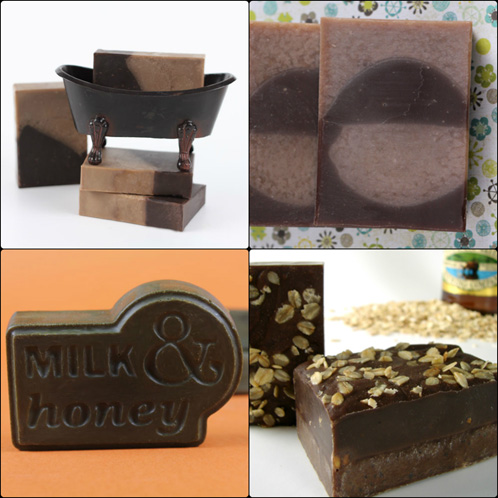 Top Row:  Black and Tan Beer Soap & Vertical Sandalwood Vanilla Soap
Bottom Row: Honey Beeswax Cold Process & Advanced Oatmeal Stout Cold Process
The following chart is also an excellent resource if you're trying to figure out how a fragrance might affect the soap's color. Keep in mind, we've only listed the fragrances that our manufacturer has verified as having vanilla content, so if you don't see a fragrance on the list then it does not contain vanilla. If you're looking specifically for fragrances that will not affect the final color of your soap at all, check out our blog post on water white fragrances.
The fragrances have been separated into four groups based on their vanilla content: 0 – 5%, 5.1 – 10%, 10.1 – 15% and 15 – 20%. You can see examples of these four ranges of discoloration in the photos above. While these photos are not meant to represent all the levels of discoloration that might occur in that range, they will give you an idea of what you can expect!
Vanilla Content Chart