Welcome to another Q&A session about everything soapy and soap related. Check out our previous information product posts all about Nail Polish, Lip Balm, All Things Lotion, Preservatives, Melt and Pour Soap or Colorants. This week's post comes to us from a few questions we've received from customers about maintaining clarity in Clear Melt and Pour Soap. Read on to learn more about these awesome scents that you can use in your bath and body products.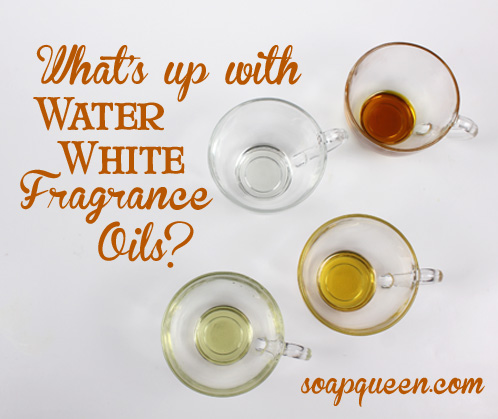 What is a water white fragrance oil?
Fragrance oils are comprised of, in some cases, hundreds of different ingredients that come together in perfect harmony to create a treat for your nose. Often, these components affect the color of the final oil, which in turn can affect the final color of your soap. A water white fragrance oil is an oil that is perfectly clear and will not affect the final color of your soap. There are a few fragrances that are crystal clear in the bottle, but may give a slightly creamy color to cold process soap due to vanillian content. For melt and pour, this means clear soap base will maintain its clarity, shade and hue. For cold process and melt and pour soap, it's an assurance that your soap will not be discolored by a lightly tinted fragrance oil. Remember that this is not taking into consideration other discoloring factors such as Vanillan content.
Is there such a thing as water white essential oils?
When it comes to essential oils, their coloration is determined by their state in nature (which means, you'll never see a water white pure Orange essential oil).
Take a look at these four commonly used fragrance and essential oils. The top one is Red Apple Fragrance Oil, and is water white. Next in line is Dark Rich Chocolate Fragrance Oil, which is a yellowish color out of the bottle and will discolor soap to a dark brown. Following that, Patchouli Fragrance Oil, which gets it's orangey-yellow color from small amounts of Patchouli Essential Oil used to obtain its authentic scent. And finally, Orange 10x Essential Oil, which is distilled 10 times in order to create a super potent essential oil capable of withstanding the high pH levels in cold process soap (a well-known citrus killer).

When should I use a water white fragrance oil?
The benefit of using a water white fragrance oil is clarity. If you're embedding objects in melt and pour and want that first layer to be pristine and clear but still scented, water white is the way to go. Check out a great example in this tutorial! It leaves you with no worries that the fragrance oil will effect the clarity of your soap. Water white fragrances work the same way any other fragrance would in your products. If using water white fragrance oils in cold process, like any other fragrance oil you'll want to  be sure to check the individual fragrance product pages for any notes about morphing or trace acceleration.
And of course, just because a fragrance oil isn't water white doesn't meant you can't use it to your advantage. Remember when I made the adorable Sunshine Soap? I worked with the natural color of Orange 10x Essential oil, instead of against it, to create a great bar of soap. If you're making a layering project and need that first layer to be clear but your project calls for a fragrance that isn't water white, just leave the first layer unscented! Or, even better, create a blend by scenting the first clear layer with a water white fragrance oil and the next layers with your original choice.
Which of Bramble Berry's fragrances are water white?
Here is a list of perfectly water white fragrance and essential oils: Apricot Freesia, Apple Macintosh,  Baby Rose, Blackberry Sage, Fresh Snow, Ginger Ale, Green Tea, Lavender and Herb, Lavender Chamomile Huggies, Margarita Lip Flavor, Pearberry, Peppermint 2nd Distillation Essential Oil, Plumeria, Red Apple, Watermelon, Yuzu, Cherry Blossom, Cedarwood EO, Clary Sage, Cucumber Melon Flavor Oil, Crisp Apple Rose, Cucumber Melon Cybilla, Chamomile Cybilla, Cucumber Melon, English Rose,  Sensuous Sandalwood, Sweetgrass, Rain Cybilla,  Pink Grapefruit, Ocean Rain, Moroccan Mint, Matcha Tea,  Sage and Lemongrass Candle & Soap, Hungarian Lavender EO, Eden's Garden, Fresh Bamboo , Fresh Zucchini Flower, Ginger Ale, Sage, Dalmation, Spearmint EO, Rosemary EO, Peppermint 1st Distill, Lavender 40/42, and Bulgarian Lavender.
Fragrance oils that are water white in the bottle, with a small amount of vanillan content:
Champagne, Rice Flower & Shea Type, White Ginger & Amber Cybilla, Rise & Shine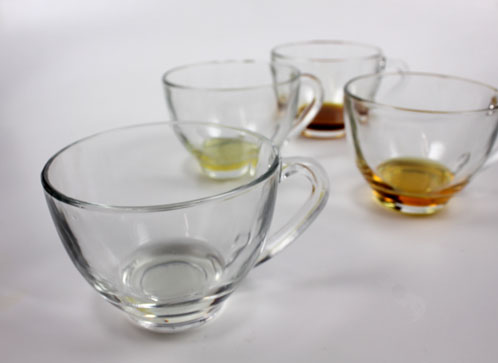 Do you have any questions about Water White Fragrance Oils? If so, ask in the comments below!