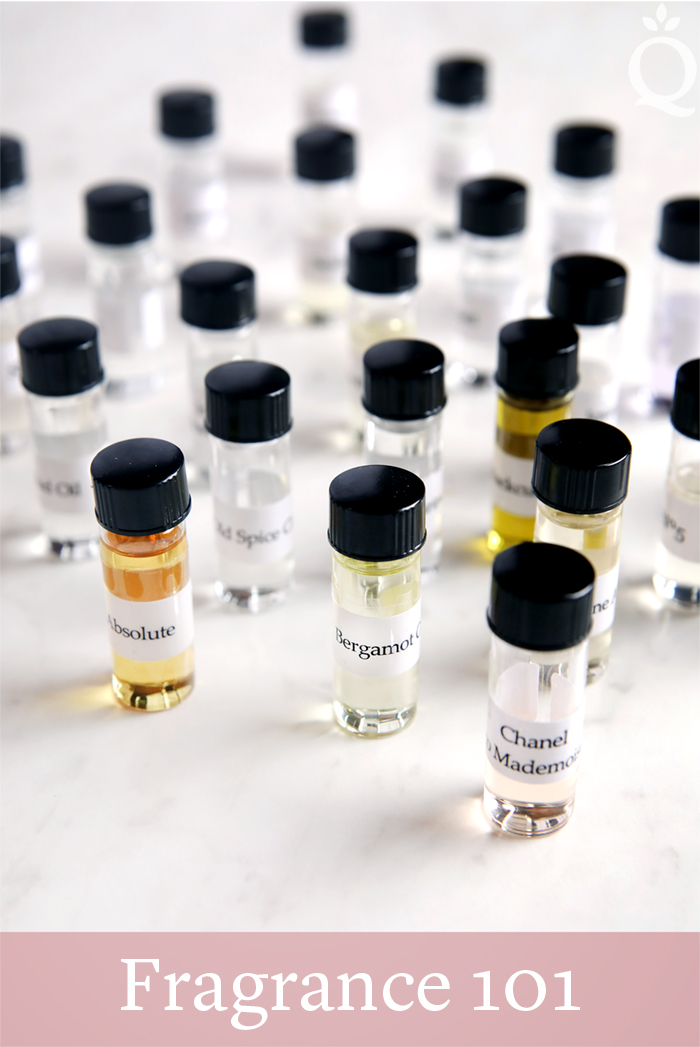 Scent is very personal. Give two people a rose fragrance oil and watch how they react – there's a good chance you'll see two very different facial expressions.
At Bramble Berry, fragrance oils are something we're very familiar with. We smell them, pour them into bottles, make soap with them, recommend them to customers, accidentally spill them on our clothes. Our warehouse smells a little different every time you walk up to it, and once you leave that smell will leave with you.
As with anything you're familiar with, there's always something more to learn. Deb and Esther from one of our vendors visited the Bramble Berry studios recently to teach us all there is to know about fragrance – or at least as much as you can in a few hours. They call the class "Fragrance 101."
"Sometimes people spend a whole month just on florals," Deb said. "We're doing it in 2 hours."
Attendees included people from our customer service, marketing, and research and development teams. We were excited to learn more about fragrance, and customer service was excited to pass that knowledge along to customers.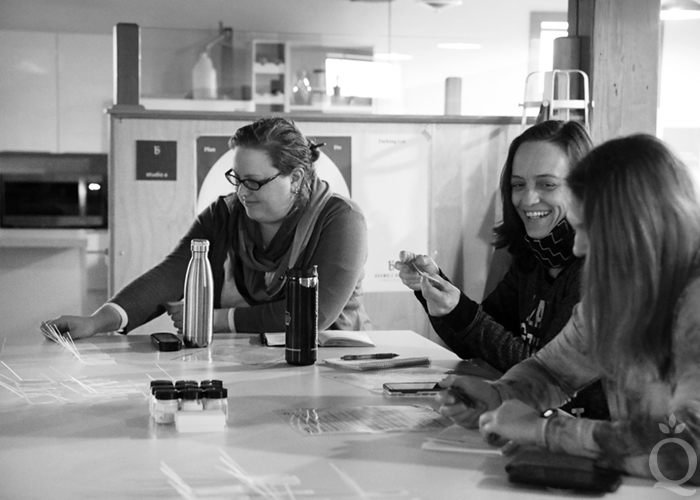 Amber, Carla, and Chloe sampling scents.
"I think I'll be better able to offer scent suggestions to customers. I will know what to look for," said Carla, who has been with Bramble Berry customer service for 6 years. 
The class started with a little history. Perfume has been around since ancient times. Cultures burned gums, resins, and woods for rituals and religious ceremonies. Later, people would dip leather gloves in lavender oil to cover the scent.
"That's how the whole perfume industry started – covering bad odors," Deb said.
Fragrances today are a lot more complex. Just one oil can be made up of 40-80 materials. Luxury perfumes are often made with 5 times that number. Those materials include synthetic aroma chemicals and natural ingredients like essential oils, extracts, and resins.
Perfumers have to take all these materials into account when they're creating fragrances. Each one needs top, middle, and base notes. Top notes are the first thing you smell and they're often lighter scents like citrus. The middle notes are the heart of the fragrance, and the base notes are warm and heavy elements that linger on the skin.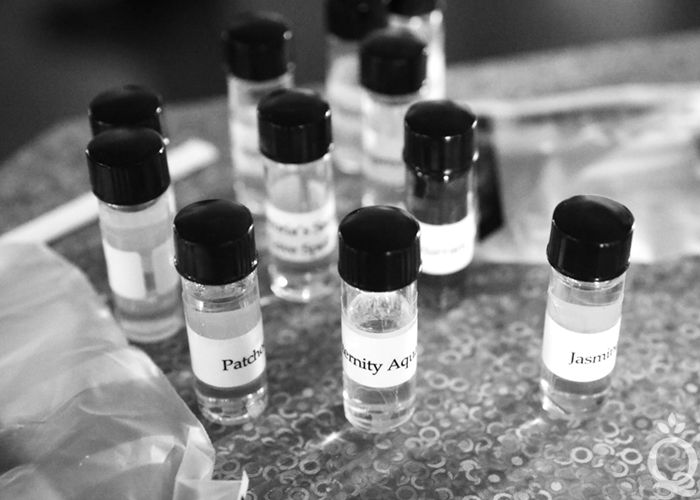 Deb and Esther passed around samples of luxury perfumes.
"Most fragrance oils are composed of natural and synthetic ingredients," Deb said. "It creates a balanced and complete odor profile."
Scent is only one part of the process. Perfumers also need to make sure the scent is stable, safe for use on the skin, and appealing to the target audience. In Bramble Berry's case, it also needs to work in cold process soap.
Once we had some background information, it was time for the fun part – smelling all the different components. They were broken down into categories like citrus, fruity, woody, and spicy. Esther and Deb first passed around an individual component like galbanum, which smells green, earthy, and piney. Then they passed around a fine fragrance and a personal care product that contained that component.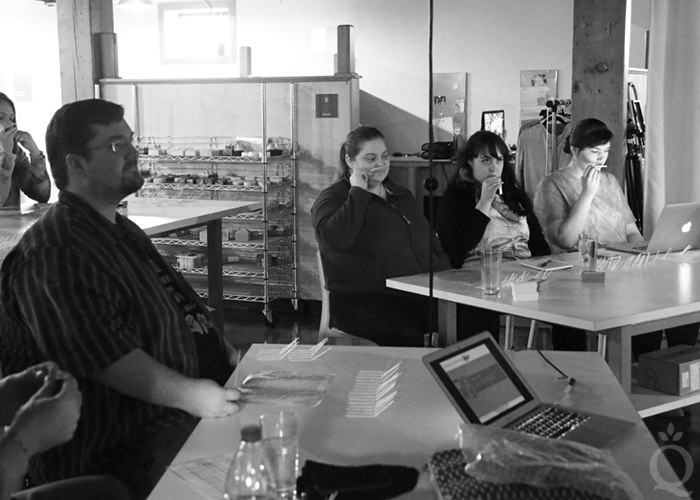 Matt, Caitlin, Terah, and Kelsey sampling scents.
For the citrus category, they passed around bergamot. On its own it smells bright and crisp. That was followed by Atelier's Bergamot Soliel cologne, which pairs the bergamot notes with jasmine, lavender, and white amber. The personal care product was Bath and Body Works' Sparkling Limoncello Body Lotion, which has supporting notes of sugared mint, verbena, and orange blossom. We could definitely smell the bergamot in each one, but the overall scent was very different than the individual component.
Some of the scents weren't as pleasant. For instance, Esther passed around cassis and there was an immediate reaction. While we were trying to place the scent, research and development manager Caitlin said, "cat pee," and it clicked. Even with that still on our minds, it was amazing to smell how well it mixed in with the fine fragrance. The cassis added a rich and deep note to the perfume.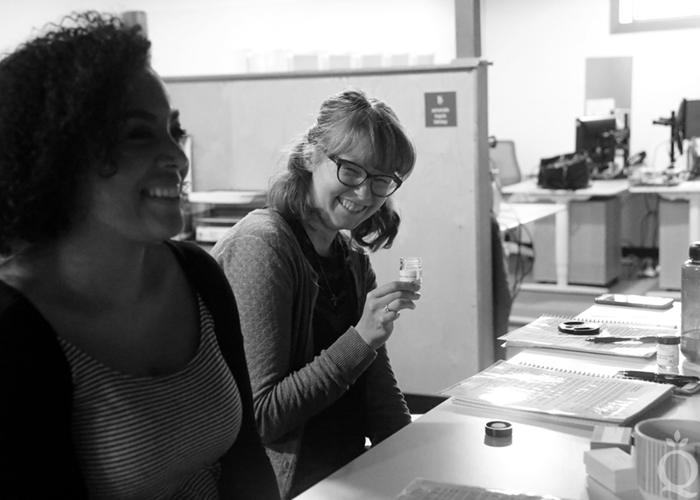 Kayla and Christina reacting to one of the samples.
Kayla, Bramble Berry's marketing coordinator, was surprised that a component she wasn't a fan of could smell so different when mixed with other components. Patchouli is often used as a base note because it helps the fragrance hold together and helps it stay on the skin or fabric.
"To me patchouli kind of smells like spicy dirt, but it's lovely blended with other scents," she said.
Musk is another base note that's used often in fragrances. Despite its popularity, a large portion of the population can't smell it. Carla with customer service wasn't able to pick up the musk on the perfume strip.
At the end of the class we came away with an appreciation of how much work goes into just one fragrance. We also learned a ton, including new ways to describe fragrance. Some of the descriptors include balsamic, which is sweet and heavy with notes of fir needle and sap. Fatty fragrances smell rich and floral. Aldehydic fragrances are airy, soapy, and waxy. On its own, aldehyde smells a bit like body odor, but once it's in a blend like Chanel No. 5 it adds lovely airy notes.
We're excited to share that newfound knowledge with you.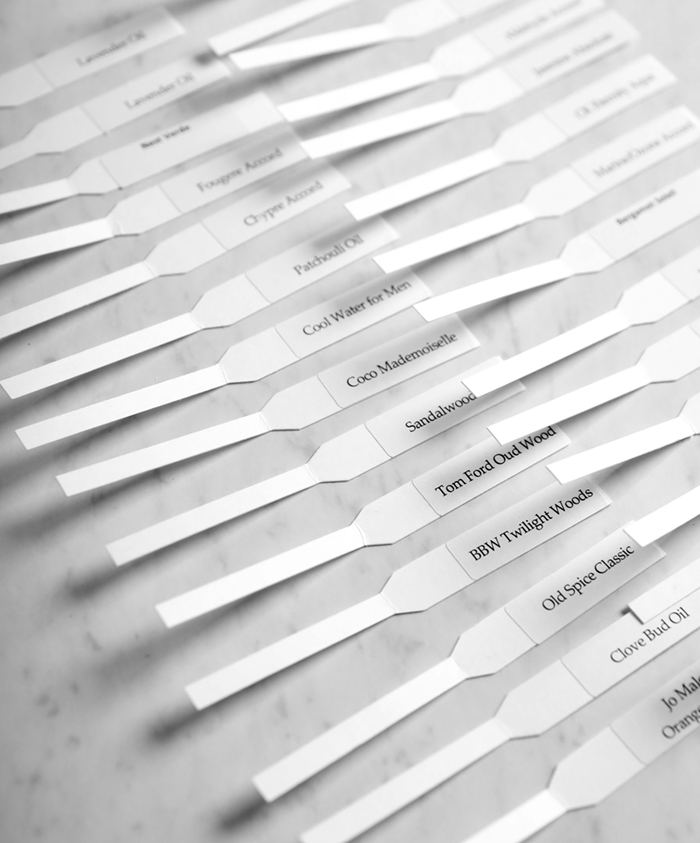 "I learned a lot of new terms to describe scent," said Terah with customer service. "I know about different scent camps and how to categorize them. I'm excited to pick what I think customers will like best and offer new suggestions."