Happy Tuesday! It's time again for another installment of our ever popular Talk it Out Tuesday series (check out our previous posts on lip balm, preservatives, bath bombs, melt and pour, lotion and colorants). I am super excited about this week's topic because it is all about my latest crafty obsession…nail polish! Read on to find out more about how to customize your own nail polish and all the fun nail polish-themed products that Bramble Berry carries.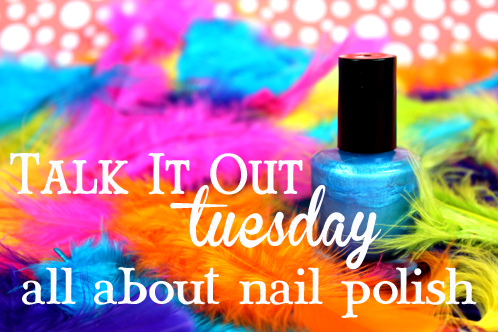 How do I customize my own nail polish?
All you need is a suspending nail polish base, a nail polish bottle, nail polish mixing balls and your favorite colorants. Here's a quick breakdown in three easy steps:
1. Make sure you are working in a well ventilated area and away from any open flames. Nail polish is extremely flammable (extremely!). Carefully pour the nail polish base into the bottles. Fill it to the shoulder of the bottle (where it bends), or just below the shoulder if adding fragrance. Then, use Bramble Berry's tiny funnels to add your choice of micas or glitters. NOTE: the funnels do not work to fill the actual polish; it's too thick. This is a WYSIWYG process – what you see is what you get. Remember, you can always paint a little bit on a piece of paper to make sure you're happy with the color – or add more later.
2. Once your mica or glitter has been added, place a couple of the nail polish mixing beads into the bottle, then slip in the brush and firmly twist the cap on. You should hear the brush click right into place.
3. Shake well and apply! It really is that easy and there are so many color mixing options.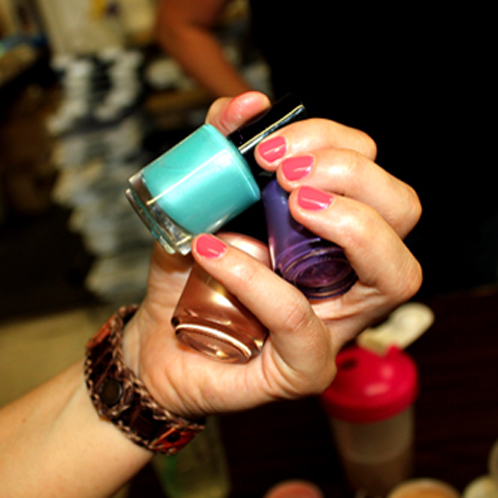 Is it possible to add fragrance to my nail polish?
Absolutely! We've recently tested a few fragrances in our nail polish base (
Holiday Candy
 and 
Sugar Plum Fairy
 to name a few) and they came out smelling just fabulous (after the polish dried). When using fragrance oils in the nail polish, the suggested usage rate is  about 1 milliliter of fragrance oil per nail polish bottle (15 ml, or .5 oz. bottle), and we also suggest premixing it with your colorant beforehand. Keep in mind that not every fragrance will work; in our tests, 
Vanilla Select
 did not come through at all for example.
NOTE: You aren't going to be able to smell the fragrance oil while the nail polish is still wet, so if you want to test it out the scent paint a little bit on a piece of paper and wait for it to dry. Once it's on the nails you usually get a great scent for about 1-4 days. And, if you lose the scent, just paint on another coat and you'll have the prettiest smelling nails out there!
Do I really need a nail polish mixing ball?
You don't have to add a nail polish mixing ball, but we have found that it was the easiest way to make sure the nail polish base, colorants and fragrance blended properly together. We suggest adding in 1-3 mixing balls depending on your size bottle.
NOTE: If you'd rather mix your base and colorant outside of the glass nail polish bottles, I did find that the nail polish base will melt plastic. I like using a dedicated glass container for that purpose.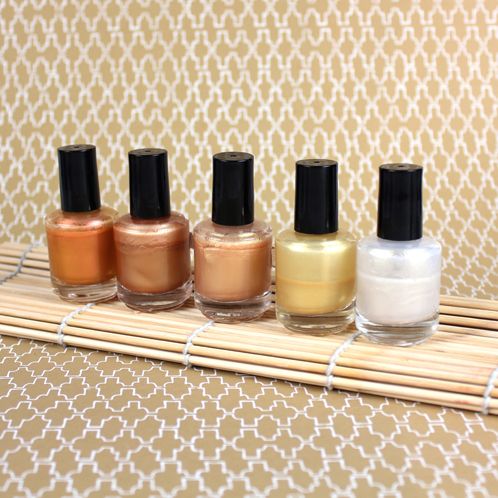 Oh no, my nail polish went all chunky, what did I do wrong?
While many of our colorants will work for nail polish, there are some that just clump up and won't work. Bramble Berry micas and glitters are going to be your best choice in creating a fabulous and funky new color, customized just for you. Here are a list of our tested and true colorants:
Amethyst Purple Mica, Gold (light) Mica, Red Blue Mica, Antique Blue Mica, Heavy Metal Gold, Rose Pearl, Apricot Blush, Honeyed Beige, Blue Cellini, Luster Black, Silver Glitter, Mauvey Gem, Bronze, Merlot Sparkle, Soft Beige, Cappuccino, Sparkle Gold, Cellini Red, Sparkle Violet, Copper Mica, Super Pearly White, Copper Sparkle Mica, Patina Sheen, Coral Mica, Peach Shimmer, Violaceous Violet, Apple Moss Mica, Evergreen Mica, Kelly Green Mica, Kermit Green Mica, Caribbean Blue Mica, Mermaid Blue Mica, Lavender Mica, Zippy Blue Pigment, Stormy Blue Mica, Pewter Silver Mica, Plum Dusk Mica, Queen's Purple Mica, Orchid Mica, Racing Stripe Orange Mica, Nuclear Orange Pigment, Sunset Orange Mica
If you find another Bramble Berry colorant that works, let us know and we can add it to our list!
Want to get started with making
your own customized nail polishes
but need a little help deciding what to do? Check out our brand new 
Glittery and Bright Nail Polish Kit
 that contains a carefully chosen selection of micas and glitters that work wonderfully in our
Suspending Nail Polish Base
. It's perfect for
slumber parties, bridal showers or even a crafty girls night
! We also have added a 4 ounce size of nail polish based (
Facebook
asked for it and we're excited to have this smaller try-me size!).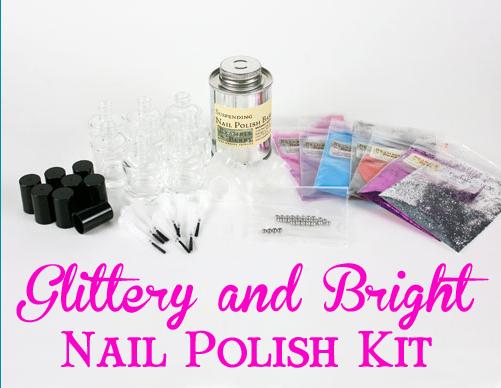 Check out Bramble Berry's awesome customer service team having a blast testing out a bunch of color options: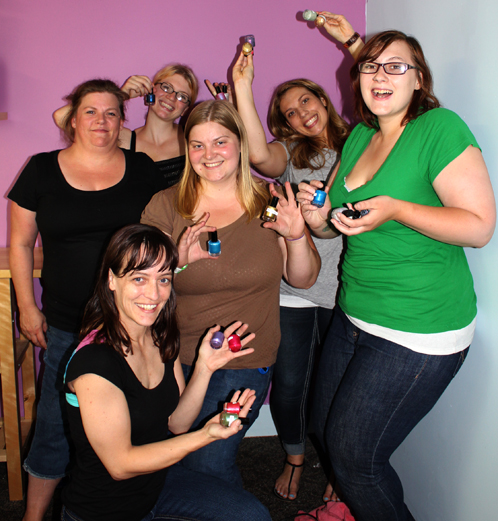 NOTE: When ordering the nail polish base, you must agree to the following (as it is considered hazardous):
You fully understand that this material is considered hazardous and flammable
You understand that it should not be used near an open flame or spark
You will only use it in a well ventilated area area
You assume all responsibility for its safe use and proper storage
You are at least 18 years of age.
Have any other questions or what to share your experiences with nail polish? We'd love to hear them. Leave us a comment below!