When making both cold process and melt and pour soap, a spray bottle of 99% Isopropyl Alcohol is helpful. Also known as rubbing alcohol, isopropyl alcohol helps to prevent soda ash on cold process soap, and helps layers stick together when working with melt and pour. It is also helpful to have on hand to clean up messy surfaces after making projects!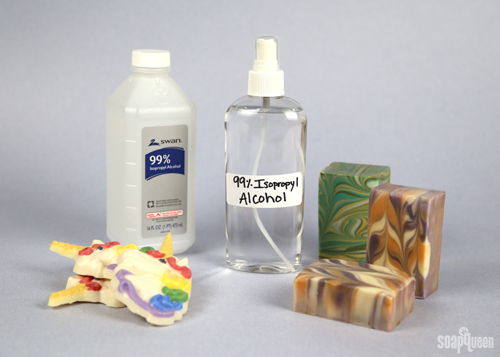 The two most common types of alcohol are isopropyl alcohol and ethyl alcohol. The basic difference between the two is that ethyl alcohol is commonly used for consumption, while isopropyl alcohol is used for topical application. Isopropyl alcohol is not safe for consumption.

Isopropyl alcohol (aka: rubbing alcohol) can be found in varying percentages, most commonly from 60%-99%. The percentage refers to the amount of isopropanol (isopropyl alcohol) per volume. The remainder of the formula consists of water. The more diluted rubbing alcohol formulations are commonly used as a mild topical treatment, while the higher concentrations are commonly used for cleaning. When making cold process soap or other projects, 99% isopropyl alcohol is recommended.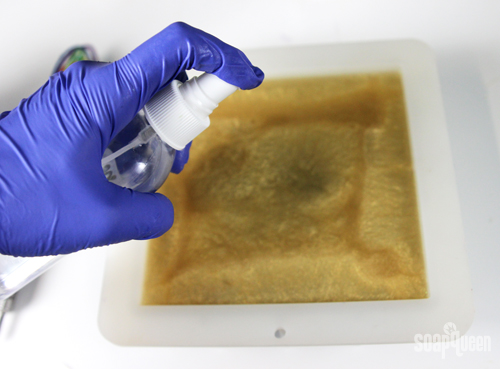 Curious how to incorporate isopropyl alcohol into your soap making? When working with melt and pour, sometimes air bubbles can form. Spraying isopropyl alcohol immediately after pouring breaks up these air bubbles and creates a smooth surface. Spraying isopropyl alcohol in between melt and pour layers also helps the  layers adhere. Rubbing alcohol can also be used to disperse oxides and clays to be used in melt and pour projects, like in the Charcoal and Rose Clay Melt and Pour.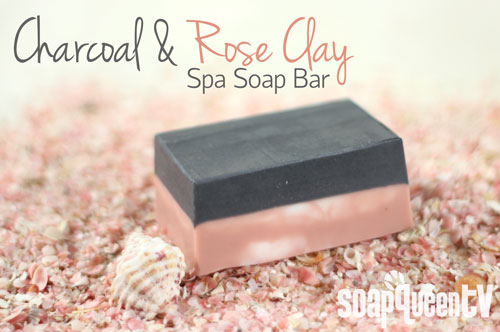 For cold process soap making, isopropyl alcohol is great for helping to prevent soda ash. Soda ash occurs when unsaponified lye reacts with the carbon monoxide in the air. This reaction causes a white film to form on the top of cold process soap. Soda ash is a completely harmless cosmetic issue. Soda ash can be prevented by spraying the top of cold process soap with isopropyl alcohol within 10-15 minutes of pouring your fresh soap. If you'd like to learn more about soda ash and how to prevent it, check out this blog post.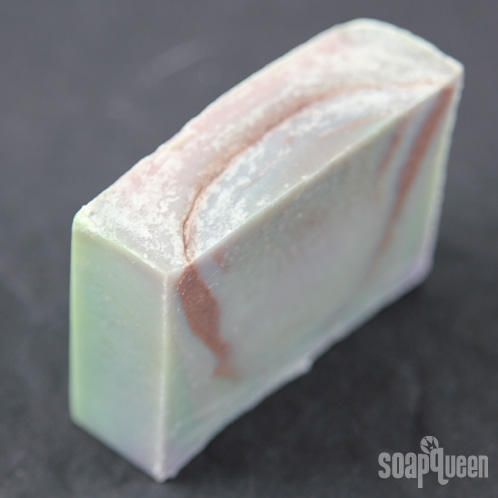 Ready to put your 99% isopropyl alcohol to use? When you receive isopropyl alcohol from Bramble Berry, it comes in a standard plastic container. We like to pour it into 8 oz. Bottles with a Spray Top for ease of use. Don't forget to label it!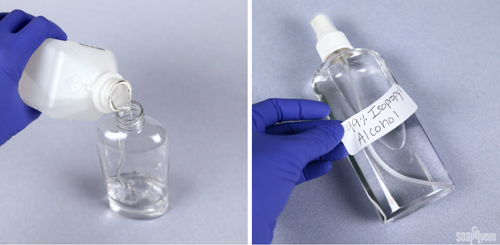 Now that your rubbing alcohol is in a spray bottle, let's get crafting. Below are a collection of melt and pour tutorials in which rubbing alcohol is crucial due to the layers and embeds.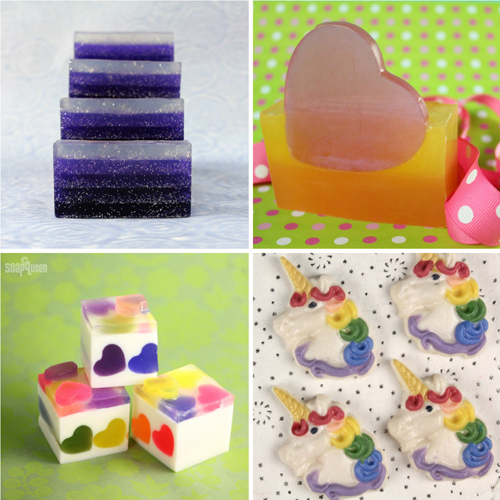 Top Row, left to right: Violet Glitter Gradient Melt and Pour, Embedded Heart Melt and Pour Tutorial 
Bottom Row, left to right: Rainbow Hearts Melt and Pour, Rainbow Unicorn Melt and Pour
If you are looking for other crafting options, rubbing alcohol plays a key role in creating liquid perfumes and room sprays. It even comes in handy when creating nail polish!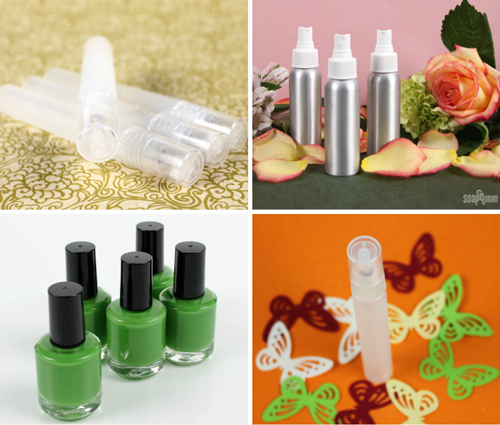 Top row, left to right: White Ginger and Amber Spray Perfume, Springtime Room Spray
Bottom row, left to right: Anti-Pinch Nail Polish, New Year New Fragrance
Do you find isopropyl alcohol essential in your crafting space? What is your favorite way to use it?