This month's featured sample is White Ginger & Amber. Musky and deep with notes of spice and floral, this fragrance is great on its own and blends wonderfully with many fragrances! Nearly every order* shipped out in the month of June will have a little 1/2 sample bottle included. It's the perfect size for making these sweet mini-perfumes!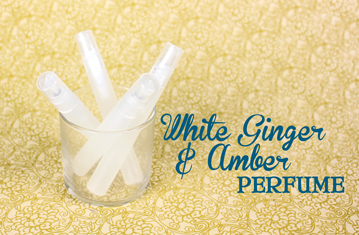 Tools and Ingredients:
18 mL Distilled Water
4 mL Polysorbate 20
16 mL 91% Rubbing Alcohol
2 mL White Ginger & Amber Fragrance Oil
Optional: .5 mL Optiphen ND
4 mini spray bottles
Droppers
Funnel (optional)
Mixing Container
Buy everything you need in the click of a button!

Step 1: Wash and sanitize your mixing container and funnel.
Step 2: In your sanitized mixing container, add 4 mL of Polysorbate 20 and 2 mL of White Ginger & Amber.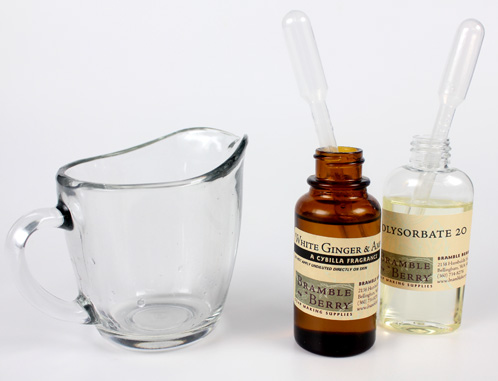 Step 3: Next add 16mL 91% Isopropyl Alcohol, followed by 18mL of distilled water. It is important to use distilled water because tap or regular bottled water may contain trace minerals and other additives your town or city may add to the water. Along with the aforementioned, there is a chance for bacteria to be introduced, and that is never a good thing when it comes to beautification!
NOTE ABOUT PRESERVATIVES: We didn't use a preservative because of the alcohol content. But, you could add in a preservative to be extra safe. We suggest adding a water soluble preservative (such as Optiphen ND) in at around 1% of your recipe. Click here to read more about preservatives. 
Step 4: Once all of your ingredients are in the same container, the mixture may be cloudy. Give it a stir and it will clear.
Step 5: Using a funnel or your super steady hand, pour the perfume mixture into the pen sprayer.
Step 6: Label and share!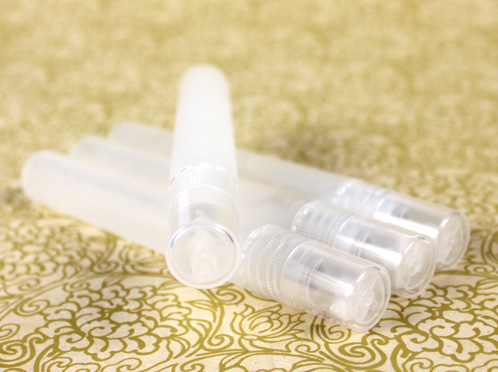 Can't get enough White Ginger and Amber? Here are some great blending ideas!
2 parts Green Tea
1 part Jasmine Dreams
1 part White Ginger & Amber
2 parts Lilac (Cybilla)
1 part White Ginger & Amber
2 parts White Ginger & Amber
1 part Fresh Bamboo
1 part Cinnamon Sugar
1 part Cedar & Saffron
1 part Fresh Snow
1 part White Ginger & Amber
2 parts Sweet Meyer Lemon
1 part Chai Tea
1 part White Ginger & Amber
1 part Plumeria
1 part Rain (Cybilla)
1 part White Ginger & Amber
1 part Basmati Rice
1 part Bonsai
1 part White Ginger & Amber
Check out our previous sample pages: Cherry Blossom, Fresh Bamboo, Sweet Meyer Lemon and Violet. What are your favorite projects to make using your Bramble Berry free sample?
*We include a 1/2 ounce fragrance oil sample with every order we can safely send a glass bottle in. Be sure to check your packaging well, the expanding foam can nearly swallow up those little bottles.